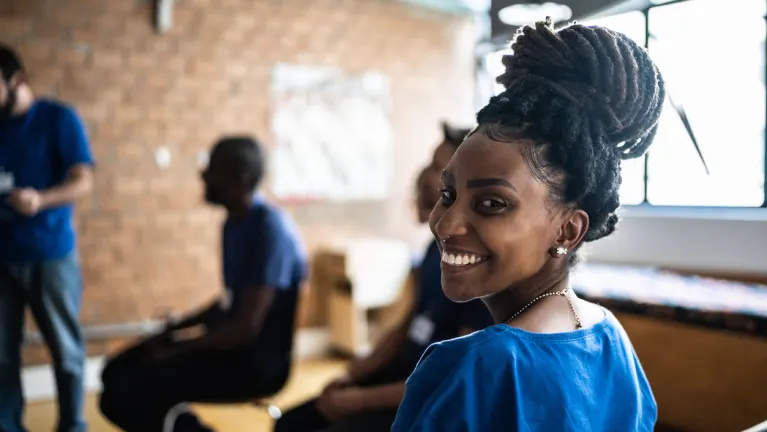 ​A growing number of states are outlawing hair discrimination in the workplace, but hairstyle bias continues to be a barrier to employment for many Black women, according to the 2023 CROWN Workplace Research Study.
The survey of 2,990 female respondents in the U.S revealed that:
25 percent of Black women believe they have been denied a job interview because of their hair.
Approximately 2 in 3 Black women (66 percent) have changed their hair for job interviews. Among them, 41 percent changed their hair from curly to straight.
Black women are 54 percent more likely than Hispanic or white women to feel that they have to wear their hair straight to a job interview to be successful.
44 percent of Black women under age 34 feel pressured to use a headshot with straight hair.
The report also showed that Black women's hair is 2.5 times more likely than white women's hair to be perceived as unprofessional—a statistic that Tiyale Hayes, the study's lead researcher, found most surprising.
"I see firsthand how proud Black women feel in the salon as the stylist and customers compliment them on their hair as they exit," Hayes said. "When these same women walk into the office, they are seen as less professional than others. That is shocking to me."
The report was co-commissioned by LinkedIn and Dove, the company that founded the CROWN Coalition—a nonprofit that launched the CROWN Act. As of this month, 23 states have passed legislation supporting the CROWN Act. Hair discrimination is not prohibited at the federal level in the U.S.
Additional Survey Findings
During employment, Black women with coily or textured hair are twice as likely as Black women with straighter hair to experience microaggressions in the workplace, the CROWN survey indicated. Further, more than 20 percent of Black women ages 25 to 34 have been sent home from work because of their hair.
The study aligns with previous research detailing hair bias, including a 2015 study revealing that employees with hair textures that have a proximity to white and Eurocentric hair are often shown preference over those with Afro-textured hair that is coarser and more tightly curled.
Breanna Jackson, an HR coordinator at educational-services company Point Quest Group in Elk Grove, Calif., said she remains apprehensive about how her hair will be perceived in professional and nonprofessional environments.
"As an HR professional, it deeply saddens me to acknowledge that Black women have been sent home from work solely because of their hair," she said.
Jackson alluded to the 2023 CROWN study's finding that 20 percent of Black women have encountered instances of hair discrimination that led to employment termination. She said the report highlights "a distinct lack of empathy and understanding from management, particularly towards Black women."
Tips to Mitigate Hair Discrimination at Work
Several lawsuits have been filed against companies for alleged hair discrimination:
In 2023, a federal jury ordered an Alabama company to pay a former employee more than $800,000 for retaliating against her after she complained of discrimination over her hairstyle.
A Black man in California sued his former employer in 2021, alleging that the company denied him a job because he refused to cut his dreadlocks.
In 2021, the U.S. Equal Employment Opportunity Commission (EEOC) sued a drug and medical testing supplies distributor on behalf of a woman who was fired after the company's owner allegedly said that her hairstyle was unacceptable.
Clarke Wheeler, a federal policy manager at Black Mamas Matter Alliance in Atlanta, said in an EEOC-led webinar in May that workplace bias such as hair discrimination and racial microaggressions can perpetuate chronic stress that leads to sleep issues, anxiety, depression and other health complications in Black women.
"Historically, Black women have been … subjected to workplace discrimination and mistreatment," she said. "This has been, and continues to be, detrimental to Black women's health as well as their overall safety and human dignity."
Janice Gassam Asare, a DE&I consultant and public speaker in New York City, said that education is vital for addressing and mitigating hair discrimination in the workplace.
"In a lot of cases, I find that there is a lack of understanding regarding how pervasive hair discrimination actually is," she said. "Education is desperately needed to close these gaps."
Enlisting experts to host conversations that highlight hair discrimination and organizing panel discussions where employees share their experiences with hair discrimination, both in and out of the workplace, can also be effective, Asare said.
In addition to education, she suggested having a workplace equity specialist who has expertise in hair discrimination evaluate workplace policies to ensure that there are not any ambiguous policies that could lead to hair discrimination.
"An example would be a policy that requires professional hairstyles and attire without clear expectations about what this means," Asare said. "Ambiguity around appearance policies can unintentionally lead to hair discrimination."