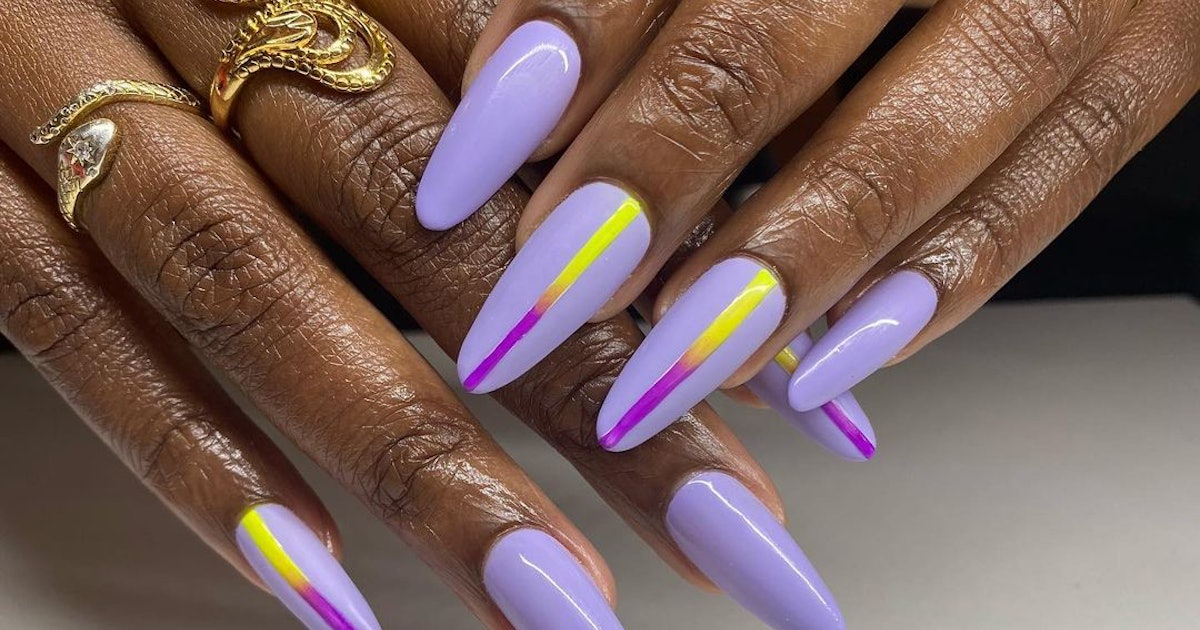 Long acrylics, intricate 3D embellishments, logomania, and so many more of your favorite nail designs were all started by trend-forward Black nail artists, many who boast thousands, sometimes millions, of followers. However, these looks often go viral once they're seen on the hands of Kylie Jenner, Hailey Bieber, and Jennifer Lopez, and the experts themselves don't always get the credit they deserve. But it's important to give these these talented Black nail artists their flowers year-round by following them on Instagram.
These extraordinary manicurists, especially those who are setting all of the current nail art trends, constantly deliver inspiration on their feeds. A few examples? Aja Walton, a Brooklyn-based artist whose poppy graphic nail art is seen on the runways of Marc Jacobs, Prabal Gurung, and more. Then there's Mimi D, New York City-based manicurist who specializes in remixing classic, minimalist designs like French tips and half moons.
So whether you prefer bold, bright nail art or prefer to stick with subtle designs, TZR has complied a list of 10 amazing Black nail artists who specialize in a range of styles that should be immediately followed. Keep scrolling for endless manicure ideas courtesy of these talents.
If you've never had a unique gel, gel x, or acrylic set manicure, you'll be in for a real treat when browsing through Marsha's feed. Filled with glitter accents, plaids, bedazzlement, and every nail design in between, you'll be blown away with the level of inspiration on Marsha's account.
As a Kiss brand ambassador, celebrity nail artist and expert Gina Edwards is known for bright base colors, heart accents, chic animal prints, and is the talent behind the most noteworthy Fashion Week manicures. When she's not backstage at fashion shows, you can catch her painting the nails of Taraji P. Henson, Priyanka Chopra Jonas, and Mary J. Blige.
Bronx-based artist, Tahsiyn Harley offers many mixed designs like sweater-inspired nails, texture, press ons, and more. No look is off limits when you go to her page because she truly does it all. She has worked at every major salon in New York City, like Vanity Projects and Paint Box. Outside of the salon, the pro works the runways at Badgley Mischka.
Based in London, the freelance nail artist is often spotted backstage at Fashion Week in New York, Milan, London, and Paris. And if you aren't lucky enough to be a model or A-lister on her client roster, you can also attend her one of hand-painted press-on masterclasses online.
Rapper Saweetie, a nail chameleon in her own right, calls on Temeka Jackson for many of her signature manicures. Based in Los Angeles, Jackson spends most of her time on Hollywood sets or dreaming up the next custom nail set.
For those that love hand-painted press-ons and healthy nail care tips, Canishiea Sams is a must-follow for you. Her fluid shapes and spunky designs will look salon worthy when DIY-ed, while the cuticle oil tips and moisturizing will keep your nails and hands in tip-top shape.
If you've ever seen a Marc Jacobs, Jeremy Scott, or Prabal Gurung runway show, the models' nails were most likely painted by Brooklyn-based artist, Aja Walton. The self-taught sensation is a go-to for pop-style designs inspired by musical artists, designer logos, and graphic prints.
For the chic and minimalist nails fan, you'll want to follow Mimi. The expert has simple and tasteful line art. But if you want to live on the wild side, you can also look to her for pastels, negative space, and reinvented French tip designs.
Based in North Carolina, locals flock to Trilla Nails for her intricate pattern work, rhinestones, and modern French tips. And if you aren't in a nearby city, press-on sets are available online for the majority of the designs.
With over 10 years of nail care experience in NYC, Dawn Sterling is most recently famous for creating the nails in Telfar's latest collection. Not only that, she has painted the hands of everyone from Zendaya to Normani, and prepares other nail artists for the same opportunities through her one-on-one mentoring sessions via her website.