For coffee lovers, few things are more delightful or revitalizing than a regular iced coffee. That splash of milk swirling around ice cubes and combining with your cold brew – gotta admit, the colour combination alone is something to marvel at. Love of beverages has occasionally seeped into other spheres of life – fashion, for instance. Hence why "iced coffee" manicures are now trending on social media!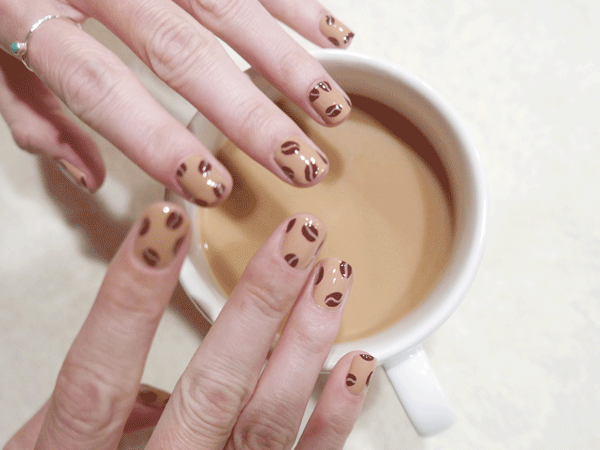 Iced coffee nails can be created with neutral-toned nail art or all-over hues of brown, similar to their darker-toned cousin, coffee nails. While some iced coffee manicures have swirls that imitate cream settling into coffee, others use colours that resemble coffee to create trendy nail designs like croc prints or double French manicures.
Iced coffee nails don't just pay homage to your favorite drink – they're also really pretty. The look is simple to create – brown and cream polishes are swirled together to mimic the marbling that occurs when milk and coffee combine. The outcome? A manicure that resembles the effect of dipping your fingertips into a foamy beverage.
With that, here's a list of coffee-inspired nails that you'll definitely love:
Chocolate Mocha Swirl Nails
It's not difficult to create an iced coffee manicure. Here, you can see how a mocha-like manicure may be created by adding tiny swirls of brown nail colour. You'll need nail polish in the colours Espresso and Oat Milk to achieve this identical combo. For your base, apply the Oat Milk shade nail polish and use the Espresso shade to create the swirls.
Iced Coffee Hearts
Are you a black coffee person or more on the milky side?
Either way, this nail sure pops. Unquestionably lovely, latte art is a great way to show your passion for coffee. Stick to a darker brown colour scheme and add a couple dashes of caramel for good measure to your nails to recreate the concept. In this cool heart mani, we especially enjoy how the deeper tones of brown complement one another.
Iced Coffee Crocs
Coffee feat matcha? Sounds about a good combo!
Love iced coffee but occasionally want to spice it up with iced matcha? Consider emulating this colourful, artistic croc mani that reminds us of many kinds of lattes. Start with a pinkish nude base and create tiny rectangles using coffee-like and matcha colours for this ensemble.
Caramel Drizzle
Nothing like a neutral shade with gorgeous swirls. Definitely giving us Pumpkin Spiced Latte vibes. When you look at your nails, the vision will come to life thanks to this deep brown swirl manicure. We are getting strong throwback feelings from the colours and jazzy swirls here.
Starbies
Try this Starbucks-inspired cold brew design, replete with silver embellishments to mirror the sheen of the cup, to pay homage to the beverage you daydream about ten times a day.
Iced Coffee Tip
More choices? Some designers use a stamp that has been dipped into many latte-inspired polish colours to achieve the iced coffee look. Use the stamp to give yourself iced coffee French tips by lightly dabbing it only on the tips of your nails.
Coffee Drips
Although they may have been inspired by chocolate, these two-toned brown nails remind us of the syrup that drips down the sides of a Java Chip Frappe. Start with a delicate metallic polish in champagne or rose gold to get the effect, then finish it with a dark chocolate brown.
Melted Iced Coffee
Pretty basic, one-tone design that still gives that coffee vibe. This iced coffee nail style doesn't require a trip to the salon. The process can be as basic as choosing the ideal brown nail polish. It makes us think of the melting, half-drunk iced coffee that always ends up on our desks at the end of the day.
Coffee Gradient
Anything with gradient always elevates the entire look, even if it's the simplest design. By including incredibly thin arches beneath the main French tip, the classic nail art is given a dainty, contemporary touch. Of course, the design is lovely in a single colour, but a gradient makes it even more attractive. You'll need nail paint in the hues of Iced Latte, Americano, and Espresso to achieve this look. For your base, go with a nude or skin pink shade. Then, using some coffee shade polish, create a typical French tip, followed by a thin arch beneath it.
Kaffé Latté
Nail artist Gracie J created a tone-on-tone look that combines rich chocolate and coffee tones, drawing inspiration from her memories of growing up in Queens, New York, and travelling to Haiti to sip kaffé with her grandmother. They sure do look tempting enough.
'70s Coffee Shop Vibes
The trend is to use this pattern with a '70s feel. Your tips should first be painted with a white colour, followed by a pattern of different brown and orange tones that resembles the sun.
Follow us on Instagram, Facebook or Telegram for more updates and breaking news.