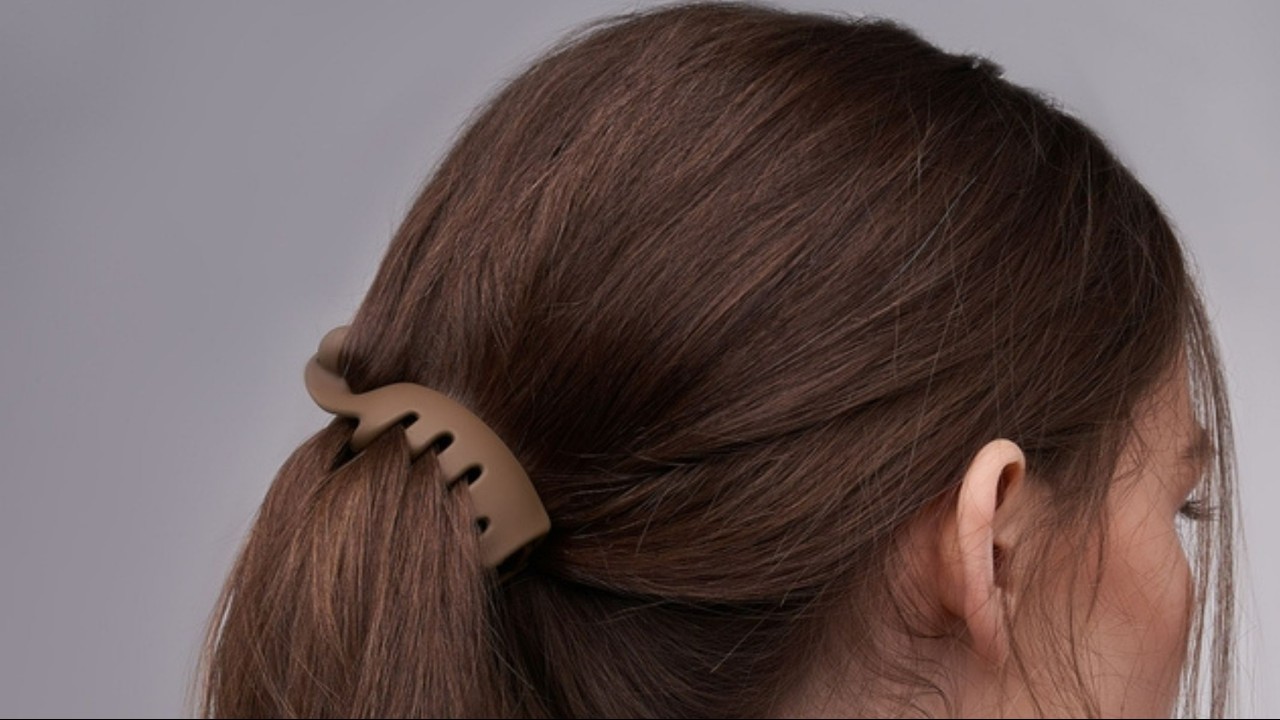 The products curated for this article are independently chosen by the
editorial team. If you make a purchase through the
links
mentioned below, we may receive a commission. Check out our
product
research & curation process
Barrettes and claw clips had their fair share of time, but now it is time for banana clips to outshine them all. These fun and affordable hair accessories are back with a bang, and so are we with our selection of the best banana clips.  
Like Taylor Swift, banana clips have come back stronger than a 90s trend (TBH, they are a 90s trend). And they are here to stay. These clips get their name from, yes, you guessed it right, bananas, the fruit. They have a similar curved or U-shaped design. They typically feature two comb-like prongs with an interlocking mechanism to secure your hair in place. They are heaven-sent for all of us busy people who are always on the go with no time to dedicate to intricate hairstyles. Whether you have thin hair or thick hair, straight hair or curly, a banana clip will help you achieve stylish and effortless hair looks in under a minute. Moreover, these clips are less damaging when compared to scrunchies and elastic hair ties.
From classic plain to tortoiseshell and rhinestoned to metallic, there are many types of banana clips for hair available in the market today. And we tested them all to bring you the best of the best. Join us to explore your ideal pick of the lot and get ready to revolutionize your hair routine.
Our top picks
Best for Special Occasions
Are Banana Clips Still In Style?
They first showed their face back in the 80s and went on to reign in the 90s. Then, they slowly fizzled out of the mainstream and found a place in your mother's (maybe even grandmother's) box of hair accessories that she used back in the day as a relic of the past. But. Call it the influence of Gen Z's obsession with past trends or their inherent awesomeness, banana hair clips are back with a bang. They are all over TikTok. You may also find these everywhere you go. Whether it is a casual brunch or your bestie's wedding, banana clips are busy working their magic for all hair types and textures.
13 Best Banana Clips for Effortless Hairstyles
When it gets boring to just pull your hair up in a simple ponytail, opt for this banana clip clincher that comes in a pack of six. This affordable and easy-to-do hair accessory comes in three colors, including black, brown, and white, to match all your outfits perfectly. They are made of good quality plastic and have a flattened swivel end that makes them easy to use. Drawing from our experience, we can say that it is also suitable for thick and curly hair.
Pros
Offers good hold
Comfortable to wear
Sturdy design
Affordable
Suitable for long and thick hair
Value for money
Cons
Too long for thin hair
Difficult to fasten and unfasten
Experiment with numerous hairstyles with two different styles of banana clips for hair by Aaiffey. It comes in a pack of four and can easily be used by anyone irrespective of their age. Adding a vintage yet classic design to your hair, these clips come in two different designs and as a set of 4. Moreover, these clips have a good enough hold to stay secure all day long. As indicated by our tests, they hold the hair tightly without it causing a headache.
Pros
Easy to use
Cute design
Suitable for kids
Easy closure
Ideal for both thin and thick hair
Make heads turn with a classic hairstyle curated with this Original Stretch banana hair clip. Ideal for those with thick and curly hair, this adjustable clip prevents hair breakage, damage, and random creases. The satin cord keeps your hair in place without any heat styling. The perfectly spaced teeth prevent friction and don't tug the roots of your hair. Our team discovered through using this product that you can easily create numerous hairstyles sans any effort. You won't even have to worry about additional hair accessories, or hats and helmets ruining your hairstyle.
Pros
Has fine teeth
Stretchable design
Lightweight
Works for short and medium hair lengths
Durable
Enjoy a new hairstyle every week of the day with this 12-piece set of banana clips for hair from CHUANGDI. This set includes 4 distinct designs of different shapes, sizes, and colors. They allow you to toy around with numerous styles with every outfit. You can use the fishtail clips while running errands or while applying makeup whereas the round banana clips can be used to create a bun or half-up hairstyle. Based on our firsthand experience, whether you are running errands, going to a work meeting, or simply want to keep your hair away from your face as you go about your day, these clips will bring a lot of compliments your way.
Pros
Nice assortment
Different sizes for different hair lengths/textures
Sturdy built
Cute designs
Holds hair securely
Cons
Not suitable for fine/thin hair
Dress up like the princess that you are with this beautiful Mollensiuer's banana clip for long hair. Made with rhinestone crystals, this silver and gold hair clip gives a delicate touch to your ensemble. Suitable for thin and long hair, you can easily experiment with different hairstyles to create an overall ensemble that reeks of elan and elegance. These pretty clips beautifully hold your mane without pulling your hair strands. Our investigation demonstrated that it might take some practice to get used to this clip.
Pros
Elegant design
Good grip
Suitable for thick, curly hair
Stays secure all-day
Budget-friendly
Cons
Rhinestones may fall
Hair may get tangled in gems
Nothing screams elegance and sophistication like pearls. Take a cue from DEEKA's pearl banana clip for hair that is perfect for adding a graceful touch to your look. With mini rhinestones and white pearls, this simple hair clip gives your hair a natural bounce. Suitable for medium hair length, this clip is extremely easy to use and convenient to put on, especially on a bad hair day. Based on our observations, this banana clip works incredibly well for thin hair without causing any further damage.
Pros
Pretty design
Easy to use
Sturdy
Stays put all-day
Good for gifting
Affordable
Cons
May not work for thick hair
Simplicity is key and these thin banana clips for hair by RC Roche Ornament are a must-have in every girl's vanity. These medium-sized hairclips with a clamp clasp hold the hair perfectly without causing any crease or putting the roots. You can easily style it in a low ponytail or a high updo. The inner small alligator teeth tame frizzy hair and can easily sit with flowers or other hair accessories. After putting it to the test, we discovered that it can hold curly hair with a nice grip but may require some support from hair mousse to stay put for straight and silky hair.
Pros
Sleek design
Makes ponytail look fuller
Sturdy
Works well for fine hair
Multiple color options
Affordable
Cons
Some may find it tricky to open
For those who are always struggling with managing their hair, try these large banana hair clips. While they easily add glamor to a bad hair day, these clips that come in a pack of three can amp up lifeless and dull hair rather efficiently. 1st Choice hair clips in black can be donned for formal occasions as well as while chilling at a coffee shop. If you enjoy the hairstyles donned by the women of the '80s, these clips and a wide-tooth comb are all you need to live your retro dreams. When we trialed this product, we found that these clips can hold fine and thin hair without hurting your roots.
Pros
Good quality
Classic design
Ideal for thick hair
Lightweight
Value for money
Keep your hair away from your face in style with this 9-piece set of banana barrettes from CHUANGDI. This set comes in multiple sizes and colors that let you flaunt a new hairdo on every occasion. These French banana clips are easy to use and protect your hair from breaking. The smooth teeth don't hurt your scalp and can be used with other hair accessories. Ditch the rubber bands and opt for one of these clips that can easily take care of breakage-prone hair. After conducting experiments with it, we discovered the hold of these clips is so good that your ponytail will stay in place through an entire workout.
Pros
Doesn't feel too tight
Can hold hair for whole day
Super comfortable
Ideal for thick hair
Flexible
Affordable
Good value for money
You can always count on WillBond for a job well done. Now, you can make a statement with your hair, whether it's a ponytail, a bun, or a funky new coif, with this non-crease vintage hair clip. Attractive new looks are now easy to achieve. Best suited for all occasions, casual or formal, these banana clips instantly add structure to thick curly, and coily hair. The thin, fine teeth hold the hair in perfect position without pulling or tugging at the roots. Our findings show that using clips like this one can help in reducing hair fall.
Pros
Easy to use
Flexible
Perfect for half up/half down styles
Stays in place
Doesn't cause headaches
Value for money
Bring back the 90s with this set of banana hair clips for thick hair from Youme and give your hair fantastic volume like never before. This set includes 2 different styles of banana clips and 3 different colors. From the classic black to the chic cheetah print, you will be a little bit spoiled for choices as you do your hair. Through our practical knowledge, we suggest taking your time with these clips and getting used to their opening and closing mechanisms.
Pros
Easy to use
Sturdy design
Lightweight
Doesn't tangle in hair
Value for money
Cons
Not for silky straight hair
This banana clip for curly hair from MYEAST is a holy grail for many curly-haired beauties. It has a flexible design that can adjust according to your hair. The brand offers this banana hair clip in two different sizes, including medium and large. You will absolutely love using this one as it is super comfortable and holds the hair in place for as long as you want. We have found from using this product that it is gentle on curls and can be used to create fun hairstyles like a faux mohawk.
Pros
Easy to use
Doesn't slip
Perfect size for most
Looks cute
Has a great hold
Doesn't cause headaches
Cons
Teeth may get bent over time
Grab these hair clips from Parcelona if you have a lot of hair. It doesn't matter whether they are straight or curly. This banana clip will effortlessly garb it all and hold it in place. It has a very sleek and stylish design that will instantly attract you. And that's not all. It comes as a set of two and includes two different colors: classic black and trendy tortoiseshell. Our research indicates that it is one of the best banana clips for thick hair and is worth having in your hair styling arsenal.
Pros
Has a firm hold
Secures hair in place
Works well for fine hair
Easy to clasp
Adds volume to hair
Good value for money
How to Choose the Right Banana Hair Clips for Your Hair?
Since banana clips are back in trend, you may want to get ahead and choose the right one for your hair type, texture, and length. A common complaint with these clips was that they slipped rather easily. However, times have changed, and with our guidance, you can find the best banana clip for your hair. Here are some points that you must remember as you go about shopping:
Consider Your Hair Type
Different banana hair clips work for different hair types as they provide different levels of hold and security. For instance, if you have thick hair, you should opt for a banana clip with wide and sturdy prongs with a strong grip. On the other hand, if you have thin hair, look for something gentle but with more teeth.
Hair Texture
Hair texture also plays an important role when it comes to choosing the right banana clip. This is because straight hair and curly hair have different requirements in terms of hold.
Size 
Size matters a lot when it comes to banana clips. Your choice of size will depend on the length of your hair. Longer hair requires longer clips while round banana clips suffice for short to medium hair lengths. 
Grip
Ensure that the clip has a good grip and will hold hair securely throughout the day.  
Material and Design
Banana hair clips are typically made of plastic, metal, resin, and sometimes wood. They also come in different shapes and designs. Consider your hair requirements, occasion, and personal style, and opt for a clip accordingly.
Prong Configuration
Determine whether you want outward-facing prongs or inward-facing prongs. The former adds volume while the latter offers a sleek appearance.
Ease of Use
You must pick a banana hair clip that is easy to use, i.e., you must be able to fasten and unfasten its locking mechanism with ease and without exerting excessive force.
Comfort
Pick a banana clip for hair that is comfortable to wear for long hours. It must not poke your head or tug at your hair. 
Durability
Invest in good-quality banana clips that have a sturdy design and will withstand regular use. Look for well-made clips crafted with durable materials.
Customer Reviews
Check out customer reviews and feedback as it will give you valuable insight into the functionality and performance of the clip.
How Do You Use Banana Clips to Look Stylish?
Here are the steps that will help you use banana clips to create effortlessly stylish hairstyles:
You can start with either clean or dirty hair, depending on the kind of style you wish to create. Make sure to detangle your hair.
You may also use a texture spray to add more hold if needed.
Select the banana clip ideal for your hair type and length. Don't forget to consider the occasion or event.
Plain and simple designs work for daily use and formal settings. Opt for a clip with rhinestones or pearls to add some dazzling grace to your overall look.
Gather the amount of hair depending on the style you want and hold it in position. Free one hand to grab the banana clip.   
With the comb-like side facing the hair, gently push the clip's teeth into your hair underneath the section you are holding. 
Lock the clip by sliding the prongs together. Adjust if needed. 
They are popular, spectacular, comfortable, convenient, and now back in fashion—these are the qualities that define the best banana clips. These super-affordable and versatile hair accessories combine practicality with style. They transcend the boundaries of age groups, gender, hair length, texture, and thickness, offering something for everyone. From classic colors and chic patterns to eye-catching embellishments, you will be spoilt for choice. With our top recommendations, you can easily transform your hair from drab to fab. Take your pick and embrace the retro charm of banana clips. Get ready to turn heads wherever you go with these little yet incredibly impressive hair accessories.
FAQ's
Are banana clips better than hair ties?
Yes. Banana clips are better than hair ties as they don't tug the hair, break strands, or cause a receding hairline.
Are banana clips better than scrunchies?
Yes, you can try numerous hairstyles with banana clips unlike with scrunchies.
What is the difference between a banana clip and a claw clip?
Although the outcome of the hairstyle may look similar, there is a difference between a banana clip and a claw clip. Banana clips gather all your hair together like a scrunchie and are used to create fuller-looking ponytail styles. Claw clips are typically used to secure all your hair in one place and have a claw-like design.
Is banana clip good for thin hair?
Banana clip is great for thin hair as it adds volume and texture without heat or external hair arsenals.
Do banana clips work on thin hair?
Not all banana clips work on thin hair. The size of the clip and the teeth play a key role.
Why Trust Pinkvilla
Alvira, the author, is a big fan of Y2k fashion and has been closely tracking their revival. It was not surprising for her when everyone's beloved banana clips made a triumphant return to the spotlight. She took this opportunity to try and test several of these hair accessories to create a selection of her top recommendations. She found herself falling in love with the HairZing Original Stretch Banana Hair Clip and the WillBond round banana clips.  
Our product experts study the specifications of every product we suggest and try them out to bring what's proven to be worthy of your money, time, and energy. We also have subject matter experts from various fields like Fashion, Skincare, Haircare, Home Decor, and Health & Fitness onboard to make sure our suggestions are credible and trustworthy. You can trust Select to be your faithful shopping guide for all the right reasons!
Author BIO
With a keen eye for detail and a passion for hairstyling, Alvira is a certified Hair Expert who brings the latest tre More