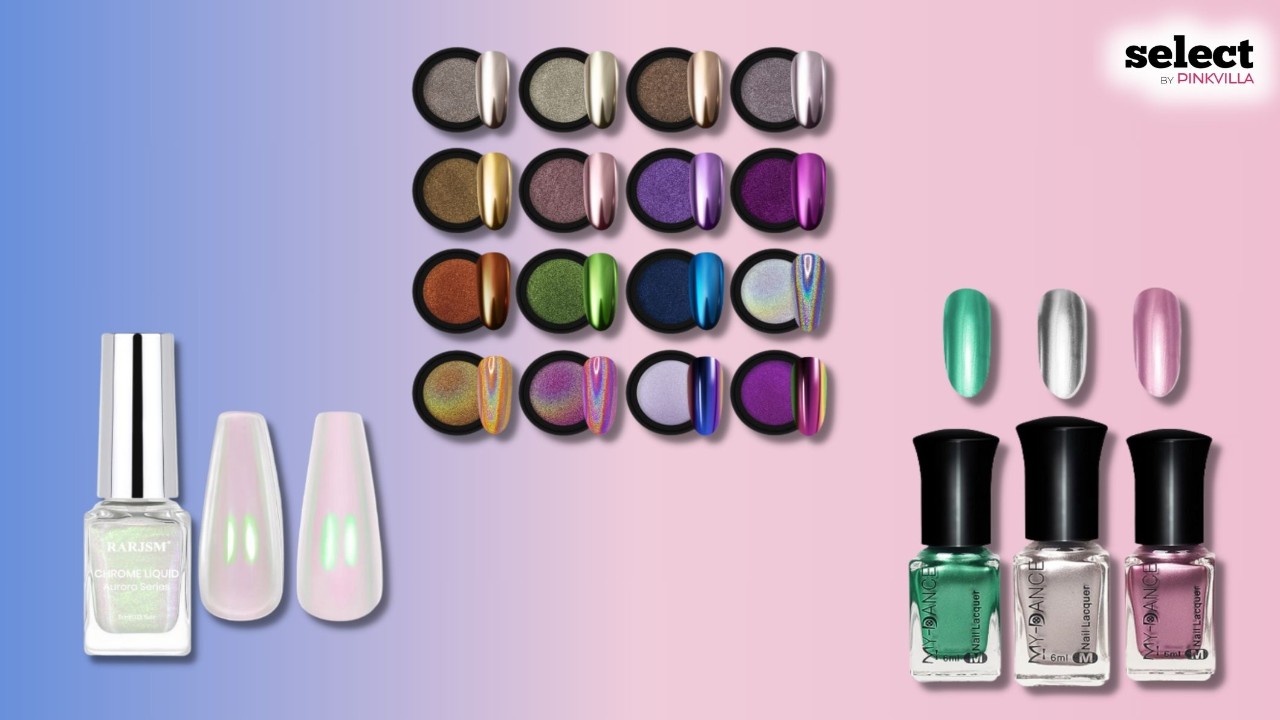 The products curated for this article are independently chosen by the
editorial team. If you make a purchase through the
links
mentioned below, we may receive a commission. Check out our
product
research & curation process
Join the latest trend in fashion with the best chrome nail polish and get mesmerizing reflective nails right at home. Give your nails a futuristic and cosmic-inspired effect with these holographic and metallic nail powders.
Chrome manicure became a rage after Hailey Beiber was spotted flaunting it, be it during her wedding or vacations. Overnight, everyone wanted her glazed donut nails created by topping regular nail polish with white chrome nail polish. Chrome nails feature a shimmery sheen over a base coat, cured under UV LED light to get that signature mirror finish. When the nails catch the light, they create beautiful patterns. Depending on the color of the base coat, you get different chrome effects.
Light sheer base colors like baby pink, cream, and nude give a subtle, iridescent chrome finish while darker, opaque shades create bold, metallic effects. With a little practice, you can easily ace this style at home, without having to visit the salon. As per our expertise, we have handpicked some of the trendiest chrome nail powders that look stunning on all nail shapes and types.
Our top picks
Best High-polish Appearance
How Does Chrome Nail Polish Work?
Chrome nail polish works by applying a metallic shade between a base layer of nail polish and a protective top layer of clear, glossy polish. It can be applied on all nail types, natural, acrylic, or UV gel. 
After lightly buffing the nails, apply a light layer of clear base coat and cure it under a UV lamp for about 1 to 2 minutes. 
Then apply the colored gel nail polish. White gel polish will give a pearly finish while black gel polish will give a chrome shade. Cure it for about 1 to 2 minutes. 
Then apply a layer of no-wipe top coat, curing it for about 30 seconds. 
Taking an eyeshadow stick or using your finger, apply the chrome nail powder onto the nails. 
Dust off the extra powder with a brush. 
Then apply another layer of no-wipe top coat to seal in the powder. Cure it for 1 to 2 minutes and get a beautiful, mesmerizing mirror and chrome effect.
13 Best Chrome Nail Polishes that We Are Absolutely in Love With
These 16 pieces of nail powder from Artdone house all the styles of chrome nail polish, be it holographic effect, mirror effect, white chrome effect, or changing chameleon effect. These powders can be used on natural nails, acrylic nails, false nails, or UV gel nails. They are extremely fine in consistency and go a long way, delivering about 40 to 50 manicures per jar. Get a perfectly shining mirror effect with different background colors with these nail powders. 
Pros
Delivers stunning chrome effects
Easy to apply
Long-lasting
Great pigmentation
High-quality powder
beetles Gel Polish offers a chrome powder with a pearlescent effect that gives different chrome color effects with different base colors. The powder is made from ultra-fine salon-grade pigments that deliver a smooth, non-grainy texture. It comes with a dual-ended brush, one end to apply the powder while the other end to brush off the excess powder. Suitable to use on all nail types, natural, acrylic, or UV gel, different colored gel polish will bring about different effects with the chrome nail polish shade. 
Pros
Non-toxic
Non-grainy texture
Long-lasting
Smooth application
Vibrant pigmented powder
This cat eye gel polish from the nail polish brand AILLSA is a clear one that delivers iridescent glitter after making designs with magnets. The dense magnetic powder makes a beautiful gradient effect that lasts for up to 21 to 28 days without losing the shiny luster. It can be used on any base color nail polish, jelly gel nail polish, poly gel, and other nail gel. Give your nails a brilliant shimmering effect with this chrome nail polish that comes with a magnet which you can use to design your cat eye style.
Pros
Made from natural resin
Lasts for up to 21 to 28 days
Provides long-lasting shine
Does not peel off
Smooth application
Cons
The gradient is not visible enough
We have yet another chrome nail powder from the House of Beetles Gel Polish. This is a set of 8 nail powders consisting of holographic laser silver, chrome gold, silver, pink, and purple, pearlescent blue and green, and iridescent powder. It is accompanied by 8 eyeshadow sticks and a jar of each black and white color gel. Made of 100% pure synthetic resin powder, it can be applied on UV gel nails, acrylic nails as well as natural nails. You can use this powder with both UV gel polish and regular nail polish. Get amazing metallic and holographic pearlescent effects with these chrome nail colors.
Pros
Easy to apply
Non-toxic
Non-grainy
Smooth application
Ultrafine powder
Get a premium version of the neon nail powder with this nail powder from evpct that contains superfine salon-grade pigments. Apply on top of gel nail polish to achieve a shiny, mirror effect. An Amazon user has reviewed it as such, "I got this to try out the Glazed donut nails AKA Hailey Bieber nails. It's not exactly like the one she uses. This one has more iridescent/mermaid vibes. But still super cute."
Pros
Easy to apply
Lovely shine
Long-lasting
Suitable for every skin tone
Comes in a set of 2 pieces
Without any need for UV light curing, this chameleon nail polish gives a holographic effect once dry. The natural formula is highly pigmented and silky smooth. Get different effects with different base colors. Depending on different lights and angles, they create different colors and designs. This easy-to-apply chrome nail polish gives you beautiful color-changing and velvet effects in just 4 steps. Apply a base coat, then a coat of backdrop polish, then the chameleon nail polish, and finish it off with a top coat. Let each layer air dry for 30 seconds and the final layer for 3 to 4 minutes to get an envious chameleon finish.
Pros
Easy to apply
Quick drying
Long-lasting
Non-toxic
Water-based formula
LOKFAR presents metallic nail polish that gives off a high-quality mirror finish. Available in a set of 3, each nail lacquer is ultra-pigmented to deliver a dazzling titanium mirror effect. You can easily apply it at home without any need for base or top gel coats or UV light curing. The high-color saturated formula provided a stunning effect of metal and mirror reflection finish. The thin and breathable texture is ideal for daily use without any flaking or chipping.
Pros
Quick-drying
Waterproof
High-quality formula
Long-lasting
Chip-resistant
Give your nails a glamorous effect with these vibrant chrome glitter nail paints from SAVILAND. These quick-drying nail polishes are made from natural resin that does not harm your nails. They give you hassle-free applications without the requirement of a UV lamp.  They can be easily removed without the need for scrubbing, and they do not leave any residue or color stain after removal. Enhance the appearance of the nails with a unique metallic texture that gives different reflection effects at different angles.
Pros
High-quality texture
Smooth application
Chip-resistant
Long-lasting
Oil-based formula
Cons
The shades are not very pigmented
Create a high-gloss mirror chrome effect with MIZHSE's pearly white chrome nail polish that displays the chrome effect on a black base and the pearl effect on a white base. The chrome effect results in a green to purple to teal shimmer finish. You do not need a UV lamp to get the desired mirror effect. Simply apply the base nail paint, let it air dry, and then rub the chrome powder on top with a sponge stick until you achieve the mirror effect. It can be applied on UV gel nails, acrylic nails, or false nail tips.
Pros
Easy to apply
Quick drying
Suitable for all nail types
High-gloss shine
Chip-resistant
A chrome nail lacquer from DouborQ that delivers a perfect chameleon effect by just air drying. The steps include a base layer, black polish, chrome polish, and a top layer. Air drying each layer for 30 seconds and the final layer for 3 to 5 minutes gives a silky smooth, color-changing finish. With an easy-to-control brush and a great consistency formula, this polish is a dream to apply. Marvel at how your nails display different colors at different angles and under different lights. 
Pros
Long-lasting
Iridescent effect
Shimmery finish
Lustrous color
Delivers semi-sheer color shift
Made from high-density molecules and thick texture, this silver nail polish from TOSOUATOP gives your nails a unique metallic luster and high mirror shine. The kit comes with 3 different sizes of brushes to achieve different styles and effects. The silver chrome nail polish gives a perfect mirror effect, a classy French Mani, or a beautiful stereo effect. One of the Amazon reviewers has described the nail polish as having, a "Very shiny finish. Looks amazing, remember to use a dark base coat."
Pros
Long-lasting
Quick-drying
Mirror effect
Super glossy
Metallic texture
Shine bright with this glossy gold chrome nail polish from SUPWEE and give your nails a stunning, reflective finish. Without the need for any extra tools, magic mirror liquid is easy to apply. The highly pigmented formula delivers a beautiful metallic effect and can be used to create a variety of nail art designs, from simple accents to intricate patterns. You can get the chrome effect by applying it over either a base coat of regular or gel nail polish.
Pros
Long-lasting
Easy to apply
Quick-drying
Non-toxic
Suitable for all nail types
RARJSM's aurora white pearl chrome nail polish is made from natural resins. When rubbed over a base coat of gel nail polish, this chrome nail polish creates a smooth liquid look and a glossy finish. It quickly air dries to deliver a magical chrome effect. Suitable to use on all nail types, applying it on different color gel bases will result in other effects. For a metallic effect, apply it on top of a black gel base coat, and to get a pearl aurora effect, apply it atop a clear nude gel base coat. 
Pros
Made from natural resin
Non-toxic
It does not require curing under a UV lamp
Suitable for all nail types
It does not get messy like the chrome nail powders
How to Pick The Best Chrome Nail Polish?
Picking the best chrome nail polish requires some serious considerations. Keep in mind the following points when buying a chrome nail polish:
Ingredients: When picking the best chrome nail polish, look for one that is free from harsh chemicals like paraben, camphor, formaldehyde, and others that might damage the natural nails and turn them yellow.
Longevity: To get the best result, opt for a chrome nail polish that is smudge-proof, chip-resistant, and long-lasting. 
Type of Effects: When it comes to chrome nail effects, they are quite versatile. There is the signature mirror-like metallic finish, then there is the holographic and aurora effects that have rainbow specks swirling in them. The glossy chrome effect has sparkling particles infused to deliver a flawless metallic shine. Depending on your mood and the style you want to carry, opt for any of the many chrome nail effects.
Customer Reviews: To learn about the latest trend in chrome nail polish, go through the customer review section. Users will let you know about the latest color and effect trends in chrome nail art as well as the performance and longevity of the nail polish.
How to Remove Chrome Nail Polish?
Removing chrome nail polish requires a little bit more time and effort than regular nail polish. You have to apply different methods for different nail types. To remove chrome powder from natural nails, follow these simple steps:
Gently file the surface of each nail with a nail file. This will help in removing the gel top coat and breaking the seal.
Soak cotton balls in acetone and place them on top of each nail, securing the balls with aluminum foil. Keep them for at least 10 to 15 minutes to help remove the polish.
Remove the foil and cotton balls after 15 minutes. The chrome polish should be removed along with the balls. Taking a cuticle pusher, gently pry off any leftover chrome from the nail bed.
The nails might look brittle and dry after the chrome has been removed. Apply a hydrating cuticle oil or moisturizer to restore the nails' moisture.
Be patient and gentle while taking off the chrome nail polish. Do not try to push off the chrome polish as this will damage your nails.
Apply a little pressure to ease off the finish. If the finish does not loosen easily, soak your nails for a longer period or file the surface again.
When chrome nail powder is applied to acrylic nails, follow these steps to remove it:
File each nail with a nail file to remove the gel top coat and break the seal.
Do not use acetone to remove chrome nail polish from acrylic nails. Acetone will break the bonds of the acrylic polymers and damage your manicure. 
Gently buff off the chrome powder until you reach the base coat. 
Remove the nail dust with rubbing alcohol.
Apply a moisturizer to restore the nails' moisture.
Conclusion
Our findings show that the trend of chrome nail polish is here to stay. Every beauty enthusiast is opting for this viral nail trend that gives your nails a dazzling high shine with various effects. It can be done in a wide array of colors, from bright green to pale pink, from deep purple to pearly white, from vintage gold to classic silver. Let your nails be a kaleidoscope of colors with the chameleon effect or flaunt your futuristic style with the titanium chrome effect. Give a twist to the classic French Mani with a stunning chrome gold or silver-colored tip. The best chrome nail polishes are made of natural resin without any harmful chemicals or artificial ingredients that might harm your nails. They glide across your nails smoothly and give a seamless shimmery finish. Whatever mood you are in, there is a chrome nail look to match each one.
FAQ's
Can you do chrome nails with regular nail polish?
Yes, you can do chrome nails with regular nail polish but it will not last as long as when done with gel polish.
Do you put a top coat over chrome nails?
Yes, a top coat is a must over chrome nails to seal in the chrome powder and keep it from chipping or fading.
Can you use eyeshadow as chrome powder for nails?
Yes, you can use eyeshadow as chrome powder for nails. It is one of the easiest nail hacks to get the chrome effect at home.
What color nail polish looks best with chrome?
A black base gel coat looks best with chrome as the black background creates the perfect iridescent and mirror effect.
Are chrome nails still trendy?
Yes, chrome nails are still in trend. They are one of the styliest manicures of 2023.
What is the difference between chrome and metallic nail polish?
The difference between chrome and metallic nail polish lies in the texture. Metallic nail polish gives a deep pearlized or foil effect while chrome nail polish gives a seamless mirror effect.
What to ask for to get chrome nails?
If you want to get Hailey Beiber's chrome nails, ask for the glazed donut look, or show a picture of the chrome manicure. For white chrome nails, ask for a cream-colored gel polish manicure with white chrome powder on top or again, show a picture. Whatever style of chrome nails you want, it is always safe to show a visual reference so that you and your nail artist are on the same page.
Can you do chrome nails at home?
Yes, with so many chrome nail kits available in the market, you can easily do chrome nails at home. Some of the kits do not even need UV light curing.
Does chrome polish last?
Yes, when done correctly, chrome polish lasts for up to 21 to 28 days without chipping flaking, or fading.
Why Trust Pinkvilla
Sayantani, the author, is a certified makeup expert who ventures into the world of chrome nail polish in today's article. Talking about the trendiest nail style, she discusses how chrome nail polish stands out from other nail trends due to its mirror-like illusion. It creates a gorgeous shimmery sheen, enhancing the shine to the maximum level. It can be done in various colors as well as incorporated into classic nail looks. She has enlisted the best chrome nail polishes for you to try and get on with the latest nail trend.
Our product experts study the specifications of every product we suggest and try them out to bring what's proven to be worthy of your money, time, and energy. We also have subject matter experts from various fields like Fashion, Skincare, Haircare, Home Decor, and Health and fitness on board to make sure our suggestions are credible and trustworthy. You can trust Select to be your faithful shopping guide for all the right reasons!
Author BIO
Sayantani is a certified hair and makeup professional turned writer with 2+ years of experience in the same genre. Ap More