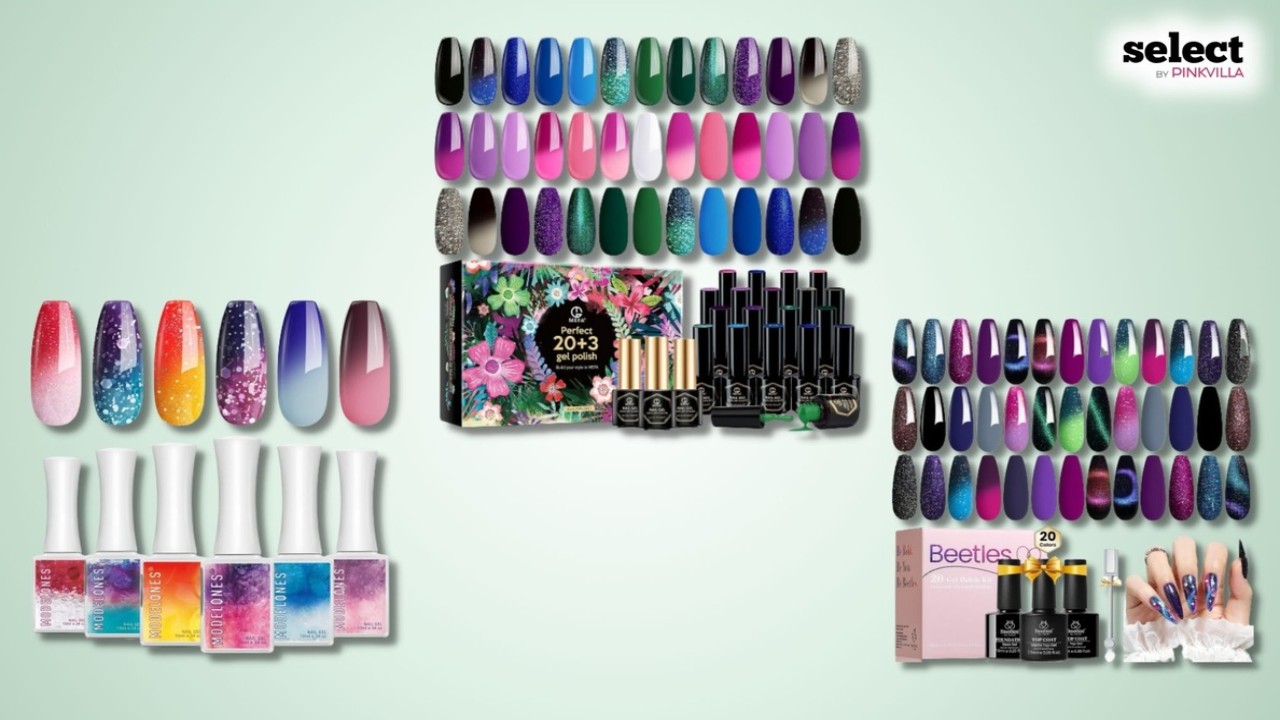 The products curated for this article are independently chosen by the
editorial team. If you make a purchase through the
links
mentioned below, we may receive a commission. Check out our
product
research & curation process
Color-changing nail polishes have revolutionized the beauty industry, offering a delightful and mesmerizing twist to traditional manicures. These innovative nail lacquers have taken nail art to a whole new level, offering an enchanting experience that captivates the hearts of both enthusiasts and trendsetters. Based on our experience, we have come up with a curated list of some of the best color-changing nail polishes that are breaking the internet these days!
Spice up your boring at-home manicure sessions with the best color-changing nail polishes, in no time. These color-changing nail polishes are not your regular nail polish lacquers; they possess a unique ability to shift shades in response to temperature changes. And witnessing your nails transform from one color to another with the warmth of your hands or the chill in the air is indeed a spellbinding experience for all of us makeup fanatics. Infused with a wide range of high pigmentations, these nail polishes offer an array of transitions; each time the temperature changes!  
Whether you're looking to make a fashion statement, embrace a touch of whimsy, or simply express your creative flair, these color-changing nail polishes offer a unique blend of science and style that brings magic to your fingertips. Achieve a salon-worthy manicure that boasts durability, chip resistance, long-lasting wear, and an exceptional shine boost with these top picks.
How Does The Color-Changing Nail Polish Work?
Color-changing nail polish, also known as thermal nail polish or mood polish, works through a fascinating process involving special pigments called thermochromic pigments. These pigments are sensitive to temperature changes. When you apply the nail polish to your nails, it contains these tiny pigments.
Now, when your nails come into contact with something warm, like hot water or even just the body heat, the pigments react by changing color. So, if you dip your nails in warm water, for example, you might see your nail polish turn from one color to another, creating a cool and almost magical effect. Conversely, when your nails get cold, like if you step outside on a chilly day, the pigments will change back to their original color. It's like having a mini mood ring on your nails that responds to temperature instead of your emotions.
So, color-changing nail polish is a fun and fascinating way to add a bit of flair and surprise to your nail look, and it's all thanks to these clever little pigments that respond to temperature changes. Keep scrolling to read more about this amazing beauty invention that's bound to level up your nail game!!
13 Best Color-changing Nail Polishes for a Unique Style
The Beetles 24Pcs Gel Nail Polish Kit is a complete set for creating beautiful and unique nail art. The kit includes glitter color-changing cat eyes gel polish, a base gel, and both glossy and matte top coats. The colors are perfect for fall and Halloween nails, making it a great choice for girls and women who love DIY nail art. The kit is also suitable for use in a salon manicure. The gel polish is soaked off and requires curing under a nail lamp.
Pros
Festive nails
Salon worthy
Gift set
Toxin-free
Matte finish
Unleash your inner nail artist and elevate your manicure game with our sensational 6-color gel polish collection. Each 10ml bottle is a treasure trove of vibrant shades that will take your nails on a journey from pink glitter to mesmerizing blue, soothing purple, fiery orange, and captivating mood-temperature transformations. Experience the magic as your nails shift colors with changing temperatures, adding an exciting twist to your style. The soak-off gel formula ensures your manicure stays flawless for weeks, giving you salon-quality nails right at home.
Pros
Amazing Color Range
LED curable
Long-lasting
Professional-looking nails
This meticulously crafted set brings you a stunning collection of gel nail polishes that not only boast vibrant, long-lasting color but also the enchantment of color transformation. Watch as your nails shift from one captivating hue to another, adapting effortlessly to changes in temperature, creating a nail art masterpiece that's truly one-of-a-kind. The MEFA Gel Nail Polish Kit stands out for its user-friendly application. The included brushes enable precise and even coverage, while the gel formula dries quickly under an LED or UV lamp, ensuring a professional finish without the need for frequent touch-ups. Say goodbye to chipped nails and hello to flawless, vibrant, and enduring manicures.
Pros
Multiple shades
Nail art set
Ideal gifts for her
smooth finish
The Kanorine Temperature Color Nail Polish boasts an easy-to-apply, salon-quality formula that ensures impeccable, long-lasting results. The vivid colors stay vibrant and chip-resistant for weeks, allowing you to flaunt flawless nails with confidence. Express your style and creativity with this versatile set. From subtle, everyday elegance to bold, attention-grabbing designs, these polishes offer endless possibilities for nail art enthusiasts. Whether you're a professional or a DIY enthusiast, this kit makes achieving salon-worthy nails effortless.
Pros
Easy to apply
Dries quickly
Long-lasting
No smudging or nicking
Cons
Requires a UV or LED lamp for drying
The Modelones 25 Pcs Gel Nail Polish Kit is a complete set for creating beautiful and long-lasting gel nail polish. The kit includes 20 colors of glitter cat eye gel polish that can change color, a bond primer, a glossy and matte topcoat, and a base coat. The kit is suitable for both salon and home use and can be used for DIY nail art. The mood nail colors kit is also a great gift idea for friends and family who love doing their nails.
Pros
Multiple shades
DIY Nail Art Salon
Shimmery
Matte finish
High gloss wear
This color-changing gel nail polish is designed to be used with a durable top coat of nail polish to strengthen the nails' color resistance and keep good tenacity. Makartt gel nail polish is cruelty-free and made from healthy ingredients. What sets this kit apart is its user-friendly application. The included brushes allow for precise and even coating, while the gel formula dries quickly under an LED or UV lamp, ensuring a professional finish in the comfort of your home. Say goodbye to frequent touch-ups and hello to stunning nails that endure.
Pros
Non-toxic
Easy application
Natural formula
Shimmery
The UR SUGAR Glitter Gel Nail Polish Set includes 6 colors of glitter gel nail polish, a 9D cat magnetic black nail polish, and a color-changing gel polish kit. The set includes hot pink, purple, and gold colors. The gel polish is a soak-off kind and can be easily removed. The magnetic gel polish needs to be used with black gel nail polish as a base color to achieve the desired effect. The set comes in an all-in-one gift box, making it a perfect manicure gift for women.
Pros
At-home manicure
Easy to apply
Long-lasting
Multiple shades
Elevate your nail game with the Omainy Gel Nail Polish Set, a meticulously curated collection that promises to redefine your at-home nail experience. This kit introduces you to a world of limitless creativity and vibrant nail art possibilities. These high-quality, long-lasting colors ensure your manicure stays flawless and chip-free for weeks. This mood-changing nail polish set is not just about aesthetics; it's about durability and performance.
Pros
Glossy
Environmental
Healthy formula
Salon style flawless finish
The YTD Likomey Color Changing Gel Nail Polish is a high-quality, durable, and easy-to-use UV gel nail polish that changes color based on temperature. The product comes in a 15ml bottle and is available in Burgundy Red, Translucent Nude Pink, and other mood temperature change colors. The gel is smooth and easy to apply, with low odor and non-toxic ingredients. For best results, it is recommended to apply 2-3 layers. The product is long-lasting and can be easily removed with soak-off UV nail gel polish.
Pros
Long-lasting
Easy to use
High-quality
Trendy shades
This mood color-changing nail polish set offers a vibrant and dynamic nail transformation experience. This kit includes a range of gel nail polishes that respond to temperature changes, creating captivating color shifts. With easy application and a long-lasting formula, you can achieve stunning, salon-quality results at home. Whether you prefer subtle transitions or dramatic effects, this kit provides versatile options for various occasions. Elevate your nail game and express your creativity with Croitout's Color Changing Gel Nail Polish Kit. It's your go-to choice for on-trend, captivating nail art.
Pros
Ideal gift set
Durable colors
Suits every occasion
Multiple colors
The Allenbelle Color Changing Nail  Set is a set of high-quality color-changing gel polishes that change color according to the temperature. The set includes 4 pieces of gel polish that present 12 different colors for your nail art. The colors change from lighter color to darker as the temperature changes from warm to cold. The nail polish is made of natural resin, which is non-toxic and has a low odor, making it safe to use. The set is suitable for natural nails and UV gel nails. The color-changing nail polish is exclusive to the brand and is of high quality. These are bright colors and are long-lasting, giving you a perfect glossy effect.
Pros
Wide range of colors
Non-toxic
Mild scent
Easy removal
This color-changing gel nail polish set is a fun and easy-to-apply water-based, non-toxic nail polish kit for kids aged 8 and up. The kit includes five colors that change color with body temperature, warm water, or warm light. The colors included in the kit are Outrageous Orange, Funky Fuchsia, Perfect Purple, Bold Blue, and Groovy Green. The nail polish is easy to remove with nail polish remover, so kids can switch up their look as often as they like.
Pros
Perfect gift for teens
Versatile color options
Affordable
Water-based
The GAOY Color Changing Gel Nail Polish Set includes 6 temperature-changing colors that are heat-activated and change according to temperature. The set includes all the colors you need to create a variety of looks and is a great value for the price.
It offers red, pink, and purple shades that are perfect for creating mood-changing gel manicures at home. It is chip-resistant and has a glossy finish. This set is perfect for those who love to experiment with nail art and create unique looks at home. The temperature-changing feature adds an extra element of fun and creativity to your manicures. The gel polish is easy to apply and cure with a UV light.
Pros
Toxin-free
Long-lasting
Easy DIY
Salon-worthy dazzling manicures
Painting your nails is in itself a relaxing and magical experience and it gets even better when you get to see the magic of changing colors on your nails. But before you err in excitement, here's a quick buying guide for you.
 
How to Choose The Best Colour-Changing Nail Polish?
Selecting the best color-changing nail polish can be an exciting but challenging task with the plethora of options available. Here are some points to help you make an informed decision:
Skin Tone
Choose nail polish shades that complement your skin tone. For wheatish skin, go for pinkish undertones. Dark skin tones can rock pastels. Pale skin pairs beautifully with nudes, silvers, lilac, blues, and greys. Pinks and light purple are fantastic options. Bright pinks or reds with bluish undertones work well. Avoid gold and dark shades as they might emphasize pale skin.
Types
Explore the fun world of thermal nail polishes that transform with temperature changes. They become transparent in warmth and opaque when it's cold. Solar reactive options change color under UV light, returning to normal indoors. For a playful rainbow effect, try holographic nail polishes that create stunning colors through refraction.
Consider Your Style
Think about your personal experience and preferences. Color-changing nail polishes come in various transition styles, from subtle gradients to dramatic shifts. Choose one that aligns with your aesthetic.
Temperature Sensitivity
Pay attention to how sensitive the polish is to temperature changes. Some may require extreme temperature variations, while others respond to slight differences. Opt for one that suits your climate and lifestyle.
Color Range
Check the range of nail polish colors available in a particular nail polish brand. Ensure they offer shades that you like and can wear comfortably.
Transition Speed
Some polishes change color quickly, while others may take longer. Depending on your preference, pick one that suits your desired transition speed.
Application
Consider the ease of application. Some color-changing nail polishes may require specific instructions or techniques for the best results. Read user reviews and follow instructions carefully.
Base Coat
Determine if you need a specific base coat for the polish to work correctly. Some color-changing polishes work better with a particular base coat, so ensure compatibility.
Ingredients
Check the ingredients list for any potential allergens or harmful chemicals. Look for nail polishes that are free from toxic substances like formaldehyde, toluene, and DBP.
Brand Reputation
Research the brand's reputation and customer reviews. Established brands with positive feedback are more likely to offer quality color-changing nail polishes.
Longevity
Assess the durability of the polish. A good color-changing nail polish should last for several days without chipping or fading. Look for long-wearing options.
Price Point
Compare prices across different brands and products. While quality is essential, consider your budget and opt for a polish that offers good value for money.
UV Light Exposure
Be aware that some color-changing polishes require exposure to UV or sunlight to trigger the color change. If this is not practical for you, choose a polish that changes with temperature alone.
Test Patch
Before applying the color-changing nail polish to all your nails, do a test patch on one nail to ensure you like the color transition and its overall effect.
Return Policy
Check the return policy of the seller or brand in case the nail polish doesn't meet your expectations or causes any adverse reactions.
Storage
Properly store your color-changing nail polish in a cool, dark place to maintain its effectiveness. Extreme heat or sunlight can affect the pigments.
By considering these points, you can confidently choose the best color-changing nail polish that suits your style, preferences, and lifestyle while ensuring a fun and visually captivating nail experience.
How to Apply Color-Changing Nail Polish?
Applying color-changing nail polish can be the same as applying a regular polish; a fun and creative process. Here are detailed steps to help you achieve the best results:
Preparation
Clean Nails: Start with clean, dry nails. Remove any old nail polish using a non-acetone nail polish remover and wash your hands to remove any residue.
Trim and Shape: Trim your nails to your desired length and shape them with a nail file. Ensure all nails are uniform in size and shape.
Push Back Cuticles: Gently push back your cuticles using a cuticle pusher or a wooden stick. This creates a clean canvas for your polish.
Application
Base Coat (Optional): Apply a clear base coat to your nails. This can help protect your natural nails and improve the adhesion of the color-changing polish.
First Coat: Apply a thin layer of color-changing nail polish to your nails. Start with one nail at a time, applying smooth and even strokes from the base to the tip. Make sure not to apply too much polish to avoid streaks or smudging.
Repeat: Apply a second thin coat if needed for a more vibrant color. Allow each coat to dry before applying the next.
Color Transition
To see the color change, expose your nails to different temperatures; cold temperatures or hot temperature. You can use cold water or warm water, or simply blow on your nails to create the effect. The transition may take a few moments, so be patient.
Finishing Touches
Apply a clear top coat to seal and protect your color-changing nail polish. This can also enhance the shine and longevity of your manicure.
Clean Up
Use a small brush dipped in nail polish remover to clean up any polish that may have gotten on your skin or cuticles. This helps achieve a neat and professional look.
Drying Time
Allow your nails to dry completely. This may take 15-30 minutes depending on the thickness of your coats. Be patient to avoid smudging.
Maintenance
Admire your color-changing nails and have fun showcasing the transition effect.If your color-changing nail polish chips or wears off, you can touch up the affected areas with more polish and top coat.
Removal
When you're ready to remove the polish, use a non-acetone nail polish remover. Soak a cotton ball or pad, place it on your nail, and wrap it in foil to help the polish dissolve and lift off easily.
With these detailed steps, you can confidently apply and maintain your color-changing nail polish, creating eye-catching and dynamic nail looks that reflect your style and mood.
CONCLUSION
The versatility of the best color-changing polishes ensures that anyone, from beginners to seasoned nail artists, can unleash their creativity and make every manicure a unique masterpiece. These innovative polishes cater to every mood, occasion, and style preference.
So, embrace the magic of color transformation, elevate your nail game, and let your nails become a canvas for self-expression and artistry.
FAQ's
Is color-changing nail polish safe?
Yes, color-changing nail polish is generally safe to use. However, it's essential to check the ingredients and ensure it doesn't contain harmful chemicals.
Does color-changing nail polish work with a top coat?
Yes, color-changing nail polish can be used with a top coat. It helps seal the polish and prolongs its lifespan while enhancing shine.
How long does color-changing nail polish last?
The longevity varies, but it typically lasts for a few days to a week, depending on the brand and your daily activities.
How do you remove color-changing nail polish?
You can remove color-changing nail polish with a non-acetone nail polish remover. Soak a cotton ball or pad, place it on your nail, and wrap it in foil to help dissolve and remove the polish.
Is color-changing nail polish safe?
Yes, color-changing nail polish is generally considered safe for use on nails. However, it's essential to follow the manufacturer's instructions and avoid prolonged skin contact with the polish.
What nail polish changes color in the sun?
Some brands offer nail polishes that change color in response to UV or sunlight exposure. These are often referred to as
Do you need a UV light for color-changing nail polish?
No, most color-changing nail polishes do not require a UV Nail lamp. They change color due to environmental temperature fluctuations or sunlight exposure.
Why does gel nail polish change color?
Gel nail polish changes color due to the thermochromic or photochromic pigments present in the formula. These pigments respond to temperature or Ultraviolet light, causing the color shift.
Why Trust Pinkvilla
Sayantani Deb, our beauty expert and makeup fanatic loves to explore the latest trends in fashion, makeup and accessories. The author meticulously goes through each product description, multiple customer testimonials, and various online reviews, before recommending any product. Here she has shortlisted the best Color-Changing Nail Polishes that promise a Salon-looking finish.
Our product experts study the specifications of every product we suggest and try them out to bring what's proven to be worthy of your money, time, and energy. We also have subject matter experts from various fields like Fashion, Skincare, Haircare, Home Decor, and Health & Fitness onboard to make sure our suggestions are credible and trustworthy. You can trust Select to be your faithful shopping guide for all the right reasons!
Author BIO
Sayantani is a certified hair and makeup professional turned writer with 2+ years of experience in the same genre. Ap More