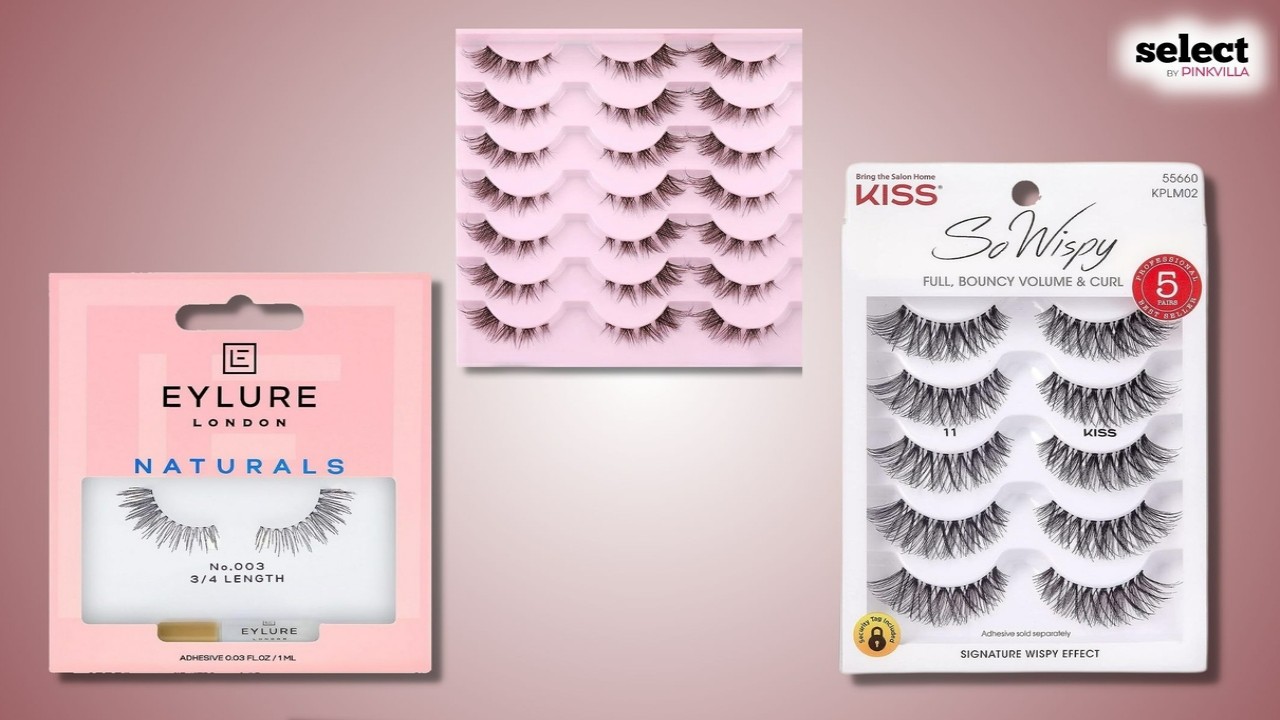 The products curated for this article are independently chosen by the
editorial team. If you make a purchase through the
links
mentioned below, we may receive a commission. Check out our
product
research & curation process
Enhancing the natural beauty of Asian eyes is an art. One of the most simple, affordable, and impactful ways to achieve this is through the careful selection of false eyelashes. Though the majority of Asian individuals are often blessed with the beauty of monolid or hooded eyes, the right pair of falsies can enhance these eye shapes gorgeously. When it comes to a clean makeup look, gluing the best false eyelashes for Asian eyes is your safest bet to stand out. Whether you're aiming for a subtle everyday enhancement or a dramatic evening allure, false eyelashes offer a range of options to help you achieve the perfect look. They are the perfect eye-enhancers that naturally upgrade your facial features. 
To save you from the mess of mascara smudging, flaking, or eyelashes falling out, here we thoughtfully sorted a list of gorgeous, natural, and durable false eyelashes for Asian eyes. These picks are sure to amp up your glam quotient in just a few minutes. These feathery, fluttery, and incredibly long and voluminous options will elevate your minimalist makeup or no makeup look and stay intact for an extended period. You can also pair it up with a hint of little eye makeup to bring an added dose of glam to your night-time event.
While certain eye shapes can naturally stand out with just a touch of makeup, others might need a touch more finesse to truly achieve their full radiance. But whatever your eye shape is, these faux lashes accentuate and bring out the natural charm of your eyes' unique contours. If you're a total beginner to this, there's no need to feel unsure or overwhelmed. Simply take a look, because right here, you'll discover a multiple range of faux lashes that bring a boost of volume and impact, that too, with easy application.
Our top picks
Best for natural fullness
Reusable and water-proof ki
The best cruelty-free choice
The best choice for hooded Asian eyes
Best choice for 3D and 6D volume
Best kit with eyelash curler
13 Best False Eyelashes for Asian Eyes to Boost Appearance
Because of the luxurious full bouncy volume and curl provided by these signature wispy lashes, they can become your ultimate secret to achieving captivating eyes. Crafted with precision, these false lashes consist of a crisscross pattern that seamlessly blends with your natural lashes and provides a flawless and mesmerizing finish. Made from high-quality synthetic materials, these lashes won't hurt your eyes or skin without compromising on style. The multipack comes with five pairs of lashes, allowing you to effortlessly switch up your look whenever you desire. These lashes are cruelty-free and reusable which makes them a sustainable and smart choice for all the nature-friendly beauty enthusiasts out there.
Pros
Provides volume
Gives length
Made of synthetic material
Lightweight
Natural looking wispy effect
With their naturally wispy effect, Newcally Manga Lashes seamlessly blend with your natural lashes and create a breathtaking effect that's perfect for both everyday wear and special occasions. The clear, thin, and light fit band ensures easy application with a beautiful and secure fit, allowing you to flaunt your lashes with confidence. With a generous 14 pairs in each package, you'll have the freedom to experiment with different looks and styles. These faux Korean false eyelashes are made of vegan material and are 100% handcrafted from high-quality premium fibers to make your eyes appear bigger and brighter.
Pros
Easy to use
Easy to remove
Lightweight
Beginner friendly
Vegan formulation
Cons
Some may find the adhesive irritating
Might look very shiny for everyday use
With a lightweight design, reusable features, and natural fullness, Eylure Naturals False Lashes are pretty simple to apply and wear all day long. Because they add a gentle fullness and extended length, you can enjoy the magic of naturally uplifted lash lines with their application. These lashes come with the feature of undetectable clear band and lash glue that dries transparent which makes them worth every penny. Every pack of this faux lash comes with lash glue which makes them the best falsies for asian eyes.
Pros
Lightweight
Soft band
Easy to apply
Cruelty-free
Natural and seamless finish
Cons
Non-durable
Delicate and difficult to clean
Elevate your eye game with EMEDA's Super Natural Lashes. These are specifically curated for women with small faces and eyelids, thus known as the best false lashes for Asian eyes.  Women with Korean and Japanese eye shapes can also utilize them for daily use as these provide a very cute and dolly effect to the small hooded eyes. Due to their invisible and thin band, EMEDA's lashes are very comfortable and lightweight. Last but not least, these natural-looking lashes come in 10 pairs and their curled design and spikes will provide a lot of definition to your eyelid.
Pros
Beginner friendly
Natural looking
Reusable
Cruelty-free
Volumizing
Lengthening
Cons
Might sit straight on the natural lashes and doesn't give a curly effect
For all those Asian beauties out there, Outopen Manga Lashes are your solution to small eyes as these are available in various styles, colors, and lengths. Designed by top-notch designers and handcrafted with fine precision, these are sure to change your lash game. From natural manga to Asian and spiky manga style- these fauxies come in many variations. Whether you have head to the office, party, or shopping- you can wear it on any occasion. The best thing about them is they remain securely in place until you decide to remove them.
Pros
Reusable
Lightweight
Good quality
Can be used every day
Cons
Noticeable color difference
Doesn't look natural
Soft clear band, hypoallergenic, invisible, and comfortable, Kiromiro Professional Lashes are one of the finest false lashes for Asian eyes women out there. The kit comes with 14 pairs of lashes that sit comfortably on your lash line and beautifully enhance the appearance of your lid. What's more? Every pair of these eyelashes is reusable and are water-proof. These 100% Handmade C curl lashes are carefully crafted to boost the natural curve of your lashes. They feel super light on the eye and ensure a pleasant experience when you wear them.
Pros
Lightweight
Natural looking
Comfortable
Easy to wear
Elevate the allure of your eyes with Ardell False Lashes which comes with the perfect blend of subtle length and volume. This kit includes 2 packs, each containing 4 pairs of lashes, providing a total of 8 pairs to achieve the captivating look. Crafted with precision, these lashes feature the luxurious appearance of mink with a cruelty-free approach. Reusable and versatile, these lashes allow you to effortlessly transition from a casual to a glam look.
Pros
Cruelty-free mink lashes
Luxurious appearance
Reusable
Lightweight
Cons
Some pairs might feel heavy on the eyes
For all those who are still searching for the best Asian fake lashes, now you can experience the ultimate luxury with Losha's Natural Look Faux Mink Lashes Pack. This exquisite set includes 14 pairs of handcrafted, fluffy false eyelashes that allow you to achieve the perfect cat-eye allure without much hassle. Crafted to perfection, these lashes offer a blend of comfort and style while enjoying a natural look that's ideal for both daily wear and special occasions. Elevate your facial features by using the elegance of the faux mink. With all these features, you must make this an addition to your beauty collection.
Pros
Comfortable to wear
Natural looking
Lightweight and soft
Made with high-quality
Crafted with precision, Zanlufly Russian Strip D curl, fluffy, wispy false eyelashes offer a natural look that looks like eyelash extensions. The faux mink texture exudes luxurious softness, while the transparent band ensures seamless application that looks real. This pack includes cat-eye lashes with a perfect blend of volume and elegance. Transform the look of your eyes with these high-quality, 100% hand-knitted, and cruelty-free faux beauties to stand out.
Pros
Easy to apply and remove
Soft band
Ultra-light
Cruelty-free
Cons
The thick band looks unnatural
Crafted in 3D and 6D volume, Frihappy Fake Eyelashes provide a touch of fluffy sophistication to your eyes and uplift your overall look. This set of 5 pairs delivers wispy, soft faux mink lashes that offer a subtle allure. Whether it's work or casual dinner plans, these lashes blend seamlessly with your everyday looks, adding a delicate boost of charm. Made of faux mink that feels natural and comfortable on the eyes, these lashes are your best bet when you have no energy to wear makeup but still want to look presentable.
Pros
Very thin band
Subtle natural design
Split tips and sharpening technology
Looks natural
Cons
Some may find lash bands shinier
If you are looking for an anime-inspired drama and beauty to your lashes, then this collection Obeyalash False Eyelashes features a Korean-inspired, natural look that uplifts your eye structure. It gives a wispy effect and is the perfect natural lash for Asian eyes. The clear band and the Japanese and Korean design elements will make you fall in love with them. For a natural doll eye look, pair these manga-style lashes with gorgeous eye makeup.
Pros
Easy to use
100% handmade
Made from soft faux minx fibers
Comfortable
Light weight
Cons
Might not be suitable for everyday use
For a captivating Japanese-style makeup transformation, you should definitely buy and try DSLONG Reusable False Eyelashes. These lashes offer a thick, luxurious eyelash extension effect that is perfect for both everyday elegance and playful cosplay makeup looks. Crafted with precision, these lashes are reusable and provide long-lasting allure.  Try multiple Japanese beauty trends and re-create your favorite look with these beautiful 5 pairs of falsies.
Pros
Provide professional look
Durable
Lightweight
Comfortable
Cons
Might feel dramatic for everyday use
If you want naturally captivating and fluttery eyes, then all you need is a pair of ALPHONSE Asian False Lashes and you will be ready to flaunt your daily looks.  This set includes 10 pairs of natural wispy false eyelashes designed to accentuate your eyes with a touch of Korean-inspired charm. Crafted with care, these fluffy cat-eye lashes offer lightweight and comfortable wear, perfect for both casual styles and special occasions. As an added bonus, this set comes with a mini partial eyelash curler which further adds up to the beauty of your eyes.
Pros
Flexible
Lightweight
Easy to wear
Cons
Might give a plastic-like feel to some
How to Select Best False Eyelashes for Asian Eyes?
Prior to choosing or purchasing eyelashes, it's crucial to accurately determine your eye shape. Understanding your eye shape will assist you in selecting the appropriate volume, density, depth, and dimension of the lashes. Whether you have monolid, double eyelid, hooded, or another type, opt for lashes that enhance the natural contours of your eyes to achieve the most appealing result.
Opt for lashes that offer a natural look and go well with your style and the type of occasion you are choosing. Consider shorter lengths and wispy styles for an everyday look. Lashes that are made of natural hair are considered the best falsies for Asian eyes. Subtle-looking lashes can easily meld with your real ones and create a genuinely stunning effect. Additionally, they offer a feather-like soft, lightweight texture that ensures a comfortable experience when you want to wear them all day long.
Choose lashes with a curl and volume that enhance your eyes without overwhelming them. C and D curl lashes often work well for Asian eyes. If are seeking fuller and dense lashes, go for the darker color tones.
Make sure to choose clear or thin bands as they appear natural and do not need any additional effort to conceal them. Transparent bands blend better with Asian eyes and provide a seamless and fine finish. This kind of Asian false eyelashes may feel comfortable just like eyelash extensions.
For natural looks, choose lashes that are close to your natural lash length. For more drama, select longer lengths.
You should always opt for faux mink or synthetic lashes as they are a cruelty-free, lightweight, natural alternative that does not feel heavy on the eyes. Moreover, they are durable and can be used many times. Always prefer high-quality material as it will decrease the chances of allergies or reactions.
How to Apply False Eyelashes for Asian Eyes?
Applying fake eyelashes for Asian eyes involves a few steps to achieve a stunning and natural look. Here's a step-by-step guide:
First, prepare your natural lashes. Take an eyelash curler and curl your natural lashes with them. You can also apply a coat of mascara to help them blend better with the falsies.
Now, hold the false lashes against your lash line to check the fit. Trim any excess from the outer edge if needed. Make sure that they're of exact same length as your eye shape.
Apply a thin, even layer of lash glue along the band of the false lashes. Let the glue sit for about 20-30 seconds until it becomes tacky.
Take tweezers and gently place the false lashes as close to your natural lash line as possible. Start from the outer corner and work inwards. Press down gently along the entire lash band to secure it.
Carefully adjust the placement and ensure the lashes sit comfortably on your eyelid. Press the false lashes and your natural lashes together to create a seamless blend.
Repeat the process for your other eye, ensuring both lashes are symmetrical and well-placed.
Here Are Some Important Tips to Remember:
Clear lash glue can be a good choice for a more seamless look.
You can apply eyeliner along your lash line after putting on the false lashes to further blend the edges.
Practice makes perfect. It might take a few tries to get the placement just right.
Be gentle when removing the false lashes to avoid damaging your natural lashes.
When it comes to beauty, enhancing our own natural features is the perfect way to make an exceptional statement.  Even though flaunting some of the Asian eye shapes requires a bit of practice and professional assistance, an easy way to enhance their depth and appearance is by using faux lashes. From monolids to double eyelids, and every unique eye shape in between, these carefully selected false eyelashes for Asian eyes can make all the difference in enhancing your unique eyelid. The beauty of Asian eyes is truly special, and these false eyelashes are here to assist you in creating your own unique masterpiece.
Play around with the eyeliner and eyeshadows to make the best out of it. Also, don't hesitate to experiment with different types of lashes to find out what goes well with your facial features, natural eye shape, and style. Though applying falsies might seem a daunting task if you are a beginner, you will definitely get a hold of it with regular practice and patience. Do swear by the above-mentioned tips while selecting and applying your false lashes. And don't miss adding a touch of your own style to truly make your Asian eyes stand out. With these numerous options at your fingertips, don't think much and grab your pair of faux lashes now.
FAQ's
Are there specific false eyelashes for Asian eyes?
Yes, there are specific false eyelashes designed to complement and enhance the unique features of Asian eyes. There are various options available in the market to enhance the natural beauty of Asian eye shapes, such as monolids and hooded eyes.
Which lash length is best for Asian eyes?
The ideal lash length for Asian eyes depends upon the different shapes of the eyes. Generally, choosing lashes that are not overly long and maintain a natural look tends to work well for enhancing Asian eyes.
Are individual lashes better than strip lashes for Asian eyes?
Both individual lashes and strip lashes can work well for Asian eyes. It completely depends on the desired look. Individual lashes offer more customization and are suitable for a natural appearance, while strip lashes provide a quicker way to add volume and drama. The choice between the two depends on personal choice and the look you are trying to achieve.
Should I curl my natural lashes before applying false lashes?
Yes, curling your natural lashes before applying false lashes can help you achieve a seamless blend.
How do we put on Asian eye false eyelashes?
To apply false eyelashes on Asian eyes, start by trimming the lashes so that it can fit your natural eye shape. Now, take lash glue and apply a thin layer along the lash band. Wait a few seconds and then gently place the lashes just above your natural lash line. Press and adjust the faux lashes if required.
Can you wear false eyelashes without eyeliner on Asian Eyes?
Yes, you can wear false eyelashes without eyeliner. Using eyeliner is not necessary when using faux lashes. It mostly depends on the desired look.
Which brand of false eyelashes looks the most natural on Asian Eyes?
Several brands offer natural-looking false eyelashes for Asian eyes, including Ardell, Dolly Wink, and Kiss. Make sure to choose according to your eye shape for best results.
Can false eyelashes enhance monolid eyes?
Yes, using false eyelashes can add volume, length, and definition to the eyes which can create a more open and captivating look.
How do I remove false eyelashes without damaging my natural lashes?
You can use an oil-based makeup remover or micellar water to dissolve the glue of the faux lashes. Gently peel off the false lashes from the outer corner towards the inner corner. Avoid pulling forcefully to protect your natural lashes.
Can I wear false eyelashes every day?
Yes, you can certainly wear false eyelashes every day. But it's important to practice moderation to avoid potential damage to your natural lashes. Make sure to choose lightweight and natural-looking lashes if you wear these daily.
Why Trust Pinkvilla
Sometimes just mascara doesn't lift your lashes. Opt for these tried and tested false eyelashes that adds density, but accentuates your entire look. Sayantani, the author went on to try numerous falsies to find the best false eyelashes for Asian eyes. 
Our product experts study the specifications of every product we suggest and try them out to bring what's proven to be worthy of your money, time, and energy. We also have subject matter experts from various fields like Fashion, Skincare, Haircare, Home Decor, and Health & Fitness onboard to make sure our suggestions are credible and trustworthy. You can trust select to be your faithful shopping guide for all the right reasons!
Author BIO
Sayantani is a certified hair and makeup professional turned writer with 2+ years of experience in the same genre. Ap More