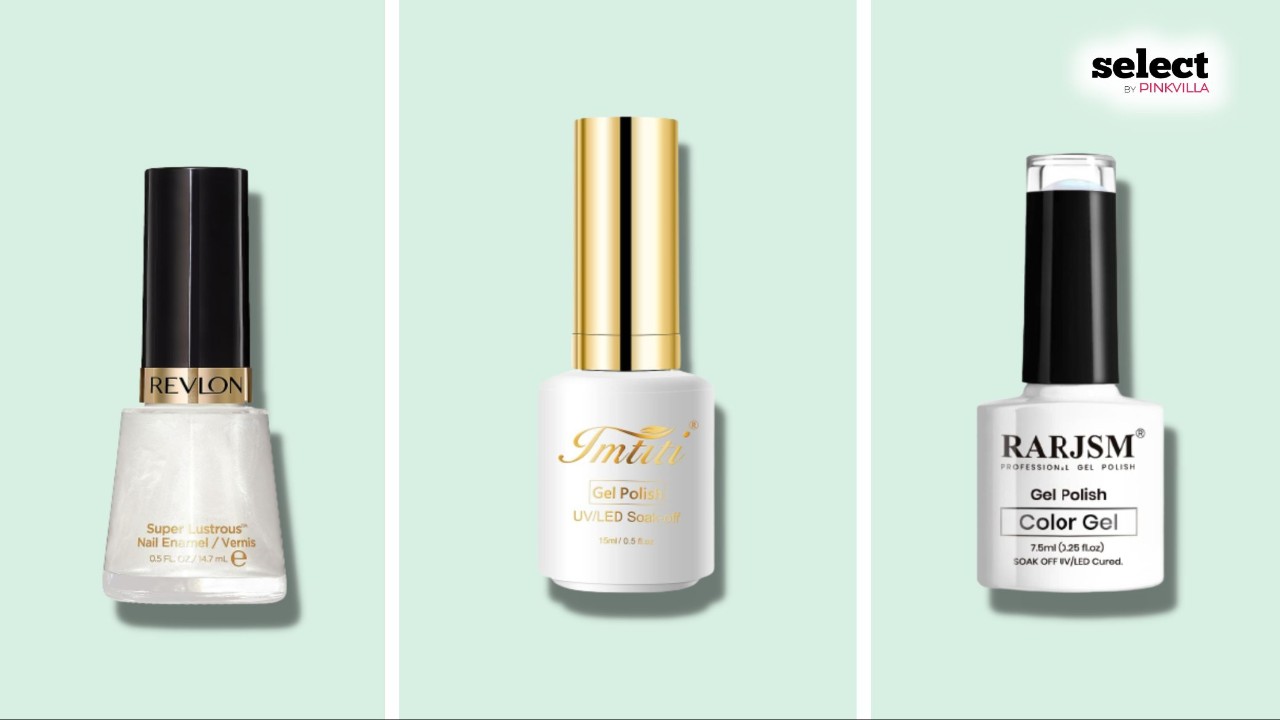 The products curated for this article are independently chosen by the
editorial team. If you make a purchase through the
links
mentioned below, we may receive a commission. Check out our
product
research & curation process
To make your nails glisten like precious pearls, all you need are the best pearl nail polishes in your drawers. That's clearly because they have great abilities to add a dash of elegance to your manicures and make your nails look nothing but stunning. They possess a chip-resistant, non-toxic, streak-free, and high-gloss formula to help you achieve salon-like nail art at home. Plus, their shimmery and glossy finishes open the doors of creativity for you. Nevertheless, you can also awaken the hidden nail artist residing within you and spruce up the beauty of your nails effortlessly.  
The reason why pearl nail polishes are in the hype is due to their delicate intertwining threads of colors that create an exquisite visual texture making you reminisce about a swirling aurora. Nevertheless, such nail colors not only add a touch of glam to your LOTD, but also lend dimension, depth, and definition to your manicure. So, to make your nails stand out from the crowd, add a few to your nail polish collection straight away. 
Ahead is our fanciful list of the best pearl nail colors that you should think of investing in.
Our top picks
Best Long-lasting Formula
Best for Nail Strengthening
Best for Thread Shell Effect
Best Shimmer Gel Nail Polish
Best White Pearl Iridescent Nail Polish
13 Best Pearl Nail Polishes with Fail-proof Tenacity
Our very first recommendation is Rarjsm's pearl gel polish that comes with a high-gloss formula to lend you beautiful pearlescent effect nails just by sitting at home. This dazzling nail polish is crafted from natural resins and zero chemicals. Thus, it does not cause any harm to your nail plate or cuticles. All you need to do is cure it under a LED lamp for 1 to 2 minutes after every coat. And you are all ready to slay at a party or get-together!
Pros
Non-toxic
Affordable
Less odor
Wide range of colors
Cons
Extremely thick consistency
The next on our list is Beetles gel nail polish that has a gorgeous glossy finish. What we loved the most about this pearly nail polish is the fact that it is free from toxins, adhesives, as well as harsh chemicals. Plus, it gets cured under a UV lamp and has commendable tenacity. Moreover, you apply it once and it stays for up to 21 days straight! Yes, it is indeed a long-lasting nail paint that is budget-friendly and easy to use! 
Pros
Easy to remove
Low odor
Plenty of color options
Ideal for beginners and professionals
While researching for the best pearl nail polish colors, we came across this super lustrous pearl nail polish from the renowned beauty brand, Revlon. Firstly, it is chip-resistant and comes with anti-fade technology. Secondly, the pure white pearl shade is mind-boggling if you are someone who is yearning for a color that resembles a real pearl. Moreover, it features a sleek texture and comes with a precise brush applicator for quick and mess-free manicure sessions. The best part — you don't need to rely on a UV or LED lamp as it dries off naturally! 
Pros
Inexpensive
Bubble-free application
Formaldehyde-free
Very easy to remove
To create thread shells or sleek pearl-like nails, this gel nail polish in the shade classic pearl collection has to be your favorite pick. The brand Vishine has introduced the best pearlescent nail polish set that contains 6 non-toxic gel nail polish bottles for every kind of nail game you want to ace. To note more, all 6 nail colors are super long-lasting, chip-resistant, and have a vivid finish. Let us also tell you that all the pastel hues are just so gorgeous to wear on a romantic date or night party. 
Pros
Vegan
Cost-effective
Made from natural resin
Pleasant pine fragrance
Cons
Requires UV light to cure
The reason why we suggest you splurge on this soak-off building gel from In Hype is for its excellent self-leveling formula. This pearl white nail polish is also one of the best alternatives to strengthen your nails and prevent nail breakage. Moreover, it is a medium-viscosity gel polish that can be worn alone or even under your other nail polishes. With great consistency and a flawless brush applicator, this nail polish allows you to enjoy hassle and mess-free nail-pampering sessions without burning a hole in your pocket. But make sure you own a UV or LED lamp to cure it! 
Pros
Available in multiple colors
Easy to apply
Can be used on nail extensions
Ideal for those with thin nails
For salon-like results, Mizhse pearl gel nail polish is what you need to get your hands on right away. Based on our team's research, this is not only a pearl color nail polish but also a shell thread gel polish. Another impressive thing is the fact that it is made from non-toxic ingredients and natural resin. Thus, it causes no harm to your nail plate or cuticles. Plus, it features a high-gloss formula to amp up your nail game like a pro.
Pros
Low odor
Giftable
Very affordable
Pocket-friendly
To get those astounding pearl white nails, you should make space for Imtiti's nail polish in your collection. It comes with a distinctive blend of shimmery pigments to make your nails glisten like precious pearls. Plus, its outstanding salon-quality results will leave you in awe. We also glanced through the features of this product and found out that nail-art lovers like you adored this milky white gel nail polish way too much. Well, that's clearly because of its toxic-free formulation and low odor!
Pros
Cures in 1 minute under LED light
Glossy finish
Mess-free application
Available in plenty of colors
It is no news that pearly white nails are loved by all, however, pink pearl gel nail polish like this one from Aimeili is a great pick to spruce up your nail game just by sitting in the comfort of your home. It is the go-to nail paint to channelize your inner Barbie while donning some glamorous outfits. Furthermore, the alluring shade, shimmery finish, and high pigmentation make this pearl nail color a sheer winner. 
Pros
Hema-free formula
Non-toxic
Chip-resistant
Long-lasting
This pearl finish nail polish from Maychao comes in a lovely pearlescent white shade that will make you gather all compliments. It is not only long-lasting but also a chip-resistant nail polish that gives your nails a lovely appearance overall. Our findings also show that it has great tenacity and is simpler to manipulate unlike conventional nail colors available on the market. Lastly, it cures within 60 to 120 seconds under LED light. 
Pros
Toxin-free
Alcohol-free
Professionally formulated
Reasonable
Cons
Need to apply a base and top coat
Aillsa's sheer pearl nail polish will take you into the world of mermaids. It is one of the best white pearl iridescent nail polishes that will make you go ga-ga. Firstly, it gives you the freedom to create plenty of effects, such as thread, shell, mermaid chrome, and aurora iridescent. Secondly, it works well with other matte as well as glossy nail polishes to help you achieve some really dreamy and gorgeous nails. The most impressive aspect — this nail polish comes with a high-gloss formula to make your nails look just like real pearls.  
Pros
Versatile
Smooth application
Great for DIY nail art
Available in multiple pearly nail colors
Cons
Cures under LED/UV light only
There is clearly no better option than Supwee's nail polish set if you are looking to buy some of the best pearl nail polishes in bulk. It comes in a set of 6 magnificent colors and each one of them has a shimmery finish. This means, you can play around with multiple nail styles and create a number of textures like swirl, slash, curve, etc. On the other hand, you need not worry about the quality of your nails as the nail paints are made from high-grade ingredients. 
Pros
Non-toxic
Low odor
Comes with a dotting pen
Suitable for nail art
Cons
Might not suit sensitive nails
Here comes another set from Lanfo to help you flaunt glorious pearl-colored nails. In this set, you will find beautiful pearl colors in the shade of green, yellow, white, nude, pink, and purple to complement your look of the day effortlessly. Trust us, these nail polishes will definitely fetch you compliments. The best part — they all are versatile and give you the freedom to create threaded, mermaid chrome, aurora, and marbling effects with utmost ease. 
Pros
Long-lasting
Made from premium pigments
Ideal for beginners and professionals
Cons
Can only be cured under LED/UV lamp
While researching for the best pearl gel polishes, we came across this captivating pearl white nail color from Ahamiou. What we loved the most about it was the fact that it allows one to create dazzling nail art at home simply by adding a pearlescent or shell thread touch to any kind of manicure. Secondly, its advanced gel formula is chip-resistant, and the brush applicator paves the way for a smooth and mess-free application to attain salon-like results. 
Pros
Very reasonable
Long-lasting
Shimmery finish
Streak-free coverage
That was our comprehensive list of the best pearl color nail polishes. Now, let us run you through our detailed buying guide. 
What to Look for When Buying the Best Pearl Nail Polish?
Here are a few aspects that you should consider before splurging on the best pearl nail polish – 
Ingredients: Make sure that the pearl-colored nail polish that you are planning to purchase is enriched from non-toxic and premium ingredients. Avoid getting your hands on pearlized nail polishes that are infused with xylene, formaldehyde, ethyl tosylamide,  paraben, camphor, lead, and gluten.
Consistency And Texture: Ensure that you pick a pearl nail polish color that is neither too thick nor too watery in consistency. It should possess a medium level of consistency and texture that allows you to glide it on your nail surface with utmost ease. Any nail paint that has too thick a texture might lend you a streaky finish. 
Applicator Type: Every pearl fingernail polish bottle comes with an applicator brush. Analyze the brush thoroughly. It should neither be too broad nor too thin, which compels you to draw a number of strokes. Vouch for a nail polish featuring a good-quality bristle brush that paints your nails in just two or three swipes. 
Longevity: Always invest in clear pearl nail polishes that last straight for up to 20 to 25 days. The nail polish color should not peel off in just a few days of application and make your nails look matte and untidy. 
Drying Method And Formula: Always pay heed to the drying method of the nail polishes you are planning to purchase. Gel nail polishes are thicker in consistency and ask you to cure every coat under a UV or LED lamp. Such types of nail paints do not dry naturally. Those who do not own curing lamps may invest in a nail polish that comes with a quick and naturally-drying formula. 
Conclusion
That was all about the best pearl nail polishes that you should think of snagging right away. These nail polishes will not only fetch you compliments but also make your nails look glamorous like precious pearls. Let us also tell you that after picking up the best of the best nail color for yourself, you can indulge in some easy-breezy nail art sessions to amp up the beauty of your nails. With good-quality pearl polish, dotting pen, stickers, and other manicure tools in your hands, you can become your very own nail stylist! 
FAQ's
How do you get a pearl finish on nails?
You can get a pearl finish on nails simply by using a pearl color nail polish as a top coat.
Can you do pearl nails without gel?
Yes, you can do pearl nails without gel by using a pearlescent chrome powder or a pearlescent nail lacquer.
What does pearl finish look like?
Pearl nail polishes have a high-gloss formula and thus, they make your nails look exactly like precious pearls.
Why Trust Pinkvilla
Our certified makeup and beauty expert, Sayantani is addicted to nail polishes, especially those which make her nails look like pearls. Hence, to fuel her love for the same, she carried out extensive research, tried and tested a few, and then penned down this fanciful list of the best pearl nail polishes for you. Personally, she is obsessed with RARJSM Pearl Gel Nail Polish that comes with a high-gloss formula to lend you gorgeous pearlescent effect nails. You can also take a look at the rest of her top picks and spruce up the beauty of your nails without spending much!
Our product experts study the specifications of every product we suggest and try them out to bring what's proven to be worthy of your money, time, and energy. We also have subject matter experts from various fields like Fashion, Skincare, Haircare, Home Decor, and Health & Fitness onboard to make sure our suggestions are credible and trustworthy. You can trust select to be your faithful shopping guide for all the right reasons!
Author BIO
Sayantani is a certified hair and makeup professional turned writer with 2+ years of experience in the same genre. Ap More