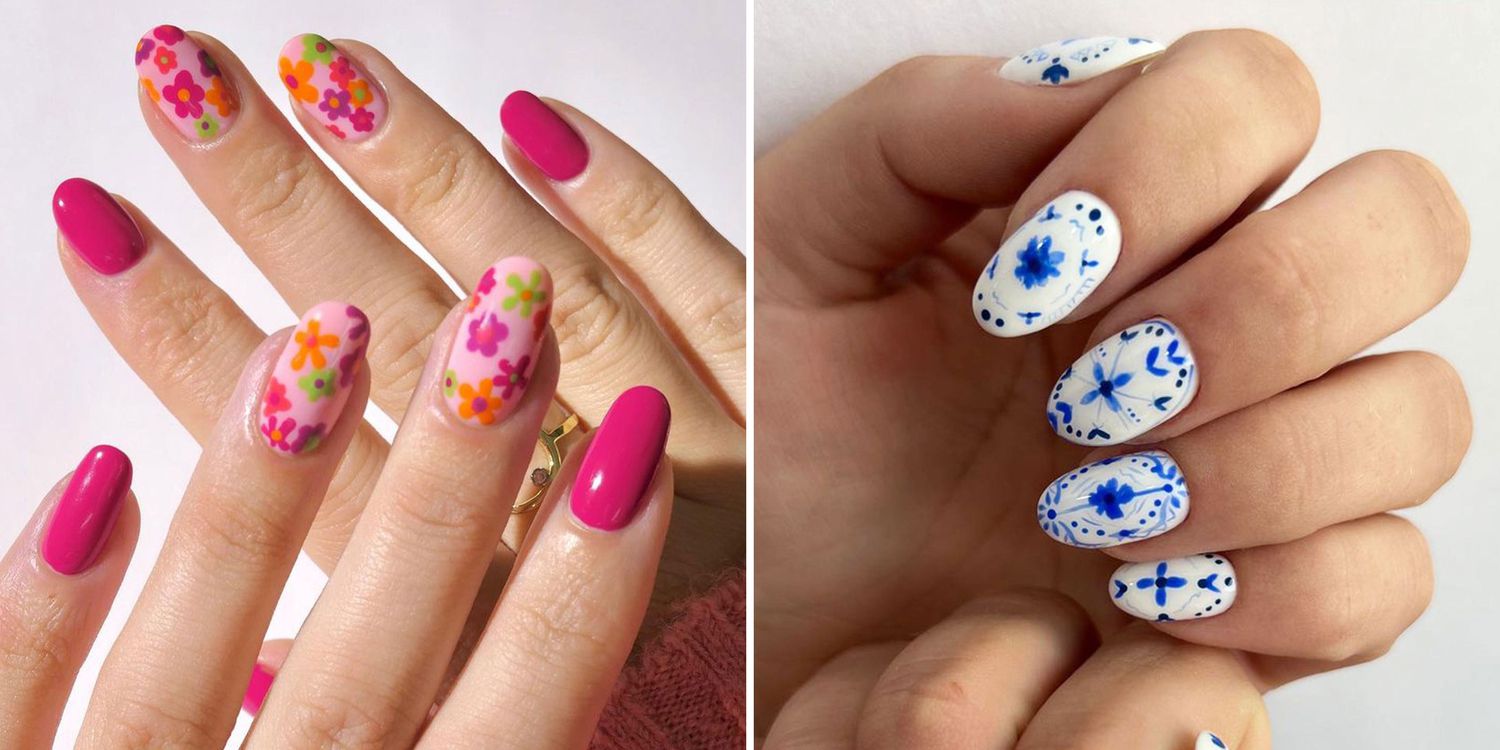 Floral nail designs are tried and true in the nail art world for good reason. You can keep it simple with a few petals to accent an otherwise neutral look or go bold with a mini arrangement donning each finger. No matter which direction you go, you're adding an element of interest to your mani. "Floral nail designs add such an intricate, artistic look to any nail set," says nail artist Priscila Rivas. "Be it hand-drawn flowers or actual dried flowers, they can level up any nail set."
Although blooms are typically reserved for spring, you can wear floral nail designs any time of year. You just have to switch up the colors, says nail artist Sonia Sanchez. "During the fall season, floral nail art often highlights tones of brown, red-orange, and burgundy," says Sanchez. "In winter, white and gold floral nail art becomes a popular choice."
meet the expert
Priscila Rivas, nail artist based in Temecula, California
Sonia Sanchez, nail artist and Aprés Nail brand ambassador based in San Fernando, California.
San Sung Kim, nail artist at Nailing Hollywood in Los Angeles, California.
Get inspired for your own flower nail design by browsing 25 examples below. Whether you're a design novice or a pro, you're sure to find something you love.
Petals and Metals
"This is one of my favorite floral nail designs that I created earlier this year," says Sanchez. "The shade of purple added the perfect touch to the chrome base." The look also includes a pretty yellow shade and each flower is accented with a tiny gold bead in the center.
Trippy Tulips
Nail artist San Sung Kim created this look featuring hyper-realistic tulips paired with purple-and-white checkerboard and white polka dot shapes. When creating a more intricate design, some tools to consider include "a dotting tool, fine liner brushes, or even toothpicks," says Kim.
Pressed Petals
"I used real dried flowers," says Rivas of creating this look. "I also added dried green leaves and some glitter flakes, then encapsulated that with gel." The look layers a large fuchsia flower as the focal point and is accented with small leaves, light purple flowers, and gold leaf.
Flower Power
This look has a funky vibe thanks to its use of '70s shapes and colors. With florals on only two nails per hand, the look is simple while still packing a major punch. And because the shape of the flowers is so simple, it can be easily replicated with just the use of a dotting tool.
Fine China
This stunning design is a nod to fine china dishes, utilizing blue and white to create a classic and delicate look. And because chinaware comes in so many forms, you can make a design that's similarly intricate or keep it simple.
Earth Tones
Florals don't always have to be the primary detail — add in a single floral nail as a pop among other designs. This mani uses warm earth tones like sage green and latte brown in a matte finish to create a look that's perfect for fall.
Muted Mini Florals
I created this look using five muted shades, including blue, red, pink, and yellow, allowing it to work for any season. On one nail, mini flower clusters at the top of one nail mimic a tip, while on another, larger-scale flowers are the main event.
Fruits and Flowers
This look features free-hand flowers created with gel polish. "I also painted some fruits to tie it all together," says Rivas. "The possibilities are endless." White daisies are complemented with oranges and lemons to create a fresh and pretty design.
Monochromatic Blues
Going monochromatic allows you to play with different floral sizes and patterns without your design looking too busy. This look uses three colors from Magpie Beauty — Forget Mia Not as a nude base, Jazzy Jo as the dark blue, and Deja Blue as the light blue.
Dark and Moody
Black tips anchor this look as gorgeous purple, red, and white florals seemingly grow down the nail. By extending the florals beyond the crisp line of the tips, Kim created a whimsical look with a lot of movement.
Sunflowers and Mums
Nothing screams fall florals like sunflowers and chrysanthemums, and this mani features both. The color palette, comprised of warm oranges and yellows paired with deep green, really seals the deal.
Blooming Crescent
This mani gives us a peak-a-boo moment by highlighting the nail's half moon (aka the lunula) with a white flower. You only can see half of the flower, giving it a blooming effect. Although this look only uses three colors, the varied use of lines and florals creates a really dynamic design.
Single Stems
A single stem adorns each nail in this simple yet stunning design. The black matte background creates a moody vibe akin to an old oil painting while allowing the otherwise dull shades of green, burgundy, and blue to really pop.
Morning Matcha
Inspired by a cup of matcha, this bright mani uses the shades Garden Party and Bit of Sunshine from Butter London. It's a fresh look that's perfect for spring or any time you need a pick-me-up.
Shimmering Lotus
If hand-painted designs aren't your thing, you can use decals to add a floral pop to your nails. This manicure features lotus flower decals accented by a thin silver outline around each nail to elevate the look.
Clear Floral Tips
When wearing gel tips, sometimes it's fun to lean into the fact that they're fake and make use of the clear backdrop. This manicure does just that, highlighting the clear tips with multi-colored florals.
Gucci Florals
Kim created this look after she was inspired by a gorgeous tube of Gucci lipstick. She replicated the tube's pastel design on a sheer, nude backdrop so the florals get all the attention. It reminds us that inspiration for our next design can come from anywhere.
Whimsical Wildflowers
Whether they're growing in a field, on the side of the road, or sitting in a vase on your counter, wildflowers look pretty without any fuss. This mani encapsulates that effortless beauty with its simple, yet stunning design.
Dainty and Delicate
Florals can be super delicate, and this manicure is a perfect example of that. The colors are light, the pattern is tiny, and the background is sheer — three elements that lend this look an airy and dainty look.
Chrome Blooms
Just because you'll never see a chrome flower in nature doesn't mean one can't adorn your fingers. This shimmery look puts a futuristic spin on florals that's fun and seasonally appropriate. It uses the shades Helter Seltzer from Cirque Colors and Mr. M from Emilie Heathe.
Floral Quilt
Although florals are the centerpiece of this manicure, they pop because of the red outline that mimics the stitching on a quilt. And because red is the primary accent color, the blue and orange flowers pop without making the overall design super busy.
Bumble Bee
Bees love flowers and flowers love bees — So it's only fitting to include both in one design. Placed on a nude background, this manicure is fun, simple, and springy.
Cool Tones
Using cool, dusty shades of blue, green, and purple make this floral design subtle and great for any time of year. It was created using four shades from 786 Cosmetics — Petra (base), Malé (blue), Shiraz (purple), and Havana (green).
Mediterranean Mani
Kim created this look before heading on a vacation in the Mediterranean, and it absolutely shows. Pairing the blue-white-and-yellow tile motif with bright florals creates a complex yet cohesive look.