When it comes to fashion, creativity always comes first. In the manicure industry, new and innovative designs are constantly dominating the market. For instance, spring nail designs are loved for their refreshing and stylish appearance. Explore some stunning ideas worth trying for a refreshing look.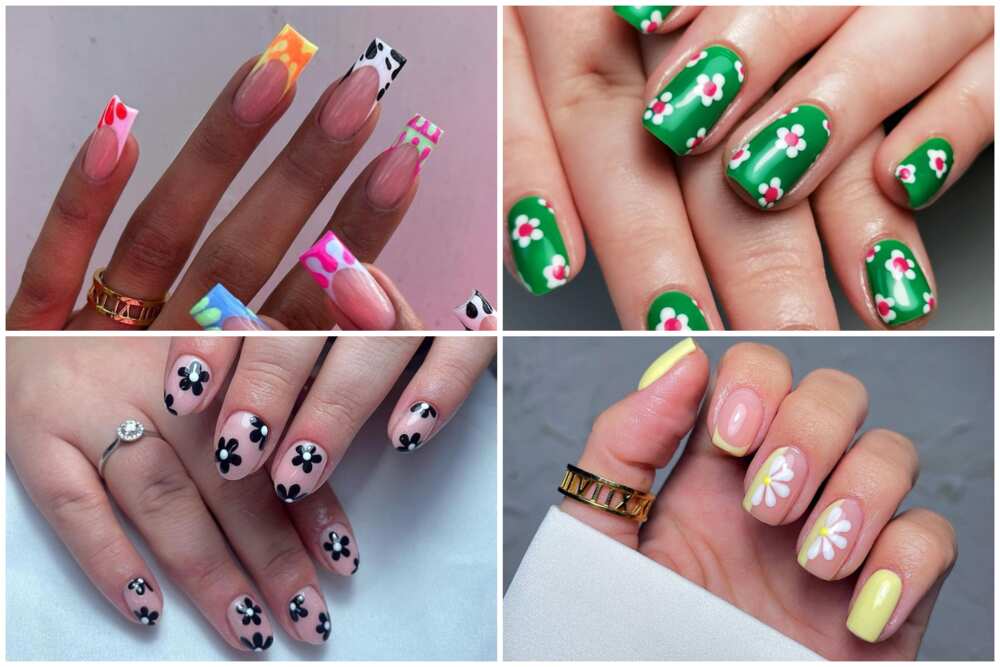 Spring nail designs have recently made a comeback in the fashion world. The manicure's distinguishing feature is its bright colours and floral arrangements. They are loud, fun and ideal for the outgoing in springtime.
Pretty spring nail designs
Springtime is here, and nail artists are busy crafting new designs for the season. What are the spring nail trends for 2023? This year's updated spring nail designs are simple, crafty and unique. Here are 25 creative ideas to try out this season.
1. Flowery pink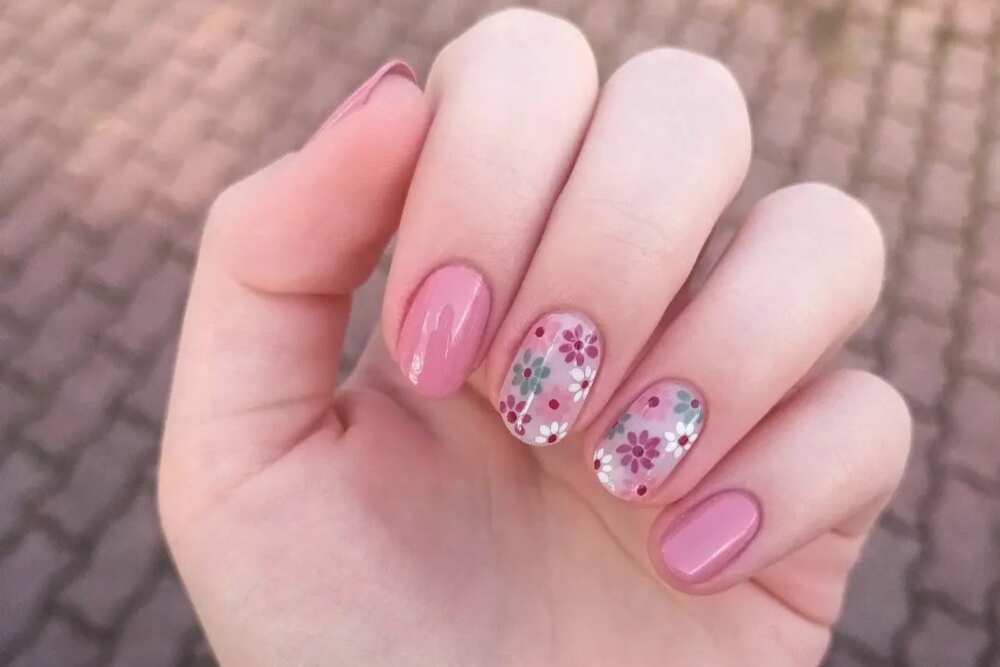 Springtime is known for its warm and cosy weather. This manicure represents the season perfectly with a balance of cool, muted tones and warm, dazzling shades of pink and blooming flowers.
2. Lime-green spring nails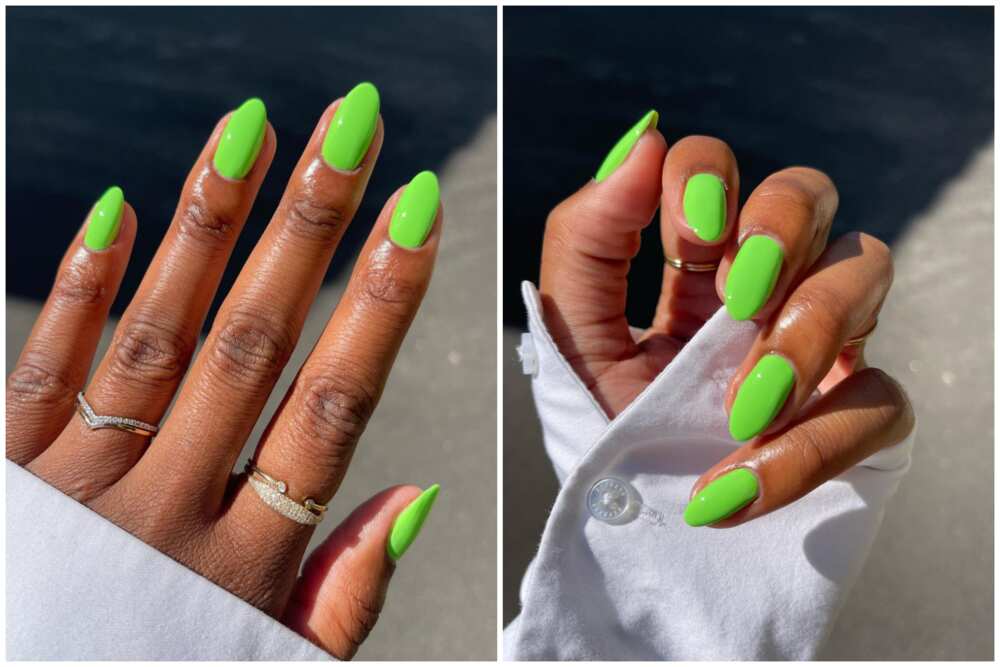 This lime green manicure is the perfect print for the spring. You can use a white base layer underneath, then paint on two to three coats of green nail polish for an extra bright and neon look.
3. Mesmerising purple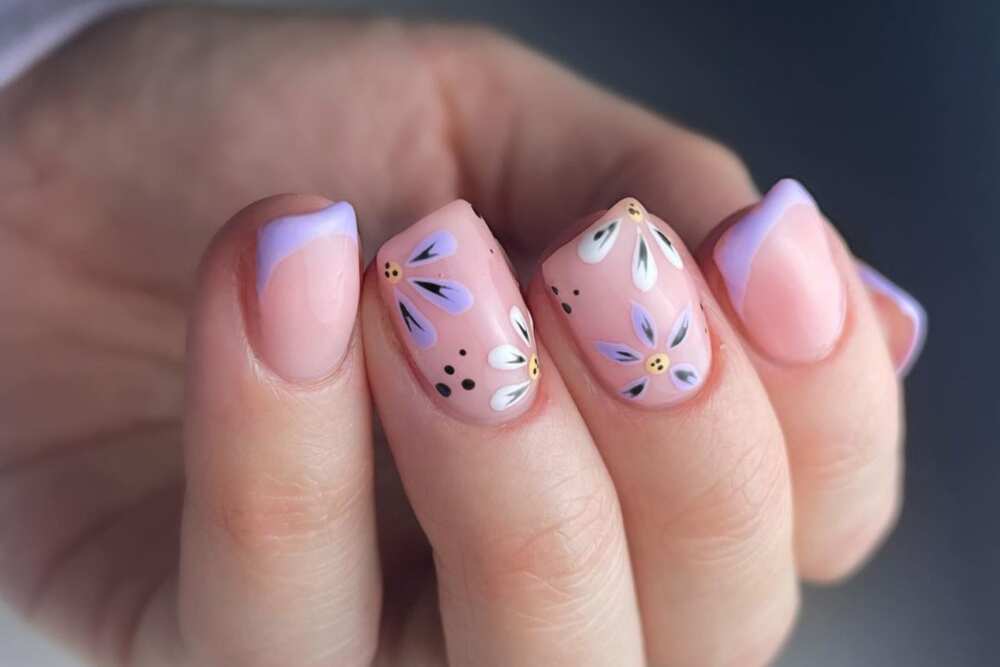 This manicure represents the change of season from winter to spring. The hues represent the colour of the first sunrise of spring, which is light purple.
4. Rainbow micro-French tips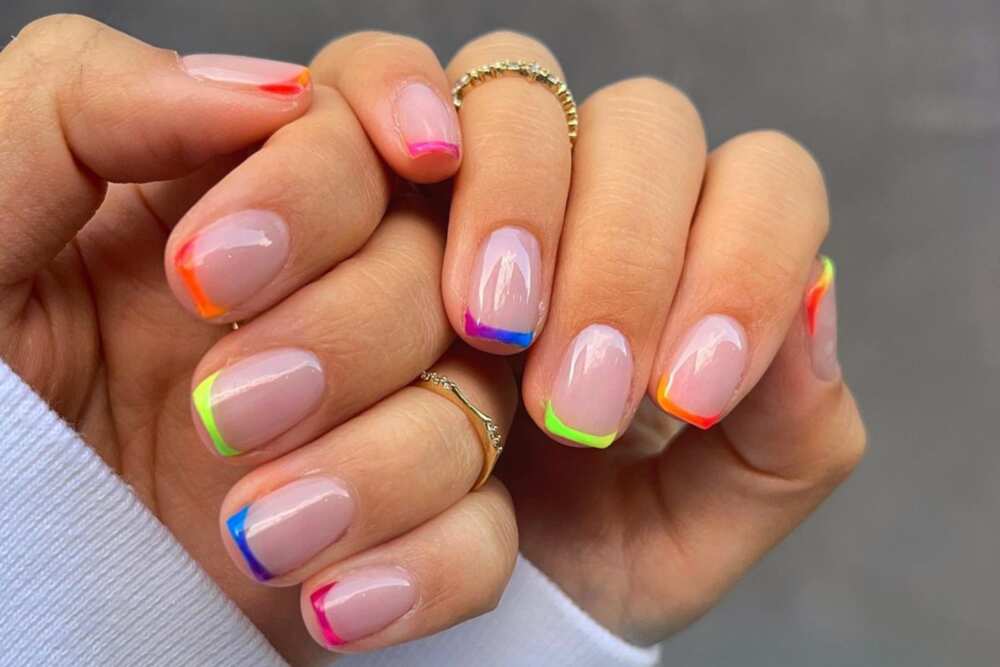 The micro-French tips are classy spring nail designs that never go out of style. The micro-French tip is a versatile design that elongates your nails and gives them a more extended appearance. You can go for your favourite monotone hue, or you could opt for a brighter shade or a multi-coloured rainbow hue.
5. Christmas in March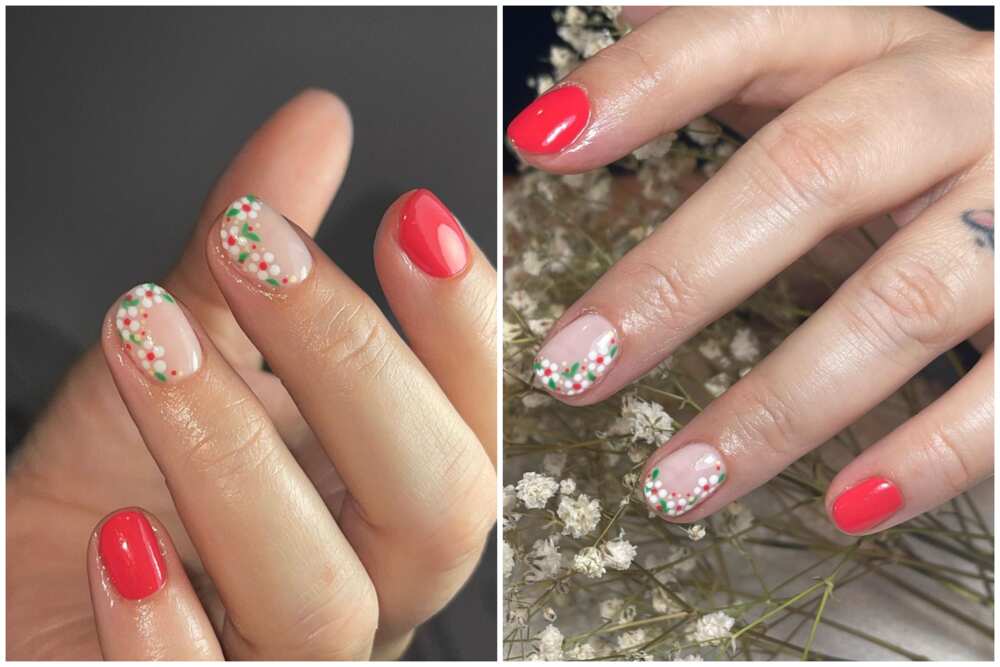 Christmas in March is a creative design transitioning winter to spring. The manicure colours red, white, and green are a reminder of the winter holidays. The blooming leaves and flowers capture the warm spring season.
6. Pink matte with hoops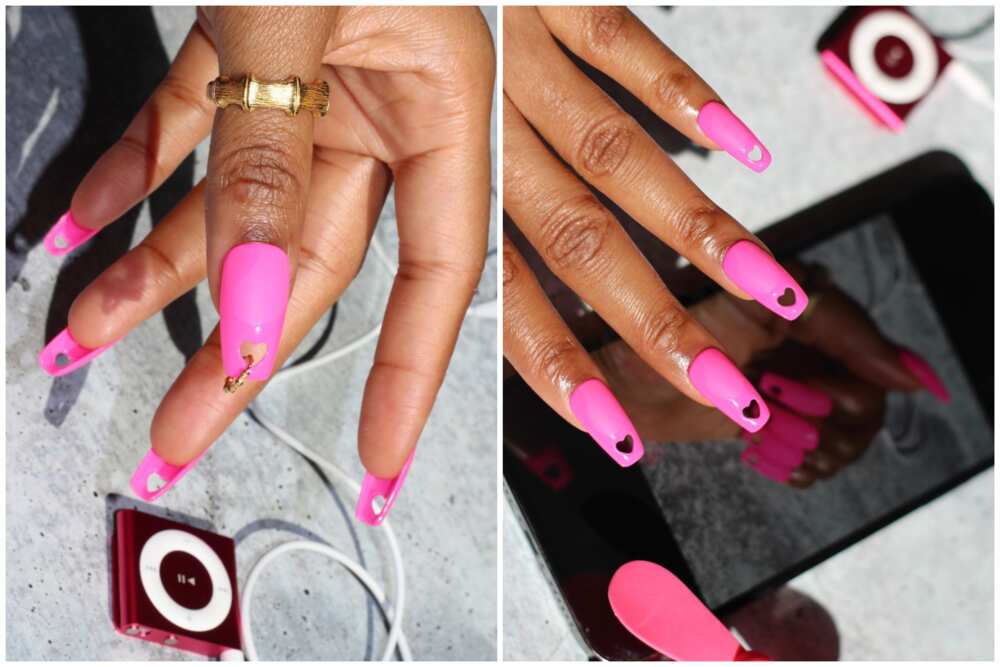 The matte and glossy finish with heart-shaped rings are among the top acrylic spring nail colours for 2023. Using press-ons brings the basic solid-coloured manicure to life. However, to avoid piercing your natural nails, use acrylics or gel extensions.
7. Electric blue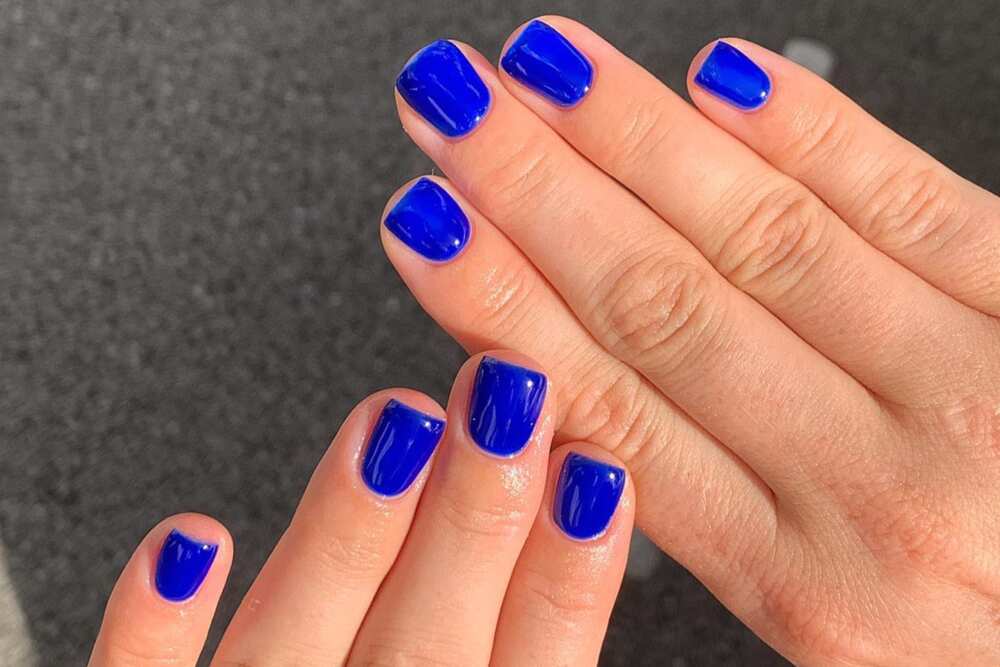 If you want to experiment with colours, the bright cobalt blue is perfect. The hue is classy and fun, plus it goes with most outfits. You can opt for the bold blue colour if you want something more laid-back.
8. Lemonade glazed doughnuts
Are you searching for spring nail designs for short nails? This bright yellow glazed doughnut nail is perfect. Start with a pastel shade underneath or a light pink or baby blue hue. Then, paint on a sheer coat of your base yellow colour and layer on a top coat. Finally, lightly buff silver chrome powder for the glazed effect.
9. Handpainted roses and mouth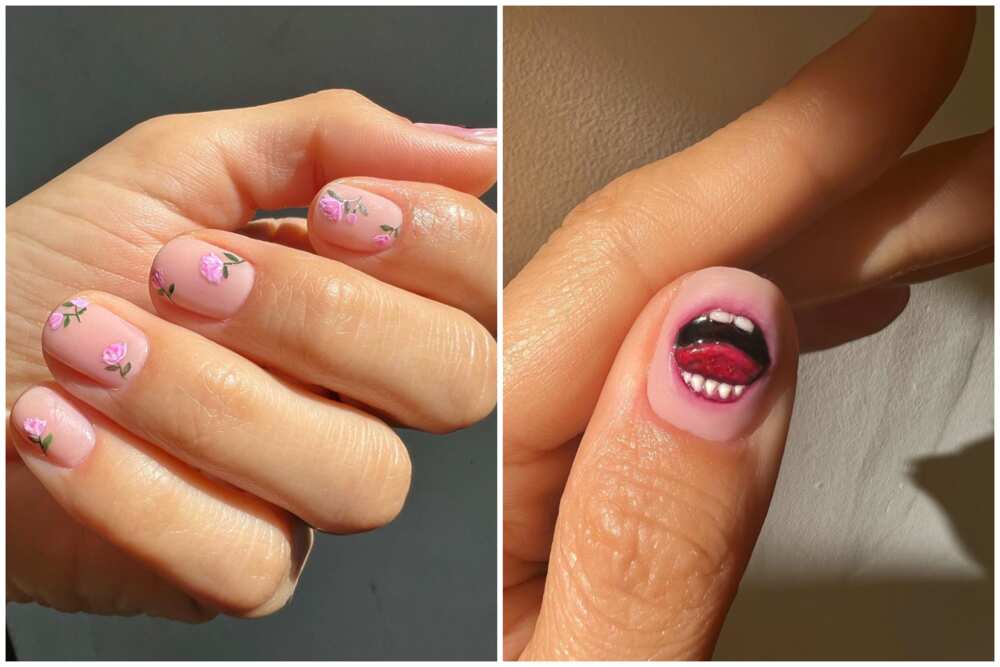 This manicure look involves sticking tiny flower decals to a light base colour. The result is a fancy floral nail design with a vintage handpainted mouth print on the thumb.
10. Lip oil manicure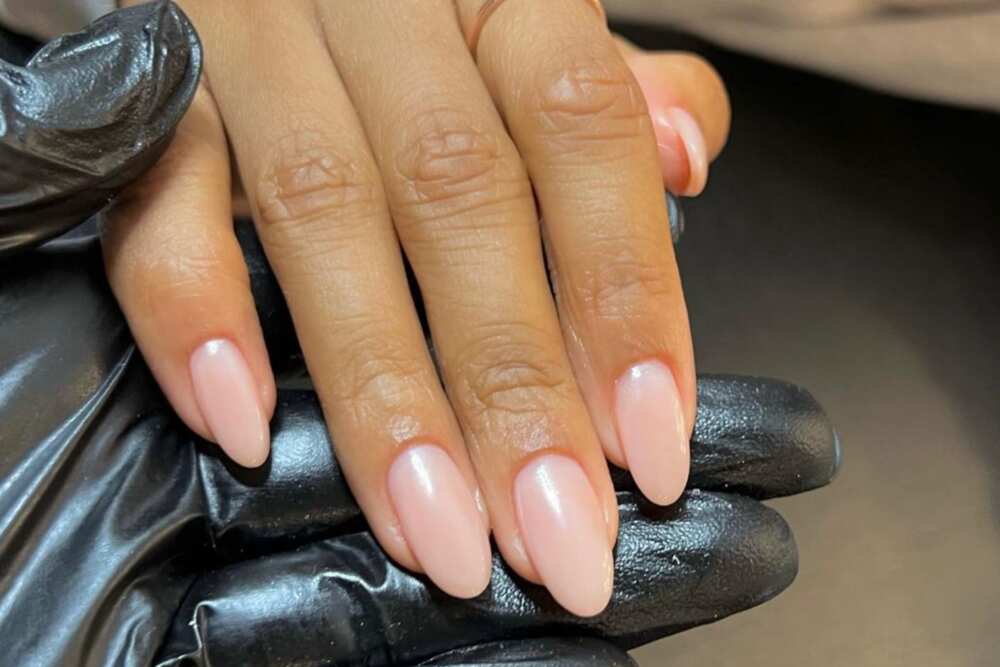 What nail design is trending right now? The lip oil manicure is trendy right now. The design has a glossy topcoat that shines from every angle and has a jelly-like look. The shade seen above is a pink-tone lip oil manicure.
11. Royal blue with blooms
This manicure print is a transition from winter to spring. The royal blue hues represent winter, while the yellow and white flowery colours signify the beginning of spring.
12. Colourful abstract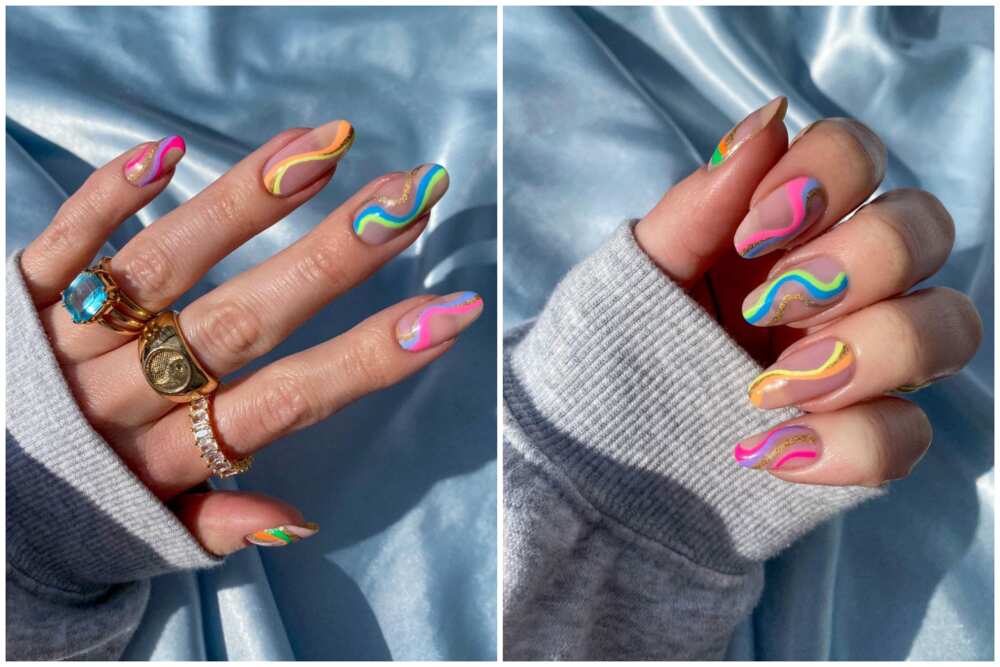 What better way to start your spring than with a bright abstract manicure? This design has incorporated various hues to create an original manicure print.
13. Rosebuds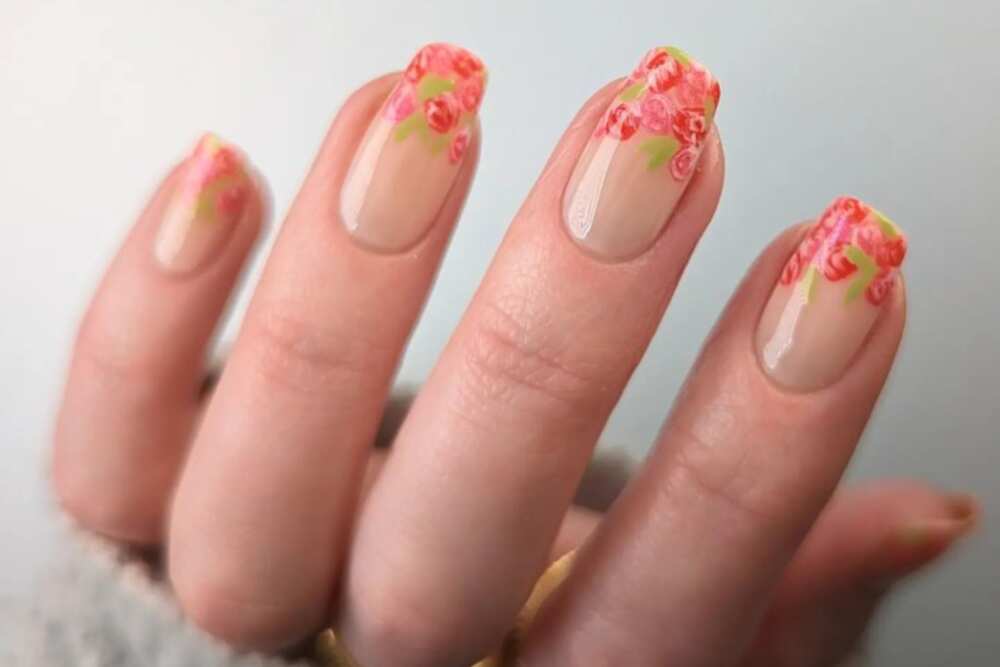 Are you searching for spring nail coffin designs? The rose bud-inspired manicure is perfect. The print consists of warm tones and dreamy florals that represent the season.
14. Murakami flower manicure with emojis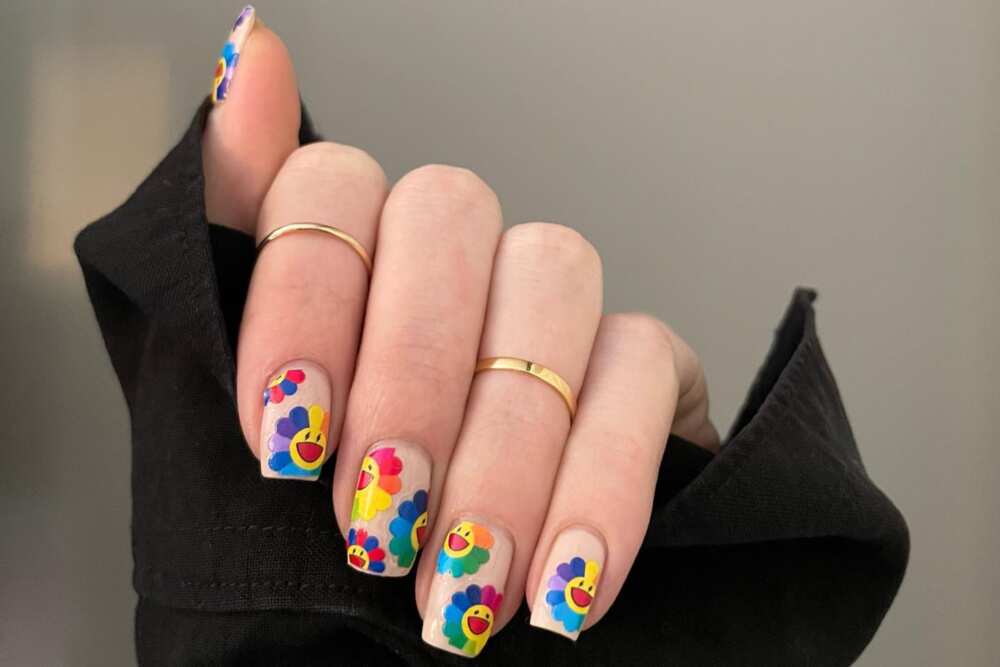 This rainbow sunflower nail art is a unique and creative way to welcome springtime. You can use stickers or a press-on to get the desired print on your nails. The Murakami flower print originates from Japanese artist Takashi Murakami.
15. 3D textured gold-plaited add-ons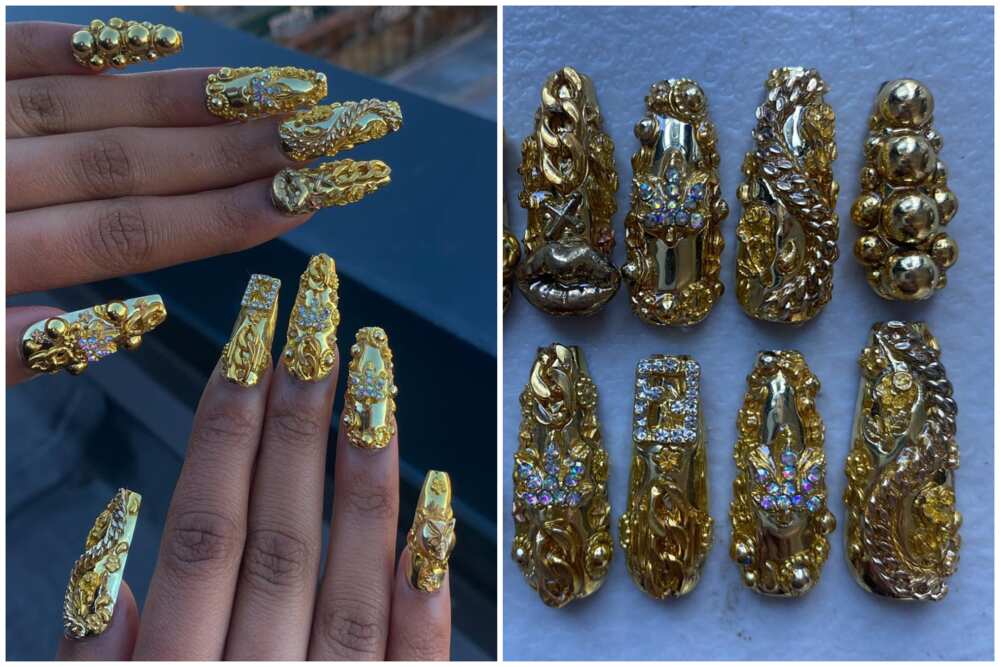 These raised textured 3D add-ons are perfect if you want spring nail ideas. The design above consists of gold-plaited add-ons with chrome elements. You can achieve the look using different embellishments like chains, gemstones, and beads. Just use hard gel and a UV nail lamp to avoid budging.
16. Pink and light green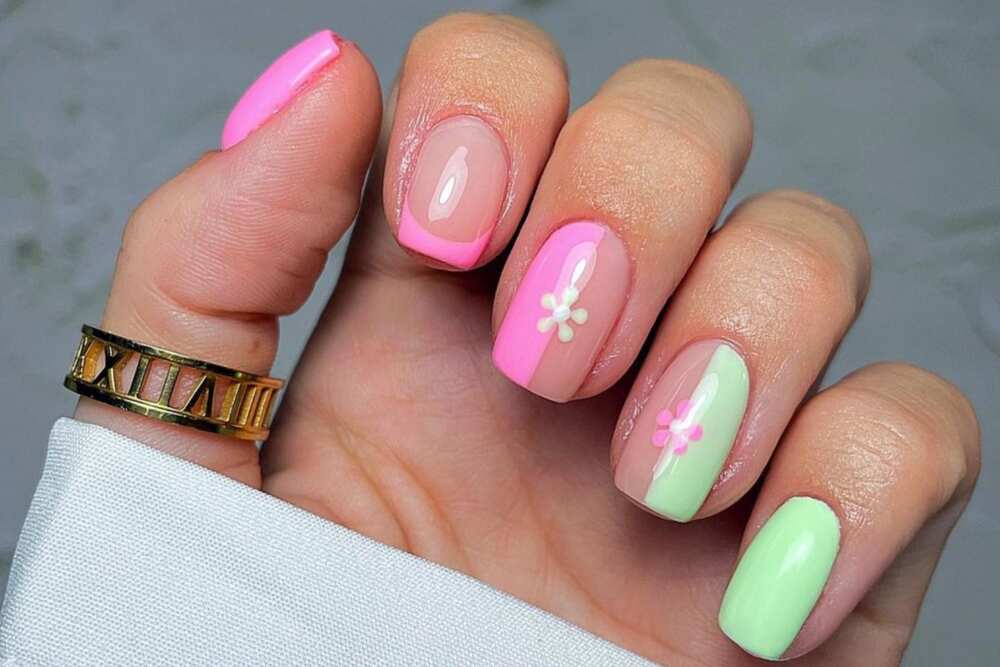 What colour nails should I do for spring? Warm greens and very peachy pink hues perfectly represent the season. The manicure above comprises complementary shades and alternating patterns of pink and green.
17. Retro manicure
What are the nail polish trends for spring? The retro manicure is a popular design for spring. You can go for the 1970s vibe with mustard yellow and teal hues to achieve the look. Other options include groovy squiggles, checkered patterns or mushroom motifs.
18. Vintage florals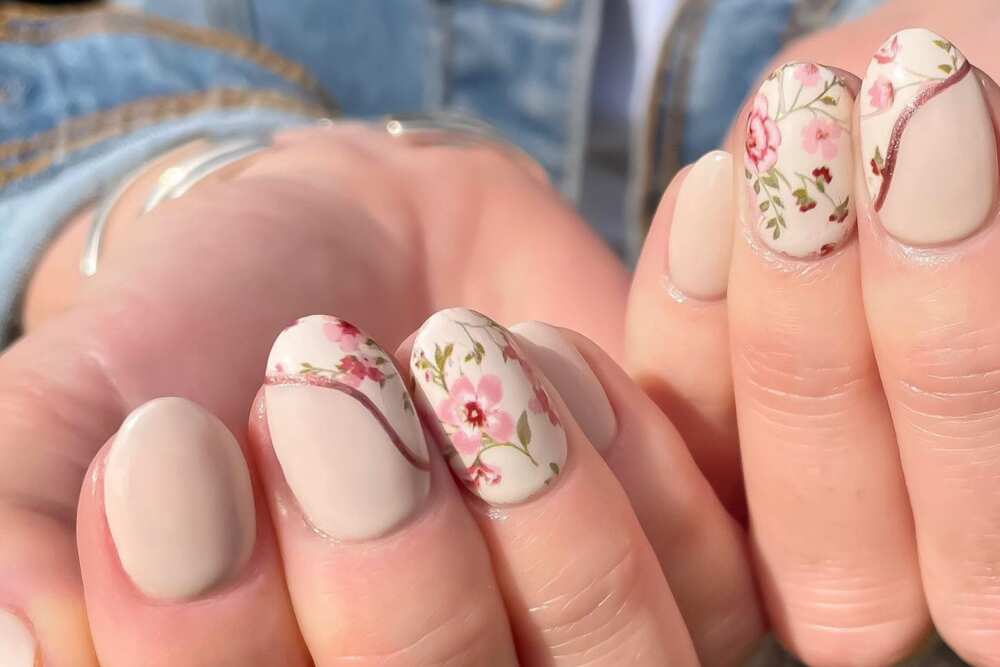 The vintage floral is a retro print featuring antique floral patterns. The manicure comprises flowers in a retro print with a matte finish to add texture and colour.
19. Dainty daisies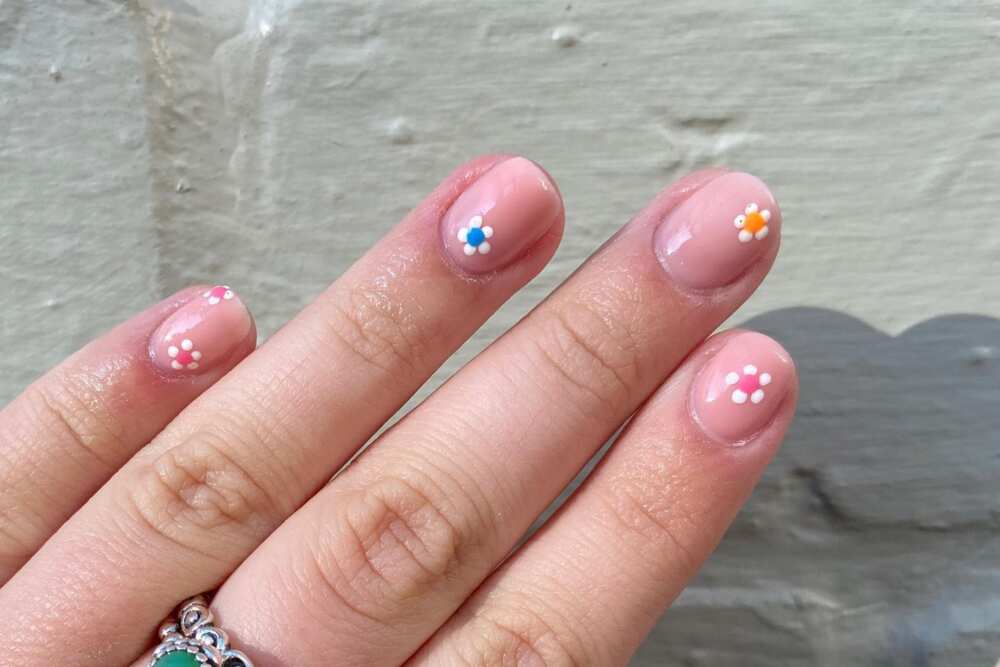 The delicate daisies are a cute and simple DIY manicure design for the season. The print comprises a few delicately placed daisies on natural nails to create a simple and elegant design.
20. Season splash
The season splash is a trendy, classic manicure. It comprises fully painted nails with white splashes and swirls printed for texture.
21. Delightful florals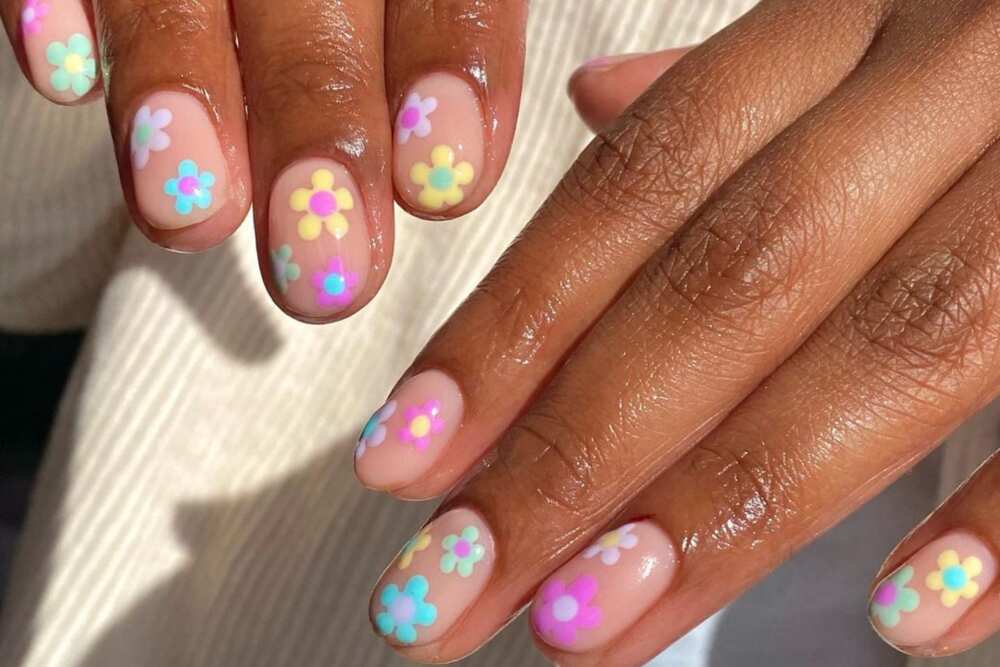 The lovely florals contain blooms in powdery shades on a milky, translucent base. If you are looking for simplicity, this manicure print is ideal.
22. Cherry trees bloom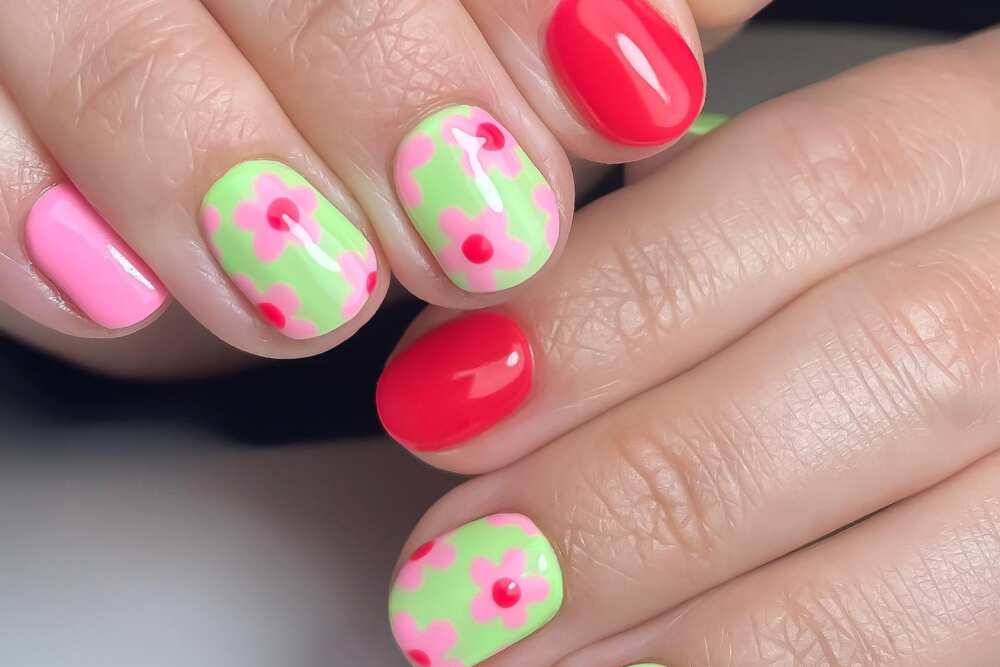 This manicure comprises blooming cherry trees. The red and green hues represent the cherry tree's sweet fruits and abundant leaves.
23. Bright blossoms
The bright blossoms of spring gel nails are ideal for the season. The manicure comprises zesty, colourful, whimsical colours with irregularly shaped flowers and leaves that are best for beginners.
24. Assorted flowers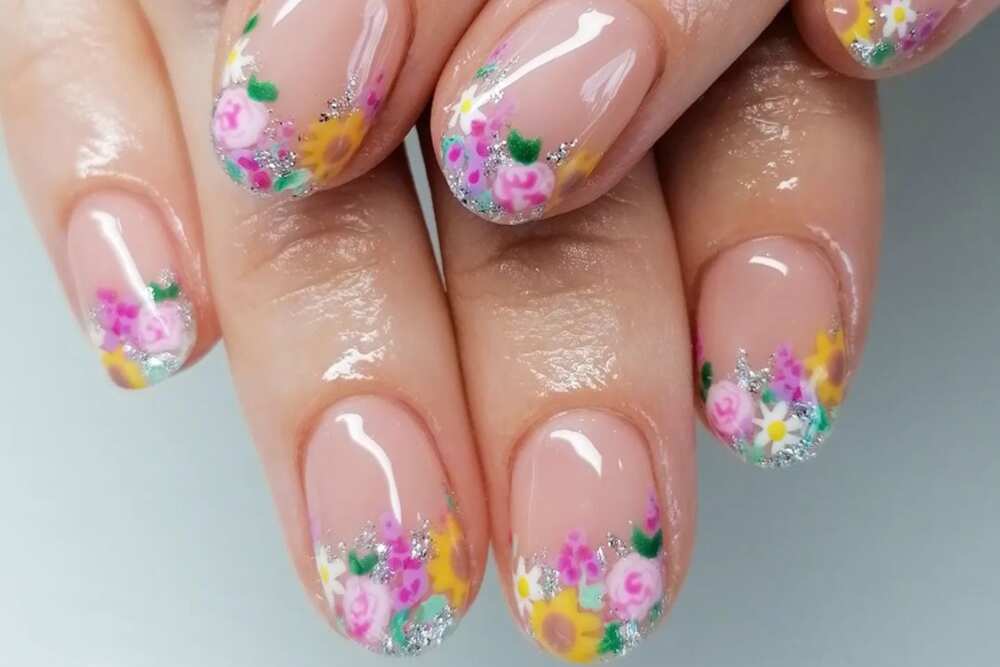 The various flowers represent the season well. The manicure comprised a variety of blooming roses, sunflowers, and greenery, with glitters for highlights.
25. Floral French
This manicure is the classic French ombre with yellow flowers to represent the season. Each nail has a glossy finish, capturing the flower-fresh spring season.
Pretty Spring nail designs are popular due to their style and appearance. If you want a unique and bright nail design, the examples above should provide some ideas to consider. These designs represent the season and are stylish and refreshing.
Yen.com.gh published an exciting piece about fabulous short coffin nail ideas to try in spring. Short coffin nails are unique, fun and trendy, ideal for any season.
The list of fabulous short coffin nails is extensive, from the vintage art deco to the classic French ombre. Whatever your preference for spring, you will undoubtedly find your perfect nail design with these designs.
Source: YEN.com.gh