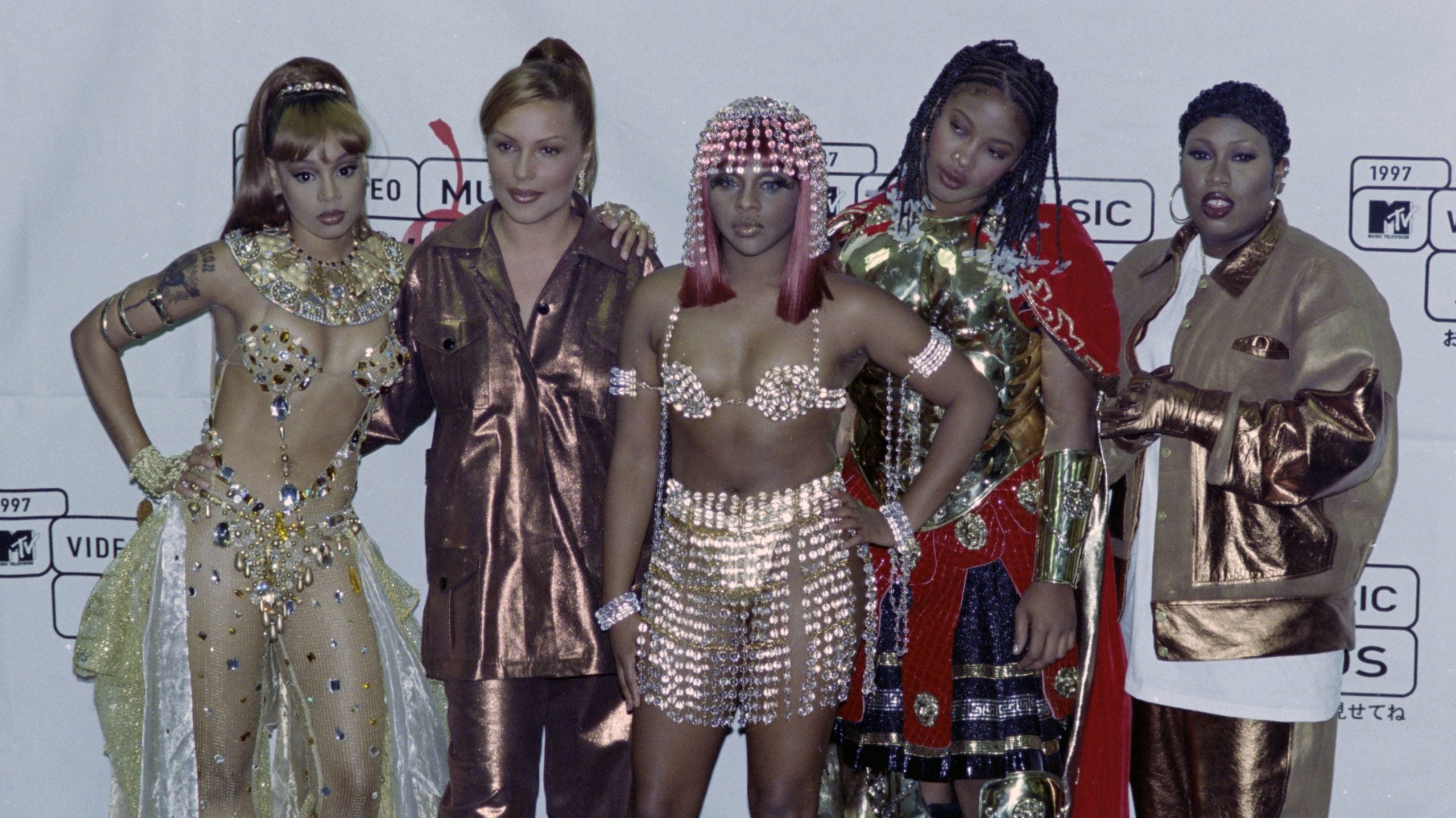 (Photo by Steve Eichner/WWD/Penske Media via Getty Images)
The 50th anniversary of hip-hop demands a tribute to the female artists who have played a pivotal role in shaping the genre into the cultural phenomenon we witness today. Hip-hop has long been dominated by men, however, it's a culture that has been perfected by the ladies. Women have played a crucial and often underrepresented role in shaping and enriching the landscape of hip-hop. Their contributions span various aspects of the genre, from pioneering its foundational elements to influencing its cultural and social impact. You can also see these women's efforts across regions, whether it was Trina in Florida, Lil Kim in New York, or Eve and Jill Scott in Philly. 
These fearless femcees asserted themselves, and innovated a genre that was faced with pervasive sexism and misogyny. Their raps were and continue to be, a protest—these women stood tall, as regal figures within hip-hop, without seeking any approval to embrace their true selves. Today, we stand on the shoulders of the pioneering women that dared to do something differently. 
In honor of the 50 years of hip-hop, we pay homage to the first ladies of hip-hop by assembling a list of 25 influential women within the genre (in no particular order). 
Queen Latifah
Article continues after video.
Queen Latifah was a pioneer in promoting feminism and empowerment within hip-hop. Her early work, including her 1989 debut album All Hail the Queen, featured songs like "Ladies First" that celebrated women's strength and unity. She encouraged female self-respect and challenged gender stereotypes, and through her lyrics, tackled social and political issues, addressing topics such as self-esteem, racial equality, and uplifting the community. Her discography includes posse cuts like "Freedom," featuring Yo Yo, MC Lyte, and Salt-N-Pepa.
Monie Love
Article continues after video.
As a British-born artist, Monie Love showcased the global reach of hip-hop and its ability to transcend geographic boundaries. Her lyricism and unique flow made her stand out as one of the leading female MCs of her time. Her clever wordplay, intricate rhyme schemes, and confident delivery made her a force in what was a predominantly male-dominated field. However, that didn't stop her from collaborating with groups like A Tribe Called Quest and Marley Marl. 
Da Brat
Article continues after video.
Da Brat's debut album, Funkdafied (1994), was a major commercial success under Jermaine Dupri's So So Def imprint. She carved her own lane, personifying her tomboy style with her fierce, yet laid back rhymes. Funkdafied went platinum, making her the first female solo rapper to achieve that milestone, making her impact undeniable. She was also one of the first female acts featured on Nickelodeon's All That. Her success opened doors for other female artists in hip-hop, proving that they could achieve widespread recognition and sales.
MC Lyte
Article continues after video.
Before MC Lyte was emceeing the BET Awards, MC Lyte was a fierce femme on the mic. Lyte is often credited as the first solo female rapper to release a full-length album. Her debut album, Lyte as a Rock (1988), celebrated the women, and provided a strong feminist voice to women everywhere. Today, she's still using her iconic voice as an instrument, serving as an announcer and host for multiple award shows and A-List events.
Lil Kim
Article continues after video.
As a prominent member of Junior M.A.F.I.A., Lil' Kim's collaboration with the group contributed to their rise to prominence. Her debut album Hard Core catapulted her into the limelight, showcasing her unapologetic lyricism. Her provocative style and confident delivery challenged norms, reshaping the image of women in hip-hop. Her openness paved the way for discussions about female sexuality and agency within the genre. Her "Ladies Night" deep cut on her debut album was cameo to marvel at, featuring women in hip-hop, everyone from Coco of SWV, Missy Elliott, Da Brat, Angie Martinez, and Mary J. Blige. Beyond the music, she's an iconic figure in fashion—her bold and provocative outfits set new standards for self expression and pushed boundaries in terms of what was acceptable in mainstream culture. 
Foxy Brown
Article continues after video.
Foxy Brown was a member of the hip-hop collective known as The Firm, which included Nas, AZ, and Nature. This collaboration highlighted her position in the male-dominated industry and her ability to hold her own alongside esteemed male rappers. She also had major crossover success—Brown's collaborations with R&B artists and her ability to create tracks with crossover appeal expanded her reach to a broader audience. 
Missy Elliott
Article continues after video.
Missy Elliott was a breath of fresh air to hip-hop, innovating the genre with her groundbreaking production style, characterized by its experimental beats, unique sampling, and use of unconventional sounds. She pushed the boundaries of hip-hop production, incorporating elements of R&B, funk, electronic music, and more, which expanded the sonic possibilities of the genre, and her music videos held afrofuturistic themes that are still on people's mood boards today. In fact, her iconic song,"The Rain (Supa Dupa Fly)" has been ranked the No. 1 greatest hip-hop video of all time, by Rolling Stone. 
Bahamadia
Article continues after video.
Bahamadia, a legend in the world of underground hip-hop, has an impact that stems from lyrical finesse. Known for her wordplay and smooth delivery, Bahamadia's contributions to the genre are characterized by intellectual depth. Her debut album Kollage showcased her skill as both an emcee and a lyricist, earning her acclaim within the hip-hop community. With an emphasis on introspection and social commentary, Bahamadia's verse's ranged from personal reflections to broader societal issues. As a pioneering female artist, she paved the way for generations to follow, inspiring women in hip-hop to not only demand recognition and space in a male-dominated industry, but to require it. 
Nicki Minaj
Article continues after video.
Hailing from Jamaica Queens, NY, Nicki Minaj came into the rap game at a time where female rap was rather dormant. Her impeccable versatility made her a force to be reckoned with—she effortlessly transitions between different flows, accents, and styles, and you see it in her many personas—Harajuku Barbie, Roman Zolanski, Onika Tanya Mirage, and Nicki Lewinsky, just to name a few. These alter egos demonstrated her creative range and storytelling abilities, and her impeccable wordplay and use of double and triple entendres.
Eve
Article continues after video.
In the footsteps of femcees like Queen Latifah, Eve achieved crossover success starring in movie roles, and even being cast as a star in her own eponymous television series. The "Eve of Destruction" made waves in the music industry by breaking up the monotony of the "boys club," being signed to DMX's Ruff Ryders imprint, and had commercial success with her collaboration with Gwen Stefani on "Let Me Blow Ya Mind" and Jadakiss' and Styles P "We Gonna Make It."
Rapsody
Article continues after video.
At a time when the culture of hip-hop for women had become hypersexualized, Rapsody stepped in to change that narrative. Her music has challenged stereotypes by presenting a balanced and multifaceted representation of femininity, and what it can be. Her cultural awareness is rooted in her African heritage, making for a more diverse representation of women in hip-hop. 
Lisa "Left Eye" Lopes
Article continues after video.
As one third of the iconic girl group TLC, Left Eye brought something unique to the industry ahead of her tragic passing in 2002. Her eye-catching hairstyles and fearlessness in expressing herself helped to shape the perception of hip-hop artists as multidimensional individuals. Her distinctive fashion choices and makeup looks including her "burnt" eye mark became memorable symbols that fans would try to emulate. Because of Left eye's contributions, TLC collaborated with a range of artists, blending hip-hop with R&B and pop influences. She even developed her own girl group, Blaque, with Natina Reed, Shamari Fears DeVoe, and Brandi Williams. The name meant "believing in life and achieving a quest for unity in everything," something that Left Eye was very keen on within her own spirituality. 
Trina
Article continues after video.
As a female rapper, Trina brought Southern rap some much needed female representation. Hailing from Miami, Florida, she played a crucial role in shining a spotlight on the Southern hip-hop scene. Her style and lyrical content reflected the culture and experiences of her environment, incorporating sexual autonomy, and women's empowerment into her lyrics. She came up alongside Trick Daddy Dollars, and the pair are known for their collaboration on "Naan."
Yo Yo
Article continues after video.
Yo Yo emerged in the late 1980s and early 1990s, a time when female voices in hip-hop were scarce. Her presence and success as a female emcee helped pave the way for other women to enter the genre and be taken seriously as artists. Yo Yo's debut album Make Way For The Motherlode, included prominent male rappers like Ice Cube, ("You Can't Play With My Yo Yo"). Beyond her music career, Yo Yo ventured into entrepreneurship, founding her own record label, IBW (Intelligent Black Woman) Records, which promotes positive and conscious hip-hop.
Roxanne Shanté
Article continues after video.
Roxanne Shanté is often regarded as one of the first female emcees to gain traction in hip-hop. Her early success and participation in the "Roxanne Wars," a series of rap battles in the mid-1980s, helped pave the way for other women to enter the hip-hop space. Her witty disses and clever wordplay demonstrated her prowess as a battle rapper, and her contributions have become important aspects of hip-hop's cultural fabric.
Mia X
Article continues after video.
Mia X emerged from New Orleans, Louisiana, and became one of the pioneering women in Southern hip-hop. Dubbed "The Mama of Southern Gangsta Music," Mia X was the first female emcee to get a contract with rapper and entertainment magnate, Master P, signing to his No Limit Records. There, she was featured on posse cuts like "Bout It, Bout It," "Ghetto Symphony," and "Make Em Say Uhh #2." She added a depth and flavor that was missing in New Orleans sound, and the energy and aggressiveness she put into her music was unmatched. On the mic, Mia assumed the role of a southern baptist preacher, where she'd put her soul into her lyrics to truly make you feel something. 
The Lady Of Rage
Article continues after video.
The Lady of Rage is known for her deep, commanding voice and energetic delivery. Born in Virginia and based in Los Angeles, Rage is intricately connected to the growth of West Coast sound. The Lady of Rage was associated with Death Row Records, and collaborated with artists like Dr. Dre and Snoop Dogg. Her reign included her empowering anthems, "Afro Puffs" and "Unfuckwitable." She stepped into the spotlight with her solo album Necessary Roughness in 1997. 
Rah Digga
Article continues after video.
Rah Digga gained prominence as a member of Busta Rhymes' Flipmode Squad, however, she was writing rhymes long before then. She was first discovered by Q-Tip of A Tribe Called Quest and eventually released her debut Dirty Harriet. However, next to Busta, the two were heralded as one of the best female/male hip-hop duos. Her efforts in the underground hip-hop scene prevailed, as she was featured on The Fugees The Score album alongside Lauryn Hill, another femcee added to this list. Rah would go on to dabble in films as well, playing in 13 Ghosts, co-starring alongside Beyoncé in Carmen: A Hip Hopera, and Da Hip Hop Witch. She most recently made an appearance alongside Busta for the BET Awards in June. 
Gangsta Boo
Article continues after video.
When you talk about Memphis hip-hop, you can't exclude Three 6 Mafia. Within the hip-hop collective, the key ingredient to their success was none other than Gangsta Boo. Joining the group at the age of 15, she became another memorable face and voice for women in the southern hip-hop landscape. Gangsta Boo released her debut album, Enquiring Minds, in 1998 which went to No. 15 on the Billboard R&B/Hip-Hop Albums chart and featured her hit single, "Where Dem Dollas At?" Although her passing at the age of 43 in January was a tragic loss, her legacy provides a strong foundation for the young women in rap today. Numerous female emcees had the opportunity to work with the late rapper, collaborating with artists like Latto, Kari Faux, and fellow Memphian GloRilla.
Salt-N-Pepa
Article continues after video.
Salt-N-Pepa, the dynamic and groundbreaking female hip-hop trio, etched an unforgettable mark on the music landscape through their trailblazing music.  As a pioneering hip-hop group, Salt-N-Pepa broke barriers as one of the first, successful all female rap groups. Comprising Cheryl "Salt" James, Sandra "Pepa" Denton, and DJ Spinderella, the group shattered barriers and redefined the possibilities for women in rap. They not only dominated charts but also catalyzed conversations on female autonomy, body positivity, and unfiltered self-expression. Beyond their chart-topping hits, the group's bold and distinctive fashion choices, including their signature asymmetrical hairstyles and colorful outfits, left an impact on hip-hop fashion, too. 
Erykah Badu
Article continues after video.
While most of her discography exists within the soulful R&B genre, Badu's origins are inherently influenced by hip-hop. Her song "Love Of My Life (Ode to Hip-Hop)" is a track dedicated to the music that helped make her who she is today. Her live performances lean on the foundational elements of what the genre and culture is. You'll often find her deejaying her own sets and blending elements of jazz and soul, as well as embodying one of her many identities, as Fat Belly Bella, Badulla Oblongata, Sara Bellum, Loretta Brown and She-iLL. 
Jill Scott
Article continues after video.
Now Jill Scott would normally land on R&B soul lists, hear us out— the Philly native spoken word background gives her room to exist in hip-hop too. Projects like Who Is Jill Scott are musings of her love and intimate experiences. Her verses on tracks like "Love Rain" often showcase intricate wordplay and emotional depth, reminiscent of the poetic traditions within hip-hop. Her lyrical delivery carries a rhythmic cadence akin to spoken word, wrapped in a luxuriously smooth texture that seems designed to serenade and envelop the listener. As a hip-hop adjacent artist, she's worked with the likes of The Roots, Lupe Fiasco, Common, and even Paul Wall. 
Sista Souljah
Article continues after video.
Sister Souljah, an influential voice in the realms of hip-hop and activism, emerged as a force through her artistry and advocacy. As a rapper, her incisive lyrics and rhythmic cadence carried messages of social consciousness, shedding light on issues affecting marginalized communities, particularly the Black community. Sister Souljah's impact reached new heights with her commitment to social justice and her outspokenness on racial inequality. Her book, The Coldest Winter Ever provided a gripping narrative that dove into the realities of urban life. Through her multifaceted talents, she bridged the gap between art and activism, compelling people to confront uncomfortable truths and sparking important conversations. 
Lauryn Hill
Article continues after video.
Lauryn Hill's album The Miseducation of Lauryn Hill is widely regarded as one of the most impactful and influential albums in the history of hip-hop. The album was released during a period when hip-hop was undergoing significant shifts. Lauryn Hill's conscious and introspective approach stood out in a landscape dominated by more commercial and materialistic themes. The album blended hip-hop, R&B, soul, and reggae influences, and its genre-blurring approach contributed to breaking down musical barriers for artists to come. The albums songs like "Zion," and "Nothing Even Matters," and "Doo Wop (That Thing)" explored concepts of romantic and platonic Black love within the community, and went on to receive widespread critical acclaim, winning multiple Grammy Awards, including Album of the Year, making Lauryn Hill the first female artist to win that category.  As her one and only solo album, it's viewed as a template for the "perfect" album.
Remy Ma
Article continues after video.
Remy Ma, stands as a testament to unyielding resilience. As a key member of Terror Squad, her magnetic lyricism and commanding stage presence became a large part of the group's dynamic. Her verses, a masterful combination of storytelling and self-expression, resonate with the raw realities of growing up in New York. Beyond her role in Terror Squad, Remy Ma's solo career has showcased her lyrical skill and unwavering determination, even amidst personal challenges. Her triumphant return to the rap game after a prison sentence attests to her enduring spirit.