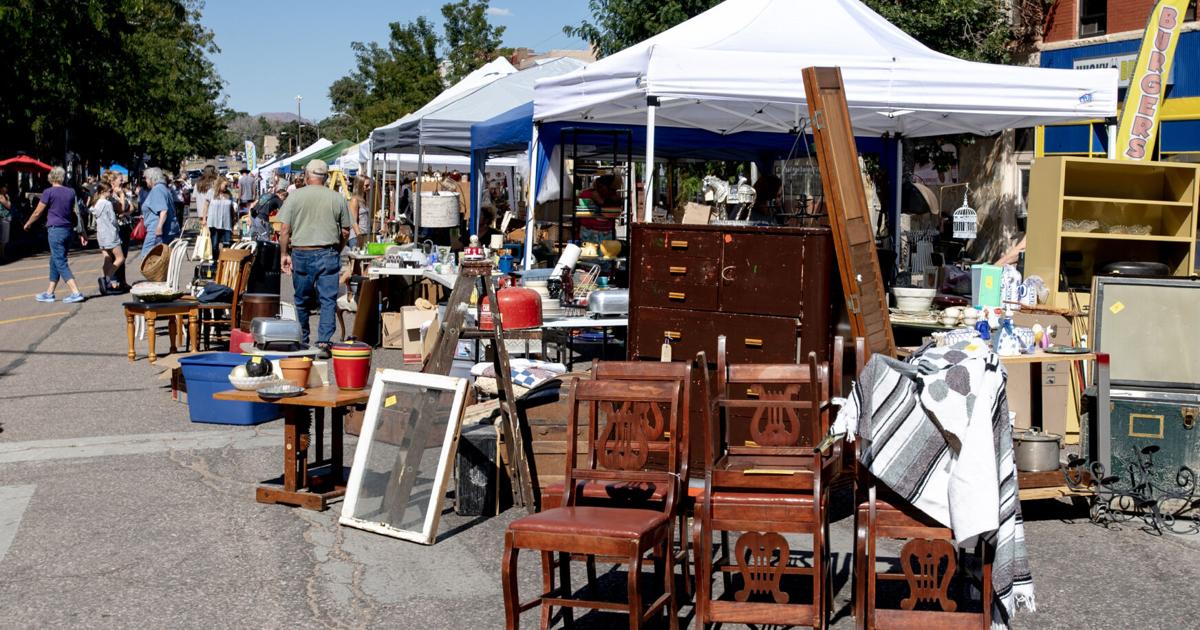 You never would assume driving the desolate Colorado Highway 115 south from Colorado Springs that an eclectic small town known as the antique capital of the state would be on the other side.
Hundreds of people flocked from all directions to Florence Saturday for its annual Junktique festival, a carnival of sorts for modern-day treasure hunters and vintage appreciators alike.
Music filled the air of downtown Florence on Saturday morning accompanied by a diverse group of vendors offering a series of vintage and antique goods deriving from times spanning the decades.
"We love to bring people into Florence, people that may have never been to our town before and don't know what we have to offer," Sue Tierney, an event organizer and Junktique vendor for the past two years told the Gazette.
According to Tierney, Junktique has been a thriving annual staple in Florence for over two decades.
Getting its title from the over 18 antique stores that inhabit downtown Florence, locals and vendors alike expressed their love for Junktique and the way it brings out-of-towners to cherish what their small town has to offer.
"As much as this is the antique capital, I feel a lot of people don't know about it," Mason Goders, co-owner of Thrift Resale Denver said.
Goders resells vintage clothing alongside her business partner and fiancé, Ryan Trujillo, mostly online.
"I've been thrifting since I was 10 years old, my parents would make me thrift instead of buying new clothes," Trujillo said, "It's always been like a treasure hunt to me."
In speaking with Trujillo and Goders, their passion for the vintage community and their work as resellers became evident.
Carrying a background in design, Goders offers a unique perspective toward her line of work.
"It's all about getting to reappreciate something that someone originally created 30 to 50 years ago, and it's so exciting to be able to help others appreciate it too."
In a nearby tent, Priscilla Clayton could be heard mingling with patrons and bartering with buyers interested in her array of antique goodies.
"I see you looking at that mirror," Clayton said in passing to one patron, "I can bring it down from $20 to $15 if you really fancy it."
Clayton resells antiques alongside her friend and neighbor Terry, who passed along a sweet wave as she conversed with another customer in her neighboring tent.
"She used to say, "You wanna' go thrifting? You wanna go thrifting? and we would go, and find all sorts of treasures," Clayton said,
"Finally, we decided we needed an outlet to help get rid of things and decided to get a booth together!"
Clayton expressed her love for antique hunting, and further her love for finding people to connect her treasures with.
"This kind of stuff evokes a lot of warm memories in people's hearts to see something that maybe their grandmother or mother had," Clayton said,
"I like finding the treasures, I find it more of the hunt that I like, and it's special than getting to connect it (antiques) with someone."
For Nicole Urban, owner of Rustic Lux, a vintage and antique refurbishment business out of Penrose, antique hunting and reselling is a labor of love and a way to help others.
"I try to mostly sell designer luxury or everyday brands that are either new or in incredible condition," Urban said, "I love to restore items, too."
Urban referenced big brand names like Gucci and Louis Vuitton, and her love of restoring these items and having the ability to offer them to someone at a fraction of the price.
"I want to sell them (designer handbags) for what people can actually afford," Urban said,
"Instead of going to a store and paying $3000 dollars for a bag, why not pay $300 and have it look the same?"
"I guess it's partially a thing inside of me that says I want to make someone happy, and I want to make somebody's day."
Through talking with the vendors and people of Florence's Junktique, it became obvious the event was more than a way to bargain hunt and find a deal – it's the community, and it's the hunt; the "treasures," as so many people referred to their collection of antiques as.
This type of treasure may not be littered with gold and diamonds, but rather rust and dust. It's the story, the memories, and the connection to nostalgia that brings these items true value, and a purpose to events like Junktique.