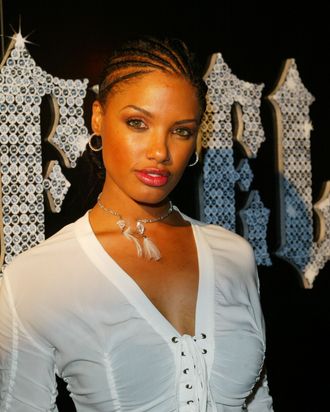 Photo: Donato Sardella/WireImage
By the aughts, the video vixen was a well-established staple in music videos despite any criticism. They were love interests and leads getting just as much screen time as their musical counterparts. Starring in videos alongside Fabolous, Ne-Yo, and Lloyd, to name a few, actress, model, and video vixen K.D. Aubert saw her roles as a bridge from modeling to acting. For her, the transition was seamless.
In a mix of streetwear and high fashion, low-rise jeans, cropped hoodies, and tinted sunglasses, video vixens were ahead of the trends. On set, skilled teams of stylists, hairstylists, and makeup artists helped create many of these memorable looks. Aubert recalls the stylist on the set of Fabolous's "So Into You" creating one of the swimsuits for her to wear. The looks highlighted some of her career's most memorable moments, and some are still hanging in her closet.
With her work as one of the original Fanta girls, stints on Buffy the Vampire Slayer, and film roles in Soul Plane and Friday After Next, Aubert pivoted to acting. We caught up with her to discuss her favorite career moments.
Do you like the term video vixen? How would you define it?
The title of video vixen is special because it was a part of an era. There was a lot that came with that; it was that one step before acting. The term was something that evolved from what was going on at the time with leading ladies in music videos. It came along more toward the end of the era, but I looked at it as a good thing.
It's very era defining.
Right, like bombshell.
How much creative control did you have in creating your look?
I had to feel comfortable in whatever I wore, and those were usually conversations I'd have the day before filming. Director X, for example, always brought you in on it. You weren't looked at like a prop. You were a part of it; you saw the storyboards and heard the songs beforehand. I had to like the song before I accepted any job. I had to like the song, the story, what they were trying to portray, and how it would elevate my career.
What were the hair and makeup teams like? 
I got so lucky. And I know I got lucky because I was working on films in that era; there were a lot of women of color doing hair and makeup, but a lot of times if you weren't in the union, you couldn't work on specific jobs. I knew what it was like to have someone do my makeup and hair who wasn't familiar with my skin tone and hair texture, but when it came to music videos, I always got lucky. I always had great makeup and hair.
Weaves and hair extensions weren't like they are now. If you did have hair extensions, you wanted to make sure they had the products to blend it. You come to work with your hair washed and ready. It makes you feel comfortable when you get there and see people like you who know what they're doing. Directors and producers had people they used all the time. So if you've seen their previous work, you know you're in good hands. I've worked with some great people, some I'm friends with to this day.
You've mentioned that "So Into You," by Fabolous, was one of your favorite videos. Can you talk about your hair and makeup during that time?
I knew I was going to be in the water. I showed up to that job with my hair ready to go, and I had extensions. I had a scene where I had to dive into the pool, get out, and go right into the next setup, and my hair still looked great. When I do choose to wear extensions, I like them to look as natural as possible. They had great hair and makeup people on set. Everything just worked out.
The bathing suits were so memorable too, like the silver one you wore.
I think the wardrobe stylist designed that one on set. Buckles and straps were added to it to give it more flair. There was a scene where I was modeling the swimsuits for Fab; I had a hand in picking the one I ended up wearing for him, and he chose the one he liked.
Did you get to keep anything from the sets?
Sometimes, if they had multiples. Otherwise, they won't let you buy or take it because they don't know if you'll have to come back and reshoot. If you have to wear the same outfit every day, they have to buy multiples in case something happens to it, and I'd be able to keep or buy stuff.
There's a fashion house in L.A. called For the Stars, and a friend of mine owns it. A lot of people like Katy Perry and Nicki Minaj have worn his stuff for videos. I was able to get him to send over some pieces for me. I modeled first, so I had relationships with designers in L.A.
Another video you starred in was Lloyd's "Lay It Down" video. What about it stood out to you?
I was chilling in Curaçao, minding my own business, when Polow da Don called me and said he needed me to come and take the video to the next level. So I hopped on a plane and came back. It was a female director, and that was awesome, and so was the energy of the whole video. The house we filmed in was spectacular, the locations we shot in and the lighting. I love the song. Lloyd was awesome. One of the dresses I kept was from this video.
Were there other directors you really loved working with? You worked with some really great ones.
"Karma" with Lloyd Banks and Avant was fun. This is work, but it's also fun. You meet the artist the day of, and you have to form instant chemistry if you want to make it look real. You have to make it look and feel real, and you've just met that person on the spot. Sometimes, the artist would stay in their space until they were ready to go, but I used to request to get some time with them before that moment. You want to be thorough and get to know them. I want to get a feel for who I'm dealing with.
I kept that jacket, too. There's a scene where we cross paths and I give him my number. What was cool is that my name was all throughout the video, and I really appreciate Director X for that.
The video girl doesn't really exist anymore. Do you have any theories on why that is?
They're not really giving the new generations of girls in videos a moment to be memorable. They're not getting the attention and the looks they once were. They're using social media now to show behind-the-scenes moments on Instagram and making videos on TikTok. There are just different tools now. You did a music video and you were memorable and you catapulted that into game shows, music, movies, or TV series.
A Video Vixen Looks Back