Spiral curls. Bouncy ponytails. Natural wave patterns. These are just the tip of the 100-wig iceberg needed to bring "Abbott Elementary" to life.
"One hundred (wigs) is just the base. I have been building that 100 since COVID," the show's Emmy-nominated lead hair stylist, Moira Frazier, tells TODAY.com. "I kept buying wigs because I always felt like there was going to be a time where I needed them."
For the most obvious showcase of Frazier's mastery, follow Principal Ava Coleman's looks (Janelle James) — she changes her hair multiple times an episode. Quinta Brunson, Sheryl Lee Ralph, Lisa Ann Walter and others also wear wigs for the show.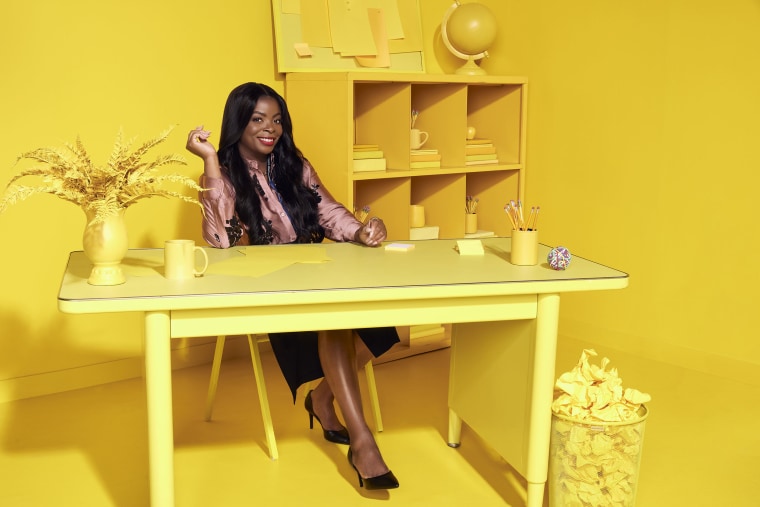 When a scene in the elementary school-set sitcom calls for it, Frazier taps into her collection, organized by color, length and texture, for the right match. When she doesn't have the right wig, she makes it.
For example, when Ayo Edebiri joined the show to play Janine's sister, Ayesha, Fraizer says she created a wig from scratch in a "very, very quick" turnaround. 
"For this particular look, Quinta wanted Ayo's curl pattern to be a little bit more tighter, a little bit more kinkier (than Janine's) and  add in some highlights," Fraizer says. "I just didn't have that particular wig that she was talking about so I was like, you know what? I got my sewing machine. I'm about to go over here and grab these bundles, because I got some kinky curly bundles, and I sat there and I made a wig."
"It lasted two hours. Ain't no other show doing that," she beams.
Frazier goes to such great lengths for a two-hour lifespan for a reason.
"For this particular show, it's so, so, so important to be able to show that we as Black women change our hair all the time," she says. "We're not just stuck in one thing. We're not just stuck in one style. You have to be able to convey that on screen so it can relate to the everyday person."
Styling the adults is one thing. Creating hairstyles for all the kids in any given scene is another challenge, just from the sheer number of heads to work on — there are 80 child actors in the show, per the LA Times.
Fraizer says it takes a collaboration between her team and the kids' parents to pull it off. The children arrive with their hair meeting a basic baseline — as in, they already have box braids, their hair is already washed and blow dried, or their hair is in a style they wear regularly. Fraizer's team then freshens the looks up so they're TV-ready.
"We all had that momma that would not let us go to school when our hair looked a mess. That rings true in our Black culture," she said. "So every time we have our child actors, especially our guest child stars, we make sure their hair is always on point because they're (representing) all Black children that you see every day."
Fraizer's work on both student and adult actors elevates and celebrates all hair textures and styles. In that way, "Abbott" is a continuation of Frazier's work as a hair stylist in Ohio, where she owned a salon before turning toward Hollywood.
"You have to be in the right place at the right time and know the (right) people," she says of breaking into Hollywood hairstyling. Frazier says she broke into Hollywood through competing in hair battles and shows across the country.
"I always put myself out there that way. When I did that, I met a lot of people from a lot of different cities. A lot of those people now, who used to do hair shows back then, are working in TV and film. And they'll say, 'Hey, I remember you.'"
She pays homage to her former clients in Ohio through the characters' hairstyles, especially when it comes to Barbara Howard, Ralph's character (Frazier is also Ralph's personal stylist).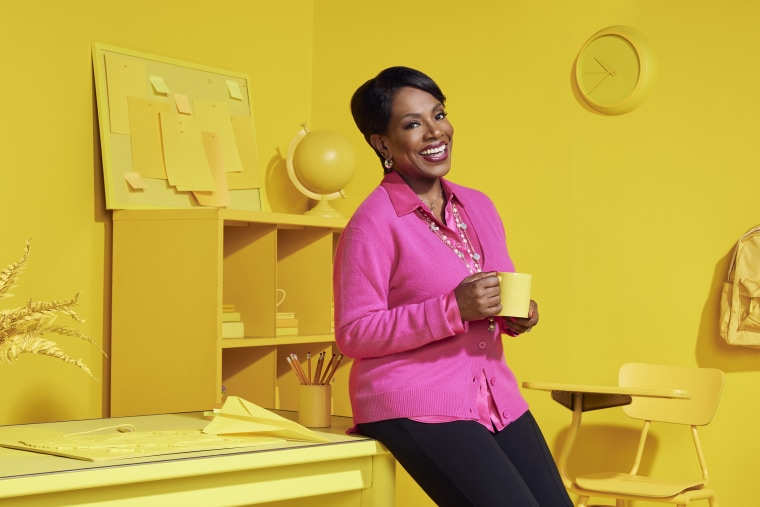 "That short bob on Barbara Howard? I literally have a teacher, who I think is actually a principal now, (who) wore her hair exactly like that," she remembers.
This similarity raises the question of whether Barbara's hairstyle foreshadows her becoming principal, too, as a replacement for Ava.
Ralph previously told TODAY.com that she's uncertain about Barbara becoming an administrator.
"I don't know if Barbara even wants to be a principal, who knows? Maybe she wants to run a school. Maybe she wants to be the superintendent. Maybe she wants to really make a difference, who knows? Maybe she wants to be mayor."
No matter her future, if she's on "Abbott," her hair is taken care of.