At Star Wars Celebration in April, Baylan Skoll actor Ray Stevenson spoke about the intrigue surrounding his character crossing paths with Lars Mikkelsen's Thrawn In Ahsoka on Disney+.
Lucasfilm's Ahsoka series is beginning to heat up. The series finds the Togruta Jedi reconnecting with her friend and former Padawan Sabine Wren As they work to find Ezra Bridger and halt Grand Admiral Thrawn's reemergence.
Acting against the heroes is the villainous Baylan Skoll, a Force-sensitive mercenary who wields an orange-bladed lightsaber. He and his apprentice, Shin Hati, will seemingly stop at nothing to bring Thrawn back into the known galaxy.
Stevenson Hyped up Skoll and Thrawn's Ahsoka Encounter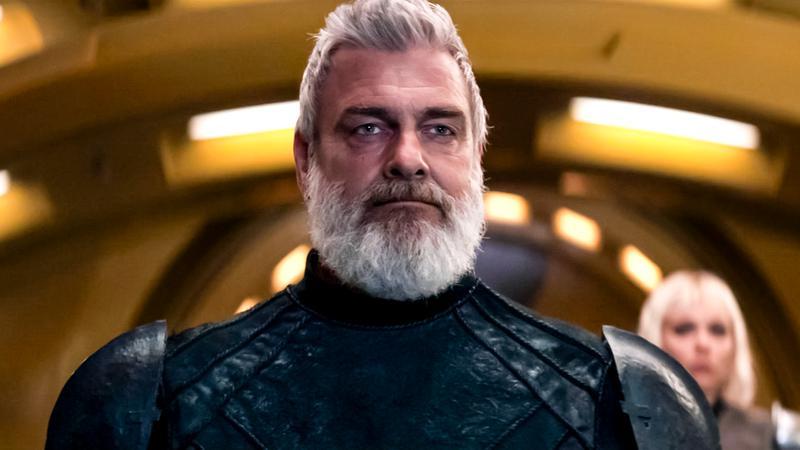 When he was interviewed at Star Wars Celebration Europe (via Screen Rant) several months ago, the late Ray Stevenson (who sadly passed away in May) discussed the mysterious nature of his Ahsoka character, Baylan Skoll, meeting Grand Admiral Thrawn.
This is not something that has happened yet in the eight-episode series, but Stevenson seemed quite excited for fans to find out exactly what happens when these two powerful baddies meet:
"And when you see Baylan actually get to meet Thrawn, is it the first time? Is it the last time? What's going on again? What's the dynamic here? And that's another thing that the fans will discover."
When further questioned on Baylan's relationship with the high-ranking Imperial, as well as his dynamic with Shin Hati, his young pupil, the actor replied by explaining that fans shouldn't quite know what to expect with this master and apprentice duo:
"Relationship with Thrawn, we can get to. But with Shin, Shin's his apprentice. And these characters arrive and at first, you think, 'Alright, I've got the measure of these two.' And then, you don't. And then, you think, Alright, okay, that's that…' Shifts again. Shifts again. 'What is going on here? Who are they? Who are these people? What is their goal?'"
As Stevenson put it, Skoll is "not one, or the other," indicating that he strived to keep audience members on their toes:
 "And they are sometimes like catalysts. They're thrown into this thing and at the catalysts, the reaction that comes out, it's like an effervescent spectacle. Then, there's another meandering thing. 'What's going on? What is their mission? Are they working for them? Not really. Are they working for them?' So, what's driving… that's the exciting thing about playing this character. He's not one, or the other, or the other."
When Will Thrawn Actually Appear?
Much of the conflict in Ahsoka is concerned with the fact that Morgan Elsbeth, along with Baylan Skoll, are searching for a way to rescue Thrawn from another galaxy that's adjacent to their own. Devotees will know that the Chiss officer was launched there by Ezra, with assistance from a pod of purrgil, in the series finale of Star Wars Rebels.
Thrawn has been called "Heir to the Empire" by Tano in the show (referencing author Timothy Zahn's classic 1990s Star Wars novel) and his comeback would spell majorly bad news for the fledgling New Republic as Thrawn's presence would serve to unite the Imperial Remnant against them.
So, with all of that in mind, when will Lars Mikkelsen walk onto the scene in all his blue-skinned, crimson-eyed glory? Well, no one knows yet, unfortunately. But with half of Ahsoka's episodes already having aired, he obviously has to appear somewhere in the series' final four installments.
Chapter 5 does seem rather likely to hold Thrawn's very first live-action appearance, as the hyperspace ring has been completed, and the bad guys, Baylan Skoll included, have made the lightspeed jump to the neighboring galaxy where Thrawn currently resides.
Star Wars: Ahsoka drops new episodes every Tuesday, with the next one, Chapter 5, premiering on September 12.