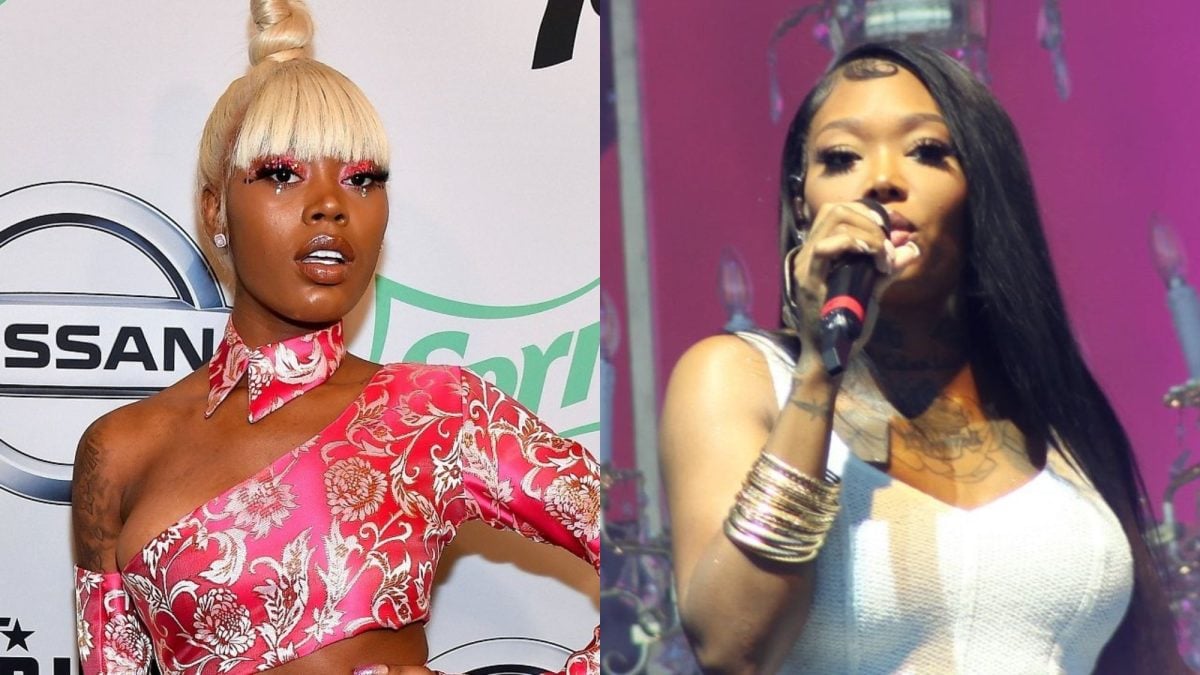 Asian Doll has clapped back at haters who made negative comments about Summer Walker's body, calling them the lowest of low.
In a recent series of tweets reported by The Shade Room, Asian Doll (real name Misharron Jermeisha Allen) maintained that comments directed at Walker regarding changes to her body are below the belt, noting that she's "always been a baddie."
"Depression #1 side effect is weight loss," she wrote on Twitter, "Seeing a woman not physically look like herself can be the reason," she continued. "Summer [has] always been a baddie so y'all hoes kicking her while she down is some low shit idc y'all bitches fake & love seeing successful women down bad."
She added, "bitches be swallowing pills to get thick but worried about summer walker body when they body pumped up with pills off Alibaba.com for weight gain."
Shortly after, Asian Doll became a target of criticism as fans noted her previous efforts to sell weight-gain pills — hypocritical some felt.
Once the "Pull Up" rhymer got wind of the chatter she defended her brief business stint, alleging she sold the goods "to be funny."
"Hoes was trolling my weight," she added, "I made 50K plus off that shit."
Meanwhile, Walker recently made headlines after reports it was splitsville for her and BMF actor, Lil Meech.
Late last month, the Still Over It singer seemingly confirmed she'd broken up with Meech via a series of Instagram Stories alluding to him cheating on her.
Less than 24 hours later, footage captured by a neighbor's Ring doorbell emerged of Meech entering a woman's apartment and then leaving 17 minutes later.
After circulating online, Lil Meech attempted to clear up the confusion by claiming he was simply helping his cousin bring in some groceries.
"Damn, I can't help my cousin bring the bags in the house," he asked in an Instagram video. "We went to the grocery store, man."
But, the allegations didn't let up. Walker later returned to her IG account where she fueled infidelity rumors by subliminally sniping at Lil Meech once more.
"It's just crazy how a n-gga will really try to pursue the fuck out of you for 2 years, make you meet they whole family, wanna be around you and your kids all day, & pay bills just to embarrass you to the world lmao," she wrote in one post. "I don't understand men but ima give it to God."
In another post, she seemingly "wished" Meech "the best" and cited his alleged cheating as the reason their three-month relationship ended.
"Tried my best to be jayda wayda but I couldn't," she wrote, referencing Lil Baby's ex-girlfriend. "It was cute though, I wish him the best." She added: "Can't do that cheatin stuff."
In spite of it all, Meech has one friend in his corner, Nick Cannon. On Thursday (August 3), Cannon took to Instagram where he posted a picture of him and Meech giving each other love during the latest episode of Wild 'N Out.
"I believe you my young brother!" the actor-comedian said jokingly. "I'm always helping my cousins with the groceries! Such a F*ckin Gentleman!"