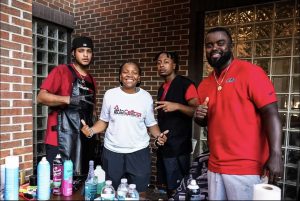 The sounds of humming razors and laughter fill the streets of Oxford as the town prepares for the back-to-school season. 
Among various opportunities and events buzzing through town, three local barbers gifted the community with free haircuts at a back-to-school drive hosted by the No Ceilings Foundation sponsored by Ole Miss women's basketball coach Yolett McPhee-McCuin on July 25. Jahd Rose and Maleek Joy of Xclusive Cuts as well as Jono Reed of Jono Barbershop gave more than 50 free haircuts to Oxford students. 
Jahd Rose, 30, of neighboring town Sardis, Miss., expressed his true gratitude for the opportunity to contribute free haircuts to his community.
"Giving back to the kids … I'd never done it before," Rose said. "I was finally in a position to bless people who may be less fortunate than others."
Throughout history, barbershops have served as a safe space for African Americans to unite and share important information with others. Allowing themselves to unwind, they gained a refuge from the chaos and turmoil prevalent in their personal lives as well as their communities.  The cultural significance of barbershops maintains its power and influence today. 
Though barbering may seem as simple as razors and shears, Rose articulated that his way of barbering has transformed from appointments to a sincere, transformative experience.
"I get to talk more with the younger generation," Rose said. "I'm able to give them more helpful advice, things I never heard growing up."
Within the African American community, hair holds a cultural tie to a person's identity as well as their strength. In turn, the connection to one's hair stylist must be profound.
"They trust me. I create a bond with them. I'm everything: a best friend, a brother, a therapist, a father figure to the kids,"  Rose said.
A new haircut is more than a restored appearance. It is a new you, a brand-new feel. Haircuts enhance self-esteem and confidence. 
"You feel happy. You feel energetic. A haircut can make a sad man very, very joyful," Rose said. 
Rose's outreach within the community expands farther than his four barbershop walls: Rose conducts live talks every Friday as "Barbershop Talk" on various social media platforms, from ongoing events in the community to hosting live spade games in his barbershop.
"Like a family reunion … that's what it's like in the barbershop. It's not really gender-based.  Men and women can join our conversations and be a part of them," Rose said.
Through dedication and a passion for his craft, Rose has cultivated an ideal space for his clients to enjoy their appointments and each other's company. Rose's passion demonstrates that barbering is not just a profession full of precision and speed, but also a devotion to elevate his community.
As the season transitions into the school year, the school hallways will be filled with not only smiles, laughter and backpacks overcrowded with the latest school supplies, but also fresh lines, tapers and fades thanks to the expertise of Jahd Rose, Maleek Joy and Jono Reed. Most importantly, young boys gained brotherhood and mentorship through this experience that lasts a lifetime.