In a beauty industry that hasn't always celebrated diversity to the fullest, the best makeup brands for Black women have emerged as beacons of inclusivity, creating products that complement a spectrum of stunning shades and undertones. From lipsticks that pop to foundations that actually match your melanin magic, we've got it all covered. Whether you're a makeup novice or a seasoned pro, this list is your go-to guide for finding products that not only enhance your beauty but also celebrate your fabulous melanin. So, let's get ready to glow, shimmer, and shine with these tried and true makeup brands recommended by experts.
Finding makeup for Black women can be a challenging endeavor due to the historical lack of inclusivity in the beauty industry. Many mainstream brands have traditionally offered limited shade ranges, making it difficult for women with deeper complexions to find suitable products. This disparity in shade options underscores the importance of advocating for more inclusive beauty standards.
Having access to the best makeup brands for black women is essential to achieving a flawless and personalized beauty routine. Fenty Beauty, created by Rihanna, has revolutionized the industry by offering an extensive shade range to cater to a broad spectrum of skin tones. These makeup brands not only offer quality products but also embrace the diverse beauty of black women, making them essential choices for a flawless makeup look.
Are you ready to dive into the dazzling world of cosmetics tailored especially for melanin-rich skin? Well, grab your brushes and get ready to slay because today, we're about to spill the tea on the absolute best makeup brands for Black women. Did we miss your favorite? Let us know in the comments below!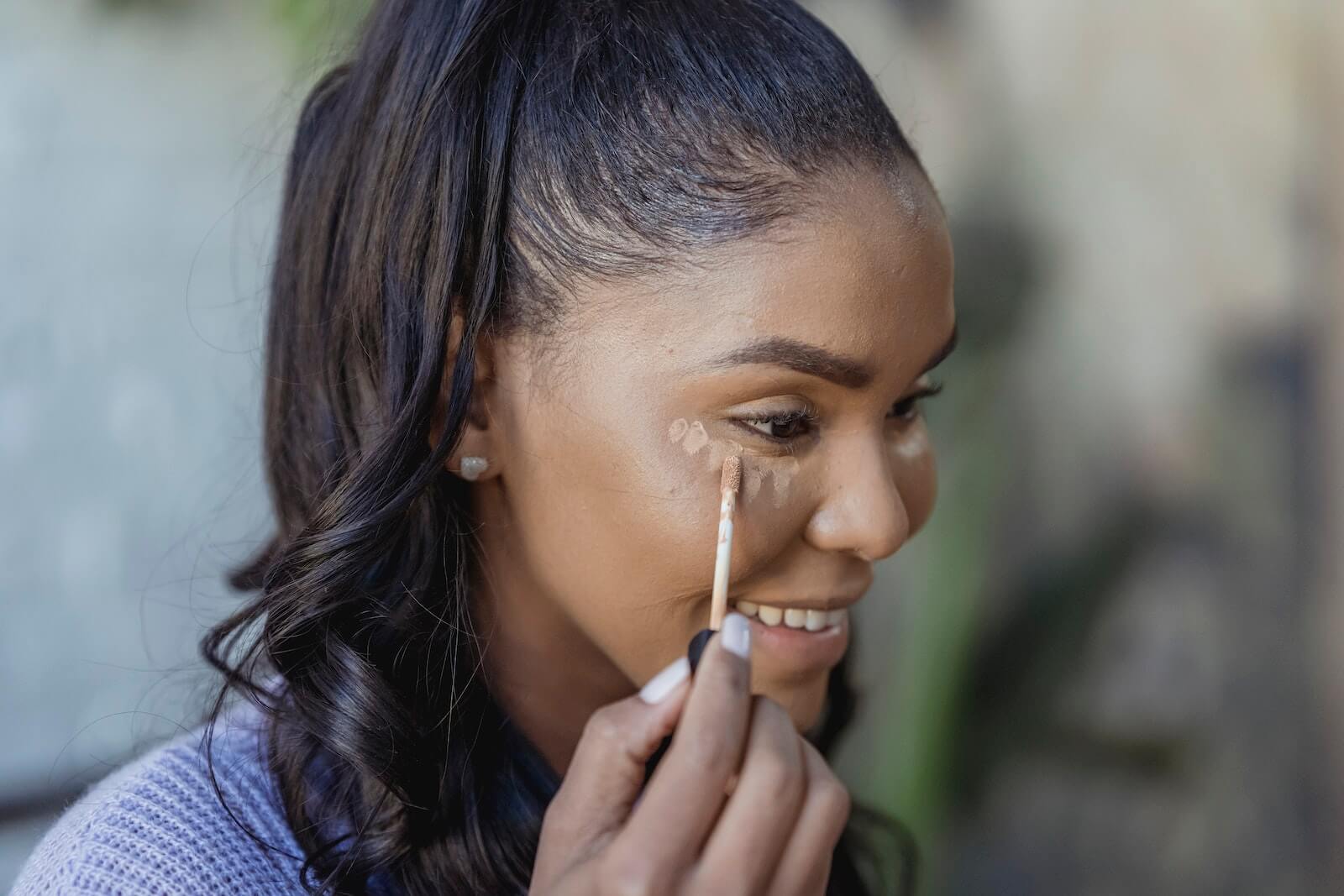 The List: Best Makeup Brands for Black Women, According to Experts
Women fell in love with pop singer Rihanna and then became devoted fans when she stepped into the makeup game with Fenty Beauty. A modern day Iman, Rihanna's Fenty's Beauty ranks on every single list of best makeup brands for Black women. "Rihanna as a person and an artist is fantastic, bold, unapologetic, and downright gorgeous, so that seems like enough reason to try her makeup brand Fenty. But her products really stand out amongst the others because of how inclusive the shade range is," writes The Every Girl. "The Fenty Soft Matte Foundation is a favorite of mine because I have oily skin, and by the end of the day, my face can look quite shiny. Using this foundation takes care of that problem, yet it's still lightweight enough that I don't feel as though I'm wearing a lot of makeup or a heavy product. All hail Fenty by Rihanna!"
Not many Black makeup brands can boast about disrupting an entire industry like Fenty can. "In 2017, Rihanna flipped the beauty industry on its head — many call this the Fenty effect — by launching a beauty line with 40 shades of its Pro Filt'r Matte Longwear Foundation, a feat rarely heard of at the time. Since Fenty Beauty's disruptive moment in beauty industry history, Fenty has expanded its foundation offering to 50 different shades and has built a beauty empire boasting everything one would need to complete an entire beauty look while taking care of their skin from head to toe," adds People.
With so many great products to choose from, this 21 Ninety reviewer has one specific suggestion. "Haven't got yourself an iconic Fenty staple in your collection yet? We'd go for the Match Stix Matte Skinstick contour shade to add some depth and definition to your final look."
Here's a beauty secret that's not really a secret. Have you tried Black Opal yet? Well, everyone else has. "What happens when a Jamaican descendant, a chemist, and a Board-Certified dermatologist come together?" asks Glitz Africa. "You get Black Opal Beauty, whose products specifically address the beauty concerns of black women. Take your beauty and makeup game to a whole new level with Black Opal. Black Opal caters to all ranges of deep skin tones but also offers skincare products including moisturizers and exfoliates for dry and oily skin. While Black Opal is known for ranges in their foundation and concealer selection, they have a wide collection of lip products as well. With their collection of lipsticks and lip stains, you're able to find a lip colour to match you perfectly."
"Chock-full of glow-enhancing essentials like primers, powders, and concealers that work with many different skin tones, the brand is also known for its accessibility and affordability," adds Readers Digest. "The True Color Skin Perfecting Stick Foundation SPF 15—the brand's top-selling foundation—is available in 19 shades, protects against sun damage, and leaves behind a 'velvety silk finish.'"
If that isn't enough to make you want to give Black Opal a try, then here's one final reason why you might want to purchase from this legendary brand. A reviewer from Breezy Beauties writes, "Black Opal or BLK OPAL is an OG in the black beauty game. It's been making makeup for black women since 1994, however it just recently became black owned."
Who was the genius who decided to combine our love for baked sweets with creamy, flawless skin? "Beauty Bakerie was founded by entrepreneur and breast cancer survivor, Cashmere Nicole. The brand started as a way to counteract the 'bad girl' image that was being portrayed by the media," writes Glitz Africa. "They pride themselves on offering makeup line that is 100% cruelty-free and vegan. Their biggest selling point are their smudge proof, waterproof lip whips that keep selling out. Keeping in line with the 'bakery' theme is their brownie brow products, flour setting powder, eye shadow and highlighters."
"Sweetness is what Nicole wanted to bring back to the game, and that mission is reflected in so many elements of the brand," adds a reviewer from Allure. "The packaging keeps to a confectioner's theme. The hero Lip Whip tubes have that signature swirl that makes it look like the lipsticks were filled using a frosting pipe. Certain items, like the Neopolitan Eyescream Palette, look good enough to eat."
It's one thing to become interested in a brand because they have a good marketing strategy, but it's fantastic when you realize the makeup is actually high quality. Breezy Beauties mentions: "I've tried quite a bit from this company, including their long-lasting lip whips and several eyeshadow and blush palettes. If you like highly pigmented products and a bit of whimsy, this is a brand worth checking out."
If you've been on the hunt for makeup that's more fabulous than a unicorn riding a rainbow, look no further than The Lip Bar. Their products are especially designed for health conscious Black women. "Looking for smooth and truth-worthy liquid matte lipstick perfect for your tone? The Lip Bar have got you covered (in every shade, at that) and even offer plant-based products," writes a reviewer from 21 Ninety.
Another expert on the best Black makeup brands celebrates The Lip Bar even more for their connection to nature. "Infused with all natural, vegan ingredients and created through cruelty-free methods, this Black-owned makeup brand's products are beloved for being as good for the skin as they are for the environment," adds Readers Digest. "The wide-ranging line truly features something for everyone."
Fan favorites? There are many. But this reviewer from Breezy Beauties is very specific about her must have Lip Bar finds. "My favorite shades from The Lip Bar are Savage and Drama Queen but I can't wait to try more…They're super pigmented and the color options are amazing. Recently, they've added complexion products to its product lineup. Visiting their flagship store in Detroit is definitely on my bucket list."
Picture this: makeup so flawless it's like a real-life Instagram filter. That's the magic Uoma Beauty is bringing to the beauty scene. "Ever since I discovered its lipsticks named after Black beauty icons, I knew I had to get my hands on the 'world's first Afropolitan brand,'" writes Style Caster. "I am more of a gloss girl, but again, the names of Uoma Beauty's BADASS ICON Matte Lipsticks pulled me in. There are 16 colors to choose from and all of them are named after famous black women, who were indeed, badass. They include Aretha (Franklin), a deep neutral, Chaka (Khan), a pink mauve, and Sade (Adu), a poppy red."
A reviewer from Allure raves about Uoma: "Founded by Sharon Chuter in 2018, Uoma Beauty ('beautiful' in Igbo, one of the main languages spoken in Nigeria) puts inclusivity at its core…For example, the Allure Best of Beauty-winning Say What?! Foundation debuted with 51 shades, but it's not about just putting numbers out there. Each 'skin kin' category addresses specific skin-care concerns; for example, hyperpigmentation is common for tan and brown skin tones, so those shades are spiked with woolly thistle extract and white tea extract to tackle discoloration."
With more than just a penchant for a smooth coverup, Breezy Beauties has a particular favorite. "Beyond complexion products, the brand has lipsticks and eyeshadow palettes that look amazing…I currently have my eyes on its Coming 2 America collection. It's all so stunning."
Applying makeup is an art and we love those who supply our artistry! Leave a comment to let us know which of these makeup brands suits you the best.
You might also be interested in:
Sources:
Note: This article was not paid for nor sponsored. StudyFinds is not connected to nor partnered with any of the brands mentioned and receives no compensation for its recommendations.