Lemon booty.
Say it out loud. It's fun!
It's a term brought to my attention by the great Bomani Jones, which he uses to describe a situation where a person – or group of people – appears to show signs of loss of composure under heavy pressure or stress.
And after this week's game, I can't help but think that Eli Drinkwitz's lemon booty bar is located somewhere down by his ankles. Otherwise, I don't know how the guy who coached with nary a care in the world in 2020 is now punting in plus territory against FCS and G5 defenses.
I've stopped evaluating 2020 as a legitimate data point for anything college football-related and that certainly extends to Drink; it's almost as if he knew his first year in charge coinciding with a weird pandemic year meant that nothing really mattered and he was free to cut loose and do whatever he wanted with zero repercussions. Maybe multiple years of the SEC grind broke him. Maybe he's just terrified of failing and losing. Maybe having a new Athletic Director who didn't hire him is putting him off (not like the last AD actually hired him, mind you, but I digress…)
Regardless, I said it last year and I'll say it again this year: Eli Drinkwitz is a football-coaching coward. And that fear of losing led him to be a lazy play caller as an offensive coordinator, which led him to only trusting a few players and using very little rotation of his younger guys/depth pieces while showing zero innovation in trying to work his way out of it. And, now, our perpetually terrified coach is ripping the rug out from his offensive staff and roster by punting no matter what on 4th-down.
Truly, the greatest con that Eli Drinkwitz has pulled on the Missouri fanbase was to relinquish control of the offensive play-calling duties while retaining the final say on game management decisions; specifically, in this case, 4th-down calls. As long as his reductive football strategies and fear of losing permeate gameday decisions, this team will be held back. Period.
But let's move on to happier things. Hey! Saturday was not nearly as bad as you thought it was. Yes, I'm serious. Wait, where are you going? C'mon, take a look at the advanced box score and let me walk you through it: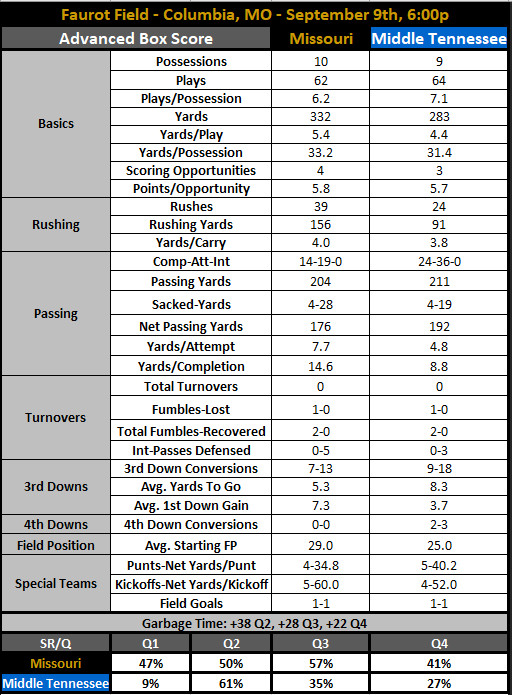 As a reminder, I do not count plays or possessions where the team is clearly not making an effort to move the ball forward. So the last 30 seconds of the 1st half where Nicholas Vattiatio lackadaisically ran for zero yards and the last three plays of the game where Brady Cook flailed backwards to drain the clock are not getting factored in here.
What we just experienced on Saturday is exactly the type of game Middle Tennessee State is trained to play: all haymakers, all the time, hope you hit on enough to win. Their success rates stunk but they were able to overcome it by landing timely explosive plays and scoring on their only three opportunities. So, while their averages look decent, remember that 16 plays were lifting that average for the other 48 plays that did nothing.
And, to Mizzou's credit, the Moore offense did exactly what it was designed to do: get 4-5 yards per play, grind down the field and hit the occasional big play. You would have liked to see more positive explosives and way fewer negative explosives but, for the most part, it did what it was supposed to do.
I know this style of offense isn't fun but it does work. It just doesn't fly with a fanbase that had Chase Daniel, Blaine Gabbert, James Franklin, and Drew Lock putting up 30+ a game less than 20 years ago. Until the Drinkwitz/Moore offense starts generating more explosive plays, it's going to be tough to impress us with it, simply put.
When Missouri Has the Ball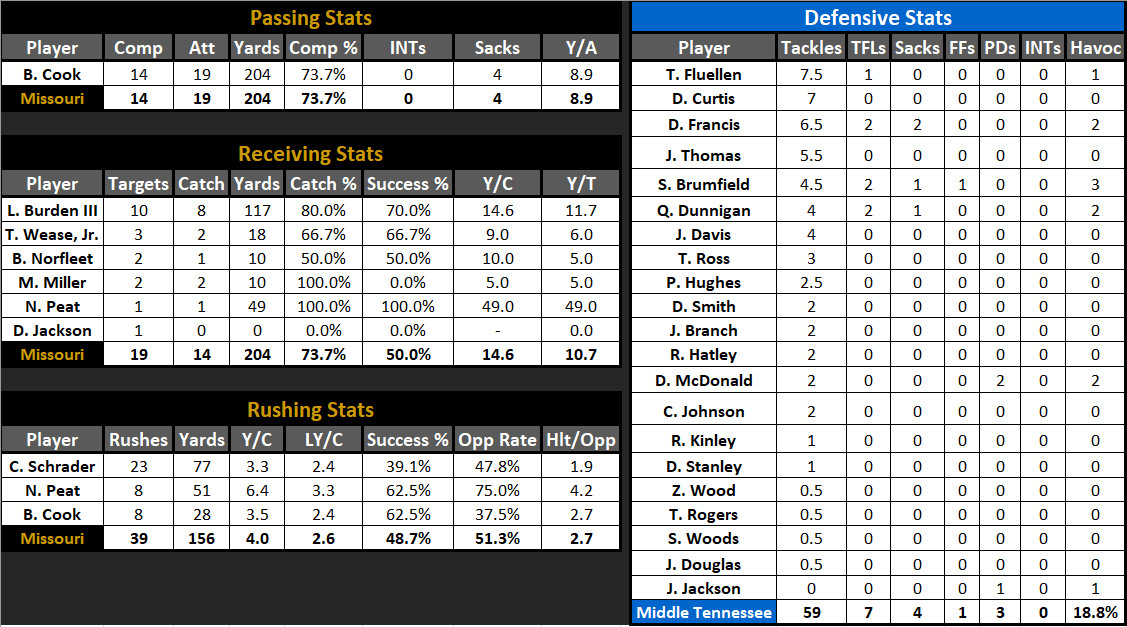 There's a solid chance that the '23 offense is another rendition of the "bell cow offense", where a coach has one or two guys that he knows can reliably make plays and just targets them over and over.
It's a bit simplistic but it works. Lane Kiffin did it at USC, Alabama, and now Ole Miss. Willie Fritz did it last year at Tulane. So has James Franklin at Penn State. And nearly every coach at Boise since Chris Petersen.
Eli does it too, but this year Kirby has Cody Schrader AND Luther Burden. I would argue that Nathaniel Peat could be added to the list but clearly, Eli Drinkwitz has some issue with playing him more than 10 snaps so I guess he doesn't qualify.
My point is, Luther Burden was on the field for 22 plays and was targeted on 10 of them with 8 catches for 117 yards. All the other targeted receivers combined for 9 targets, 6 catches, and 87 yards.
Similarly, Cody Schrader had 23 carries for 77 yards while Peat and Cook combined for 16 carries and 79 yards. But it worked: Missouri nearly achieved the rare "50/50" in success rates, with a flat 50% success rate throwing the ball (counting sacks, even!) and a 48.7% success rate running the ball.
For the record, Drink's offenses have only achieved a success rate over 50% on both running and passing twice: LSU in '20, and New Mexico State in '22.
The offense even held Middle Tennessee to an 18% havoc rate; I know you're thinking "but Middle Tennessee, of course that should be the case" but Middle was the 9th-best Havoc defense last year and routinely ranks in the Top 20, so that's not nothing.
Let's revisit my keys to the game:
Run the dang ball
The goal was a 46% rushing success rate and Missouri finished with a 48.7% success rate. Check!
Winner: Missouri
Generate some big dang plays
Given Middle's propensity to get lit up for big plays as much as they light others up, I set the goal at ten explosive plays, minimum. Again, as a reminder, an explosive play is defined as a 12-yard rush or a 16-yard pass (or more, obviously). Here were Missouri's explosive plays:
Q1: 15-yard rush by Nathaniel Peat
Q2: 19-yard pass to Luther Burden
Q3: 44-yard pass to Luther Burden
Q4: 49-yard pass to Nathaniel Peat for a touchdown
Peat and Cook had a handful of 11-yard rushes but even adding those in barely gets you over halfway there. Silly me for thinking they could hit 10 explosive plays in a game, that's not their style even when going against a defense that can let you get there.
Winner: Middle Tennessee
Finish your dang drives
I was super aggressive here because I thought that this would turn into yet another shootout, so I set the goal at 9 scoring opportunities and 5.5 points per opportunity. In a surprising turn, the shootout was actually yet another Eli Drinkwitz rock fight, with Missouri generating 4 scoring opportunities and averaging 5.8 points per trip. It was certainly enough to win!
Winner: Push
When Middle Tennessee Has the Ball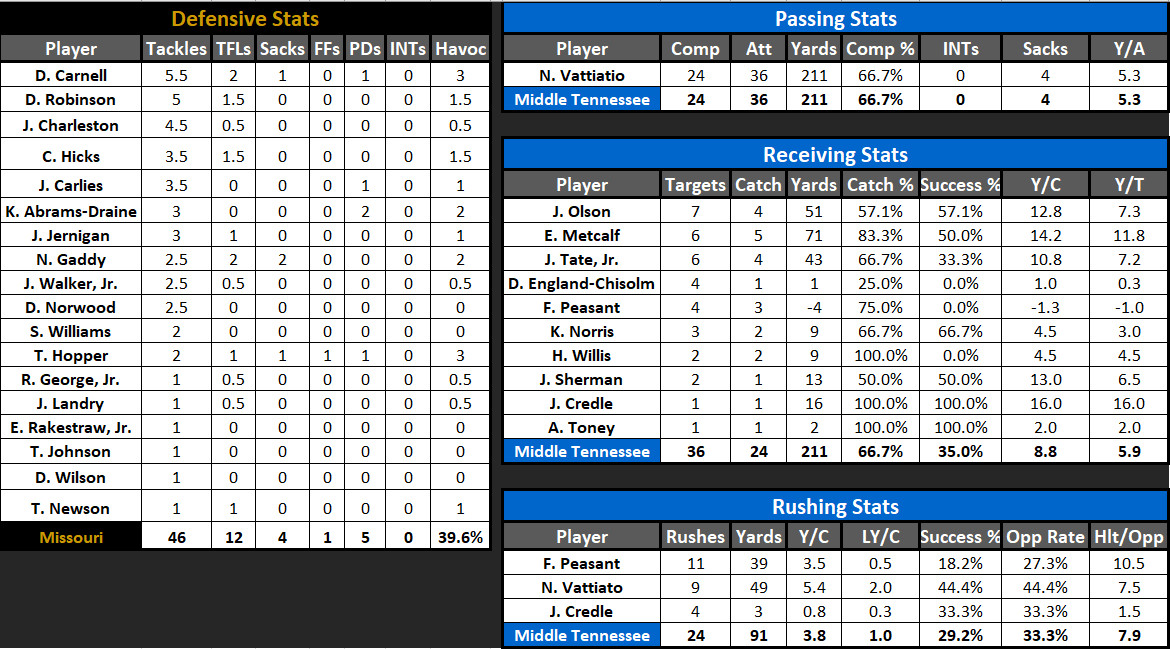 Missouri got back in their bag and finished with a 39.6% havoc rate, third-best havoc rate of the Blake Baker era (last year's Vanderbilt and South Carolina games finished over 40%).
Again, Middle Tennessee is at its most comfortable when it's forced to make big plays. And, for the majority of the game, the Raiders would get absolutely demolished in 1st and 2nd-down and then land a moon shot on 3rd and 4th-down. That's just what they do. Just remember that they could only move the ball on explosive plays, and that 6 explosive plays created 136 yards while the other 58 generated 147 yards.
Create some dang HAVOC!
The goal was to have a havoc rate in at least the 25% range. 39.6% > 25%.
Winner: Missouri
Get some dang turnovers!
I really thought Missouri could benefit from at least two turnovers by Missouri's defense. Instead, the Tigers were very unlucky to have zero interceptions on 5 defensed passes and their lone forced fumble go out of bounds.
Winner: Middle Tennessee
The Little Things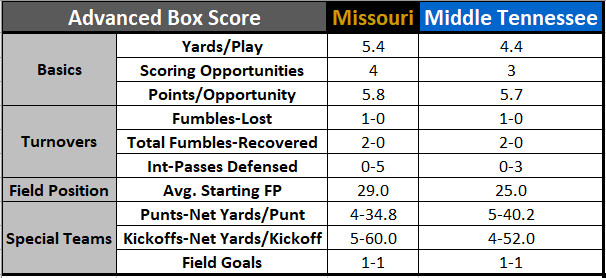 Both teams performed about the same when it came to "The Little Things". Field position was a 4-yard advantage for Missouri over 10 possessions (not much, essentially) while field goal kicking, punting, and turnovers offered no advantage. Missouri averaged one more yard per play, generated one more scoring opportunity, and had a 0.1 point per opportunity advantage which, I guess, made the difference in the end.
On the demerit front, the offensive line penalty issues came up to say, "Hello!" again. Luckily the number of penalties and yardage enforced were about the same, while Middle's receivers had a very drop-heavy type of day.
Extra Points
Look, you don't need to tell me that Middle Tennessee is not an efficiency-based outfit, but 9% in the 1st quarter is a nice partner to the 0% that South Dakota put up in their 1st quarter. And this is another reminder that, despite the 4th-down buffoonery, the Tigers offense was moving incredibly well.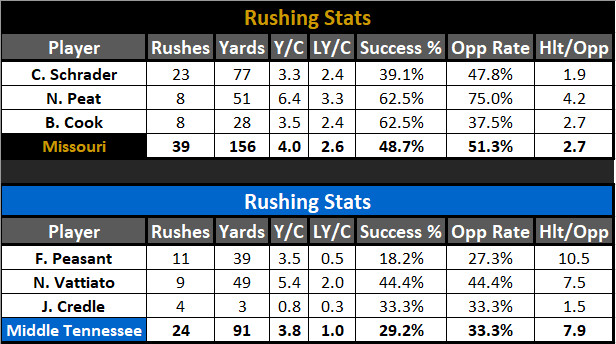 If you want to see a comparison that encapsulates these two teams' mirror philosophies perfectly, check out the rushing stats above. One team – Missouri – emphasizes making smart, safe decisions and taking what the defense gets you, resulting in the ability to consistently keep up with the chains (success rate), consistently get 4 yards (opportunity rate), and add a little extra on top once you do get those 4 yards (Highlight yards per opportunity). The other team – Middle Tennessee – says, "F*** it, throw some jukes and dance around and try to break a 20-yarder". This leads to getting blown up the backfield or at the line (low success rate), an inconsistent ability to even gain 4 yards (33% opportunity rate is baaaaaaad)…and an incredible 8 extra yards every time they did manage to get 4 yards. Haymakers vs. homebodies was the title card and the safe choices won this time.
Let me hit the rushing game point home in a different way: Missouri averaged 4 yards per carry against Middle Tennessee. They kept up with down and distance 48.7% of the time when they ran the ball. The offensive line was giving Schrader and Peat, on average, 2.6 yards of space to run into before contact even showed up. And the offense was getting 4 yards on the ground 51.3% of the time. But on 4th-and-3 from the 50, 4th-and-1 from their 41, and 4th-and-2 from the Raiders' 45, Eli decided to punt. Math says Missouri would have gotten at least one of those, probably two, and (most likely) all three. Sigh.
Middle Tennessee went 9-18 on 3rd downs which, all things considered, is pretty good. The most impressive part, though? They went for it on 4th down. They went for it on 4th-and-7 from Mizzou's 32 and converted; 4th-and-goal from Missouri's 13-yard line and scored a touchdown; and 4th-and-9 from Missouri's 43 where Nicholas Vattiatio (luckily) threw his worst pass of the game to a wide-open Justin Olson. All of these occurred in the 2nd half when they were actively creating opportunities to steal the win away. Imagine that!
Conclusion
Both teams played the way they wanted to play and had some success; consequently, the game was close. But one team chose to play it safe while the other did everything they could do to win the game, especially as the game wore on, tactics needed to shift, and the opportunity was there.
If you want to complain about Brady Cook, go ahead. If you want to complain that the defense let Middle Tennessee off the hook too much, that's fine. If you think this offense is too ugly to be effective, I won't stop you. But the only problem I see right now is the head decision-maker who puckers up in situations where you can seize the initiative and win. Playing scared will probably stop getting upset but also not really elevate the play of your team. Until that football cowardice changes it's hard to see the fortunes of our favorite college football change for the better.