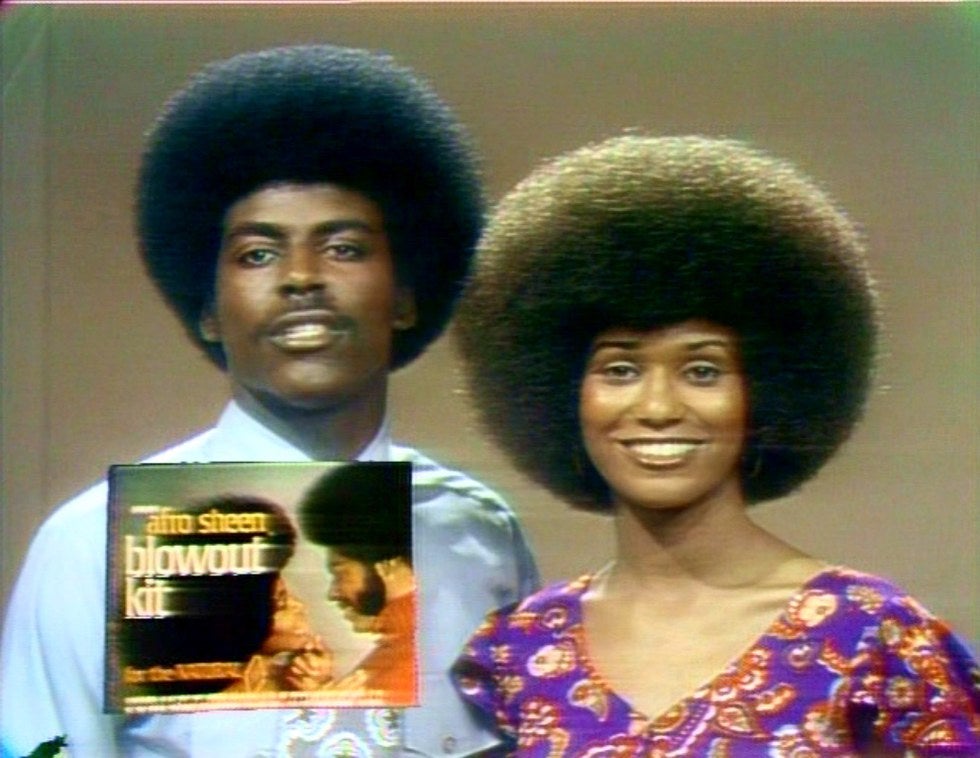 Afro Sheen commercial still.
From Afro Sheen to SheaMoisture, Black hair advertisements have played a pivotal role in shaping beauty standards within our culture. Through commercials showcasing a range of styles from blow outs and relaxers to extensions and braids, these minute-long videos subtly convey messages about our identity. Black hair commercials deliver implicit cues not only about the latest beauty trends, but also about the emotions and perceptions tied to our own looks.
As time has progressed, we've witnessed the evolution of these beauty trends, adapting and reshaping in with the changing times. What initially began as a movement characterized by empowering products aimed at maintaining the Afro, eventually transitioned into a focus on relaxers, perms, and the pursuit of a luscious S Curl.
Continue reading to delve deeper into the profound impact of Black hair advertisements on the perception of Black beauty.
Article continues after video.
Today's beautiful Queen uses Afro Sheen. The descriptive narration in the Afro Sheen commercials added a serene, majestic, and powerful statement for Black hair ads in the 1970s. Founded by George E. Johnson Sr., the beauty industry remembers the legendary influence of Afro Sheen ads. From the assimilation to white beauty standards with the Ultra Sheen Relaxer (1971), to the advertisement of natural products with the Afro Sheen Shampoo (1978), these commercials have had a strong impact on hair care in the Black community. 
Article continues after video.
However, White beauty standards in the late 1980s and '90s were promoted with Hair Relaxer ads. A boom in chemical relaxers advertised Black hair as difficult to manage and time-consuming. These commercials from PCJ, Raveen, and Just for Me, among others, promoted relaxed hair for the "soft and silky, and so easy to comb" results. In the TCB Relaxer (1986) commercial, the hair care company advertised relaxer and mousse as the missing puzzle piece in Black hair care routines.
Article continues after video.
From Jheri Curl to S-Curl, the use of chemical treatments did not end with relaxers. Other chemical treatments, like perms, were predominately marketed to men in the Black community. "Long-lasting stronger curls with Classy Curls" was the jingle for the Jheri Curl commercial. The Classy Curls Ad (1980) promoted texturism using words like "better curls" to describe a loose, curly hair texture. Classy Curls enlisted Ola Ray, known for her role as Michael Jackson's girlfriend in "Thriller," as the face of their campaign to promote the curly perm, making it accessible for Black men to achieve the same perm style that Michael famously sported. 
In the S-Curl Ad (1992), the product is advertised as "The Man's Look" with a ladies man commercial. The man in the ad looks at photos of women with relaxers he dates throughout the week, ending with "Sunday's Girl". S-Curls were promoted as a hairstyle to attract women, similar to the advertisement of relaxers for women to attract men.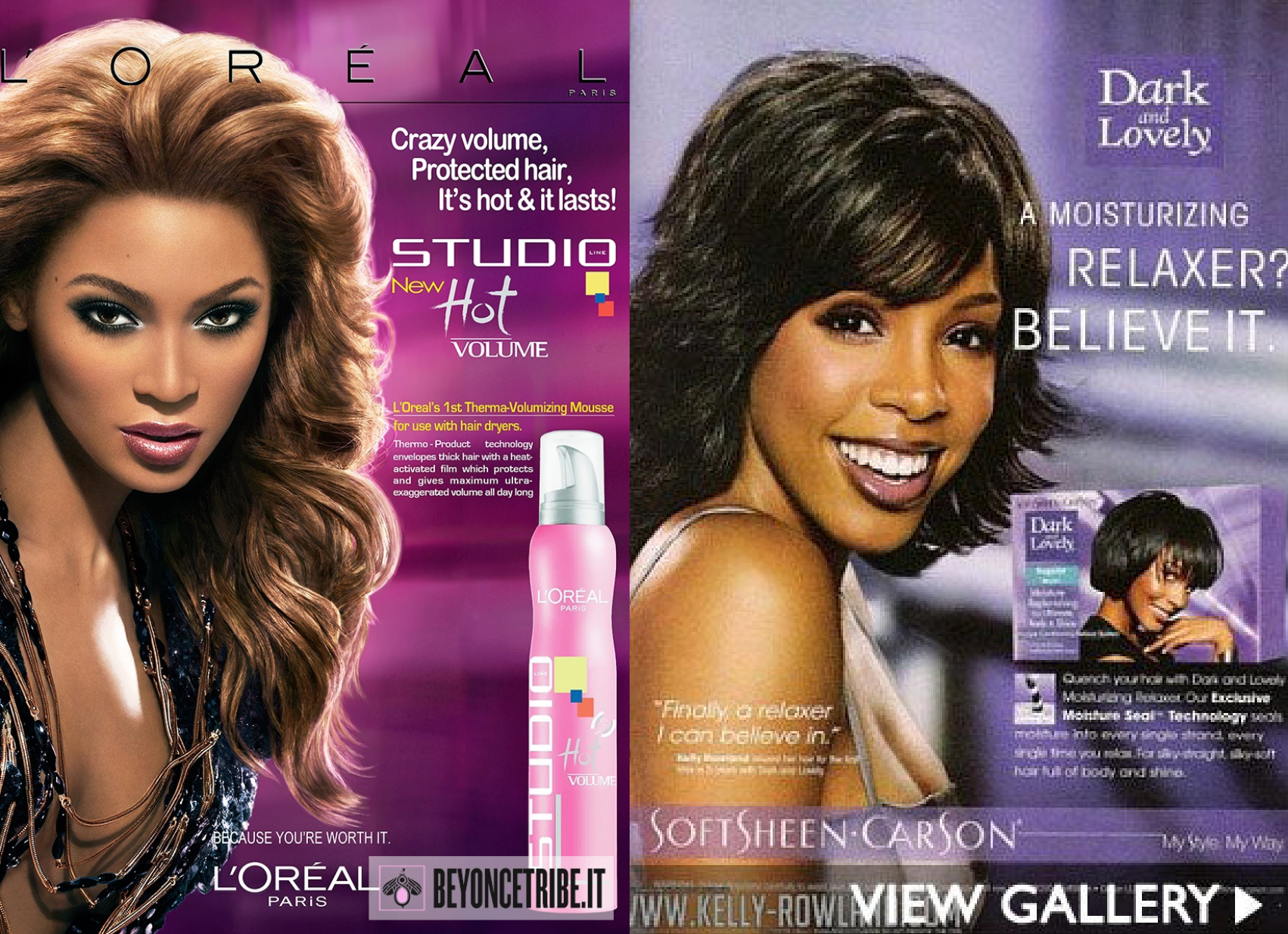 The use of celebrity endorsements for hair ads, like Ashanti for Herbal Essence, gained popularity in the 2000s. The paparazzi boom resulted in celebrity-endorsed hair ads, not only in commercials, but in print magazines next to photos of our favorite celebrities. The continued promotion of relaxers included a SoftSheen Carson ad of Kelly Rowland for Dark and Lovely® with the celebrity-endorsed "Finally, a relaxer I can believe in."
Article continues after video.
Black hair care commercials of today primary focus on overall hair health. In their most recent ad, SheaMoisture introduced a new Scalp Care System including an Anti-Dandruff and Scalp Moisture collection. The promotion of these products were not on an afro or relaxed hair, but scalp-exposed braided hairstyles to market a routine for dry scalp and dandruff. Their latest ad represents the Black community's interest in the protection, treatment, and condition of their hair. These ads, from the 1970s to today, symbolize the evolution of how we take care of our hair — and influence how Black hair is cared for in the future.