SIMPLY SUPER: MCM is leaning into its heritage with its latest campaign, which spotlights its caramel-colored, monogram leather goods — and '90s supermodel Cindy Crawford.
Crawford, who first posed for an MCM campaign in 1996 lensed by Herb Ritts, plunked herself on a pile of backpacks, totes, satchels and weekenders for a studio shoot with Juergen Teller. She cradles the German brand's latest crossbody style, dubbed the Mode Travia.
"It was nostalgic for me to travel back in time with MCM from our first photoshoot," Crawford mused, noting that its classic bags remain "timeless."
The campaign, which breaks Monday on MCM's website and social channels, is part of efforts to reposition MCM as a digitally driven luxury brand by expanding into a full-fledged offering of accessories, ready-to-wear and lifestyle. 
As reported last June, MCM recently appointed Tina Lutz and Katie Chung to lead and develop its new global design and creative direction, enhancing the brand's signatures and making them resonate with today's market demands. 
Its heritage codes can be traced back to 1976.
Fabien Baron, creative director of the spots, said Crawford remains a "true professional," bringing knowledge and tenacity to her latest modeling project. Jessica Diehl was the stylist, Diane Kendal the makeup artist and Benjamin Muller the hairstylist.
Sabine Brunner, president and global brand and commercial officer of MCM Global AG, said the Crawford campaign highlights links to the brand's historic iconography, bridging "this heritage with the dynamism of Gen Z.
"Cindy Crawford, as both a supermodel icon and a timeless symbol, aligns seamlessly with MCM's iconic designs," she added.
Crawford has zoomed back into the cultural spotlight, along with her supermodel pals Linda Evangelista, Naomi Campbell and Christy Turlington, appearing on the September covers of American and British Vogue.
The four women will also be seen in "The Supermodels," a documentary that premieres on Sept. 20 on Apple TV+. — MILES SOCHA
FLAMENCO FLAIR: Actress and fashion-week fixture Rossy de Palma will bring a bit of Spanish sun to Paris' Le Bon Marché Rive Gauche for an autumn exhibit opening Aug. 26.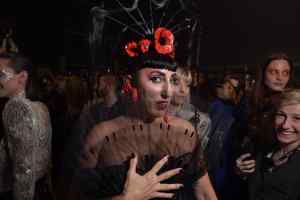 Under the guise of the department store's "Olé Olé Le Bon Marché" exhibition, which will bring in Hispanic brands from around the world, de Palma will curate the windows on the Rue de Sèvres side, as well as transform a dedicated space on the first floor into "La Villa Rossy" to highlight craftsmanship from the Iberian peninsula. She'll touch upon everything from surrealism to traditional flamenco through the displays.
The singer will also host "La Vie en Rossy," a series of shows held after closing hours in the heart of the department store's grand space, on Sept. 13, 20 and 27, with tickets on sale to the public.
"La Villa Rossy" will showcase Spanish brands selected by the actress herself, including Simuero, a collection of handcrafted jewelry made from recycled materials by Valencian designers Rocio Gallardo and Jorge Ros; Dr. Bloom, the Barcelona-based brand of colorful clothing and accessories, and sustainable bag line Ölend from Barcelona-based designers Adriana Dumon and Fran Rios. Socks from Thunders Love, which are handmade by artisans in northwest Spain, are also featured as part of the pop-up space.
Hispanic homewares will also feature in the store during the exhibit. BD Barcelona, the company behind the reedition of the famous red leather lips surrealist sofa designed by Salvador Dalí, will be featured with a series of ceramics. Artist Jaime Hayon's &Tradition label has created a limited edition of his Formakami lamp, taking traditional Japanese design through his Spanish lens, which will be available exclusively at Le Bon Marché.
Designer Maria Estrada's contemporary interpretations of traditional ceramics and table linens, sourced from local artisans in Granada and Malloraca for her Casa Maricruz line, will also be featured, along with hand-dipped beeswax candles and dyed pencils from artist Clara Infante's Shop Copito line.
"Olé Olé Le Bon Marché" will run from Aug. 26 through Oct. 15. — RHONDA RICHFORD
NYC FALL: DKNY's fall campaign, titled "DKNY for You," explores New York from a multitude of perspectives.
Photographed by Dan Martensen and styled by Alastair McKim, the campaign features Amelia Gray Hamlin and Christian Combs, along with various personalities such as Abby Champion, Peter Dupont, Catarina Guedes, Alex Schlab, Hiandra Martinez, and Raph, who each have a connection to the city.
Among the views and street scenes photographed are catching a show at the Apollo Theater in Harlem, playing a chess game in the square, taking in the latest art exhibit, or finding a quiet moment on a park bench.
The campaign looks to reveal how the city is a source of endless inspiration.
Among the fashion featured are elevated faux leather dresses punctuated with edgy metal accents, textural outerwear, polished varsity jackets, and satin suits structured with sharp sophistication.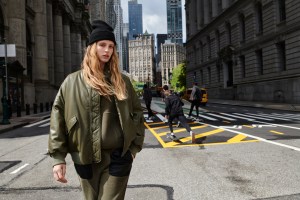 The campaign will run across the U.S. and key international markets in a diversified media mix of digital, premium outdoor and social/influencer partnerships. The fall 2023 collection is available globally on Aug. 22 on DKNY.com and in select retailers. — LISA LOCKWOOD
FIGHTING STYLE: The unofficial dress code for front-row viewing at a major fight night — as in big-league boxing — used to be furs, slithery dresses, diamonds, and even suits and tuxes further back.
Case in point, ringside at the 2017 Floyd Mayweather-Pacquiao fight, Beyoncé donned a red deeply V-necked Harbison jumpsuit and Jay-Z sported a champagne-colored tuxedo jacket with a black bow tie. Celebrity sightings are routine at major fights. Drake, Nicki Minaj, Michael Jordan, Tom Brady, Mark Wahlberg, Idris Elba, George Lopez, Mike Tyson, Andre Agassi and Steffi Graf have showed up on occasion.
Now, the UFC, the world's leading mixed martial arts organization, and the French men's retailer Celio have teamed up with much more relaxed options for a limited-run collaboration. The deal was brokered by UFC's licensing agency IMG. It's too soon to say whether any IMG models (many of whom know the ins and outs of Paris well) will be at the Sept. 2 match, when France's Ciryl Gane will square off against Moldova's Serghei Spivac, according to an IMG spokesperson.
UFC and Celio are working together to mark the UFC's return to Paris for the occasion. The heavyweight bout will be held at the Accor Arena with Gane going into the showdown ranked first and Spivac, eighth. Gane will be fighting in front of his hometown crowd for the second time in two years.
Celio aims to maximize that exposure, having signed up the French heavyweight as a brand ambassador. Gane also has endorsement deals with DFNS Sneaker, the eco-friendly label Apparel Care and Gymking.
UFC fans and shoppers don't have to wait for the opening bell to get in on the merchandise. As of Aug. 21, the UFC and Celio will offer what they described as "fan apparel" that features original designs that will only be available through Celio stores in Europe, the Middle East, and North Africa, as well as the chain's online hubs and approved e-commerce sites. Jackets, T-shirts, sweatshirts, hoodies, jogger pants and caps will be among the styles with retail prices ranging from 19.99 euros to 45.99 euros.
The two UFC fighters can expect a percentage of the sales — a spokesperson confirmed fighters are compensated for merchandise featuring their image and likeness.
Partnering with the Endeavor-owned UFC offers inroads to a large base. The UFC boasts more than 700 million fans and the fight is among the 40-plus live events that the UFC holds annually and broadcasts to more than 900 million households in upward of 170 countries. And Celio extends its own reach with more than 1,000 stores and expansion plans for India from a sourcing standpoint and a retail one.
While attendees at next month's fight and those watching from afar can dress however they choose to, UFC fighters take their cues from the MMA organization. In a recent interview, fighter Diaz, who is a free agent, suggested that fighters should be able to wear whatever they want instead of wearing clothing chosen by the UFC. Last year the UFC signed a sponsorship deal with the actor and entrepreneur Dwayne "The Rock" Johnson's Project Rock for the UFC's official footwear and co-branded styles. — ROSEMARY FEITELBERG
A FOURSOME NO MORE: Two years after starting the joint venture LGDR, four monikers in the New York art scene — Dominique Lévy, Brett Gorvy, Amalia Dayan and Jeanne Greenberg Rohatyn — are shifting gears.
In the summer of 2021, the foursome joined forces by combining their respective galleries during a shakier point in the pandemic when some galleries were folding. Their aim was to create a one-stop-shop for consulting, dealing and consulting with auction houses.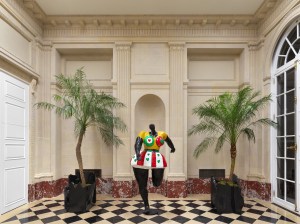 With the new setup, clients and just-passing-by Upper East Side shoppers won't have to travel far to find them in their new environs. Greenberg Rohatyn will reopen Salon 94 at 3 East 89th Street, where she will focus again on exhibitions and her art advising. Located in a landmark Beaux-Arts town house that had been built in 1915, Salon 94's interiors were refreshed a few years ago by Rafael Vinoly. It once housed the National Academy of Design Museum. The airy, multifloor space had become a destination for some tony clientele. The gallery had closed two years ago, when the joint venture was finalized.
Meanwhile, the remaining trio will now operate as Lévy Gorvy Dayan and will be based at 19 East 64th Street. They will go forward representing artists and estates and they will also curate exhibitions and offer other services to globetrotting clients as part of the newly formed Art Family Office.
Next month, Lévy Gorvy Dayan will unveil a retrospective of Pierre Soulages that has been curated by his longtime friend Dominique Lévy. Working with the Soulages family, Lévy Gorvy Dayan is trying to magnify the European abstract artist's influence and legacy. That show will be followed by one in November from the painter Jenna Gribbon featuring large-scale paintings of her wife and muse, Mackenzie Scott.
Lévy Gorvy Dayan will continue to take part in such art fairs such as Paris+ par Art Basel in October, and presentations in London, Paris and Milan. Those initiatives will be helmed by Victoria Gelfand-Magalhaes, European president, and in Hong Kong through a partnership with Rebecca Wei that will operate as Lévy Gorvy Dayan and Wei.
Looking ahead to the October Salon 94's reopening, American sculptor Karon Davis will have a solo exhibition of her new work titled "Beauty Must Suffer." The show will examine the archetype of the Black ballerina, and a dancer's endless sacrifice to inhabit perfection. Plans are also in place for a comprehensive curatorial program to play up the voices and diversity of living and deceased artists. Since it was started in 2002, Salon 94 didn't just host exhibitions but also introduced artist-made movies and animations to dance and performance, among other events.
Greenberg Rohatyn also carries on with Salon 94 Design, which blends art and design, and strives to chip away at the hierarchies between the two. The location is prime real estate not just in its own right, but also for attracting well-heeled residents in the neighborhood and also the more diverse art crowd. The Solomon R. Guggenheim Museum, the Cooper-Hewitt, Smithsonian Design Museum and the National Academy Museum and School are a few blocks away from Salon 94.
In a letter announcing the realignment to clients that was signed by the art specialists, they said, "While we move forward as two separate galleries, the four of us will continue our collaborative activities that we have enjoyed and fostered for so many years." — R.F.