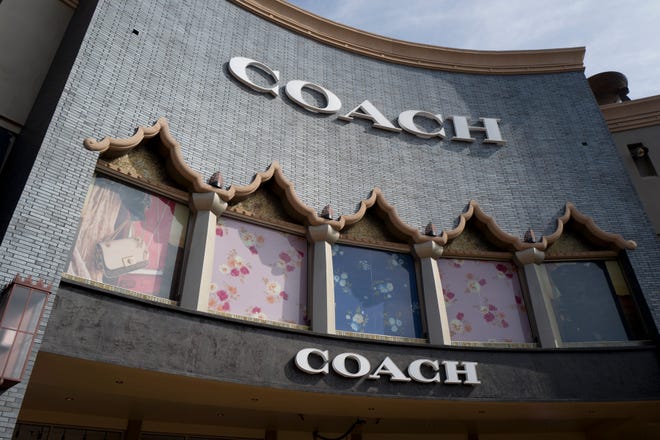 Coach owner Tapestry will buy Capri Holdings, the parent company of famous brands Michael Kors, Jimmy Choo and Versace, in a multi-billion dollar blockbuster deal representing a momentous shift in the fashion industry.
Under the terms of the all-cash agreement, Tapestry, the parent company of luxury handbag and accessories retailer Coach, will pay Capri shareholders $57 per share. That represents a premium of approximately 59% to the 30-day volume weighted average price ending Wednesday, in a deal valued at approximately $8.5 billion.
The acquisition unites six brands under one banner, including Tapestry's other two brands Kate Spade and Stuart Weitzman, in a move that positions the new company to better compete with European fashion rivals in the global market.  Tapestry said Thursday that the combined company generated global annual sales of more than $12 billion in the previous fiscal year with a presence in more than 75 countries.
Recession or soft landing?Why the U.S. could dodge a downturn, and why it may not
In a statement Thursday, Tapestry CEO Joanne Crevoiserat said the deal "creates a new powerful global luxury house."
"Tapestry is an organization with a passion for building enduring brands through superior design and craftsmanship and an unwavering focus on our customers," Crevoiserat said.
Why is Tapestry buying Capri Holdings?
Tapestry, which is financing the deal largely by taking on debt, said that combining all six brands under one parent company will help it to expand its global reach.
Tapestry and Capri, with a combined 33,000 employees, have both been long established in Asia and Europe. Tapestry envisions that the acquisition will only further broaden its lifestyle and luxury product lines of footwear, accessories, clothing and handbags.
Fashion Nova settlement:How shoppers can file for refunds
Tapestry said that it expects to generate about $200 million in cost savings from the combination within three years.
The boards of Tapestry and Capri have approved the deal, which is pending approval from Capri shareholders and is expected to close next year.
"Today's announcement marks a major milestone for Capri," Capri Holdings CEO John D. Idol said in a statement. "It is a testament to all that our teams have achieved in building Versace, Jimmy Choo, and Michael Kors into the iconic and powerful luxury fashion houses they are today … By joining with Tapestry, we will have greater resources and capabilities to accelerate the expansion of our global reach while preserving the unique DNA of our brands."
Other fashion acquisitions
The acquisition comes as European giants have been striking deals and acquiring high-end brands of their own.
French luxury conglomerate Kering reached a deal in July to buy a 30% stake in Italian fashion house Valentino for €1.7 billion from Qatari investment firm Mayhoola. Under the agreement, Kering, which owns Gucci, has the option to buy 100% of Valentino no later than 2028.
French luxury group LVMH, whose portfolio includes Louis Vuitton, Christian Dior and Bulgari, in 2021 purchased famed luxury jewelry company Tiffany for $16.2 billion.
Contributing: Associated Press
Eric Lagatta covers breaking and trending news for USA TODAY. Reach him at elagatta@gannett.com.