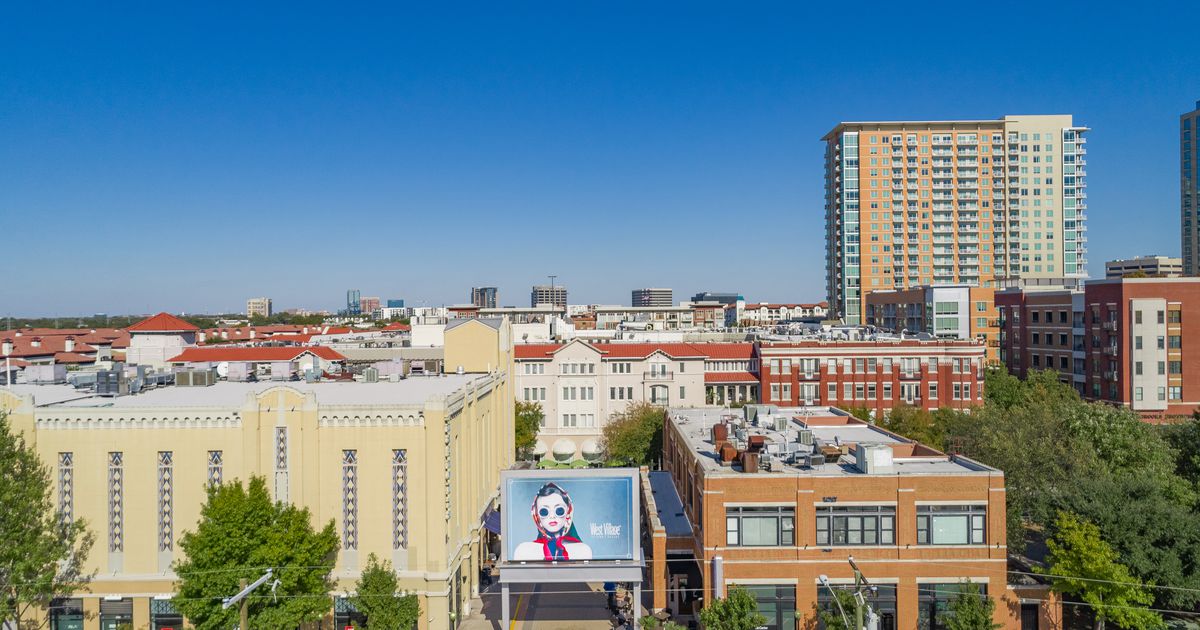 West Village is filling spaces left vacant by national chain closings with smaller retail brands that are seeking its walkable neighborhood vibe.
"We're actively leasing and trying to build up our women's fashion retailers beginning with Trina Turk," said Aaron Stephenson of Dallas-based Retail Street Advisors who was hired in May to help lease the east side of West Village. CBRE leases the area west of McKinney toward Cityplace.
The street-level shopping and residential development was built in 2001 and expanded over the years just north of downtown Dallas between Uptown and North Central Expressway.
Trina Turk opened Friday on McKinney Avenue after leaving Highland Park Village. The California-based designer's boutique is located next to M.K.T. and with other small boutiques is filling larger spaces left vacant by Ann Taylor, Loft and Banana Republic.

Forth & Nomad is a women's apparel and accessories retailer with a mix of beauty, kitchen and home from Houston that plans to open by Thanksgiving.

State & Liberty, a men's clothing and accessories retailer based in Ann Arbor, Mich., is opening this fall. The retailer, which also sells formalwear, has 23 stores including one other in Texas in Houston.

Face Foundrie will open later this fall. It focuses on facials and other services such as accelerated exfoliating, chemical peels and face massage. It's open in Colleyville and Houston and says on its website that stores are also coming soon to Fort Worth and Austin.
The re-leasing of the high-profile block of McKinney started last year with the addition of Southern California jewelry brand Gorjana on the corner at Thompson Street.
Béis, a luggage and accessories brand by Canadian actress Shay Mitchell, opens a popup store on Saturday (Sept. 2) and will remain open through September 28. It's next to Kendra Scott, the Austin-based jeweler who opened her first tiny Dallas store in West Village in 2011 and replaced it with a larger store in 2019.
Located just north of downtown Dallas, West Village is a hub for all the surrounding neighborhoods, Stephenson said. "It draws from Uptown, Oak Lawn and Downtown. We're trying to add a more diverse mix that's more meaningful to our customer base."
There are 5,576 apartments and townhouses within West Village and surrounding blocks including above the development's street-level businesses. About 10,000 residents live within a 10-minute walk of West Village and have a high average household income of $159,514.
West Village is also a destination for personal care services from a couple dozen salons, spas and boutique exercise storefronts.
The area's walkability was a big draw for Morgan Sommer, co-founder of Forth & Nomad. She's been looking for a Dallas location for a year.
"We think we've become a Houston staple after six years, and we have regular customers from Dallas in our store and online," Sommer said.
Her first store opened in 2017 in just 500 square feet in what Sommer said is one of a couple of walkable neighborhoods in Houston, the Heights area. Forth & Nomad has grown into a 4,000-square-foot store with a coffee bar. The Dallas store will be about 2,000 square feet.
Some of the other tenants in West Village are also her neighbors in the Heights including Gorjana, Mizzen+Main, Nina Berenato and Cru Wine Bar, Sommer said. "We love the vibe and the similar tenant mix."
Looking for more retail coverage? Click here to read all retail news and updates. Click here to subscribe to D-FW Retail and more newsletters from The Dallas Morning News.