Demi Moore's Greek vacation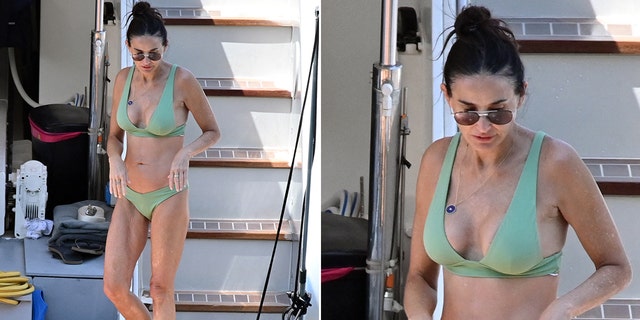 Demi Moore has been living it up on her Greece vacation. 
The actress was photographed wearing a green bikini while spending the day on a yacht.
The 60-year-old has been vocal about her desire to help women feel comfortable in a bathing suit at any age. She's accomplishing this by starting her own swimwear collection. 
"It's changing this idea that women become less desirable as we get older," she told People. "We don't want to look matronly or not feel sexy."
Zooey Deschanel's summer of love
Zooey Deschanel took to Instagram to announce her engagement to "Property Brothers" star Jonathan Scott, with the caption, "forever starts now!"
The couple met while filming an episode of "Carpool Karaoke" in 2019, back when Deschanel was still married to Jacob Pechenik. She announced her separation from Pechenik shortly after filming the episode, and confirmed her relationship with Scott on Instagram a few days later.
"Eight months into our relationship, I already knew Zooey was the yin to my yang, the PB to my J. We were on parallel paths toward the happiness we'd been seeking our whole lives," Scott wrote in his magazine, "Drew + Jonathan Reveal."
ZOOEY DESCHANEL, 'PROPERTY BROTHERS' STAR JONATHAN SCOTT KICK OFF FIRST CHRISTMAS TOGETHER WITH FESTIVE ACTIVITIES
Katie Holmes in the city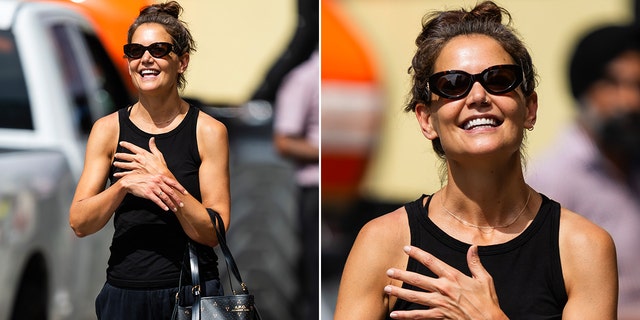 "Dawson's Creek" actress Katie Holmes was all smiles as she walked through the streets of New York City, looking casual in her all-black outfit. 
Holmes styled her hair in a messy bun, a black razor back tank top and black jogging pants. She paired those with black sunglasses and a black APC handbag. 
Donna D'Errico's big anniversary
Former Playboy model and one-time Playmate of the Month Donna D'Errico posted a photo of herself repairing a fence while dressed in a yellow polka-dot bikini as a pre-celebration of her one-year anniversary on OnlyFans. 
"Two days until my one year anniversary on 'the site that shall not be named.' Here's me in a bikini scraping paint off a wall," her caption read.
Her presence on OnlyFans has caused a slight controversy.
"All these celebs posting nude and topless pics of themselves here on IG and Twitter all the time covering their important bits with their hands," D'Errico wrote on Instagram in August 2022. "Boom, thousands of likes & comments talking about body positivity and confidence and empowerment and you go girl! Hot! But take that same photo of that same celeb and put it on [OnlyFans] where she can control who sees it and now she's gross and hard up. People kill me."
Heidi Klum's ocean view
Model Heidi Klum posted photos of herself looking out to the ocean, as she sat on a nearby rock formation. In the photos, Klum is wearing a leopard print string bikini and a large straw sunhat. 
Klum posted the photos during her vacation in Capri, Italy, where she has been vacationing with her husband, Tom Kaulitz, and her children since early August. She captioned the photos using a series of emojis, including a heart, the sun, a splash of water, a flower and a four leaf clover.
HEIDI KLUM SIZZLES WEARING NUDE BIKINI ON SUMMER VACATION IN ITALY
Rita Ora is a green goddess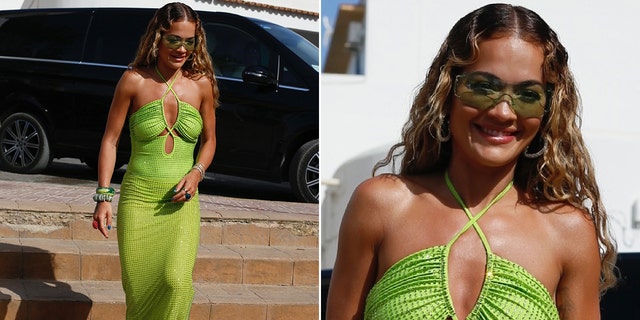 Rita Ora brought a pop of color when she touched down in Ibiza, Spain, wearing a lime green dress with matching sunglasses. 
The singer was there to perform with British DJ Joel Corry, who posted footage from their set on his Instagram. "RITA ROCKS!!!," he captioned the post, adding a rocketship emoji and calling it an "unreal day" and promising "exciting times ahead." 
Dua Lipa earns her sea legs
"Sailing through the Peloponnese," Dua Lipa captioned her recent Instagram post, alongside multiple shots of her lounging on a yacht, holding a sea urchin and swimming in the ocean. One photo featured her and her boyfriend cuddling up with the sunset behind them.
Halle Berry's big birthday
Halle Berry thanked all her "beautiful followers" for wishing her a happy 57th birthday, with a photo of her posing in front of cakes on Instagram. The cakes were in the shape of an "H" and a "B," which could either be her initials, or stand for "happy birthday."
HALLE BERRY POSES IN CATWOMAN-INSPIRED LATEX BODYSUIT AND BOOTS
The comments section was full of other celebrities wishing the Academy Award-winning actress a happy birthday. Jennifer Garner wrote, "I'll never forget the year we spent your birthday together, I'm endlessly grateful for you," while Jamie Foxx added, "happy birthday lioness." 
Michelle Pfeiffer goes makeup-free
Michelle Pfeiffer celebrated a big milestone by going makeup-free.
"3M followers. Thank you all for hanging out with me here!!," she captioned her recent Instagram post. The photo the 65-year-old chose was a makeup-free selfie.
Fans and other celebrities took to the comments section to congratulate her on her follower count and compliment her beauty. Her sister-in-law, Rona Pfeiffer, commented, "such a beauty inside and out," and Selma Blair wrote, "I remember when you first showed up here …and it was like finding ruby slippers! You are solid gold."  
Jessica Alba brings a pop of color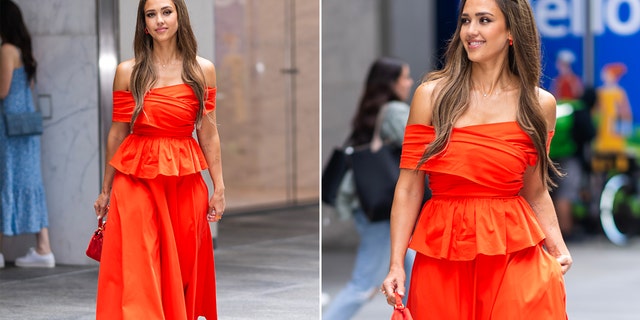 While promoting her new show, "Honest Renovations," Jessica Alba stepped out in New York City wearing a bright orange off-the-shoulder dress, with a matching Fendi purse.
The actress kept her jewelry simple with a thin-chain necklace with a diamond and orange flower-shaped earrings.
Reese's pieces of summer
"Soaking up the last days of summer," Reese Witherspoon captioned her recent Instagram post.
The post featured photos of her with her sons Deacon and Tennessee. Witherspoon and her sons can be seen lounging on the beach and in front of a pool.
REESE WITHERSPOON UNCOMFORTABLE WITH 'FEAR' SEX SCENE WITH MARK WAHLBERG: 'DIDN'T HAVE CONTROL OVER IT'
The actress ended her post with an inspirational quote, reading, "life will change you, or you can change with life. We are in motion. Everything we know is always moving. We can wrestle with this energy, or we can dance with it. The choice is completely up to you," which is attributed to Cleo Wade.
Jodie Sweetin is a glamping queen
Jodie Sweetin and her husband Mescal Wasilewski celebrated their one-year wedding anniversary by "enjoying some end of summer travel and unplugging" with a trip to Sequoia and Kings Canyon National Parks.
CLICK HERE TO SIGN UP FOR THE ENTERTAINMENT NEWSLETTER
The "Full House" star posted photos from their trip, which featured the majestic Sequoia trees, wildlife they saw while hiking and little snippets of their glamping cabin.
"The pictures can't POSSIBLY show how massive these forests are! Standing and looking up makes you feel very small (which is a good perspective sometimes!)," she wrote in the caption. "If you haven't been there, it's def a bucket list item!"
Emma Roberts' not-so-deadliest catch
Emma Roberts showed off her outdoorsy side with a photo of herself and a fish she caught. In the picture, Roberts has a huge smile on her face as she holds a fish in one hand and a fishing pole in the other.
The "Scream Queens" star assured fans no fish were fatally harmed in the making of the Instagram post, as she captioned the post "catch (and release)."
CLICK HERE TO GET THE FOX NEWS APP