As hip-hop turns 50, Arwa Haider traces the verbal pioneers who forged a path long before 1973, from jazz "hep cat" Slim Gaillard to "dirty blues" singer Lucille Bogan.
Hip-hop is a culture, and rap flourishes from a far-ranging lineage. There will always be hot debate about the first rap record – 1979 gave rise to both the legendary Rapper's Delight by The Sugarhill Gang, and (the slightly earlier release) King Tim III by funk outfit The Fatback Band – but generations of poets, polemicists, multi-genre artists and entertainers resonate through rap's expressions. And while this art form was certainly sparked and shaped in African-American communities, the broader heritage of that diaspora – and within hip-hop's NYC birthplace – significantly played a part as well.
Rap music arguably traces its roots through centuries of oral tradition – including West Africa's griot storytellers and South African kwaito music – as well as street competition and recorded song. It is a vivid patchwork of conscious lyrics and subconscious influences: big band leaders; loquacious radio DJs; sporting legends (Muhammad Ali proclaiming his GOAT status with knockout rhymes and moves), even nursery rhymes. As Run DMC declared in their anthem Peter Piper: "Now Dr Seuss and Mother Goose both did their thing/ But Jam Master's getting loose and DMC's the king". Rap's enduring power might also derive from its very human impulse – to tell a tale, raise a laugh, assert identity, make a lasting point before the ultimate mic drop. Here are eight vocalists and lyricists who were arguably channelling the spirit of rap decades before 1973.
More like this:
– The forgotten story of America's first black superstars
– The most iconic 21st-Century anthem
– The language being saved by hip-hop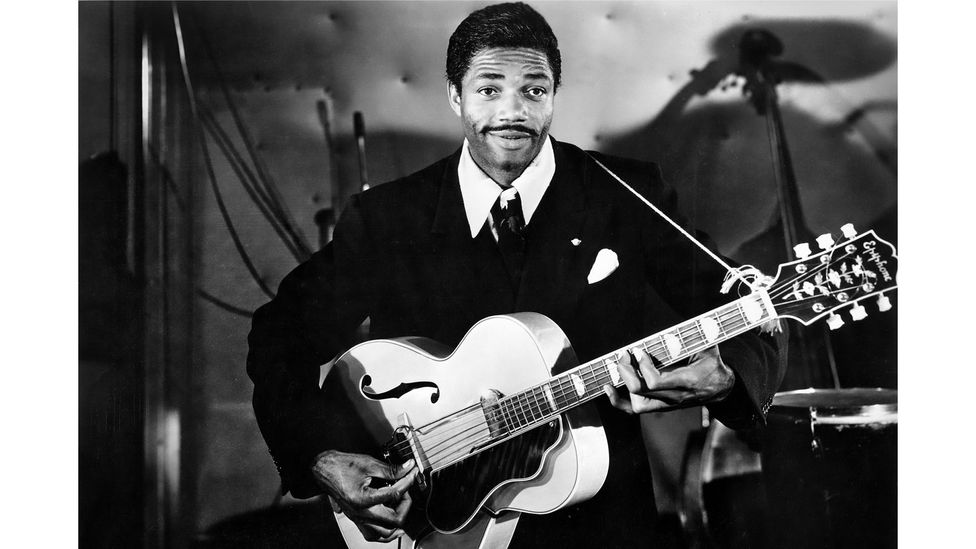 1. Slim Gaillard
Slim Gaillard was a phenomenal multi-instrumental jazz hep cat who could play piano with the back of his hands, tap dance, play guitar, sax and vibraphone, and sing – sometimes seemingly all at the same time. Gaillard also famously developed his own influential vocalese patter, "Vout-O-Reenee". Gaillard's mesmerisingly tricksy delivery and showmanship would set a high bar for future generations of MCs, and it remains on extraordinary display in his film appearances, including the musical comedy Hellzapoppin' (1941). He also created prolific collaborations throughout his career; one of his final recordings was a track with Canadian hip-hop act the Dream Warriors, entitled Very Easy to Assemble But Hard to Take Apart.
In his book Rap Attack 2, David Toop writes: "[Gaillard's] musical style would cause Afrika Bambaataa to double take – the easy-going bebop with its fractured vout lyrics could be quick-cut at the drop of a bagel into a few bars of Latin with some Spanish commercials or a sudden skid on the tempo for a dash of Billy Eckstine."
Artist Ries Niemi describes Gaillard as "one of the midwives of the birth of postmodernism in music" in a correspondence on the Rifftides website. "I would argue [Gaillard] is one of the grandfathers of rap music," writes Niemi. "The lineage from Slim and Slam's ironic, insider hipster reworking of 'the dozens' [an insults battle game], ranking scat singing and the African-American oral tradition thru hipster 'jazz poetry' in the 50s, to The Last Poets and Gil Scott Heron in the 60s and thence to rap is pretty direct. And the irreverence and vocal gymnastics of Gaillard is discernible in one of the other 'Godfathers' as well – James Brown."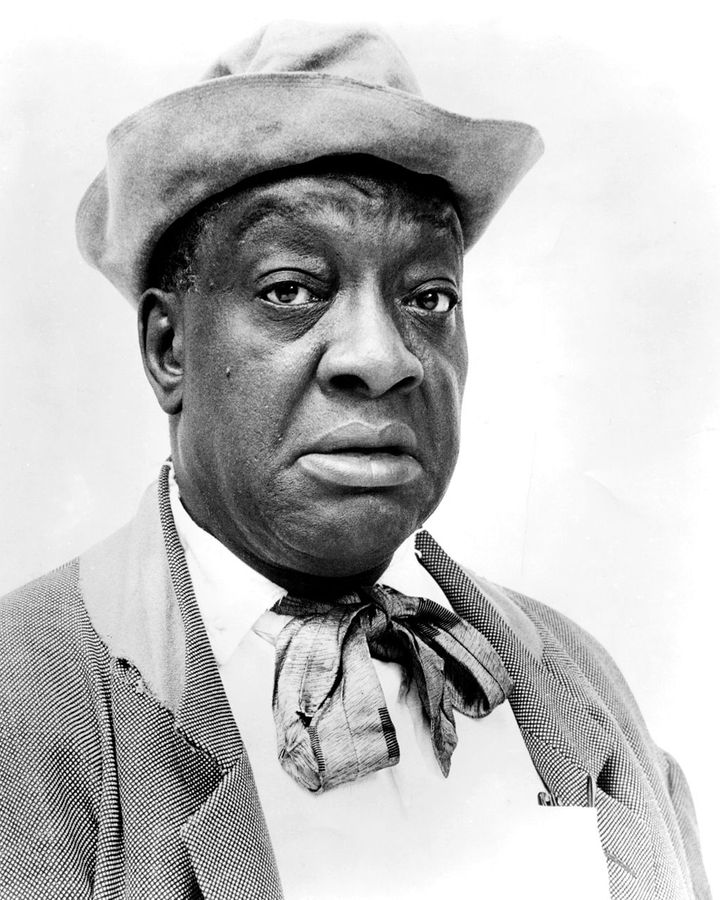 2. Pigmeat Markham
North Carolina-born entertainer Dewey "Pigmeat" Markham developed his larger-than-life persona on the touring circuit, including a stint with blues star Bessie Smith's Revue in the 1920s. Among his most loved – and most influential – creations was that of a Judge figure, poking fun at establishment authorities with a raucous catchphrase: "Heyea come the judge!". He'd go on to capture this character on a novelty record, Here Comes the Judge (1968) that would inspire follow-up tunes, tributes, and samples on various hip-hop and R&B records. Decades on, there remains a strong case for this "prototype rap" record; as Markham declares: "This judge is hip, and that ain't all/ He'll give you time if you're big or small".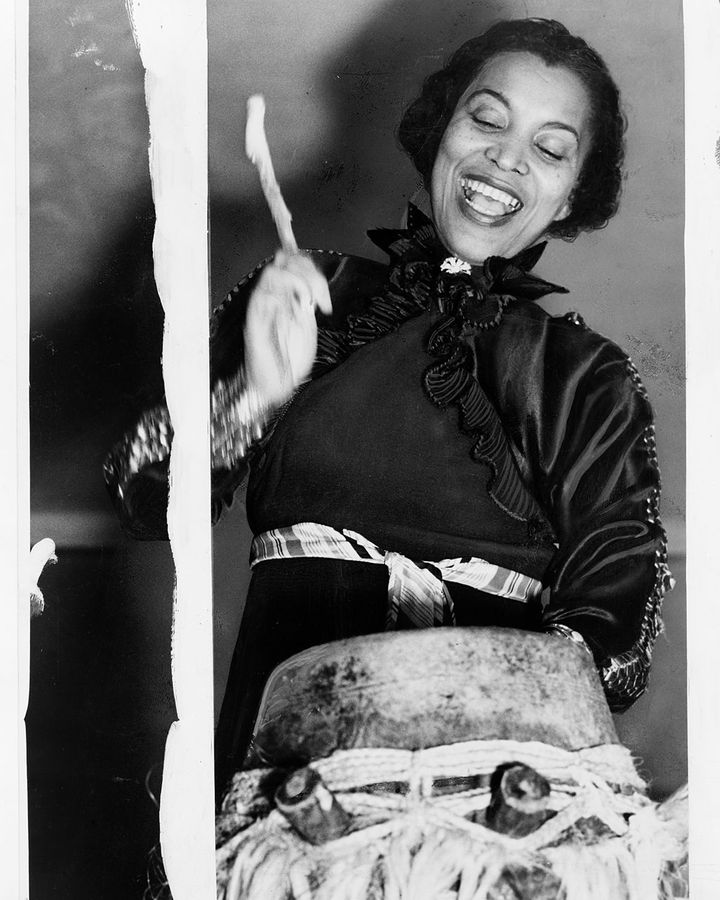 3. Zora Neale Hurston
Writer, filmmaker and anthropologist Zora Neale Hurston was a leading luminary of the inspirational African-American cultural and intellectual movement known as the Harlem Renaissance in the 1920s and 30s. Hurston's multi-faceted works reflected her interest in folk cultures as well as her broad worldview; she travelled to Haiti and Jamaica to study the spiritual traditions of the African diaspora. Her life also involved a tight friendship and eventual beef with Harlem Renaissance peer and poet Langston Hughes.
Hurston's famed publications included the novel Their Eyes Were Watching God (1937), though her sharp wit and use of African-American colloquialism and sharp wit is particularly evident in her Story In Harlem Slang (1942), which included a glossary, and featured snappy lines like: "I'm crackin but I'm fackin" (I'm wisecracking, but telling the truth) and "I shot him lightly and he died politely" (I completely outdid him).
The US actress Kim Brockington would portray Hurston in a 2013 play, which also highlighted the writer's connection to rap lyricism. "The Harlem Renaissance like hip-hop created words, and it became a whole new language," explained Brockington. "Zora would love hip-hop since she was of that tradition."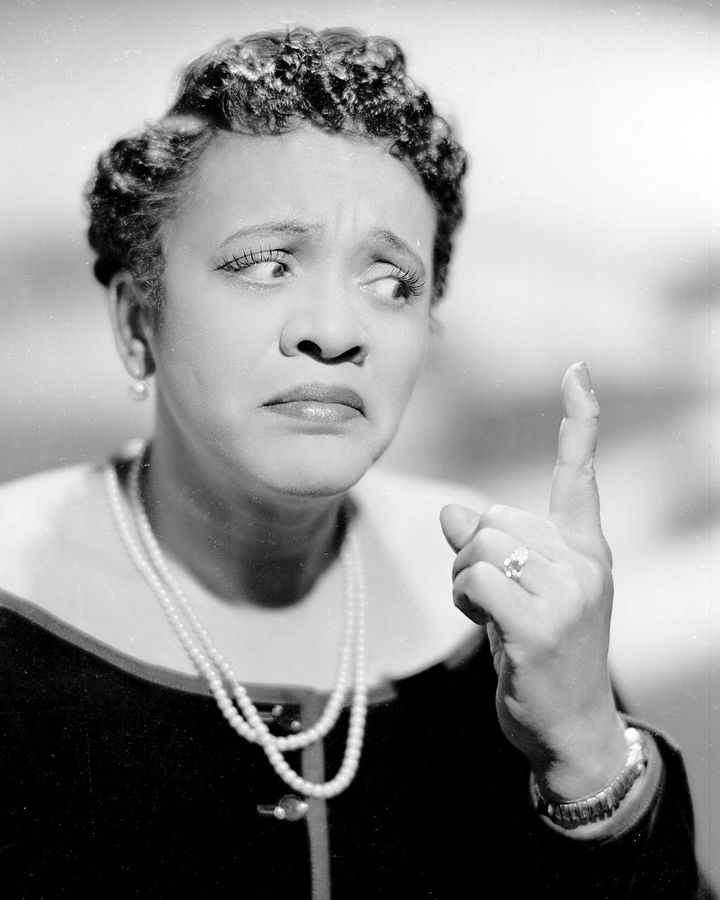 4. Moms Mabley
Comedian and entertainer Jackie "Moms" Mabley started her career touring on the "Chitlin' Circuit" of African-American venues during a still heavily segregated era. She was a trailblazer in numerous ways – openly out as a lesbian in 1921 (aged 27), and also becoming the first female comic to perform at Harlem's landmark Apollo Theatre in 1939 (her crossover appeal was sealed in a Carnegie Hall performance in 1962). Mabley's folky, social satire stand-up monologues and musical numbers like Hide the Whiskey are widely acknowledged as an influence on rap delivery as well as later generations of stand-up comedians. According to Toop, Mabley was godmother to NYC record label owner Paul Winley, who went from releasing 50s doo wop records to the likes of Afrika Bambaata, and she has been sampled on rap records including the Beastie Boys' Sure Shot.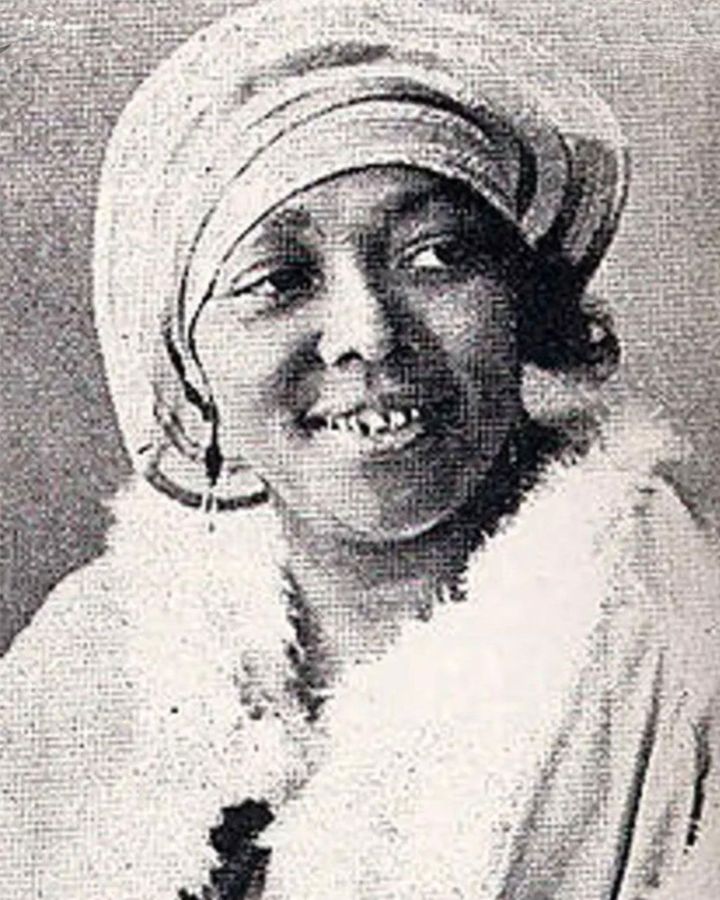 5. Lucille Bogan
Deep South singer and songwriter Lucille Bogan emerged in the 1920s as an entertainer on the New York vaudeville scene, but her musical legacy includes her status as queen of the "dirty blues" – delivering strictly NSFW lyrics on tracks including the fantastically raunchy Shave Em Dry (recorded under her alternate stage name, Bessie Jackson, in 1935). Her emboldened stance would arguably encourage later generations of lyricists – right through to contemporary stars such as Megan Thee Stallion and Cardi B. Bogan had a no-holds-barred approach to her sex-centred song themes, and a bold delight to her delivery that still spares no blushes. Decades later, the likes of hip hop duo 2 Live Crew might have claimed to be As Nasty as They Wanna Be (1989), and Lil' Kim would make a Hard Core debut in 1996, but Bogan was the original X-rated vocalist.
6. The Jubalaires
Rap music is famed for its crafty irreverence, but it also has roots in sacred music. Florida folk-gospel group The Jubalaires started out in the 1930s (originally named the Royal Harmony Group), and earned a following for their smoothly rhythmic close harmony flow. Their 1946 track Noah is often cited as the first rap record, with a snappy spoken verse that relates the Old Testament tale: "When God walked down to the brandy sea/ He declared that the evil descend from man/ And then he decided to destroy the land". In a 2016 interview with Bloomberg, Claude "Paradise" Gray, curator of the Universal Hip-hop Museum in the Bronx, described The Jubalaires as "a rap group from the 1940s… They were a Christian gospel group that sang and rapped with almost the same cadence as The Sugarhill Gang."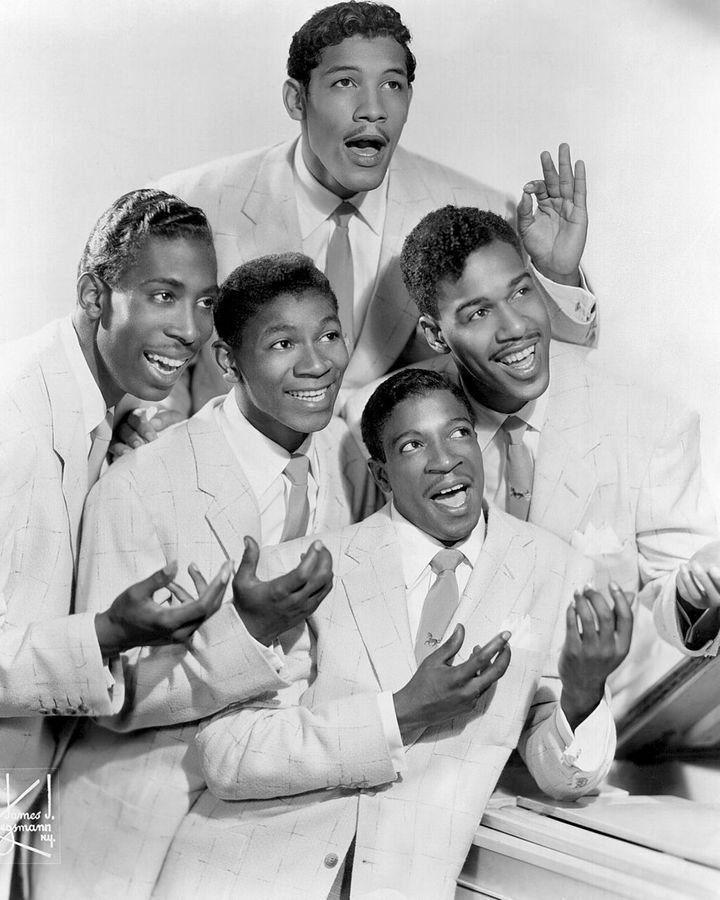 7. The Chords
This 1950s doo-wop group formed at high school in the Bronx, and proved to be talented songwriters as well as brilliantly agile vocalists, as demonstrated by their best-known work Sh-Boom (1954). The track crossed over the highly genre-segregated Billboard charts of the time, and flaunted experimental flair alongside the sweetly romantic melody (even the seemingly nonsensical background rhymes – "A langala langala lang" – took inspiration from everyday details like church bells, according to band member Jimmy Keyes).
Prior to recording, Sh-Boom was reportedly rejected for not being "commercial" enough by eminent record producer Bobby Robinson, who had established his career with blues and soul groups. Still, Robinson would later produce numerous breakthrough hip-hop tracks including Grandmaster Flash & the Furious Five's Superrappin' (1979) and Doug E Fresh's Just Having Fun (Do The Beatbox) (1984), and in an interview for Toop's book, he was clear about the creative bond between these youth music scenes: "Doo-wop originally started out as the black teenage expression of the 50s and rap emerged as the black teenage ghetto expression of the 70s. Same identical thing that started it – the doo wop groups down the street, in hallways, in alleys and on the corner… It's kids – to a great extent mixed-up and confused – reaching out to express themselves."
8. King Stitt
Decades before NYC block parties burst into life, Jamaica's reggae scene gave rise to the "deejay" phenomenon, where a vocalist would chat or toast over records to entertain revellers – and to demonstrate prowess over rival sound systems (a precursor to "battle rap" showdowns across the US East Coast and beyond). King Stitt was a heavyweight talent who began toasting with Sir Coxsone's Downbeat Sound System in 1956, and moved into groundbreaking studio tracks in the 1960s.
Born Winston Sparkes in Kingston, 1940, Stitt acquired his nickname because of a vocal stutter; he was also born with a facial visible difference, which he expressed with brilliant defiance – on classic anthem Lee Van Cleef (referencing spaghetti western movie The Good, The Bad, and the Ugly), he booms: "I am The Ugly One!" over the groove.
Stitt died in 2012, and his vocal influence and showmanship remains widely celebrated; as a Billboard obituary notes: "Stitt's animated shouts and nursery rhyme phrasings, mimicking the 'jive' talk of American radio jocks of that era as he introduced records or freestyled over their instrumental breaks, was the genesis of the Jamaican deejay phenomenon which in turn gave birth to rapping."
If you would like to comment on this story or anything else you have seen on BBC Culture, head over to our Facebook page or message us on Twitter.
And if you liked this story, sign up for the weekly bbc.com features newsletter, called The Essential List. A handpicked selection of stories from BBC Future, Culture, Worklife and Travel, delivered to your inbox every Friday.