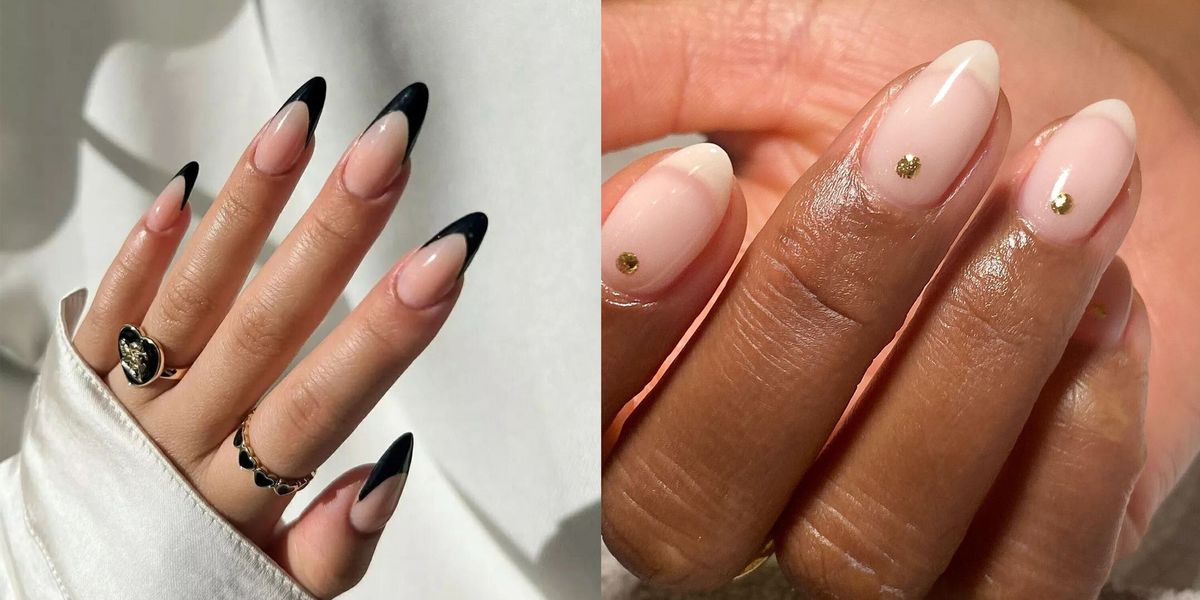 The arrival of fall doesn't just mean it's time to swap our summer clothes for cozy knits and chunky boots—it's also an opportunity to hit reset on our beauty looks. As the season shifts, so do our manicure colors and looks, and the nail trends projected for Fall 2023 are reaching new heights. There is a fusion of unique colors, graphic designs, and innovative techniques that'll be gracing our nail beds this year, and we spoke with nail experts and artists on their favorite trends and how to achieve the look. Get excited to book your next manicure appointment.
Nail Colors: Dark Chocolates, Teal Toned Blues, Rusty Mauves
Creative director of NYC based Nail Studio, Paintbox Nails, Mabelyn Martin predicts that the top three nail colors for Fall 2023 are rusty mauves, dark chocolates and teal toned blues. The rusty mauves and darker brown shades are an effortless transition from the typical summer nudes and neutral tones, and the teal toned blue is an unexpected pop of color that pairs well with a typical fall color palette.
Nail Lengths and Shapes
Celebrity nail artist Elizabeth Garcia, whose clientele includes Nicki Minaj, Kali Uchis, and Emma Roberts, says you can expect to see a clean, square nail shape, as well as medium-length coffin-shaped nails this fall. If you're a newbie to nail extensions, we recommend trying out Gel-X nail extensions first. They're less damaging to your nails and come in a variety of pre-shaped styles.
Gothcore Nails
"I've noticed a lot of deep bordeaux tones with negative space elements and ombré reds", Martin shares. If you want a mixed-finish manicure, swipe on a matte polish, wait for it to try, then draw on some nail art with a glossy polish for a unique effect.
Chrome Nails
Garcia says many of her clients are starting to request for 3D futuristic nails with chrome detailing. While we recommend seeing a professional to recreate this nail trend, skilled at-home nail enthusiasts can do this trend by carefully applying a clear flexible gel to create shapes. The 3D shapes can be anything from dots and lines to squiggles and ripples. Using a thin brush, carefully create the pattern or shape you want, cure it, then apply chrome powder and color on top.
Stained Glass
"I love that it gives a mosaic look. It's a very colorful and playful look but it's not overwhelming because you can use subtle jelly shades," says Garcia on the stained glass window nail art trend. You'll want to use jelly nail polish to recreate this trend. "First, outline your desired artwork onto your nails then fill it in with your favorite colors," explains Elizabeth," before finishing with a top coat."
Metallic Accents
Adorn your nails with gold or silver accents to further enhance your manicure. "You can add gold, silver and other metallic elements to nail art designs using foils, metallic stickers, rhinestones, charms, and the most popular recently, chrome powders," shares Martin. "We love adding micro lines of metallic foil over a sheer base for an elevated and minimalist look."
Aura Nails
While summer's aura nail trend featured neon and pastel shades, this season's colors include dark, moody hues. has been coveted for spring and summer using neon and pastel shades, the airbrushed design featuring darker tones as the base is a gorgeous fall look. According to Martin, you can recreate this trend at home using an airbrush machine. "Using a lighter color in the center creates a more impactful effect," she adds.
French Tips
"More clients are asking for a modern twist on the classic French manicure," explains Garcia, "including a sleek matte base and glossy black tips for a more monochrome aesthetic." If you prefer a less vampy look, opt for a different nail polish shade like chocolate or burnt orange.