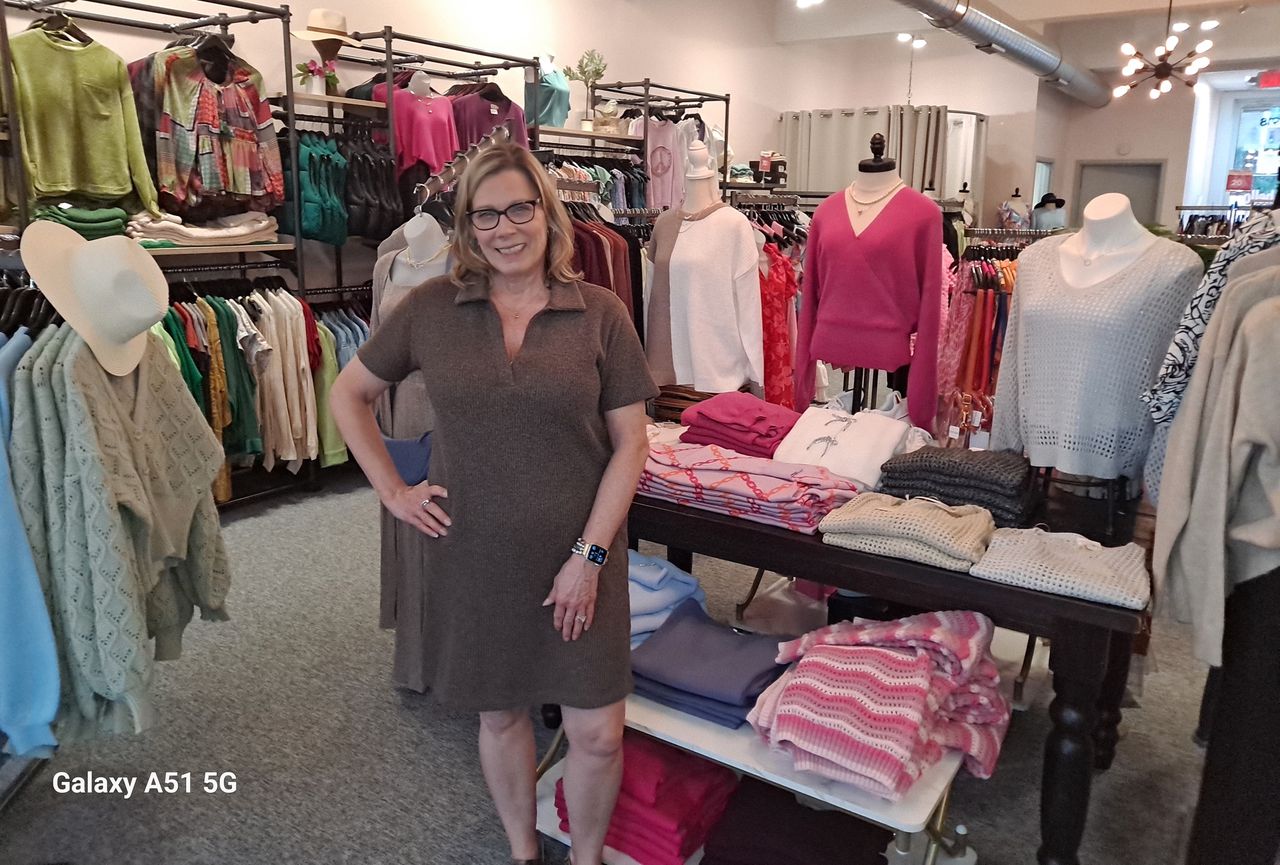 BRECKSVILLE, Ohio — There's a new store in town — and, boy, are we women happy.
Finally, there is a fashion store to go where you can find the latest styles in clothing and accessories without having to drive to a mall.
It's called Apricot Lane Boutique and it is located in one of the Masonic Temple buildings on the west side of Brecksville Road, just south of Ohio 82 — right off Brecksville Square.
Sherry Mazzola is the owner and buyer, which, in itself, makes this franchise unique. Mazzola is the main buyer offering a carefully curated collection customized to her local clientele.
And you won't see everyone in town wearing the same clothes as you, because she brings in very limited quantities. Plus, new stock comes in almost daily.
The boutique's inventory is meant to appeal to women of all ages. Mazzola wants her customers to feel comfortable shopping for themselves or with their daughters and discovering styles for each. Along with that, she offers a balance of price points, as well.
To add to the unique styles is great customer service. Mazzola and her team are committed to delivering personal service to each customer.
Mazzola said, "It's like dressing dolls, only they are alive!"
But if you want to just browse by yourself, that's fine, too. They truly want customers to leave the store feeling good about their experience — even if they don't purchase anything.
Apricot Lane moved to Brecksville from SouthPark Mall in Strongsville. Although Mazzola had a good experience there, she said she wanted her store to be more community-based.
After opening last March, Mazzola stated: "The Brecksville community has been so positive and welcoming. I feel that they are truly invested in our success."
Apricot Lane is a family affair with Mazzola's two daughters, Loren, who is a co-partner/buyer and graduated from the Fashion School at Kent State, and Emma, a student at Kent State, who works in the store part-time.
Residing in neighboring Independence, Mazzola feels they have a more balanced home life now and are grateful for the way the Brecksville community has welcomed them.
Discover Apricot Lane at 8918 Brecksville Road, apricotlaneboutique.com.
Store hours are by appointment only Sundays and Mondays, 11 a.m. to 6 p.m. Tuesdays and Wednesdays, 11 a.m. to 7 p.m. Thursdays and Fridays and 10 a.m. to 4 p.m. Saturdays.
There is parking on the street as well as a lot behind the store.
For the birds: The Senior Enrichment Through Nature group at the Broadview Heights Human Services Center recently learned all about bird nesting habits and how to make a birdhouse out of recycled materials.
Birdhouses are often chosen by birds to incubate their eggs in and to rear hatchlings, as the birdhouse structure offers superior protection from natural elements and predators.
The seniors attending this Chippewa Garden Club workshop constructed birdhouses from recycled milk cartons for the house body, covered by woodgrain contact paper. A teaspoon was bent for a perch. The birdhouses were decorated with recycled buttons, and wine corks and an old license plate were used to construct the roofs.
The finished products were all quite creative and functional.
Many thanks to garden club volunteers Bobbi and Tom Anderson, Noreen Butano, Debby Compton, Lynne Evans, Judy LaBuda and Sandy Ladebue for helping make this program a success. They collected supplies, prepared materials and assisted the seniors throughout the program.
The next Senior Enrichment Through Nature Program will be held Oct. 13 at the Broadview Heights Human Services Center, 9543 Broadview Road. Seniors can register by calling 440-526-4074.
For more information on the Chippewa Garden Club, visit www.ChippewaGardenClub.com.
Military memorabilia: On Sept. 15, the Brecksville Human Services Center bus will travel to the Ohio Veterans Memorial Park in Clinton, Ohio, south of Akron.
This indoor and outdoor exhibition has a Vietnam Veterans Memorial Wall etched alphabetically with the names of the 3,095 Ohioans who lost their lives in that war.
A pavilion displays 32,768 dog tags representing Ohio's military men and women killed in action from World Ware II to the present.
On display are a Vietnam-era Cobra helicopter, a Korean War ambulance and an M60 Patton tank.
Lunch will be offered at the Cast Iron Bar and Grille in Canal Fulton at each person's expense.
The bus will leave the Human Services Center at 10 a.m. and return after lunch. Call Brecksville Human Service at 440-526-2499 to register.
Youth theater: Broadview Heights Spotlights Theater presents its Youth Production, "Finding Nemo, Jr."
It's a 60-minute musical adaptation of the beloved 2003 Pixar movie "Finding Nemo," with new music by award-winning songwriting team Kristen Anderson-Lopez and Robert Lopez.
Marlin, an anxious and over-protective clownfish, lives in the Great Barrier Reef with his kid Nemo, who longs to explore the world beyond their anemone home. But when Nemo is captured and taken to Sydney, Australia, Marlin faces his fears and sets off on an epic adventure across the ocean.
With the help of lovable characters such as optimistic Dory, laid-back sea turtle Crush and the supportive Tank Gang, Marlin and Nemo both overcome challenges on their journey to find each other and themselves.
Performances are at 7:30 p.m. Sept. 15 and 16 and 3 p.m. Sept. 17. The following weekend's performances are at 7:30 Sept. 22 and 3 and 6 p.m. Sept. 24.
The show is directed by Tim Anderson, with music direction by Ryan Bergeron. It features Ava Moss, Bella Mortensen, Norah Sliwinski, Eleanor Perna, Ianthe Holdsworth, Izzie Burns, Kelsey Kish, Macey Kolodziej, Marcella Kolodziej, Morgan Szwaulak, Cora Crouch, Olivia Still, Piper Weinzimmer and Reagan Bentkowski.
All shows will be at the Broadview Heights Spotlights Theater on the Broadview Center campus, 9543 Broadview Road. For reservations, visit http://www.broadview-heights-spotlights.org.
Welcome back: For the third year, North Royalton Elementary School presents another Welcome Back video produced by Wiggle Room Productions: https://www.youtube.com/watch?v=UFJQBCxXcG0.
This year's production is written, directed and edited by Mr. Costello, Mrs. Kesselem and Mr. Ketterer. Starring roles are played by Mr. Ketterer, Mr. Costello, Mr. Pavelich, Mrs. Smith and Mr. McGinnis. Special guest appearances include Mrs. Kesselman, Mrs. Mroczynski, Mrs. Mikin, Mr. Bober, Mrs. Mewhinney, Mr. Wheeler, Mrs. Perozeni, Mrs. Saki, Mrs. Kramer, Mr. Laub, Melania Costello, Aiden Wheeler and Adam Smith.
It may be a bit long at almost 10 minutes, but be sure you watch it to the end. There was obviously a lot of time and thought put into this well done and very funny video.
In remembrance: Strongsville's safety forces will host a 9/11 remembrance ceremony at 9:45 a.m. Sept. 11 at Fire Station No. 4, 17000 Prospect Road.
The short service will mark the anniversary of the terrorist attacks that resulted in the death of 2,974 people, including 343 firefighters and 73 police officers.
The ceremony will include "tolling of the bell," a signal that honors firefighters who made the ultimate sacrifice. The public is invited to attend.
Energy information: Each year, Brecksville holds an informational meeting about natural gas and electricity prices. If you want to be sure you are paying the most competitive gas and electricity rates in the upcoming heating season, this meeting is a must.
This year's meeting will be at 6:30 p.m. Sept. 13 at the Human Services Center, 2 Community Drive.
Bring your most recent Dominion Energy Ohio gas bill and Illuminating Company bill with you so that one-on-one advice can be provided.
You may soon be inundated with phone calls and letters from for-profit companies trying to get you to switch to them. Be very aware of bait-and-switch tactics. Come to this meeting and receive honest advice before making any decisions about changing.
Let the Brecksville, Broadview Heights, North Royalton and Strongsville communities know what is going on with your organization, church, school, business or family. Email me at shirleymac48@att.net.
Read more from the Sun Star Courier.