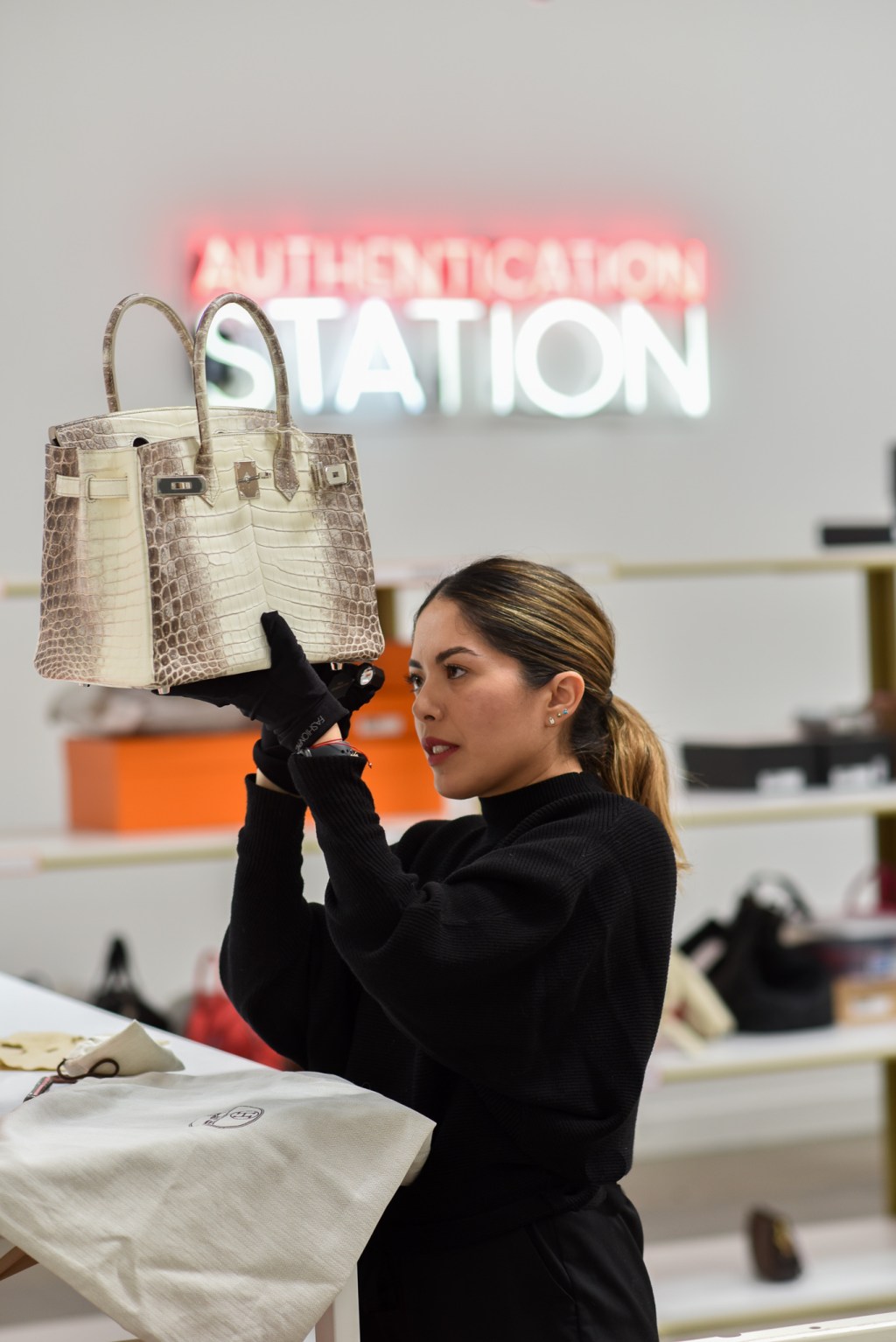 Unlike many resale businesses, Fashionphile's approach to authentication is no secret.
For the first time, the reseller held a training demo at its New York City distribution center, where media and special guests could experience a VIP authentication "class" with Fashionphile.
Fashionphile University is the digital training platform the reseller uses to educate every authentication specialist. It is free to use for anyone and available as an app. Every authentication experience builds the repertoire of information the team uses to authenticate luxury handbags. There are six stages of training, from specialist to master authenticator. Every bag at Fashionphile is examined by at least two people. Typically, trainees are overseen for at least two years.
Louis Vuitton is the most popular on Fashionphile, and thus the starting ranks for trainees. From there, they can graduate to Chanel and work up to Hermès. In the class held last week, the specialist guided guests through identification steps, examining details like letters, date, code, hardware, engravings, lining, construction and weight. The specialists are armed with tools akin to a dentist's mirror and flashlight for getting up close and personal.
Starting with the basics, Louis Vuitton's signature lettering is distinguished by an exaggerated "O" and sharp pointed "V" in sans-serif font. From 1982 to 1988, LV bags had two date code formats, "Year Year, Month, Factory" and "Factory, Year Year, Month." That changed in 1989 and again in 1991, 2007 and 2021, per Fashionphile's notes.
Hardware is another important aspect, if not the starting place for authenticators. For Louis Vuitton, hardware shouldn't be overly polished. Other obvious giveaways include padded straps for post-2015 editions of the Audrey Hepburn-inspired "Speedy." Though it seems obvious, glaring red or neon stitching poking through is a red flag for LV bags.
"Our integrity is everything," senior authentication manager Laura Chavez said during the class. "We use all of our senses when authenticating — except taste."
If Fashionphile ever messes up an authentication (which is the equivalent of scandal in the resale world), the brand will compensate buyers with a gift card and confiscate the bag. The bag is banished to the handbag "graveyard," which is a repository of fakes. Chavez said the business would never "destroy the bag" except dissection for learning purposes.