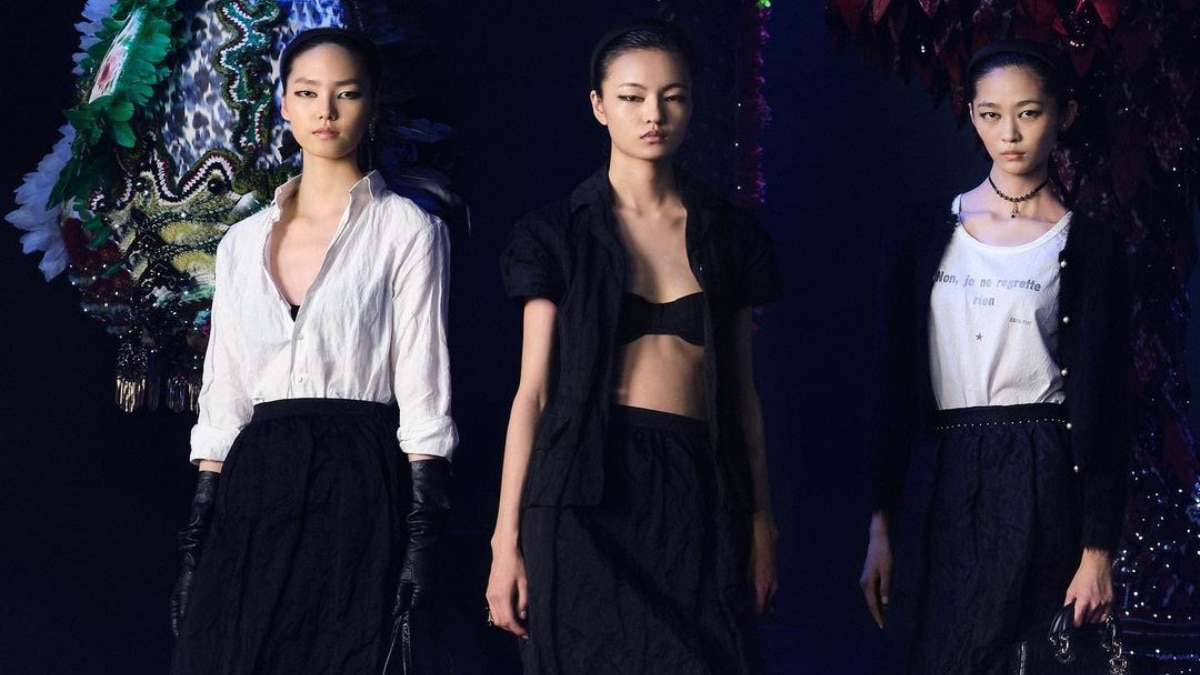 Chiara Ferragni looked like she had activated incognito mode. At Fashion Week this past February, the Italian style star, who has amassed an Instagram following of 29 million for her sparkly, rainbow-colored, and logo-heavy ensembles, wore only neutrals: a cream knit and cargo pants at Fendi, a white shirtdress under a beige coat at Tod's, gray suiting at Gucci.
Among the über-influencers at the shows, Ferragni wasn't alone in pivoting to more pared-down looks. Tamu McPherson wore white knitwear at Ferragamo. Camille Charrière turned up in gray cashmere separates at Prada. Caroline Daur and Chriselle Lim donned classic camel outerwear at Max Mara and Lanvin, respectively. This,apparently, is what street style looks like in the quiet-luxury era, when aggressive refinement and sumptuous fabrics reign supreme. 
"Getting back in the flow of the fashion calendar is very demanding," says McPherson, founder of the fashion, beauty, and wellness site All the Pretty Birds. "Currently, I am gravitating toward pieces that you and I have probably seen over and over again, which are classics." What McPherson is yearning for now is a fail-safe uniform of sorts—clothes that will gird her against the uncertainty of our hazy and not-quite-post-pandemic world. This, she says, requires a form of fashion reeducation in the most fundamental elements of style, which is precisely what the Fall 2023 runways offered: "These are go-tos that you can wear and use all the time. And so I do think that commercially it's a great strategy." 
If the collections over the past few years were filled with bright, vibrant, mood-boosting infusions of color and shimmer—clothes conceived for a once aspirational vision of a Covid-free future of revenge partying—then designers have turned just as determinedly toward understatement for fall, with an emphasis on the finer points of quality and design. 
In New York, Proenza Schouler's 20th-anniversary show traded spring's polka dots and flamenco ruffles for a parade of wardrobe essentials led by Jack McCollough and Lazaro Hernandez's forever muse Chloë Sevigny in a black leather midi skirt and tailored jacket cinched tightly at the waist. Tory Burch swapped last season's translucent layers and neons for structured mix-and-match separates in muted shades of ivory, blush, black, and gray. Ralph Lauren and Michael Kors leaned into their most classic styles: chalk-stripe suiting and soft knit dresses.
One of London's most talked-about shows was Tove, the runway debut of Holly Wright and Camille Perry's modern minimalist label, which since its launch in 2019 has become known for classic dresses with subtle flourishes like ruching and knotted details. All 33 of the looks, including sharply tailored blazers and coats, were styled with chicly nonchalant Charvet slippers.
Milan has always had its advocates for tonal dressing. But for fall, it seemed that every label—from virtuosos like Brunello Cucinelli, Loro Piana, Bottega Veneta, and Giorgio Armani to the louder, more eccentric houses like Fendi and Gucci—got on board with head-to-toe tan, taupe, biscuit, buff, and ecru. (Max Mara creative director Ian Griffiths dubbed it "the Camelocracy.") 
Hermès continued to carry the torch for understatement in Paris, but so did Demna, whose Balenciaga collection opened with seven oversize black tailoring looks. In L.A., Fear of God put on a bravura display of slouchy tailoring, which has become Jerry Lorenzo's signature. Even avowed maximalist Donatella Versace got in on the act with her Oscar-weekend show, which featured restrained little black dresses and skirt suits. 
Versace's mood board included images from a 1995 campaign photographed by Richard Avedon and featuring Kristen McMenamy in a fitted black hourglass jacket and pencil skirt. It's a reference point that feels particularly apt: The mid-'90s were arguably the apex of the movement toward minimalism led by designers like Calvin Klein, Helmut Lang, and Jil Sander, which centered on well-cut clothing with a subdued color palette—a stark contrast to the over-the-top '80s glamour that came before it. The aesthetic emerged in the wake of a recession and the Gulf War and amid the ongoing AIDS epidemic. It helped provoke a wholesale recalibration of what fashion is and the role it can or should play in our lives. 
What's happening now, in yet another era of upheaval, during our post-Covid hangover, a long and geopolitically destabilizing war in Ukraine, the ever-intensifying climate crisis, and runaway inflation, may be another kind of taking-stock moment. 
The popular contemporary avatars of quiet luxury—the Roys on HBO's Succession, Cate Blanchett's Lydia Tár in Tár, ski-trial Gwyneth Paltrow, new bride Sofia Richie—have provided ample grist for the TikTok mill, with short explainers on #QuietLuxury helping to bring the formerly "niche" look of the one percent to a new level of mass cultural consciousness. But beyond wealth, power, and influence, what the logoless luxury of it all seems to telegraph is a kind of confidence or control, even if illusory, amid all the chaos. The appeal of that notion—specially to younger consumers, for whom the haziness of the future can often appear haziest—is not too difficult to understand.
Of course, double-faced cashmere coats that cost upwards of $3,000 are not accessible to everyone. But the combination of economic uncertainty and increased environmental awareness has begun to drive growth in the fashion resale market—and with it a shift toward a more circular model in which more trendless clothing items are bought, worn (for longer), and then resold, usually at a discount, to begin the cycle anew.
"In the past, we've seen Gen Z really lean into statement pieces that were kind of 'Instagram-worthy,' and there's a shift now into brands that traditionally have been adopted by our older customers," says Noelle Sciacca, senior fashion lead at the RealReal. Sciacca notes that both Loro Piana and the Row, two touchstone brands of the luxeminimalist movement, have seen the highest increase in demand on the luxury resale platform over the past year, with a 30 percent spike among Gen Z customers.
It's a trend in the way we participate in and think about fashion that luxury retailers at large are moving to address. Net-a-Porter has even launched its own resale program for store credit and is introducing a clothing repairs and alterations service to help extend the life of garments and accessories.
These are encouraging developments to Stella McCartney, who has made environmental responsibility and designing clothes that live in your wardrobe beyond a single season central to everything she does. "I am inspired by consumers today who are increasingly engaged and interested in living mindfully to protect the planet," says McCartney. "I am glad that conversations are being had not just about the use of ecologically friendly, conscious materials but also about changing the paradigm from 'trend' to 'timelessness.' "
Creating luxuriously wearable wardrobe staples is also the raison d'être for a number of younger, smaller brands. 
Elin Kling and Karl Lindman's Stockholm-based Totême may have had a viral hit last year with its scarf jacket—essentially an oversize wool coat with an attached scarf—but the nine-year-old label's focus remains delivering a closet's worth of well-constructed, unfussy pieces that will be part of your daily uniform. 
In New York, Paul Helbers, who previously designed menswear for the Row, is now creative director of Fforme, a line of modular wardrobe building blocks, like a knitted shift dress, slim pants, and a batwing-sleeve coat, that fit together with pieces from previous seasons. Sara Lopez's A–Company specializes in tailoring with just-left-of-center details like extradeep armholes or knife pleats cut open to create fringing. And Veronica de Piante creates cashmere knitwear and double-breasted duchess-silk jackets with intricate black-on-black embroidery. De Piante has her own wardrobe edited down to one of the aforementioned blazers, a few coats, jeans, and white T-shirts. "I just like to be easy and chic," she says. "Simple. Less is more."
It's an idea that has always driven Brunello Cucinelli. "When we opened our company 45 years ago, we presented our clients with a collection of 30 women's cashmere sweaters because I knew that cashmere was not a material people would easily dispose of," says Cucinelli of his long-standing focus on classic silhouettes made from high-quality natural fibers. "Today, when we design a new collection, we think about the life of the person who will ultimately wear it. Will they be at ease while using each piece? Can the pieces be combined easily?" Cucinelli explains. "We want them to feel like they can wear pieces from 10 years ago with new ones and that they will always work well together."
This piece originally appeared in the August 2023 print issue of Harper's Bazaar USA