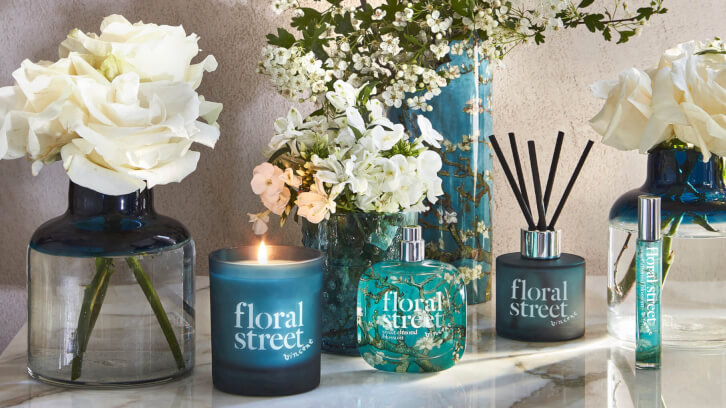 Marks & Spencer's Beauty department is set to offer a wide range of Floral Street's award-winning 50ml and 10ml perfumes along with a curated selection of its home scents.
The British brand, which started up in 2017, offers cruelty-free perfumes and home scents that are created by a master perfumer using fully traceable, responsibly sourced ingredients and reusable, refillable, recyclable, or biodegradable packaging.
The select range will be available in 19 UK stores, with the fine fragrances offering led by global bestseller, Wonderland Peony, and the brand's latest launch Sweet Almond Blossom, which was created in collaboration with the Van Gogh Museum in Amsterdam.
The home scents range will include hand-poured, consciously-made candles with natural, paraffin free wax and clean burning unbleached cotton and linen thread wicks, as well as luxury vegan oil reed diffusers, in reusable and recyclable glass vessels with plastic-free, pre-infused paper reeds to absorb and diffuse fragrance faster.
Floral Street's Founder Michelle Feeney said: "We are excited to be part of the M&S beauty strategy and as an independent brand founded and manufactured in Britain, the fit is perfect. We are bringing sustainable fine fragrance at an affordable price for the M&S customer to experience and enjoy." ​
Feeney, who said her first ever job was in M&S Solihull, continued: "Marks & Spencer approached us and it was clear they have an appetite to build a great beauty department. They know their customer really well and they're all about quality."​
'Affordable luxury' fine fragrance​
The trailblazing founder launched Floral Street in 2017 when big-budget cosmetics brands still dominated the market with fashion label scents and gigantic advertising budgets.
Feeney, who was a senior cosmetics executive who helped to turn brands like MAC Cosmetics and St Tropez into global bestsellers, spotted a need for an independent and sustainable fine fragrance brand with a price point that's accessible to all. She decided to take a 'gap year' from her role developing a beauty division for PZ Cussons at the age of 51 to create the brand.   
"A product development person and myself sat around my dining room table and I did mood boards. I wanted it to be about buying fragrance for yourself not waiting for somebody to buy it for you at Christmas. I decided to make it affordable luxury, like MAC Cosmetics," ​she shared. ​
"MAC was affordable luxury from the beginning. And that taught me about the power of 'mass-stige' and helping people become their own expert." ​
Floral Street is now distributed in 22 markets including USA, Canada, Australia, Europe, South Africa.
In the UK it's already sold in Space NK and John Lewis, in the US it's in Sephora, Nordstrom, Anthropologie and on QVC, while in Australia it's available in Mecca.
However, the brand started life with its own independent store rather than distribute through retailers.
"In the beginning, the distribution channels, didn't see fragrances as anything but bottles on a shelf. And the people that were selling the fragrances at the big department stores had to stand in front of the shelf and not move. It seemed archaic. And I thought that's not what I want to do. And so I got my own store and designed it and worked on it," ​explained Feeney. 
Building a cross-generational scent brand​
Feeney, who had young children when she first thought up the idea of creating Floral Street said she wanted to create a more ethical brand as she had really started to really notice waste and packaging and the impact this might have on the future of the planet. "I looked at the at the fragrance industry and I thought it was old-fashioned in the way it sells to the consumer. And the waste and the packaging were outrageous."​
Although the brand was originally aimed at younger consumers, Feeney quickly changed her mind when realised it appealed to all age groups. "Women want to be inspired at any age and more people are interested in sustainability. My mum who is in her 80s and my daughter who's 19 both share a common goal about wanting sustainable packaging and also want to be inspired about beauty," ​she shared.  ​
She noted that she, her 19-year-old daughter and her mum have all fallen in love with the same Floral Street scent: Chypre Sublime.
For Feeney, age is related to the marketing rather than the fragrances themselves. And she has the same opinion on gender. "When we launched a fragrance with the Royal Horticultural Society at Chelsea Flower Show there were people of all ages there, women and men, and they all wanted to find out about the ingredients in the scent,"​ she shared.
"And whenever I host a scent school, we've got mothers and daughters coming together, and their husbands are saying: 'Oh, I didn't know about that' or 'Can I wear this?'​ And the only element that makes the fragrance have a gender is the marketing, because you either like the smell or you don't." ​