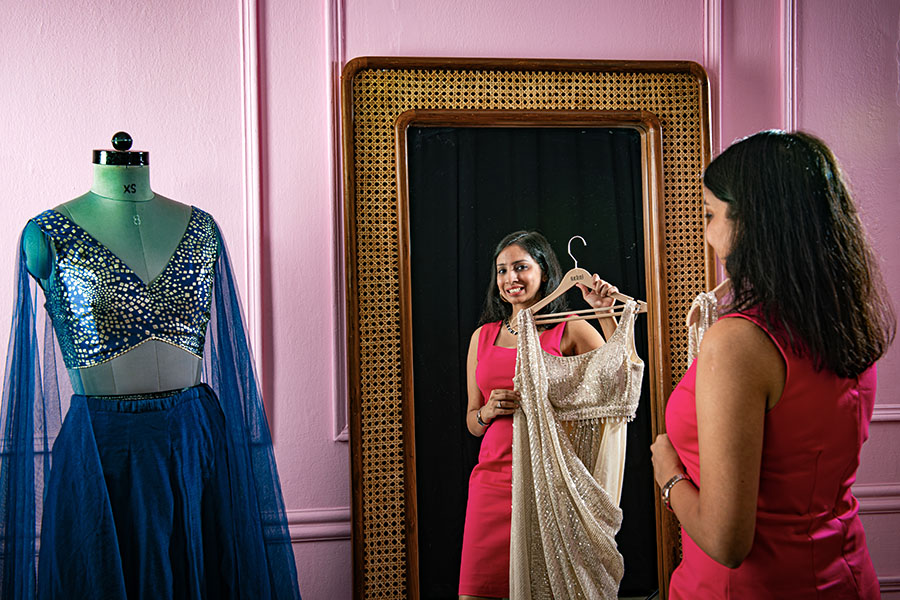 Shivani Poddar, Co-founder and CEO, FabAlley and Indya at her office studio in Noida. 16th August, 2023.
Image: Amit Verma
 
Shivani Poddar is no stranger to hustle. She thrives on it. After all, in 2012 she co-founded D2C womenswear fashion house High Street Essentials, despite knowing little about fashion designing or tech. HSE owns and operates FabAlley and Indya, women's fast fashion brands specialising in affordable western wear and innovative ethnic-fusion wear, respectively.
Even as she prepares for a day packed with investor calls and meetings, the 37-year-old CEO recollects how she decided to quit her corporate career at Avendus Capital in her early 20s and move back to Delhi from Mumbai to start her own business.  
"As a member of the Mergers and Acquisitions team we had a chance to interact with numerous entrepreneurs. While attempting to sell their business or obtain capital, I kept thinking to myself that I should be on the other side of the negotiation table," she says. Since she was tracking e-commerce, she observed that Amazon and Alibaba had grown to become very significant. However, those were the formative years for e-commerce in India. "I started realising that while in India it was still small at that point, it was only a matter of time," says Poddar.
An Audacious Duo
It had been Poddar's lifelong desire to be an entrepreneur. From a very young age she had seen her parents build a successful export business out of a 50-square-foot office space and a lot of dinner table conversations revolved around her parents' business.  
Tanvi Malik, a former classmate and friend from childhood, became a close ally in helping her achieve her entrepreneurial goals. While Poddar, a finance graduate, was working at Avendus Capital, Malik, a marketing expert, was with Titan.  
The two wanted to start a fashion e-commerce company, and debated the idea for six months, gauging the market, determining whether there was a gap, and the price points, engaging in discussions with existing and potential clients before the two quit and in 2012, started High Street Essentials, an e-commerce company, and launched their women's western wear brand, FabAlley.
"Both of us knew that fashion in this country was going to pick up. Interestingly, India is the only country where women's fashion is smaller than men's fashion. In India, women have not had disposable income historically. They are dependent. However, I could see that the proportion of women in the workforce was rising, which indicated that women's disposable wages would rise as well," says Poddar.
For the first six months, Poddar and Malik operated out of a 100-square-foot office, designing the product, and figuring out what they would sell, the supply chain, and the backend. "We didn't know what coding was. In fact, when we approached investors, they doubted our ability to build an e-commerce platform since we had no technical background," she adds.
They did everything themselves from working with an agency to build out the platform to learning Photoshop. "The first year, though extremely challenging, was so good because everything was set up by us. There was nothing after that we couldn't do," says Poddar. While Malik managed design, marketing and overall communication for the brand along with consumer experience, Poddar managed sales, finance and supply chain.
"When you start with $5,000,000 in the bank and hire 50 people up front, you will never get the gist of the business because you've done top-level work and you've never really gone into the detail. Here, we built it from the bottom up."
FabAlley was their first online-only brand. With barely two to three employees, they launched the website, and because e-commerce was new and due to a paucity of funds, they would often have to wait for online orders to trickle in.  
It helped that Poddar's parents, who ran an export business, had a background in apparel. For the first year, Poddar and Malik started with accessories while setting up the backend for a pilot. They were never in the sourcing business but developed their own designs. Since they weren't trained designers, they would prepare rough sketches, buy fabrics from a few vendors, and give them to the tailors to convert into products.  
"We were our own consumers," says Poddar. Poddar and the entire design team would only wear their own products, hence they knew what women wear to work. "While they want fashion, they still want comfort as they wear that outfit the entire day. So we combine the latest trends from around the world with silhouettes that are comfortable, body friendly, and in fabrics that are breathable," she says adding that women today are completely aware of what's happening around the world, both in terms of the runway fashion, high street etc., "and we really want to bring them the best of fashion".
One of their early customers, Aakanksha Bhargava, who remains loyal to the brands FabAlley and Indya, says, "I discovered FabAlley 10 years ago when I was looking for something comfortable yet not too formal to wear as I spend a lot of time in warehouses. I have always enjoyed the variety the brand offers for different occasions, along with its affordability.

Also read: I want my clothes to speak to the world that they are from India: Rahul Mishra
For the first two years, the company was bootstrapped, and the duo put in all their personal savings (to the tune of $100,000). The 25-year-olds had nothing to lose, they both knew that in the worst-case scenario they could go back to a job.
Then High Street Essentials raised half a million dollars, got the basic product-market fit, and started hiring a few people. "We had about 10 to 15 people initially. In our early years, nobody would want to join us because we were two young girls with no experience in tech or fashion," Poddar recollects. People were apprehensive about how they were going to build the venture. It was challenging to get people and investors on board for the same reasons. They thought they were running a fashion boutique.
 
But by 2016, the two had built FabAlley to a Rs 35 crore brand in revenue, which is when they raised $2 million as their first institutional round from India Quotient. "It was the first time we had money in the bank to actually be able to think about scale, add products, and add distribution."
Fashion Expansion Triumph  
The tide turned in 2017. With the money they had raised from India Quotient, they started their Indian ethnic-fusion brand Indya, which today forms 65 percent of their business.  
This is how it happened. Treating FabAlley's declining sales during Diwali as an opportunity, they designed a capsule collection of 40 crop tops with skirts, combining Indian fabrics with western silhouettes. It sold out in 15 days. Observing the success, they produced the same collection for the following four months, and it continued to sell out. It was then that they realised that they were on to something big—the concept of modernising Indian wear.
The duo eyed the $10 billion Indian women's festive wear market. In 2017, instead of being a sub-brand of FabAlley, Indya was launched as an independent brand. Available in the range of Rs 2,000 to Rs 3,000, the price points were affordable, and women loved the product.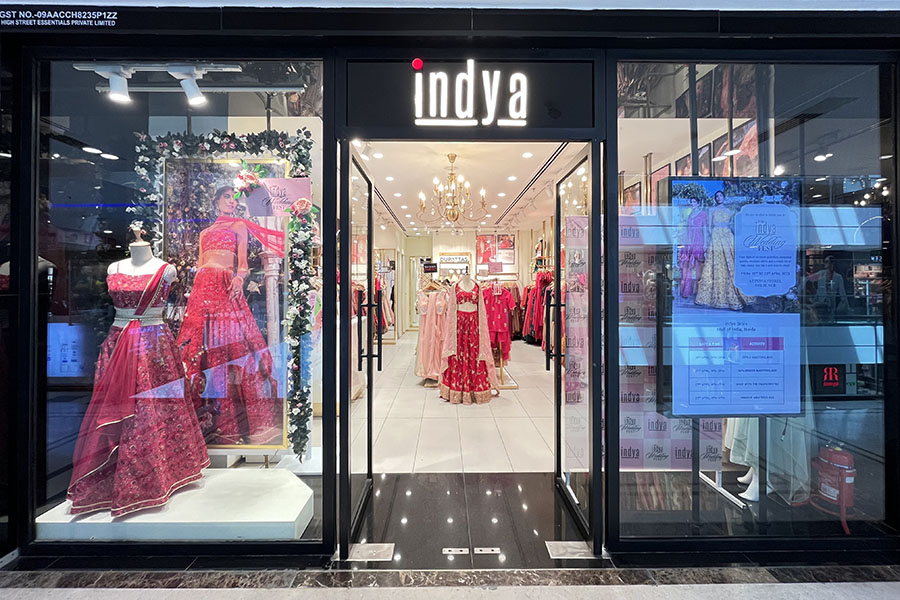 Indya, an Indian ethnic-fusion brand, forms 65 percent of High Street Essential's business
The same year, High Street Essentials started its omnichannel journey by going offline. With the influx of funds, they were able to invest in other avenues. They started with large format stores such as Central, Lifestyle and Shoppers Stop among others. Shop-in-shops did not require a big investment, and since they had been an online company and did not know the retail business until then, they cut their teeth with 200-square-foot outlets within a 10,000-square-foot large format store.
Central placed them in 40 stores across the country, including Delhi, Bengaluru, Mumbai, Guwahati, Patna, Surat, and Chandigarh.  
When Patna turned out to be their highest-selling store beating cities like Delhi, Bengaluru, and Mumbai, they realised the potential of building their businesses not just in metros or mini metros, but in Tier 2 cities too.  
Over the next two years, leading to 2019, FabAlley and Indya started building a very scaled-up large format store business. "We got to about 500 points of sale across the country in about 2-3 years since we started," says Poddar. The brand's online presence helped them acquire customers, and physical stores created brand awareness. Indya and FabAlley also have 25 exclusive brand outlets in over 10 cities.
In 2018, the company raised $8–10 million from early-stage investor Elevation Capital (formerly known as SAIF Partners), and they came on board as a partner. Chirag Chadha, vice president, Elevation Capital, says, "Elevation partnered with HSE in 2018 at a fairly early stage. The company had just launched Indya back then. We were very excited to see the initial response to Indya, the brand equity that FabAlley had built by then, and the way Shivani was driving the company to become an omni-channel women's fashion apparel platform. We have consistently backed the company since then across multiple rounds and have invested ~$12M in the business so far."
Chadha adds that one challenge in the fashion category is that a lot of companies struggle beyond a certain scale to manage supply chain, working capital, and inventory-related challenges. Poddar, however, has managed this extremely well by being extremely data driven, hands-on, and bottom-up in her approach. "Even in a tough period like Covid, when a large part of the business went to zero, Poddar was super resilient and prudent in her decision-making."
Also read: Sabyasachi wants to drape the world in his hues
Resilience Amidst Covid
Until 2020, HSE's business was growing by 70 to 80 percent. From Rs 30 crore in FY17, it had grown 4x to Rs 130 crore in FY20. And, at this point, it had about 600 points of sale across the country. FabAlley and Indya had become household brands for a large audience in the age group of 20 to 35. And then the pandemic struck a massive blow.
This was also a time when Poddar, a new mother, had a three-month-old baby to look after. Their business came to a standstill, and for the first 3–4 months, they were simply ensuring the business survived, also because they were conscious they had investor money.
"We did not know when we would be able to start the business again. There was zero revenue; we had limited capital, and at that time we had about 1,100 people on our payroll."
To tide over the first wave of Covid, the company raised a sum of $4 million from existing investors. They converted all the fabric they had to masks and loungewear, started making T-shirts and even tried home shopping by sending clothes to the homes of customers to try on and select. "We did whatever it took to keep the business up and running," says Poddar. The founders took a salary cut for two years, but there were no layoffs.  
During the second wave, the investors put in another round of $5 million to help them through the uncertain period. Every week, Poddar would make a new business plan because she didn't know what was in store.
 
Finally, from 2021 on, offline sales started picking up, and people started visiting the stores. The business survived.
Elevating Wedding Elegance
In 2022, the brand forayed into the main wedding wear market with a brand Indya Luxe. While Indya is occasion wear—meant to be worn on pujas, festivals, parties, etc.—Indya Luxe, in the price range of Rs 5,000 to Rs 25,000, is an extension of Indya, a wedding wear business comprising lehengas and saris. It's not bridal attire, but wedding day attire for bridesmaids and women attending pre-wedding functions. Their bet has paid off and within a year, it's about 10–12 percent of their business.
High Street Essentials launched their first exclusive business outlet (store) for Indya Luxe earlier this year in Bengaluru. Currently, for Indya Luxe, 80 percent of the business is international. The brand provides customisation on their website and products are delivered within 10–15 days of placing the order.
"We want to build Indya Luxe as the largest wedding wear business in this country in the mid-premium segment, which is the largest market in this country. We are not competing with luxury," says Poddar.
Also read: The untold story of how Ravi Modi built Vedant Fashions—the makers of Manyavar—into a $3.5 billion behemoth
 
Designer collaborations and global expansion
With the idea of making fashion available and affordable, HSE has also been collaborating with several renowned fashion designers such as Varun Bahl, Rimzim Dadu and Ashish Soni, to name a few. Not a one-off marketing gimmick but as a business vertical, this is for millions of women who can never afford designer wear. 
Indya Luxe is also working on 15-20 collaborations as the designers' pret partner. "It is a collaboration that is mutually beneficial. The designs look attractive and differentiated and in return, the designer gets a platform to sell on, as the brand has scale, an established distribution network, and a production facility," says Poddar.  
HSE started their D2C international business in 2021, selling products from India directly to customers in the US. The brand also has a presence on Amazon US, and is the only Indian brand on Zalora, Asia's largest online fashion and lifestyle retailer.
Poddar states that 60 percent of online sales are made outside India. They have stores in Malaysia and Nepal and will soon open in locations such as the United Kingdom, the Middle East, and South Africa.  
"Wherever there are pockets of South Asians, we'll go after that. That's what we want to build, and that's the trajectory. About 25 percent of our overall business—offline and online—comes from outside the country."
Going Social
The brand has never done above-the-line (ATL) marketing such as TV ads, radio ads, or newspaper ads. "We are an online-first brand, with social media being a part of our journey from day one. Ninety percent of the marketing spend is on social media every year. FabAlley and Indya are brands built on social media," says Poddar. The brand works with 500 influencers every month, both in India and abroad. Referred to as ambassadors, influencers such as Masoom Minawala and Komal Pandey have played a huge role in terms of the brand journey. With 500K plus followers on Instagram alone and a million and a half plus across all their social media channels, a lot of time, energy, and bandwidth is spent ensuring the brands are putting out the right content and sending out the right message. To be inclusive, the company uses client photographs rather than images of models in all its social media advertising.
Inclusive and sustainable
The brand boasts of embracing the concept of inclusivity, making clothes for women taking into consideration all body shapes and skin types. "We also have a brand called FabAlley Curve, which is a testament to this, where we start at the extra-large size and go up to 4xl," says Poddar. A feature called 'Made to Measure' has been introduced for Indya across all stores, where irrespective of the size, customers can bring their fabrics and silhouettes and they will be stitched and delivered in two weeks."
Given that FabAlley is a rapid fashion brand, Poddar acknowledges there is a lot of wastage and that it is not environmentally friendly. However, steps are being taken to ensure that 15 to 18 percent of the fabric used in both FabAlley and Indya is recyclable. Also, the packaging is 100 percent recyclable. In the works is the setting up of a centre in collaboration with NGOs for underprivileged women. The employees and Indya customers will be asked to donate products they don't use which would be displayed in the stores, where underprivileged women who are getting married can pick up the products for their wedding trousseau for free. This will also help recycle the products as opposed to creating waste.
Looking Ahead
In 2022, Malik and Poddar went their separate ways, as Malik desired to follow her own interests. She remains a shareholder of the company but is not operationally involved in the business anymore.
While Malik's exit was challenging in the short term, as she was managing a large part of the business, with professional management at every level, the company was able to quickly move on from her departure.
'Now, going forward, the vision is to build the largest and most loved wedding occasion wear business in this country, a modern version of what ethnic has been," says Poddar. "Fashion should become more accessible. Through our designer partnerships and our ready-to-wear, which is priced between Rs 2,000 and Rs 3,000, we hope to make Luxe accessible to a very wide audience today. So, moving forward, we want to develop a few growth levers; we want to grow our international business to 40 percent of our business," she adds.
She intends to develop her foreign enterprises through franchisee networks and direct-to-consumer (D2C) sales. Within the next six months, the company will concentrate on growing the network of Luxe outlets.  
"We ended the previous year with gross sales of roughly Rs 270 crore, and we aim to increase this to about Rs 1,000 crore or more in the coming years," says Poddar.
In the next three and a half to four years, Poddar wants to build a robust wedding and occasion wear business and plan for an IPO by 2026. Until then, the hustle continues.