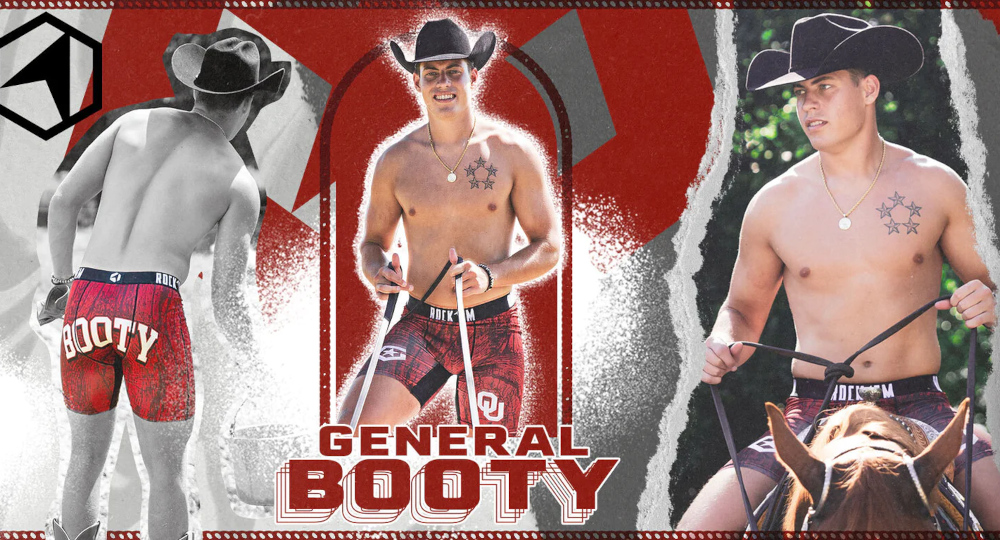 Maybe the best NIL deal in a moment comes from third-year Oklahoma Sooners quarterback General Booty. In videos and photo posts Wednesday of him riding a horse in Sooner red "Booty" boxers, Booty showed off his new line of underwear with Rock 'Em Socks:
My @rockemsocks Boxer Brief & Sock Collection is available now!! https://t.co/8Agg82A0nY pic.twitter.com/k7W8NHEPMc

— General Booty (@Generalbooty10) August 30, 2023
Oklahoma QB General Booty has launched his own underwear collection?

NIL https://t.co/yshniWs1XKpic.twitter.com/ozY9HWexDQ

— On3 (@On3sports) August 30, 2023
On3's Pete Nakos has more on the deal in that accompanying article:
The third-year Oklahoma quarterback entered an NIL deal with Rock 'Em Socks, launching an underwear collection with the Orlando-based company. As part of the agreement, Booty is releasing two pairs of underwear and specially designed socks.

In the underwear featured in images, the garment is in Sooner-red with "Booty" capitalized on the back. It is an example of NIL at its best. The underwear and socks are officially licensed with Oklahoma, allowing the products to feature the institution's trademarks. More and more schools are allowing their athletes to license their marks, as it brings more eyeballs on a brand while authenticating an NIL opportunity.

"Last year General came to our HQ and tried on some of the first pairs of boxers we ever made," Rock 'Em senior vice president Steve Rollins said. "He gave us valuable feedback on the fit before he even started to design his own collection."
General Axel Booty (yes, his real name) is the son of former LSU and Valdosta State receiver Abram Booty, and the nephew of former LSU/Cleveland Browns quarterback (and former Florida Marlins shortstop) Josh Booty and former USC and Minnesota Vikings quarterback John David Booty. He started his college career at Tyler Junior College in Texas, then transferred to Oklahoma ahead of last season, appearing in one game for the Sooners in 2022.
Booty is not in the top three quarterbacks on Oklahoma's current depth chart, so we may not see him on the field a ton this season. But he's still certainly a notable figure given his name and family, and he has 10,000 Twitter followers. And that helps show off an important aspect of NIL; it's not always about deals with the biggest stars on the field, but often about those who can show off their personalities.
This collection with Booty also seems to fit with Rock 'Em's cheeky marketing approach. Last week, they signed a NIL deal with UCF kicker Colton Boomer for socks and briefs, with those including his famed high school yearbook quote of "Kickin' bombs and kissin' your moms." We'll see who they pair with next.