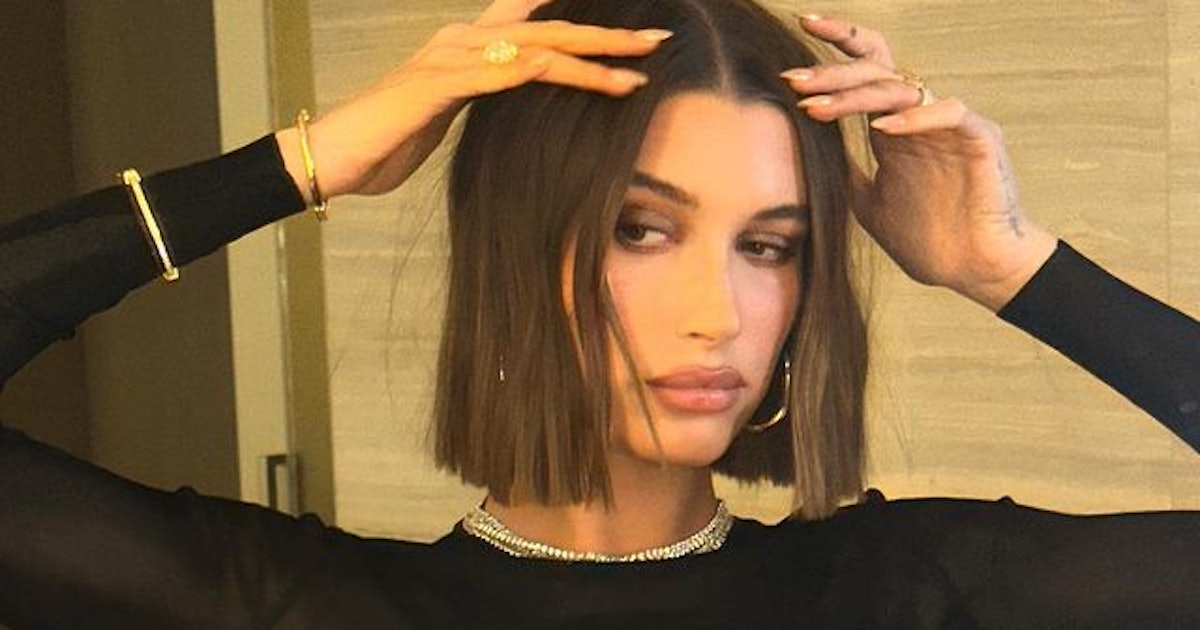 Think of Hailey Bieber's nails like 10 very glamorous groundhogs. When the dainty daisy nail art comes out, consider spring around the corner. And when she retires her happy-go-lucky polish colors in favor of something decidedly moodier, it's the all-but-official signifier of fall — calendars and outdoor thermometers be damned. Unsurprisingly, too, her first autumnal manicure of the season is one for the books. Bieber's shimmery gray "oyster" nails recapture the magic of the chrome trend she helped start, but also manage to feel both unexpected, fresh, and a little familiar at the same time. If you're one who likes to be first to any and all viral crazes, book your time at the salon now — something says this is about to be absolutely everywhere.
Bieber acknowledged the nation-wide heat wave when she posted a mirror selfie from New York dressed up in a smart, oversized blazer with a matching skirt. "Hot AF in NY but also Fashion Week," she captioned the post, holding her phone up to give fans a better look at those nails. Painted a soft, pearly gray, their iridescence and cool-toned color immediately evoke oysters, the kind she and bestie Kendall Jenner probably knock back over a couple martinis.
Notably, Bieber kept both the color and its opacity on the softer side. Not only does this help put extra emphasis on the shimmer, but being able to see a bit of her natural nail beds beneath the polish make the entire look feel that much more effortless. It's similar to the way Bieber draws on faux freckles after brushing on her complexion makeup — natural-adjacent is always the goal.
Late last summer, Bieber tried a similar color-chrome combination, but took a bolder approach overall. That other shade of gray is darker, deeper, and more saturated overall, and much, much shinier. They're fully chromed out, where as the 2023 version is far more iridescent than straight-up holographic. Plus, Bieber's now opting for square-shaped nails rather than the rounded almond style she typically favors.
To get the low-key, "oyster nails" look for yourself, opt for just two coats of a gel polish, taking care to leave a bit of nail bed visible beneath — that's truly the key to this manicure. Think of it all the same way Bieber applies her skin care and makeup. You're simply highlight and accentuating what's already there.