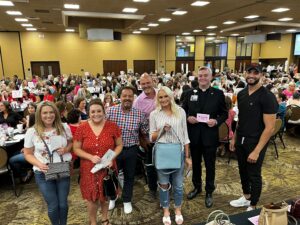 The most popular event in Hopkins County, the Hopkins County Health Care Foundation's Designer Handbag Bingo, was held on August 3. With 539 participants, 34 designer bags, 10 door prizes and 5 tie-breaker consolation prizes, the night was a big one!
The Foundation had hoped to make $50,000 this year to provide programs such as a Free Mammography Clinic to be held in October. The preliminary income and expenses show the net proceeds to be a little over $60,000 due to the generosity of bingo players and donors.
With the help of sponsors and donors, gorgeous designer handbags, including luxury bags, were part of the winnings. Due to the participants and volunteers, the event was a fun one! Everyone cheered on the winners!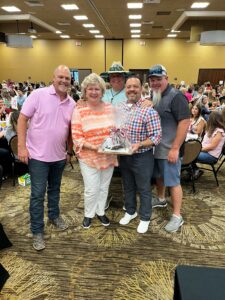 The biggest winner from Designer Handbag Bingo is healthcare in Hopkins County…which is the beneficiary of the proceeds. In addition to the Free Mammography Clinic, the Foundation also provides free wigs and prosthetics to Hopkins County women undergoing breast cancer treatment. Additionally, the Foundation sets a yearly funding priority which insures that the best medical technology, equipment, and offerings are available to Hopkins County citizens.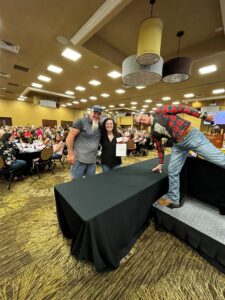 The Hopkins County Health Care Foundation is an IRS designated 501 (c) 3 non-profit, governed by an all-volunteer board of directors, each of whom lives and works in Hopkins County. All funds raised by the Foundation stay in Hopkins County to benefit its citizens. For more information contact Kayla Price, Executive Director, at 903-438-4799 or kayla.price@christushealth.org.
Photo 1: Dr. Martin Fielder welcomes the Designer Handbag Bingo crowd as Dr. David Black looks on. In the background are Don Sapaugh and Tanner Crump preparing for the event start.
Photo 2: Three handbag winners, l-r, Laura Jones, Kasey Knotts, and Maci Merrell are assisted by the event's Manly Helpers, 2nd row, l – r, Dr. Martin Fielder, Nolan Willis, Fr. Justin Wiley, and Will Douglas, PharmD.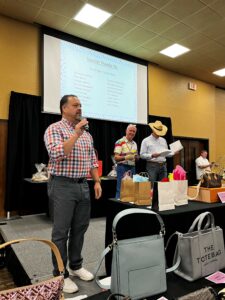 Photo 3: Linda Galligher's (middle, front) door prize win is celebrated by, l-r, Nolan Willis, Paul Harvey, and Jeff Sanderson.
Photo 4: Jeff Sanderson (left) and Don Sapuagh (right and sideways), provide Katelyn Morgan with a tie-breaker consolation prize at Designer Handbag Bingo.
Contributed by Kayla Price