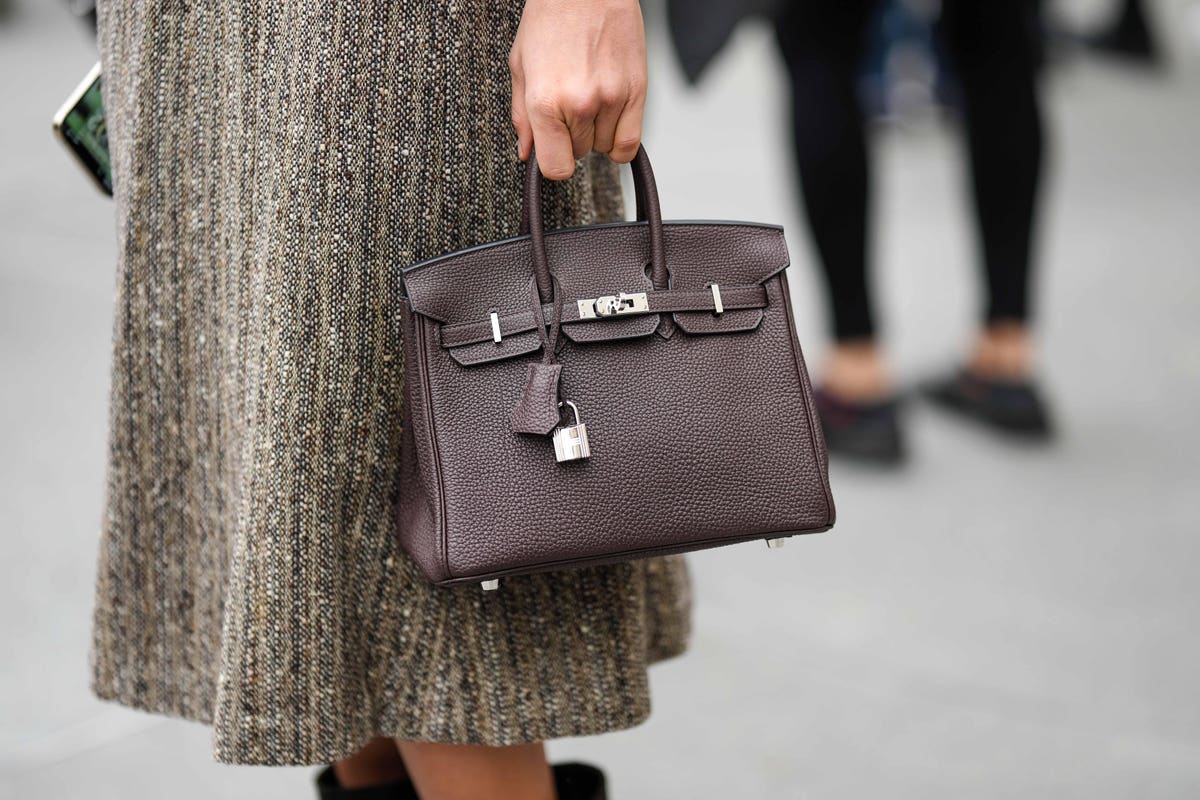 Topline
Hermès on Friday reported a 21% rise in U.S. sales in the first half of the year—a stand-out report amid a luxury market that has depended on Asian buyers more than ever this year as American sales slow—a revenue stream the company says was buoyed by sales of relatively new products like the Picnic Birkin, In-The-Loop handbag and Un Jardin à Cythère fragrance.
Key Facts
Hermès reported that 18% of its revenue came from the Americas in the first six months of 2023 and growth in that region gained 21% in the second quarter, significantly more than competitors like LVMH, Gucci owner Kering and Cartier's Richemont have reported, which have all had faltering U.S. sales this year.
Second-quarter sales were $3.65 billion, up almost 28%, according to the company, and recurring operating income for the first half of the year was $2.9 billion, also up 28% over last year.
The company's luxury handbags are big-time status symbols around the world, and Hermès pointed to four leather products in particular that bolstered its recent sales: The In-The-Loop bag released in December, a spherical bag called the Maximors, the HAC a Dos backpack-style bag released last fall and the highly anticipated Picnic Birkin released in 2021.
The Picnic Birkin, made of Osier Wicker, was sold by Hermès for $21,000 but peaked in resale value last year when prices reached a staggering $148,000, according to Sothebys; the bags now resell for closer to $50,000.
Also credited for increasing revenue were the Un Jardin à Cythère perfume, which was released this year and retails for $113, and the new chronograph version of the Hermès H08 watch, which was announced this spring but won't release until early 2024 and is expected to sell for about $15,000.
Key Background
The owners of big-name luxury brands have so far reported lagging U.S. sales in the second quarter. Louis Vuitton Moët Hennessy, LVMH, said U.S. sales slid 1% in the most recent quarter while experiencing double-digit sales growth in all other markets. Kering—which owns Gucci, Yves Saint Laurent, Bottega Veneta, Balenciaga and Alexander McQueen—reported Wednesday that retail sales were strong in Asia-Pacific, Japan and Western Europe but fell in North America. Richemont, which owns Cartier, Chloé and Montblanc, reported an increase in overall first quarter sales but a 4% drop in American performance, and Prada saw a 5% growth in the Americas compared to 28% in Europe and 55% in Japan.
Surprising Fact
Hermès has long been seen as the luxury brand that best holds its value. Last year's Clair Report from Rebag found that Hermès is the only luxury bag that gains, rather than loses, value over time. Hermès handbags retained an average of 103% of their retail value, the report said, compared to Louis Vuitton's 92% and Chanel's 87%. Art Market Research in 2020 said some handbags, like those from Hermès, are better investments than more traditional collector's items like classic cars and rare whiskies. Birkin prices in-store start at $9,000 but can easily sell for multiple times more on the secondary market. Auction house Sothebys attributes the exorbitant resale price tags on most bags to a scarcity of the item and how hard they are to buy—waiting lists for rare bags can extend for months or years and customers must be personally invited to purchase one by sales associates of Hermès. Sotheby's has 121 Birkin bags listed for resale on its website ranging from a 2003 Birkin 35 listed for $11,500 to a $110,000 Alligator Mississippiensis Birkin made in 2011. The most expensive Hermès bag, the Diamond Birki, can sell on the secondary market for as much as $300,000.
Tangent
Jane Birkin, the namesake of the elusive Hermès handbag, died earlier this month. She is said to have been unknowingly seated next to Jean-Louis Dumas, the chair and head designer of Hermès, on an airplane when the plastic bag she was using as a purse broke and she audibly complained that the French fashion house didn't make a bag that held all her things
Forbes Valuation
Nicolas Puech, a fifth-generation descendant of Hermès founder Thierry Herm, was listed as the 150th-richest person in the world Friday with a Forbes estimated net worth of $11.7 billion.
Further Reading
How Jane Birkin Inspired One Of Today's Most Luxurious Status Symbols (Forbes)
Luxury Fashion Sales Buoyed By Asia As U.S. Spending Slows (Forbes)
Gucci CEO Departs As Brand Lags Behind: Here's How The Top Luxury Fashion Brands Are Doing (Forbes)