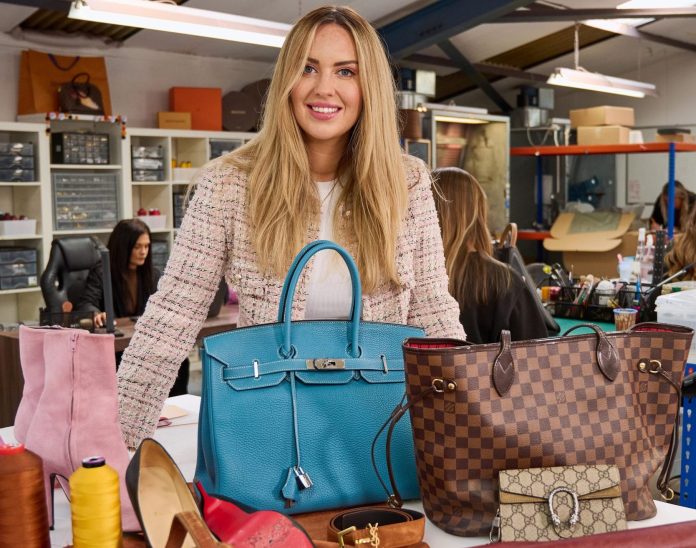 SME Magazine catches up with Charlotte Staerck, above, Co-Founder & CEO of The Handbag Clinic to hear about her business. She starts by telling us what was the inspiration behind it.
I've always been very fashion conscious. I've no idea where it came from – I grew up in a tiny village outside of Newcastle. I got a Saturday job at the age of 16 and would gaze longingly at the designer handbags through the windows. At the time in Newcastle, Mulberry was the biggest luxury brand name you could buy but I couldn't afford it, so I saved up and bought a DKNY one instead. I then saved up for another. I'd keep them for a while before selling them on eBay. I quickly realised that, once I'd sold both, I could then afford a Mulberry. So, you could say I was flipping bags long before it was coined as 'circular fashion'.
A few years later, I bought a cream Luella tote. Sadly, it soon got covered in dye transfer from my jeans and a colleague told me there was a local company, The Furniture Clinic, that did repairs. She gave me their number, but I lost the piece of paper. If I had gone, it turns out I'd have met my future husband, Ben, two years earlier than I did — at a bar in Newcastle. Ben had built up a business with his father cleaning and restoring furniture and leather household items since 2004 and, by the time I met him, it had grown from a small online family operation to a thriving global business.
At the time, I was on a fast-track career path having risen through local government ranks to be appointed as a Senior Buyer of pharmaceutical and medical equipment for the NHS. I was fiercely independent and my career was going from strength to strength but my passion was always luxury handbags.
By 2013, I began to notice the increasing number of handbags that were being sent to Furniture Clinic for restoration. I also observed the significant value that restoration work added to handbags that may have otherwise been discarded or unsaleable. So, I encouraged Ben to officially incorporate The Handbag Clinic as its own independent luxury handbag offshoot in 2013 – all still operated through our ecommerce platform at the time. The initial idea was to build on the leather restoration business and pivot this into the burgeoning appetite for handbag restoration. At that time, there were local high street cobblers who could perform simple repairs – but nowhere near the level of craftsmanship required for luxury items.
As demand for our business grew, we opened the doors to our first store on King's Road in 2015, followed swiftly by Newcastle and Leeds. Restoration was still very much the heart of the business and I observed how this directly impacted the resale value of the item. Ben and I were having dinner one evening when I had my lightbulb moment. I had the idea of integrating buying and selling luxury preowned handbags as a resale operation in our store. The unique combination of resale and restoration meant clients could fetch the highest possible price for their items. We had so much retail space and no one else was doing it on a large scale or as a retail operation at the time. There was a clear gap in the market. So, we launched the resale operation first in our Newcastle store, which was a showcase for the business model, housing our selection of the world's most coveted designer bags, followed by Chelsea and Leeds. It really spiralled from there.
As we've expanded geographically with our retail locations or launched new services, we have always invested into heart of our business; the Clinic itself. We started with just two Artisans and now have a team of 55 which includes 13 Artisans along with Restoration Specialists and logistical teams. We have diversified our repair and restoration offering in recent years beyond handbags to include shoes, luxury trainers, luggage, small leather goods, leather clothing and accessories; we've even restored Louis Vuitton tennis rackets and backgammon game sets!
In line with increasing demand, we also launched 'Authenticate' as an official service. This completes our business model as the only fully circular platform tackling the end-of-life issue. Through our integrated offering of 'Buy, Sell, Restore, Authenticate', we uniquely combine restoration with authentication and resale, which adds value directly back into wardrobes through an ongoing loop of circularity.
Because we span restoration, authentication and the preowned resale market, we're in a unique position to see the direct monetary value that restoration and modernisation treatments add to the value of shoes or bags. Restoration treatments can perform miracles adding hundreds and even thousands of pounds onto the value of a bag. We've steadily built up a community of discerning and savvy handbag collectors who recognise this intrinsic relationship and come to us because of the added value they receive from the wrap-around 360 process. They buy handbags in huge demand, check it into the Clinic for restoration to ensure it's in pristine condition and then sell it on at exactly the right time to ensure it fetches its highest possible price. They play the preowned handbag market like stocks and shares and, for some, it's a very lucrative side-hustle. We also offer a robust buy back scheme for sellers who regularly like to switch up their wardrobe.
2. You have just reached your 10-year anniversary. How do you feel about that?
When I started out in this business ten years ago, there was a stigma around second hand and the preloved handbag market was confined to insiders in the fashion industry. Repairs were also only carried out by high street cobblers. But the wider world has now embraced preloved shopping and woken up to the reality that there is nothing more sustainable than repairing what we already have in our wardrobes. They see it as a badge of honour in fact. We are proud to have been at the vanguard of this shift and saved over £30 million handbags from landfill along the way.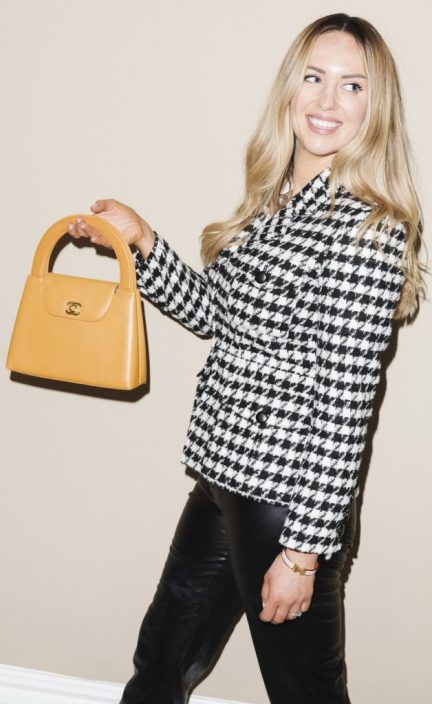 This last year, particularly, has been incredible in terms of our growth. In May this year, we partnered with Selfridges for a month-long pop-up initiative, 'The Stock Market at The Corner Shop'. It was so successful that we will soon be launching as a permanent in store concession in Selfridges. We also recently launched in Harrods as an in store concession. Because we've led the charge in this space, we are also the trusted go-to aftercare service for fashion's biggest luxury brands; we work with Gucci, Jimmy Choo, Bvlgari, Celine, Radley, Ugg and Christies on an official basis plus many more on a store by store basis. We also have several preferred partnership in the pipeline with some of the biggest players in the luxury rental market which we will soon be announcing. I see this as huge progress towards a more collaborative industry. We're looking to expand in the UK by building on this – we have new brands approaching us all the time.
We have just launched the UK's first luxury care programme, 'The Inner Circle' which enables luxury investors to maintain the value and condition of their luxury items all year round through a bespoke care plan that starts at just £7.99 per month. Investing in luxury is a promise of longevity, but luxury items are crafted from delicate and absorbent materials, which look beautiful but are highly
disposed to wear and tear. Accidental stains are some of the most common problems we treat in the Clinic; dye transfer from jeans, liquid damage in restaurants and bars, hair dye from a visit to the salon, rainwater stains or a pen lid spillage – it can be devastating given the sentimental or monetary value invested. Life happens but that shouldn't mean we have to save our most treasured items for best.
3. Do you remember any particular challenges you have faced? How did you overcome them?
I think the biggest challenge has been encouraging people to wake up to and embrace the idea of sustainable fashion – especially luxury. The stigma around second-hand has now dissipated but getting people to shift their mindset and to view restoration and resale as a cool and an exciting part of fashion has been a real journey. I remember living in Chelsea a few years ago and walking past big townhouses that had Chanel handbags slung at the side of the road. There was nothing wrong with them – I couldn't believe what people were willing to throw away. I also remember going to networking events and being asked, 'why would you want to buy an old bag?' People thought it was bizarre. But the tables have completely turned, and people are now asking if we can fix something they've found in a wardrobe, or help find them their dream Chanel handbag. The change in conversation, even from just three or four years ago, has been so dramatic. We've been talking about this for a decade, and it's great the wider world has caught up.
I also think that, because it's now such a crowded market, we've worked hard to define our USP and ensure we continue to stand out. Having a point of differentiation is ultimately the key to achieving growth and longevity. At The Handbag Clinic, for example, we unlock the value of prospective resale items through our cleaning and restoration services. We also specialise in reselling luxury handbags, which keeps our market and audience segment highly targeted. I think having too diverse a range of products for resale means a huge strain on infrastructure, especially given resale requires expert authentication built in. For companies such as Dotte, they rely on a strong customer base and following but there is a shelf life with that customer. So, focussing on repeat custom through lifetime value is vital to maximise revenue streams.
There's been a huge spotlight on tackling the 'end of life' issue in this sector. With our fully circular model, 'Buy, Sell, Restore, Authenticate', we strive to sole this. The problem for many resale platforms is that, whilst they may well be extending the life of an individual item, they aren't fully addressing the wider issue. Because it's more of a 'value-add' proposition, this means that marketing efforts around sustainability are less meaningful and less effective. Creating a brand architecture that demonstrates integrity, authenticity and action will ensure you truly connect with customers and make impact. This is key to ensuring resale is profitable.
4. Looking forward, where do you hope you will be doing in, say, five or ten years?
Over the next five years, we want to build on our brand partnerships and expand within the UK – we'll be focussing on international growth too. We're already the largest global operation for restoration and repairs and our ambition is to become the leading global authority for preloved handbags. We hope to achieve this by expanding our brand partner relationships, both new and existing. The wheels are already in motion – in the last year alone we've had five major luxury brands approach us.
Culturally, I still believe there's a way to go with empowering more women to get on the 'handbag ladder'. By this I mean waking up to the accessibility the preloved luxury handbag market offers and that, as robust investment commodities, they can flip these and work their way towards owning the handbag of their dreams. I love the idea that this allows everyone to change how they view their wardrobes, both financially and sustainably.
Beyond that we are constantly striving to innovate and we're creating a bespoke tech solution that will support our fully circular operation and help our customers to be even more sustainable with their luxury items. This technology will also offer a unique solution for our luxury brand partners and their sustainability initiatives. We're also looking to add AI and microscopic imagery to this software to support our highly skilled authenticators. With this new tech we intend to continue the triple digit growth we have seen over the last year and expand our marketplace.
5. What do you enjoy about your job?
This work is truly a labour of love and we get to see items being brought back to life that may have otherwise been discarded – seeing the amazement and joy this brings our clients really is priceless. Often clients don't think it is possible to restore their item to its former glory and yet, to us, it's an everyday occurrence. When they are reunited with their bag and they see the results, they can't believe their eyes – we have chocolates, cakes and thank you cards sent into the office from grateful clients. This makes our day and reminds us why what we do is so special. One client I will never forget is a lady who accidentally ruined her Jimmy Choo wedding shoes just days before the wedding. We fixed these for her in time for her big day and she was overjoyed – you can't put a price on that and it motivates our entire team.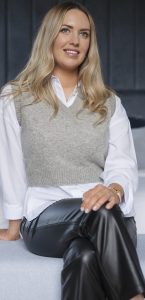 I would also have to say my team. I feel so fortunate to work with a team that are just as passionate and dedicated to the business as I am. I feel passionately that entrepreneurs who have achieved success have a tremendous responsibility to give back and open up the gates to future talent. I think a great example of this is our Operations Manager, Abby. Abby joined the business as a Customer Service Agent eight years ago and I personally worked very closely with her, guiding and mentoring her through each stage of her career journey and giving her the opportunities to calve out her own career path. We also have a number of team members who started with us at an entry level role and are now quickly moving up in the business. When we were a smaller operation, I tried to instil the idea that they could make their own future and path if they believed they had something that added value to the business. Because of that, some of our team felt empowered to create their own unique role, such as our Research and Development Artisan and our Commercial Portfolio Manager.
I don't think mentoring is a title you can be given – it's earned. I treat all of our team members how I would have wished to be treated at their age. I always make time for them, whether it's a personal or professional issue, as it all feeds into their wellbeing, performance and attitude towards work, which in turn affects the overall success of the business.
Related