Once upon a time, Lil' Kim gathered Missy Elliott, Da Brat, Lisa "Left Eye" Lopes, and Angie Martinez to record a sequel to her "Hardcore" offering "Not Tonight." Together, at the height of their careers, the seasoned rap stars and a "rookie on this all-star team" (Martinez) released their 1997 hit "Ladies Night Remix," one of the greatest female collaborations in hip-hop history. Not only did the iconic, femme-forward track dominate on radio, sweep up a 1998 Grammy nomination, and become an official girls-night-out staple, but its massive success set the tone for what future female rap collaborations would aspire to be, even to this day.
Kim's original "Not Tonight" is raunchier than its remixed anthem, as it sounds more like a sultry after-hours track where the rap star doesn't mince words about her demands for lip service — "I don't want d*ck tonight / Eat my p*ssy right." But the "Ladies Night Remix," which contains a sample of Kool & the Gang's "Ladies Night," made room for a new subject: the sisterhood of hip-hop.
"We loved the whole idea of lady empowerment. I just wanted all my favorite artists on it."
According to a 2016 XXL interview, Kim said that the idea for the song spawned from the former CEO and president of Undeas Recordings, Lance "Un" Rivera. "He always loved the 'Ladies' Night' thing," she said. ". . . We loved the whole idea of lady empowerment. I just wanted all my favorite artists on it. TLC, Missy, Da Brat. That song landed us MTV nominations and Grammy nominations. So we did something right." Per Clover Hope's "The Motherlode: 100+ Women Who Made Hip-Hop," Rivera once recalled, "[Lil' Kim's idea] 'Ladies Night,' was to unite women. Missy came in and took charge of the formatting of the record, and it became history."
Back in the '90s, the golden age of hip-hop birthed women empowerment records like Elliott's "She's a B*tch," Queen Latifah's "U.N.I.T.Y.," Yo-Yo's "You Can't Play With My Yo-Yo," and many more. All of these tracks boasted a fearless attitude for the women ushering in a wave of hip-hop feminism, a phrase coined by "When Chickenheads Come Home to Roost" author and pioneering hip-hop journalist Joan Morgan. However, "Not Tonight (Ladies Night Remix)" had something many of those tracks didn't: unity. Pairing verses from multiple mainstream female MCs was unheard of at the time. Not to mention, the song's star-studded music video — which famously featured cameos from Mary J. Blige, Queen Latifah, SWV, Xscape, and more — proved that women across the industry could show each other genuine love.
So in a world that sought to pit women rappers against each other, "Ladies Night Remix" demonstrated that they could unselfishly give each other a chance to shine together on a single track.
As Martinez recalled in her 2016 memoir "My Voice," "all the women on the song were like a team," and each one brought their own standout lyrics to the table. From Martinez's memorable opener — "It's ladies' night, what? / It must be Angie on the mic / The Butter P honey got the sugar, got the spice / Roll the L's tight, keep the rhymes right / Yo, I just made this motherf*cker up last night" — and Left Eye's fiery closer (a nod to the fire she set to her boyfriend Andre Rison's mansion in 1994) — "I be the one to blame as the flames keep risin' / To the top and it don't stop." Even Da Brat, unsurprisingly, impressed with her quick delivery and candid bars — "Y'all see how these bogus n***as try not to notice the dopest b*tches / Approachin' with good intentions but focusin' on they riches / If it's too hot, then get the f*ck up out the kitchen! / N***as' dicks stay lifted when they thinkin' of me."
Employing a pass-the-mic technique, the group of five didn't have to fight for their individual moments. And with their historic collaboration, they put to bed the myth that only one woman in hip-hop could have the spotlight at a time — a theory they'd keep dispelling with future performances of their song.
The first time Kim, Elliott, Martinez, Da Brat, and Left Eye all united onstage to perform their collab was at the 1997 MTV VMAs. It'd be nearly another two decades before a "Ladies Night" reunion with the original players (sans Martinez and the late Left Eye) came to pass at the 2014 Soul Train Awards, where they were joined by Total, MC Lyte, The Lady of Rage, and Yo-Yo. Once again, the song proved to be a uniting force for women in hip-hop, and it didn't stop there.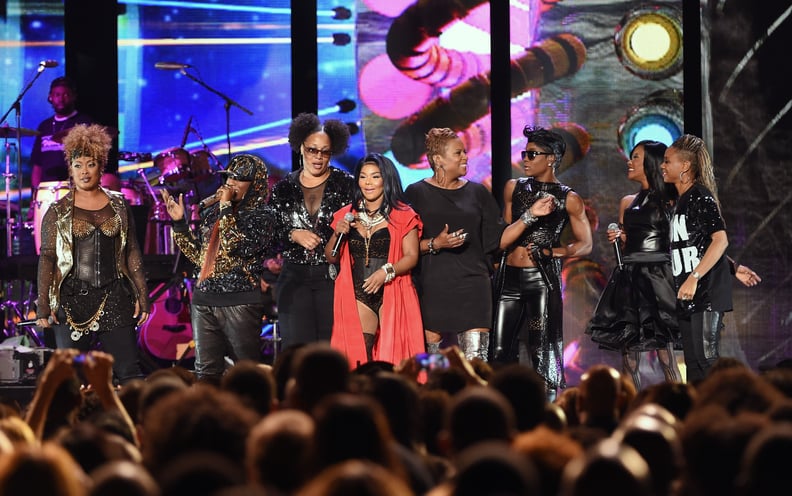 "Calling all the female rappers to front. [Hear] me out. ladies night. Hip hop. Unity."
Beyond its pedestal in hip-hop history, "Ladies Night Remix" also represents the tight bond its collaborators hold near and dear. In December 2014, Da Brat told Ebony Magazine of their Soul Train performance, "I hadn't performed that song with them since the [1997] MTV Awards. It was just a great feeling. It was great to be reunited with them. . . . It was everything." Meanwhile, Elliott shared what it meant to create such a legendary record with her fellow femcees, explaining: "True friendship is very important to me and I cherish these women because I'm a fan of both [Da Brat and Kim] . . . It means so much for us to have a classic record that has been around for over 16 years and very strong women coming together on one track is epic. Even all these years later, we can perform it with just as much energy as we had when we first recorded over a decade ago."
To this day, "Ladies Night Remix" is considered a certified hip-hop classic. Vibe Magazine declared it "one of hip-hop's most impactful female rap collaborations," while Noisey called it "one of the most important posse cuts in rap history." And in more recent years, calls for a modern-day rendition of "Ladies Night Remix" haven't let up, either.
In 2017, Kim suggested redoing the record with artists like Cardi B and Remy Ma, per UPROXX. And in June, Coi Leray tweeted, "Ain't been a #1 rap song at all this year. Calling all the female rappers to front. [Hear] me out. ladies night. Hip hop. Unity. #splash🎏🌊 let's make history with a number 1 … together .. with love. #justanidea." Martinez, meanwhile, responded to requests for a new female rap anthem that same month during a "Good Morning America" interview. She said, "We talk about where we are now in the culture, where we've come from, and one of the things that we're talking about is how many amazing women are in the culture right now. There are so many [female] artists. There were times in hip-hop where that was not the case, so it's really great to see that now." And yes, she agrees hip-hop listeners are due for another all-women collaboration: "There are a lot of women collaborating with each other but, yeah, a big anthem like that would be fun to see."
Only time will tell if a new group of women in rap will muster up the same magic for their own "Ladies Night Remix." But over 25 years later, the collaboration continues to age like fine wine, and its pioneering efforts in nurturing hip-hop's sisterhood remain undisputed.