By the time the clock reads 5 a.m., Pamela Hall has had her cup of coffee, said a prayer over her team of stylists, and filled the hair trailer with the sounds of gospel music. These elements kick off Hall's full and rewarding day as the head of hair department for "The Other Black Girl," the new Hulu series that premieres September 13.  
Tapping into her background working in the hair salon world from 2000 to 2015, Hall wanted the set's hair trailer to be a safe, sacred environment akin to a Black beauty shop, a community hub where Black women gather for a sense of liberation, vulnerability, and empowerment. 
"Since we were the first stop for our actors, I wanted them to relax, clear their minds, and only focus on what they need to focus on," said Hall. "I didn't want them feeling an ounce of stress. If they're worried about how they look, it can throw off their process of becoming the character." 
Hall prioritizing this sanctuary of comfort had a particular resonance with the Black actors on set. Many Black screen actors, including Natasha Rothwell, Taraji P. Henson, and Monique Coleman, have shared stories about the lack of representation in hair departments. Being at the mercy of set hairstylists who are unfamiliar with Black hair has led to actors leaving set with damaged hair, hiring a personal stylist, or spending their own money on styling supplies to do their hair before they even get to set.
"When the Black actors walk in and they see me, the first thing they say is, 'Oh my God, I'm so relieved that I have someone who can work with my hair,'" said Hall. "We had some deep conversations about it — some of them have told me horror stories. For a lot of women, especially, I think, it can kind of affect them emotionally."
While "The Other Black Girl" has a multiracial cast, Black women are front and center. Adapted from the 2021 novel of the same name written by Zakiya Dalila Harris, the story follows Nella Rogers and Hazel-May McCall, two young Black assistants at a publishing house, interwoven with the story of 1980s Black book editor Kendra Rae Phillips and her best friend, Diana Gordon, who is a world-renowned author. 
Another important character in the "Get Out"-meets-"The Stepford Wives" thriller is Black hair. Both the book and the television series examine the cultural magnitude, the multidimensionality, and the intimacy of it. Hall quickly identified those moments in the script — like the scene of Diana doing Kendra Rae's hair on the fire escape to establish the level of trust between them or the flashback to honor the familiar feeling of Nella's mom doing her hair as a kid. Hall was also able to offer insight on these moments from a technical standpoint.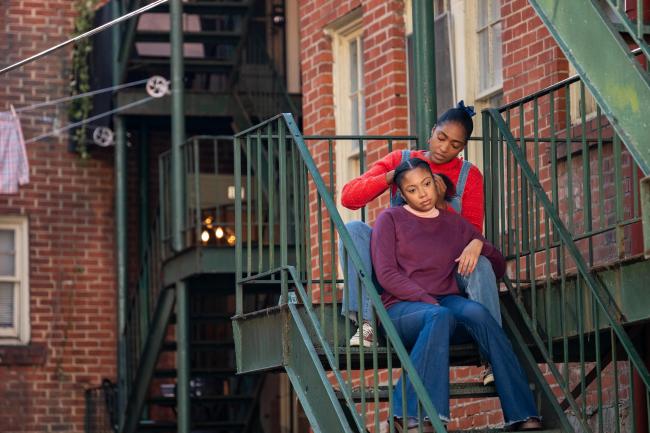 "We had to decide which angle to shoot it from so it read well for the camera. I also had to make sure the reset of the hair wasn't a long process, because if we're doing this hairstyle take after take, we have to make sure whatever we're doing won't take forever to reset."
The script was extremely engaging to Hall when she first read it, offering the type of creative opportunities that initially attracted her to the television world — building characters through hair. She was eager to bring authenticity to the multitude of characters in the story, developing visual mood boards off of her script notes before meeting with producers to align visions on what each character's hair should communicate. She specifically loved the challenge of creating drastic hairstyles to represent the evolution of several characters throughout the course of the series, like the two extremes she had to design for Nella: a short, natural afro and long, pin-straight tresses. Nella's vivacious best friend Malaika was Hall's favorite character to design, especially her blonde mohawk.
"For Malaika's look, we were told to 'have fun.' In the script, she is described as an esthetician, so she's more like what a hairstylist would be like in being creative with her own hair. She can come in with blue hair one day; pink hair, the next; one day, long hair; one day, curls; the next; braids. It just depends on her mood. There was no limit with her styles."
Black hair is spiritual as it is corporeal, ritualistic as it is routine, communal as it is individual. It's an innate part of Black culture, allowing for self-expression, demonstrating resilience, and transcending the boundaries of stigmatization. Hall's understanding of these nuances is the key to unlocking the range and breadth of Black hair that flourishes throughout "The Other Black Girl."