Rapper Ice Spice reveals why she NEVER leaves home without a spare pair of lacy pink PANTIES in her purse: 'The baddies that get it, get it!'
The rapper, 23, told British Vogue she always carries an extra set of underwear

She admitted as much when showing off the contents of her purse to the mag

The Bronx native has shot to fame as a performer on the Barbie soundtrack
Rapper Ice Spice has revealed the one rather risqué item she never leaves home without: a spare pair of pink lacy panties. 
The Bronx-born beauty, 23, shared her rather saucy handbag must-have while sitting down with British Vogue for the magazine's In The Bag web series, during which she spilled the contents of her purse – while revealing the reason she never leaves home without some spare lower-half lingerie. 
'I always keep a panty because like you just be having to change your panties like, you know what I'm saying?' she said while holding up a pair that she had just pulled out of her pink Chanel handbag and quipping: 'The baddies that get it, get it.' 
Ice Spice, who features on the soundtrack for the new live-action Barbie movie, further revealed that all of the panties in her lingerie drawer are pink – a hue that has been thrust into headlines around the world of late thanks to the Margot Robbie-led flick.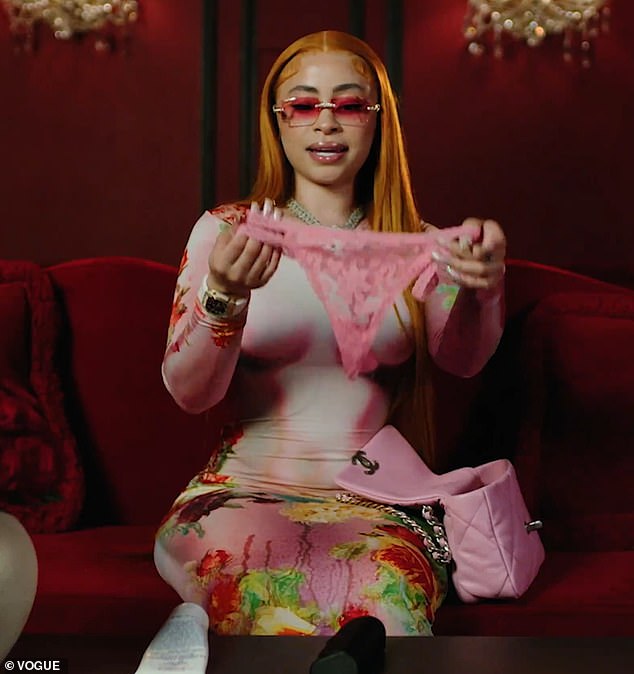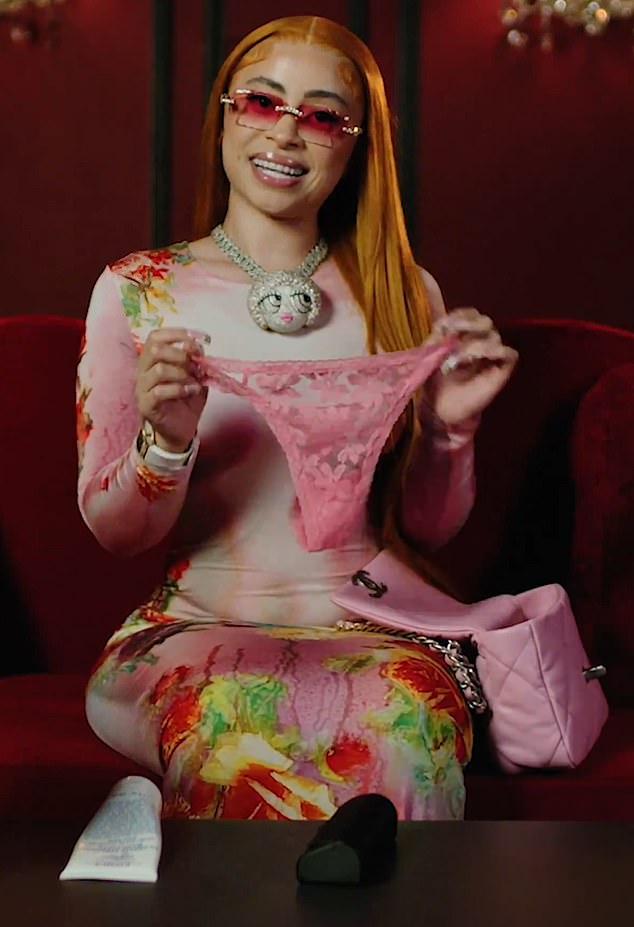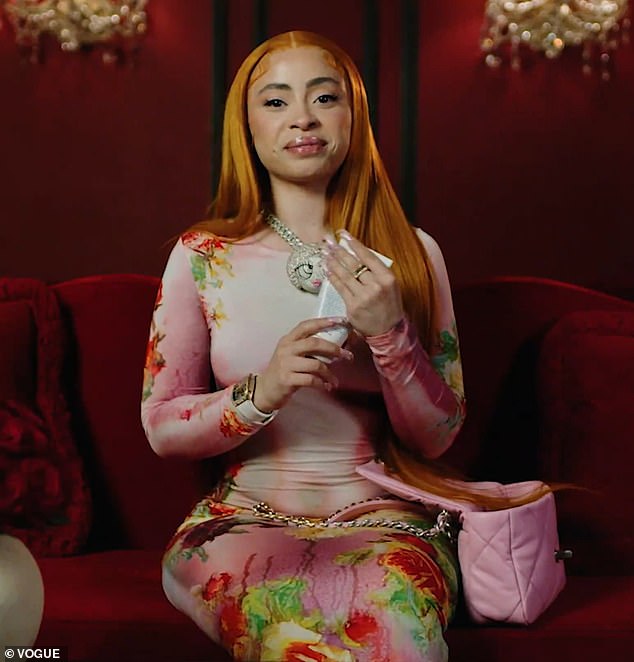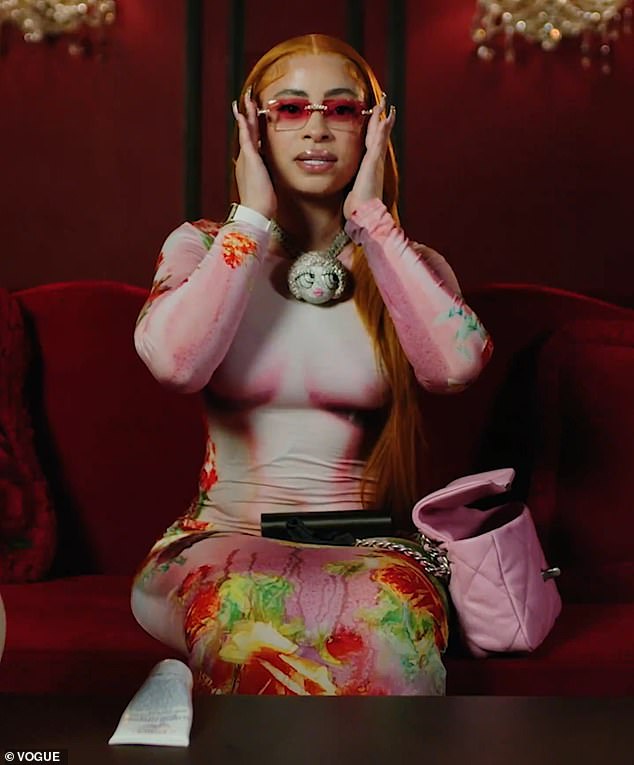 But while a lacy pink thong might be the most unique item secreted away in Ice Spice's handbag, it's not the only necessity that she travels with; hand cream was among the other items she professed to toting round regularly.
'I gotta keep my hands moisturized, cause it'd be real, real cold and dry in New York,' she declared of the understated beauty essential.  
'Love me some hand cream!' 
She went on to add, 'I like to have some shades on me,' before slipping on a pair of pink Cartier sunglasses.
'I mean they're not really like a disguise. But, I don't know, I feel like more incognito with them.'
As she continued to empty her purse, she pulled out a matching Chanel wallet, pink lip gloss and two smartphones – 'one for the rappers and one for the family,' she said.
Eventually she also brought forth a pair of wire earbuds, untangling them as she explained, 'I like to use the wired ones, because I feel like the Bluetooth ones just be so laggy.
'I love listening to music cause I be on long ass flights, and stuff like that,' she elaborated.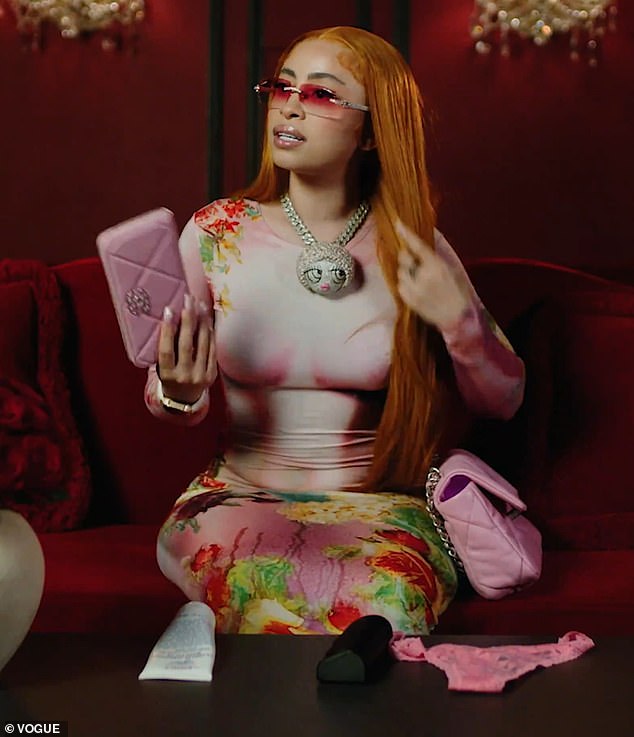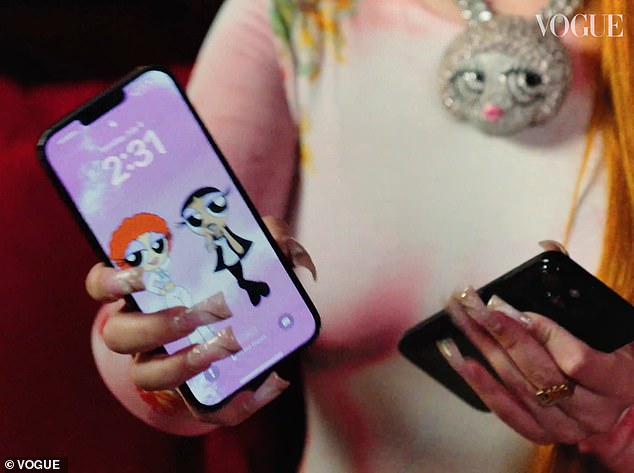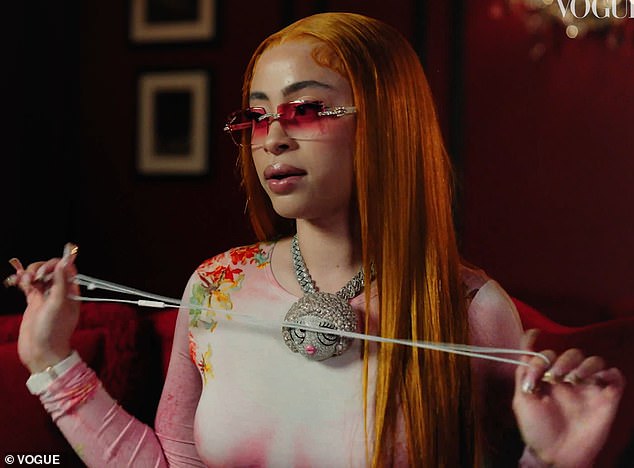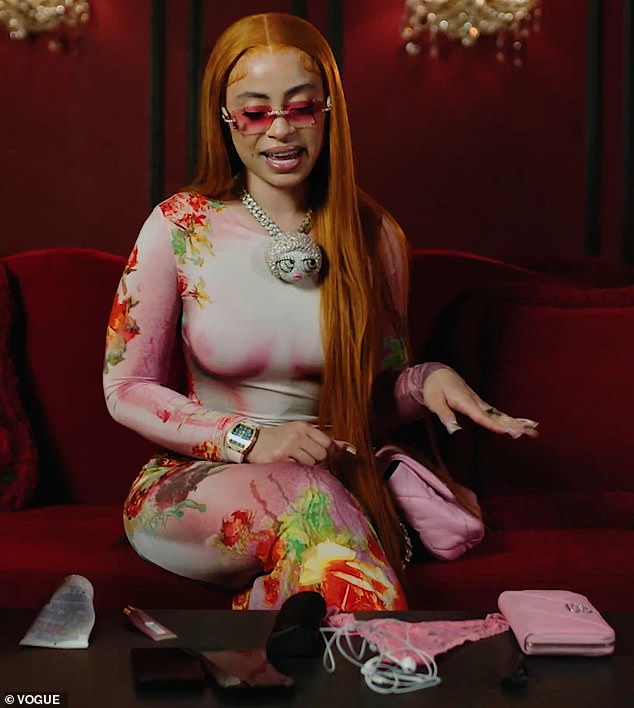 Lastly, she whipped out a boxcutter, which described as her 'pokey.' 
'Y'all know I gotta keep the pokey on me. It's like, what you use to open boxes. 
'I'm from New York so we got a lot of boxes to open over there.'
Taking the contents of her Chanel bag laid out on a coffee table in front of her, she concluded, 'I'm not gonna lie. Like, this is everything that I need to grab before I leave the crib.'
Ice Spice hit the mainstream in 2022 when her single Munch (Feelin' U) went viral on TikTok.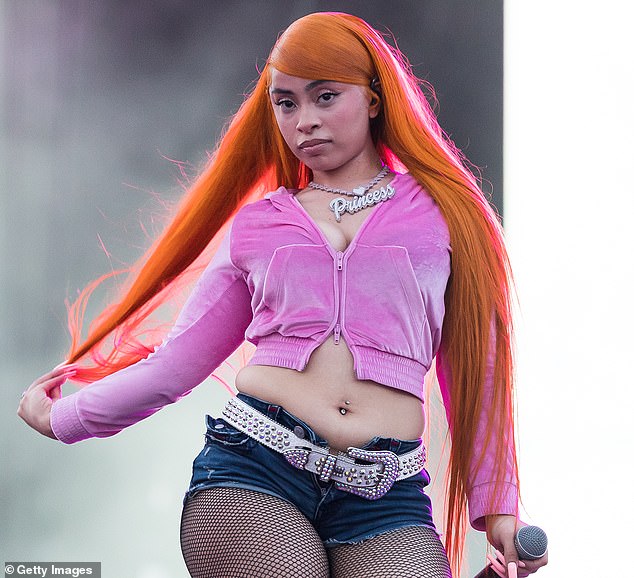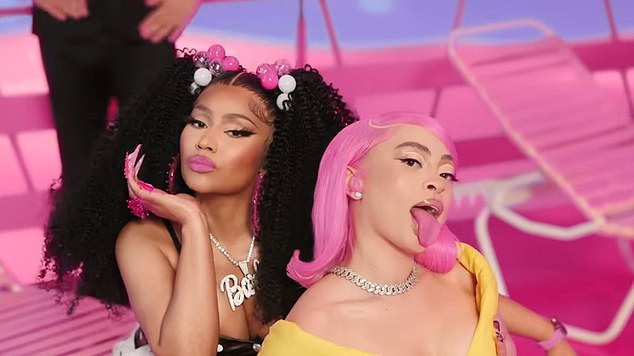 She's since rocketed onto the international stage, most notably for her being featured alongside Nicki Minaj on the Barbie movie's remix of Aqua's smash hit Barbie World.
'I'm so honored that Barbie asked me to be a part of the soundtrack,' she gushed of the opportunity in the Vogue vid.
'And I'm so, so so happy that Nikki got on it. Love the song. Gorgeous video.
'Pink, pink, pink. Love it.'