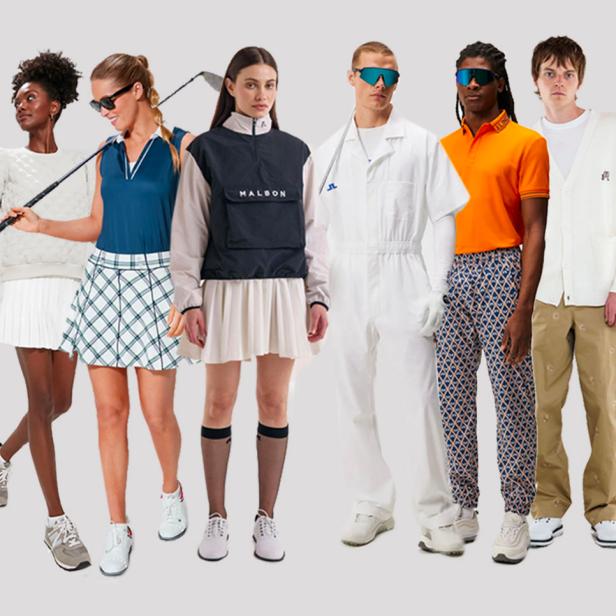 In recent years, the golf fashion world has undergone a bit of a renaissance. On-course styles have been implemented off the course. Polos and khakis have been elevated to spunky button-downs and utility trousers. And brands are increasingly becoming more daring with color and pattern selections. The lines between high fashion, sportswear, and street style have become blurred and it's reflected in what we see prominent brands producing. While there may not be a runway show or week dedicated to celebrating the progress in the golf fashion world and show golfers what's new, high-fashion golf brands like J.Lindeberg and Malbon have been increasing their visibility on the professional tours to show golfers watching at home aspirational looks and trends each season. With New York Fashion Week going on now, it got us thinking—what golf brands deserve the runway treatment this season?
For those not familiar with it, New York Fashion Week dates back to the Second World War when successful fashion publicist, Eleanor Lambert, merged fashion and culture with a touch of American nationalism in the heart of New York City. This particular week held twice a year, once in February and once in September, serves to showcase upcoming trends all while supporting and promoting American brands. Fashion and style are in a constant state of flux, trends come and go, and the vision for this coveted week has now expanded to be more inclusive of designers and brands outside the United States. Beyond the glitz and the glam, Fashion Week sets the tone for the style world — including the trends we see scattered throughout the apparel of our beloved game. So in the spirit of golf meeting Fashion Week, here's a curated list of golf brands we'd put on the runway for this season's New York Fashion Week.
By now, we've all grown accustomed to the bodacious stylings of Viktor Hovland thanks to J.Lindeberg. The Swedish fashion brand has normalized futuristic-like designs that are contemporary and sleek, fusing together the sharp silhouettes from fashion with the functionality of sportswear. J.Lindeberg offers a fresh approach to golf fashion, one that centralizes the use of color and prints to make a statement.
High-fashion G/FORE has a mission of being disruptive in the golf style world with high-fashion apparel and accessories. The brand has become known for bold color palettes, contemporary designs and runway-worthy campaign imagery designed to get your attention and snap traditional golfers out of their antiquated style habits. It's dreamy to imagine a line of golf looks, where each model is wearing a different colored golf glove, in every color of the rainbow, walking, perhaps in heeled cleats, down a runway made of greens.
The California cool brand is known for its widespread collabs that sell out insanely fast. Founded by a husband-and-wife golfing duo, Malbon is the epitome of contemporary golf cool, inspired by the ease of street style, the laid-back vibes of California, and the excellent tailoring of old-timey golfing greats.
Yet another California brand that brings West Coast flair to the game, Metalwood aims to reach the nostalgic crowd of our modern golf era. From argyle sweater vests to wingtips, this vintage-inspired collective embraces the iconic era of the 90s and early 2000s, the time in which golf underwent its first fashion renaissance. The turn of the millennium, highlighted by the rise of Tiger Woods, sought out the need for golf to modernize, focusing more on athletic, performance designs. As much as fashion evolves, it's also cyclical — Metalwood hints towards "out with the new and in with the old" with a touch of grunge.
Founded in San Francisco by Waqar Sabir Rana, these fashion-forward, sophisticated golf shoes are made with upcycled sheep leather and artistic craftspeople who find inspirations in the patterns and textiles of the globe, all painted and imagined to enliven the footprints of golfers. We could see a collab between Chevalier and a sustainable, luxe brand like Radmor, or a vibrant, print-forward brand like Bad Birdie, strutting down the streets of NYFW with fashion photographers chasing.
The heavily influential menswear designer has been dressing the "modern gentleman" in sumptuous fabrics with handsome detailing for over a decade now through his eponymous label. Collaborations with sportswear greats like Champion, FootJoy, and New Balance have led to pieces for golf that bring a new level of restrained sophistication to sportswear.
What started as an online boutique is now a center for sophisticated, Bohemian designs complete with a line of golfwear, designed in-house. With classic tailoring and attention to detail, paired with their on-trend patterns (think gingham two-piece sets and wildflower, pleated golf skirts), these elegant looks would turn heads on any runway.
Although the golf style world has been making great strides in implementing more high-fashion elements, we can't help but yearn for more. We've decided to include a few high-end brands we think would make excellent golf apparel.
Heavily inspired by the culture of 90s hip hop and the urban culture splayed across the avenues of Queens, Teddy Santis the founder of Aime Leon Dore has created an elevated "urban preppy" streetwear brand. Preppy meets streetwear is the exact crossroad that new-age golfers find themselves in—and ALD captures the essence masterfully. Aime Leon Dore's aesthetic is riddled with neutral tones with touches of green and blue—often seen throughout golf apparel. It wouldn't be much of a stretch if Santis dips his toes into the golf realm, and we'd certainly love to see it.
This multifunctional lifestyle brand has already made a bit of a splash in the highly lucrative golf shoe game, coming out with the Kith for adidas Samba Golf Shoes last month, which immediately sparked our interest. Kith does so many things well with its wide range of apparel already, that we'd be interested to see how it would produce a small collective of pieces designed for golf. Often experimenting with different fabrics and textures, a series of wool mid-layers for fall/winter or nylon for shorts and pants for summer would bode well for the direction golf is moving in with experimenting beyond traditional uses of cotton.
Diane von Furstenberg's first "Wrap Dress" revolutionized comfortable, elegant styling for women on-the-go in the 1970's, but few know that the Belgian designer didn't really "invent" the silhouette, but rather refreshed wrap-style shapes from iconic American sportswear. In that cross-Atlantic tradition, we'd love to see DVF's colorful, whimsical, mod patterns in a made-for-golf technical fabric for flattering, jersey-soft wrap polos and athletic dresses we'd never want to take off.
We're already huge fans of the British designer brand's European (read: trim-cut) sweaters and elegant knit polos, timeless and season-proof, perfect for pre-round meetings and post-round dinners. We'd love to see some lighter weight pieces designed for performance, or, our real dream, a golf bag collaboration with the same upscale masculinity and artful minimalism of their current line of leather travel bags.
The sister-founded American haute couture house is known for its fairy-like, romantic, feminine patterns and silhouettes, and, more recently, their athleisure, ready-to-wear spin off brand, Radarte, which creates casually cool sweatshirts characterized by fun tie-dye motifs and simple, airport-chic sweatsuit sets. We'd love to see Rodarte's singular breezy, floral aesthetic blended with athletic wear for on (and off!) the course. Think: pleated, or tulle, skorts, or lightweight, breezy polos.
Having "golf" in the name pretty much has us begging for a venture into the golf space by these luxury, uber cool twin brands from Tyler the Creator. In fact, he did launch his inaugural Golf le Fleur perfume and nail polish lines in a golf-course pop-up, totally playing into the motifs and vibes of the greens. With an already robust collection of sneaker collabs with the likes of Vans and Converse, as well as a new emphasis on luxury staples like mohair cardigans and a pre-existing healthy repertoire of street style crewnecks and sweatshirts, a golf-specific line playing with the name and aesthetics of the course is something that's definitely on our wishlist.