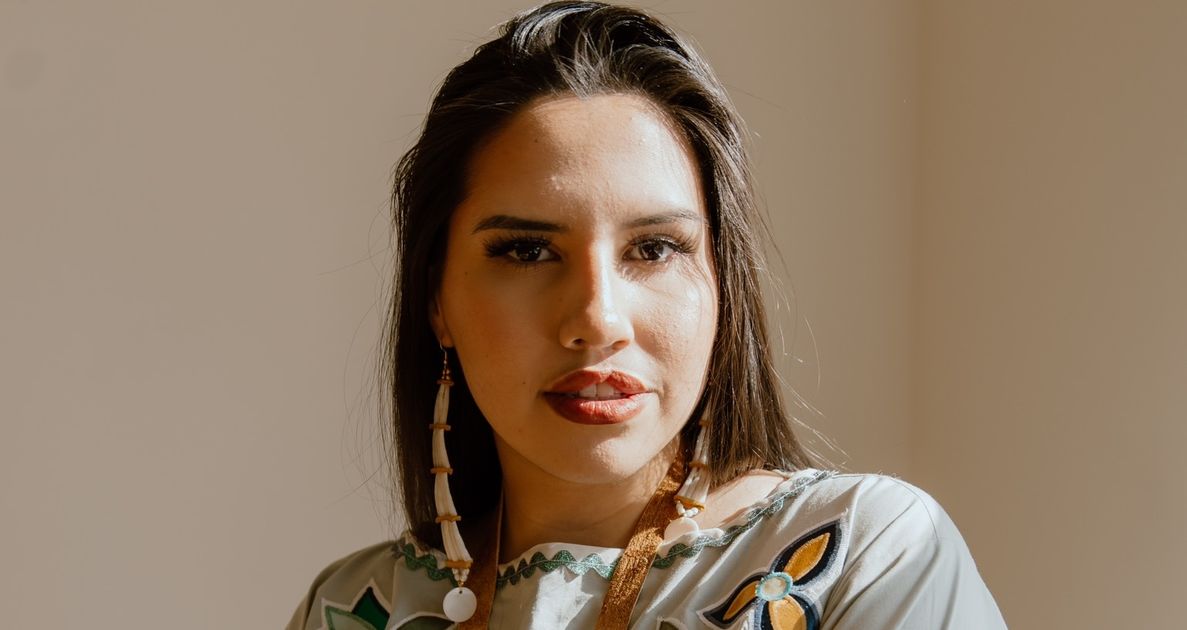 Examining the influence of Indigenous culture on contemporary fashion, globally, is complicated because of everything that has been both erased and appropriated. The only way to come at it is with context. And that's how content creator Michelle Chubb broke through all the fashion influencer noise on social media.
With her platform Indigenous Baddie, she has amassed almost 850,000 followers across social media by creating a unique blend of style, culture and profound calls to action.
Born and raised in Winnipeg, Chubb grew up spending summers (and some winters) on her family's isolated Bunibonibee Cree Nation reserve, home to the Swampy Cree tribe, where she developed a profound appreciation for earth-centered Indigenous traditions while camping, feasting on wild game and fishing with her family.
Chubb describes, however, struggling to hold on to that connection to her heritage in her early teens for fear that she'd be teased for being "different." Ultimately, her love of YouTube and style content inspired her to become a creator, allowing her to embrace her identity again. Through clothes and accessories, she was able to showcase the vastness of her culture. "There are so many different tribes and people within Indigenous communities, all of which have unique and various styles, designs and beliefs that we follow," Chubb told HuffPost.
Chubb ultimately took to social media to become the voice she felt was missing. She gained traction after posting a video showcasing her jingle dress, attracting a diverse audience eager to learn more about her culture. Another part of her mission to show the world how nuanced Indigenous culture is revolves around supporting artists and designers who create beautiful things that quietly combat the historic erasure of Native American expression. These designers speak to her lifestyle and customs, and can make others like her feel seen, she said.
Chubb found handmade Indigenous-style earrings on Instagram, and began her collection by sourcing different artisans. Delving deeper into the platform, she discovered Indigenous-owned clothing companies like Lauren Good Day and Resist Clothing.
She has also recently started incorporating ribbon skirts — important symbols of womanhood in Native culture — into her daily attire. "Wearing traditional clothing makes me feel different because not everyone is wearing [outfits] like this outside of powwows," Chubb said. "I am making a statement about reclaiming my culture because I struggled with embracing it a long time ago."
The more Chubb immersed herself in the powerful drum beats and camaraderie of powwows, the more she felt a sense of healing and comfort — along with the surreal acknowledgment that she has a responsibility to preserve these customs for future generations. "My culture is known to be dying, especially the language. The Indian Act really colonized our people and made sure that we disconnected from our culture and identities and that's a really big factor in our historical trauma," Chubb said. When she was learning French in school, she told me, she realized she knew more of it than she did her own language.
That's why she began incorporating Indigenous languages online and at home — today, she's making sure her 1-year-old daughter grows up speaking, or at least understanding, Cree language. "I'm trying to send the message to her to be proud of who she is and not hide," Chubb said. "But also, I wanted to help others out because I knew I wasn't the only one who was facing this challenge."
The allure of her online persona, "Indigenous Baddie," stems from her ability to infuse her unique fashion sense with her deep-rooted advocacy for all Indigenous cultures. Alongside the jingle dresses and earring collection lie poignant and power messaging that bring attention to critical issues such as the epidemic of missing and murdered Indigenous women and girls.
It's this blending of personal style with unwavering advocacy that moves Chubb every day. After all, self-expression is a powerful way to reclaim power and agency. "I want non-Indigenous people to understand where we come from and the problems that we face [in order to] become loyal allies for our community," Chubb said. "But I also want Indigenous people out there to embrace themselves, to be proud of where they come from and to reconnect with their heritage."
rnrn","
rnrn","
rnrn"],"adCount":0}}">
rnrn","
rnrn","
rnrn"],"adCount":0}}">