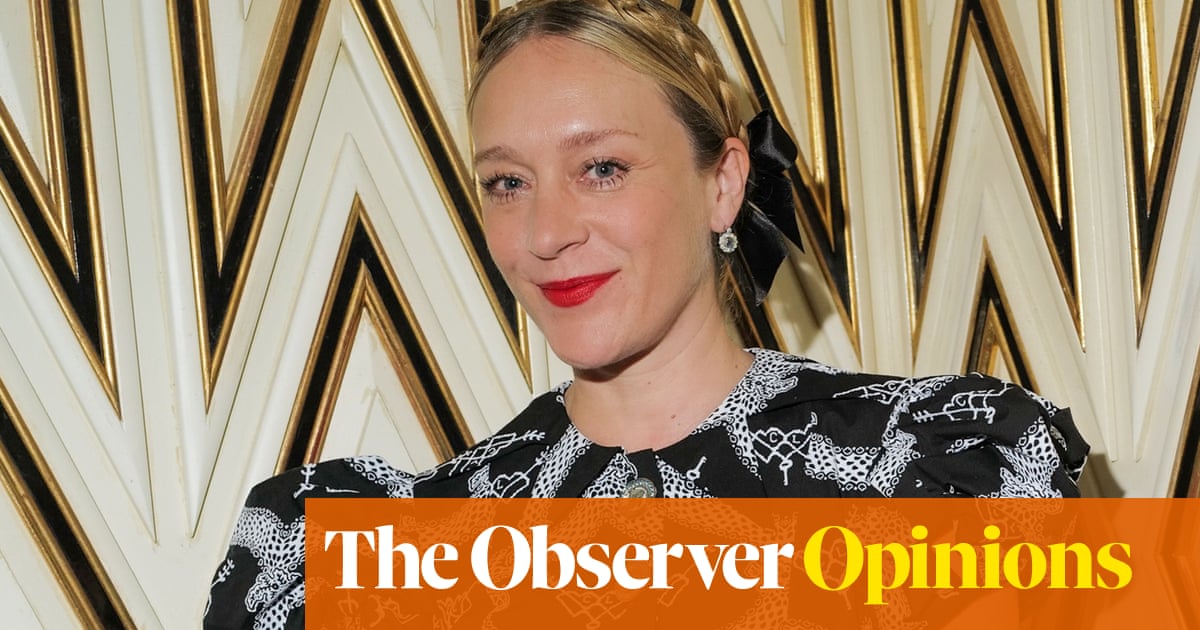 This spring, when Chloë Sevigny announced she was putting on a closet sale in New York, a number of feelings passed through me all at once, a kind of poisoning. First, obviously, jealousy: a vintage jumble sale is my favoured way to shop, but I could not be there in New York to rifle through her racks, to pick up her unwanted denim chaps or Prada backpacks or vintage kilts or Miu Miu clogs, to walk home with a bitchy strut ready to begin the rest of my life as an enigmatic ingenue.
Second, shame. I recognised it in the eyes of the women in the very long queue, documented online. They looked away from the cameras, clearly unwilling to be witnessed here, waiting, their eyes like those of shitting dogs. Yes they wanted the clothes, but no, they very much did not want to be seen wanting. It is hard to remain cool when you're papped trying to purchase clothes you desire because someone cooler has worn them. The fact of wanting them, of believing them to be imbued with the spirit of Sevigny, deeply undermines the project of remaining unique, louche, necessarily disinterested. But still, they queued, and still I scrolled, wondering idly how I'd look in that Victorian lace blouse with this high-waisted Margiela trouser, and how it might have transformed or improved or settled me down.
The third, was inspiration. Sevigny's closet sale found me in crisis. It happens every decade or so: I will look in the mirror and realise, I don't dress the way I think I dress. And I will look in my wardrobe and realise there is nothing hanging there that I can bear to wear. My vintage dresses make me look like John Travolta in Hairspray. My heels become suddenly obscene. Stiff denim seems an absolute madness. Anything white is now a sickened grey; anything woollen is now a moth buffet. But a new issue for me, as this decade's clothes crisis comes round, is it seems there is no longer anywhere reliable to shop in order to replace them.
I enjoy the marvellous game of Vestiaire Collective, that "Maybe This Time" scroll, but there's nowhere reliable where I can comfortably browse on a Saturday afternoon, languidly fingering sparkly tops and bumping into old selves. Charity shops are filled today with Shein pieces of indeterminate purpose, vintage shops are few due to stocks inevitably running low, and the high street just reminds me how much I miss Topshop. I choose to remember that place, that magical place, through rose-tinted glasses, a pair of which I once bought there for £5.99. As well as "basics", which for many of us has spanned everything from a white T-shirt to a pair of 1970s-ish silver platforms, there was always space for the quite mad and silly, and sculpted and dreamy, and you could see the whole of fashion if you stood by the escalators and turned, slowly.
The spur for Sevigny to purge her collection and sell this warehouse-worth of stuff, she said, was becoming a mother, which struck me as a depressing acknowledgment of the limits of parenthood from a woman who seems so alive and so free. But yeah, also, I get it. And it occurred to me that maybe I should copy her. I pictured that famous photograph taken from space, where a mountain of dumped clothes is clearly visible, blue against the brown of the earth, and imagined similar in my living room. Could I take it? Real-life people (rather than Vinted or eBay avatars) sifting through my vintage dresses with their judgy little hands? Discarding the best pieces of me with a scrunched nose and a nah? Perhaps.
Perhaps part of accepting that I am no longer the person who thought nothing of walking to work in a silk 1940s dress and 3in platforms is giving away that dress and those platforms, and leaving a gap for something new to enter, whether psychic or cotton. Perhaps having these old costumes hanging there all deadly is preventing me from moving forward into adulthood, in a corduroy slack and nice ironed shirt. Of course, I'm not kidding myself for a second that my pile of clothes – a heap of disappointed housewives in muted shades of silver, their husband's secretaries, and a drummer whose band had some success around the introduction of decimalisation – would elicit a queue like Sevigny's, but, importantly, they are mine, and I have loved them, and I'd like to know they were going to continue to be loved.
I have a fantasy of how it might play out: discovering new local friends who take my jumpers as if adopting a cat, or old friends reminiscing about the parties each minidress saw, then perhaps, I don't know, framing them on their wall as a kind of permanent exhibition of me. More likely I will end up somehow with more than I started, or forced to rediscover a love of polyester and leopard print. But maybe I will emerge from the purge elegant and free, and ready to step forward confidently and comfortably into middle age in a smart little loafer. I'll let you know how it goes.
Email Eva at e.wiseman@observer.co.uk or follow her on Twitter @EvaWiseman