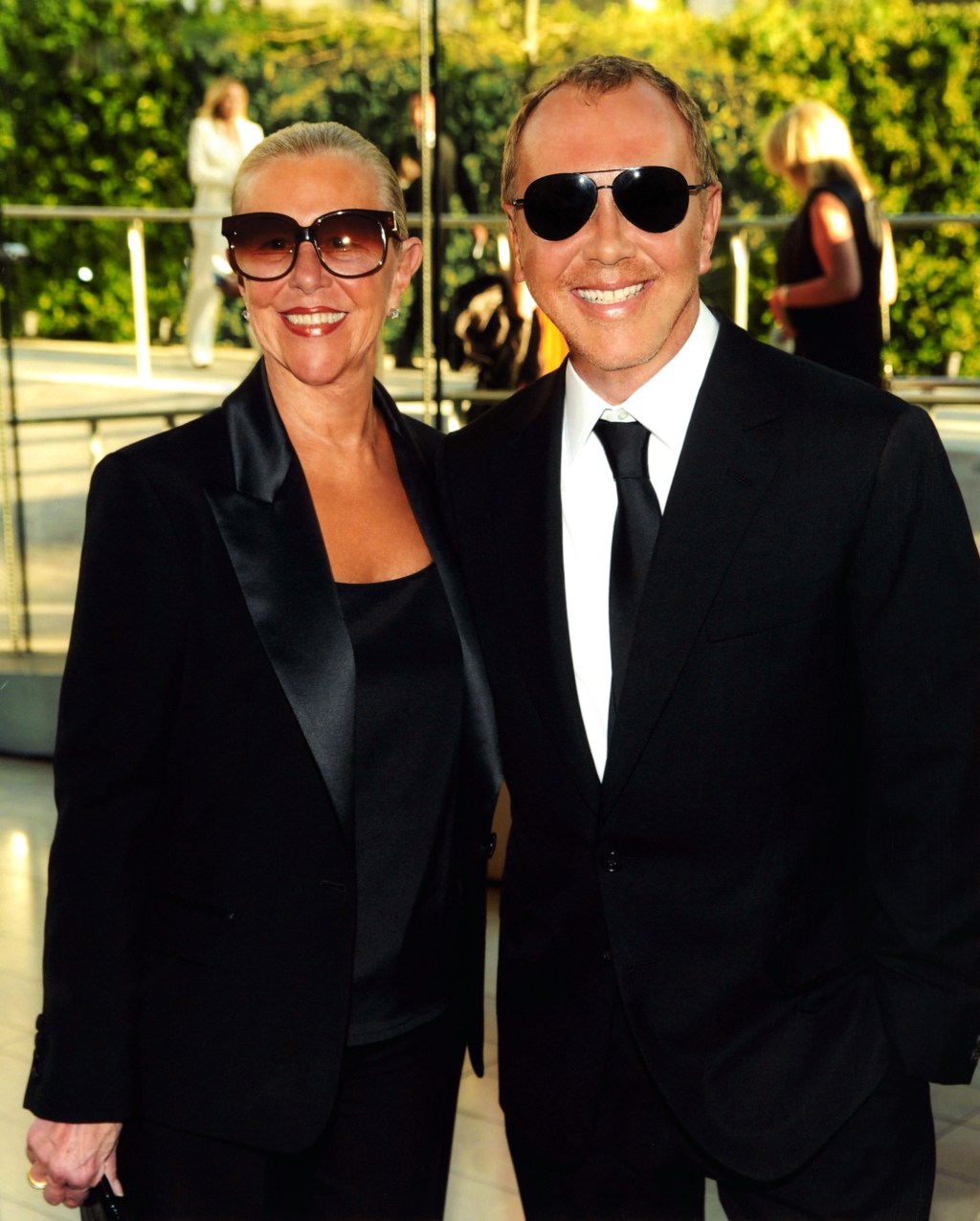 A private funeral and burial will be held for Joan Kors, who died Friday at her home in Los Angeles.
Kors was widely known to many in the fashion industry and by others more tangentially as the mother of designer Michael Kors, and her indelible style and personality helped to shape his career.
Kors, 84, died "peacefully" of heart failure, according to a spokesperson for the Michael Kors company.
Born in Brooklyn and raised on Long Island, after earning a diploma from Farmingdale High School she started modeling at the age of 18 in print advertising and runway shows. Over time Kors established herself as the house model at the House of Revlon in New York City.
But her modeling career ended in the early 1960s when Kors decided to become a stay-at-home mother and homemaker. In the equal rights era that followed, Kors worked as an executive assistant in a New York law firm for most of the '70s. However, she uprooted from the East Coast to the West Coast in 1977 to venture into new terrain — the home textiles industry. There she learned the ins and outs of the business by joining her father, Austin Hamburger, a veteran in that field.
By the early '80s, Kors launched her own firm, designing and manufacturing a variety of decorative pillows, placemats and napkins. Her home textiles collection, "At Home With Joan Kors," was distributed to a wide range of specialty stores and department stores such as Bullocks, ABC Home and Gump's. A decade later she bid goodbye to the home textiles industry to join her son's namesake fashion firm as the West Coast brand ambassador. Taking that role seriously, she could be found traveling to events and trunk shows, meeting clients and hosting in-store events. 
Longtime retail leader Terry Lundgren recalled meeting Kors long before he met her son "when she was selling placemats, tablecloths and tabletop accessories. It was her own product line and it sold very well when I was a 35-year-old president of Bullocks Wilshire in L.A."
Describing her as "very chic" and always having had a great sense of style, Lundgren said Joan Kors had been "very excited" about the "Michael Kors Week" that he and his team created at Macy's for all of her son's products. So much so "she wanted to know every detail of the plan. She was totally excited!" he said. "She was full of great ideas. I know that Michael, her other family members and her industry family will miss Joan Kors very much but we will always appreciate her contributions to the world of fashion."
Attendees at Michael Kors' celebrity-studded fashion shows and events could also count on his mother being a venerable attendee. Whether in New York City or in Paris, during his reign as Celine's creative director, Joan Kors made the trip to catch every look on the runway and to greet friends in the crowd. The platinum-haired Kors fulfilled that post until she retired in 2009.
Once asked by WWD what moment of her son's she was proudest of, she said when he made his first delivery to Bergdorf Goodman himself.
Michael Kors said in a statement Monday, "My mother was an iconoclast in so many ways. She was strong and independent and definitely forged her own path. She raised me as a single mom and her life ran the gamut from young fashion model to athlete to home furnishings designer. She was the first woman to attempt to try out for the NFL when she went for an open tryout for the Philadelphia Eagles in 1974. She was a great supporter and a constant source of inspiration."
However undefinable a mother's love can be, the designer repeatedly described his adoration and gratitude to her during public appearances that involved discussing his career. During a 92Y "Fashion Icons" talk with Fern Mallis in 2012, Kors described how as a child he had redesigned his mother's wedding dress for her second marriage.
"Everything was going smoothly. She brought me to her first fitting for the dress. I was kind of her partner in crime for everything. I sat there and my mom tried the dress on and it was covered with a zillion bows. My grandmother said, 'That's magnificent. What a beautiful dress.' I kind of sat in a corner and was like, 'It's not so great.' My mother said, 'What's wrong?' and I said, 'I think it's really busy. It's too much.' My grandmother said, 'Oh, he's 5. Don't listen to him. It's perfect. It's Priscilla of Boston. How could you go wrong?'
"The tailor came in and my mother told him to trim the bows off the bodice. My mom said, 'I think he's got something. Take them all off.' My grandmother was like, 'Whoa, there's been a power shift here.'" (Kors also changed his name from Karl Anderson Jr. after his mother remarried.)
During that same appearance with Mallis, he detailed his early days auditioning and how his take-charge mother led the way. "My mom was modeling at the same time. We would come into New York City together. My mother would actually put me in a taxi with a slip of paper with the address of where my go-see was and I would go meet my agent. I was 5 or 6. Today that would be on the front page of the Post — 'Child Abuser.' I remember one go-see where there was this army of blonde 6-year-old boys. I was with my agent. My mom walked in and said, 'This is a cattle call.' Like my son is not doing cattle calls, and we quickly turned on our heels and left. I think my family was just honestly happy to see me doing whatever I loved."
She also green-lit the Iron Butterfly Boutique that he set up in the basement of their home to sell the "fabulous candles, whipstitch leather bags, hammered copper bracelets" that he had made to the girls up the street. "I think my mother thought I was insane but she said OK," Kors told Mallis.
Decades later, right before Michael Kors became the biggest initial public offering for a fashion company, Joan Kors played a part. "Just about to ring the bell [at the New York Stock Exchange], I looked down and saw my mother say, 'Straighten your tie,'" Kors recalled at that time admiringly.
Suzy Menkes said via email Monday, "It is the uplifting enthusiasm of Joan Kors that filled the heart. She would sit front-row central, bobbing her head to a stream of supporters and with an enthusiasm and generosity that she gave to her beloved son."
She added, "Michael Kors surely took from his mom that same energy that filled every round of crooning music — and every smart line of clothes. And like all dear mothers, she was always there: at shows in New York and in Paris for Celine. A singular single mum — and an unforgettable fashion lover from her heart."
Having met Joan at 18, Naomi Campbell said in a statement, "Her impact on those around her was immense and contagious. Her wisdom and love were radiant, and I will forever cherish the countless times we shared together. Michael was blessed with a mother who was a beacon of light, strength, grace, and kindness."
"Project Runway" star and Elle magazine's editor in chief Nina Garcia said via email Monday that Michael Kors "inherited his brilliance and his impeccable sense of style from Joan. She was stylish, chic, warm, caring, witty — and as sharp as could be. An engaging conversationalist who could speak about any subject, Joan was always curious and thoughtful."
Recalling how she would never forget meeting Joan for the first time, Garcia said, "Decked out in black with oversize glasses, gold jewelry and pulled-back blonde hair, she was instantly warm and attentive to me and everyone around her. She was incredibly supportive of Michael's career and was always a fixture at her son's shows. I would look forward to catching up with her there, as well as on the set of 'Project Runway' and at Michael's events. I will always remember her big smile, her blonde hair, her signature glasses, and how proud she felt of her son."
Mallis reiterated that sentiment Monday. "I loved Joan. She was the best seatmate for many years at Michael's shows. She was the ultimate designer mom. She had great style and was a terrific influence in Michael's life and career. She will be missed." 
Like many others in the industry, designer Stan Herman understood just now how important Joan was to Kors. Herman said Monday, "I believe she represented the inspirational essences of his career. She had great style and loved clothes."
Undeniable as that was, based on her son's success and his acknowledgment of her influence throughout the years, Herman said that he always got a kick out of when Kors told him that his mother had worn Mr. Mort in the '60s and '70s — a Seventh Avenue label that Herman had designed. "Oh, to have known her then," Herman said.
Joan Kors is survived by her son Michael, her son-in-law Lance Le Pere, and her brother, James Hamburger. 
Throughout her lifetime, Kors was an animal lover and supporter of human rights. In her memory, donations can be made to the Human Rights Campaign and North Shore Animal League America.