Kelly Rowland exudes old Hollywood glamour in a sculpting white corset gown as she accepts the Fashion Icon of the Year award at 16th Annual Harlem's Fashion Row event in NYC
Kelly Rowland exuded old Hollywood glamour as she received the Fashion Icon of the Year award at the 16th Annual Harlem's Fashion Row Show and Style Awards in NYC on Tuesday.
The Dilemma hitmaker, 42 — who recently crossed paths with Meghan Markle at Beyonce's L.A. tour stop — dressed to impress as she proudly accepted the honor at the event during New York Fashion Week.
The 2023 awards ceremony also 'commemorated the monumental 50th anniversary of hip hop,' per the agency's official website.
The Destiny's Child singer showcased her stunning frame wearing an eye-catching gown that comprised of a figure-hugging, white strapless corset with a plunging neckline.
A black, drop-down skirt clung to her legs and flowed down towards the ground to fall into a long train behind the singer.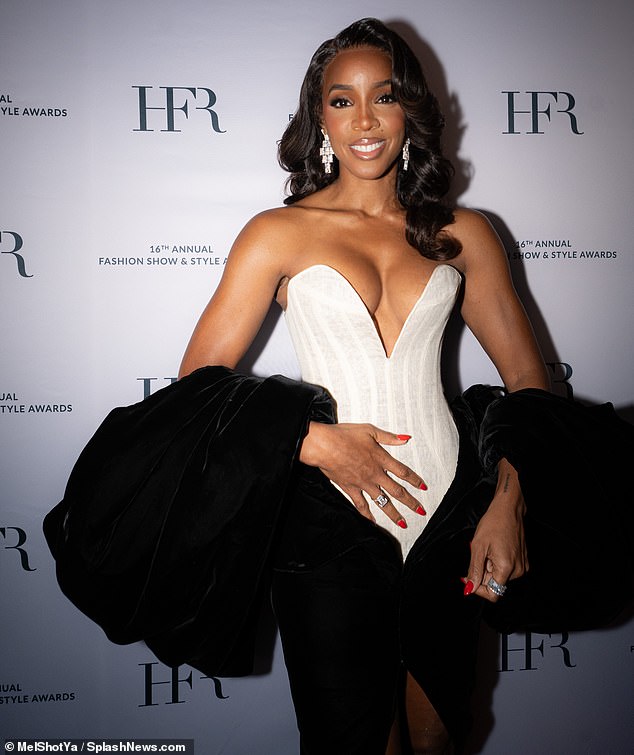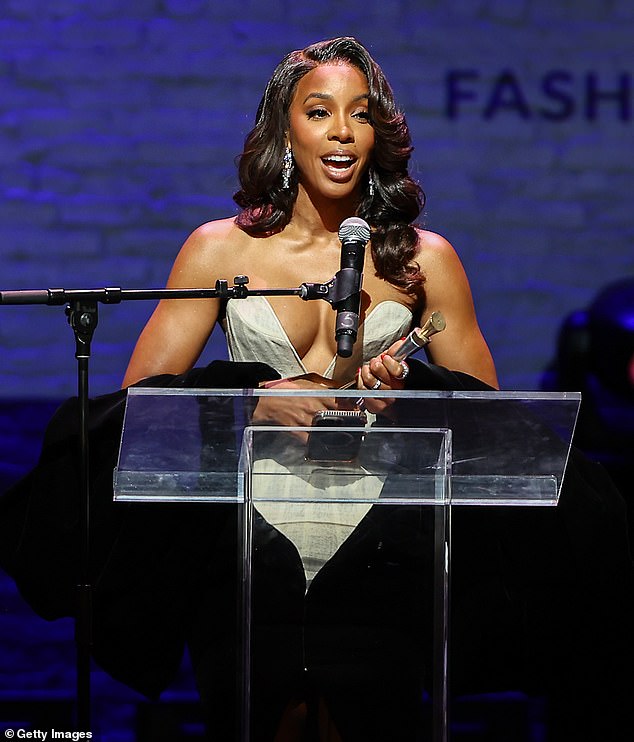 She put on a leggy display with a thigh-high slit that was placed on the front portion of the dress. Black, puffy sleeves could be seen draped around her arms below her elbows for a dramatic effect. 
Kelly slipped into a pair of open-toed, black heels to coincide with the color scheme of the outfit. 
The star opted for minimal accessories, and added a pair of silver, rhinestone earrings that sparkled under the bright lights.  
Her locks were parted to the side, and effortlessly flowed down past her shoulders in elegant curls. 
Rowland's makeup was glammed up for the evening, and comprised of a layer of mascara to her long lashes, as well as a lighter shadow around her eyes. 
The Motivation songstress added a warm blush to better accentuate her cheekbones and wore a nude-colored, glossy tint for a finishing touch. 
The performer took to the stage during the glitzy event to accept the honor of the Fashion Icon of the Year award, which was presented by her husband, Tim Weatherspoon – whom she tied the knot with in 2014. 
She could be seen making her way to the podium while her husband flashed a cheerful smile in her direction as he held the award in his hand.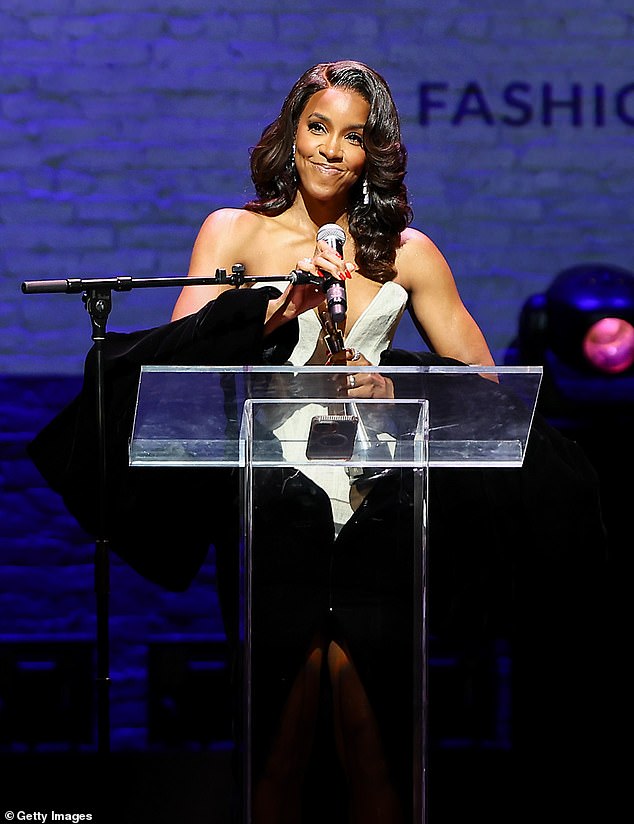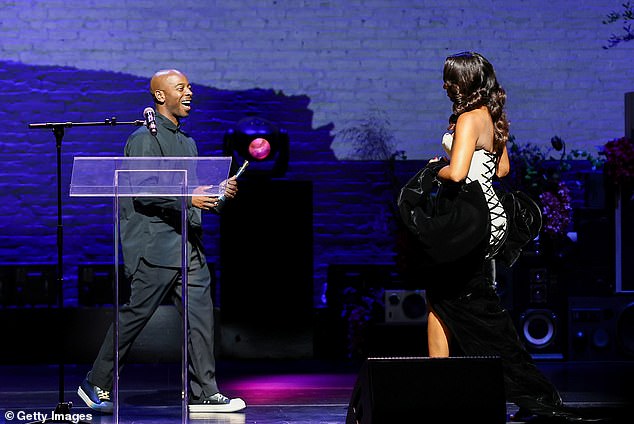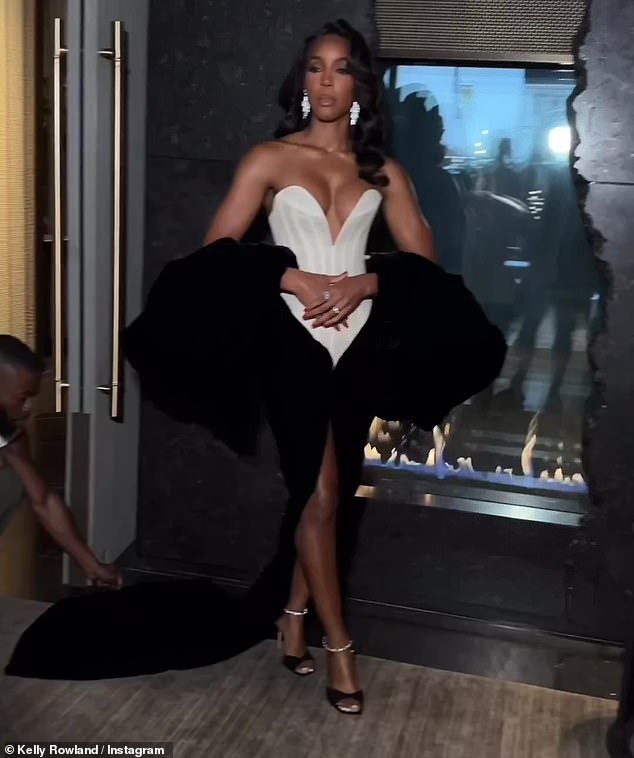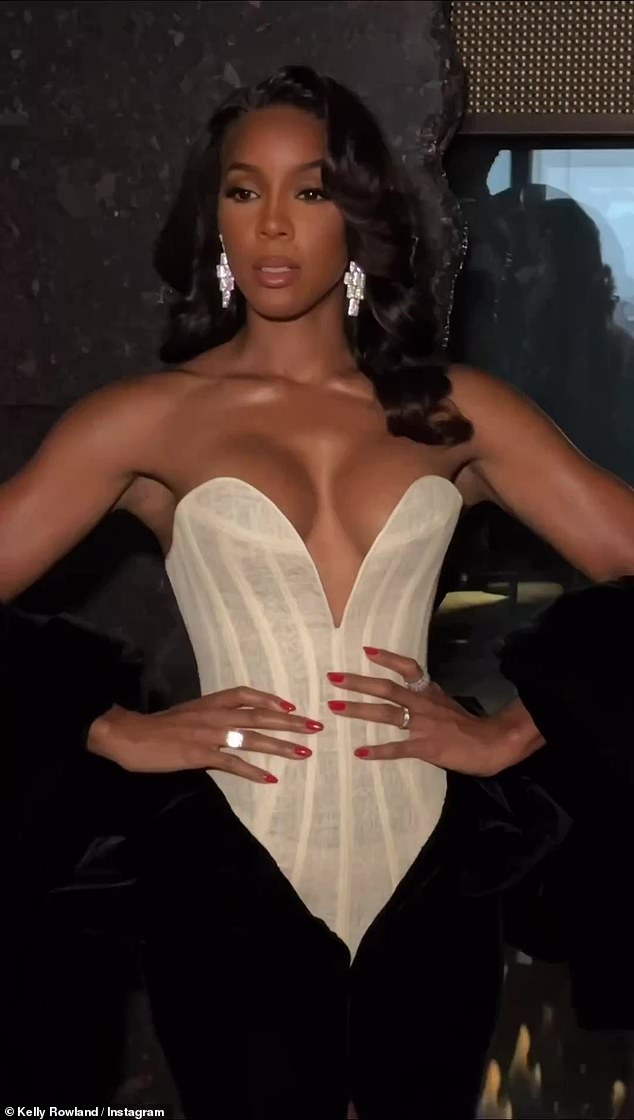 In celebration of the big night, Kelly also took to her main Instagram page to further show off her beautiful look for the ceremony. 
The singer uploaded a clip as she paused for an assortment of photos inside a spacious room. In the caption of the post, she expressed her gratitude for the award and also gave a special shout out to her husband and talent manager. 
'Thank You @harlemsfashionrow for my award! I thank you from the bottom of my heart, for my ICON Fashion award! Thank You @brandicedaniel and your team!! I am honored! ♥️ Thank You!!!!' 
Rowland also jumped to the comment section and sweetly wrote, 'My husband is the greatest human I know!! I love you @timspoon!!!' 
Other social media users flocked to the comments as well to offer their opinions over the star's ensemble, such as Zendaya, who added three, heart-eyed emojis. 
Khloe Kardashian typed out, 'Wow are so absolutely stunning!!! It's not fair! I see you queen,' followed by three crown emojis, while Ciara added, 'Another one,' with fire emojis. 
Other celebrities were also in attendance at Harlem's Fashion Row event, including A$AP Rocky, who was honored with the Virgil Abloh award. 
The award notably was first introduced last year to honor the late designer, and was received by Issa Rae.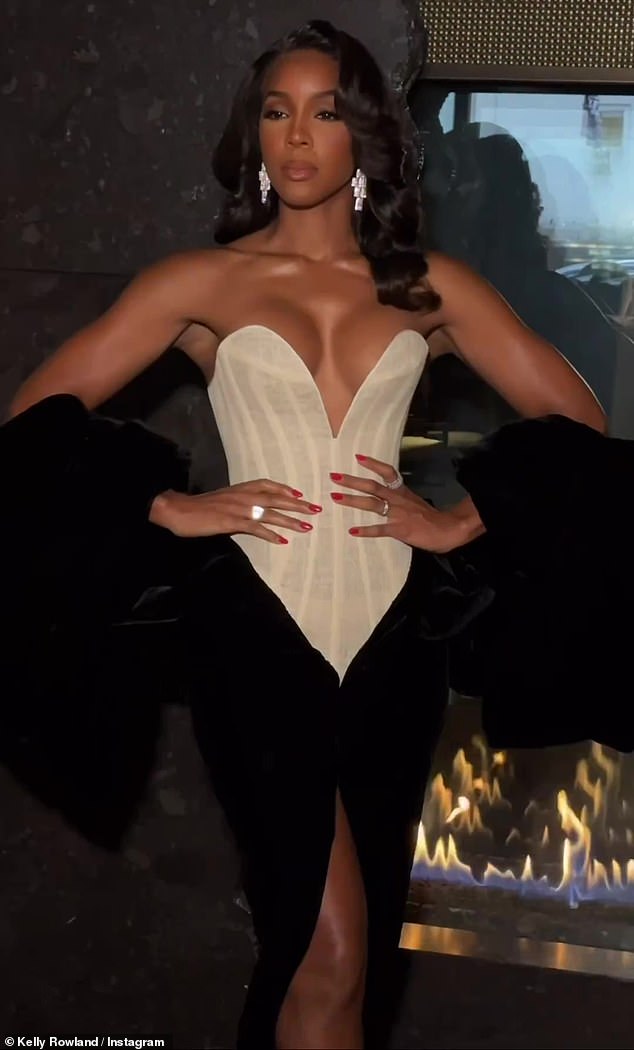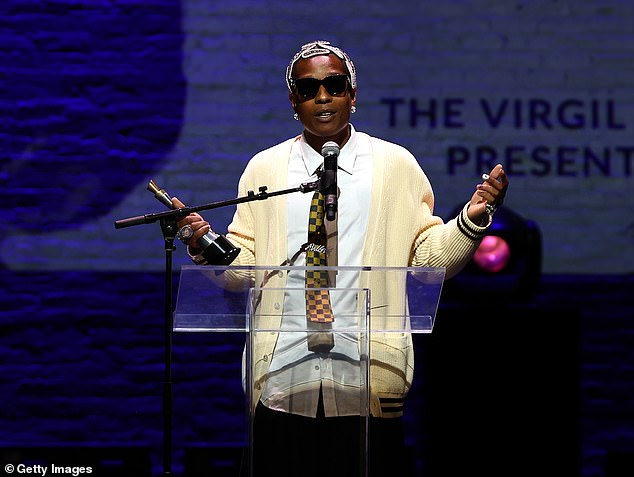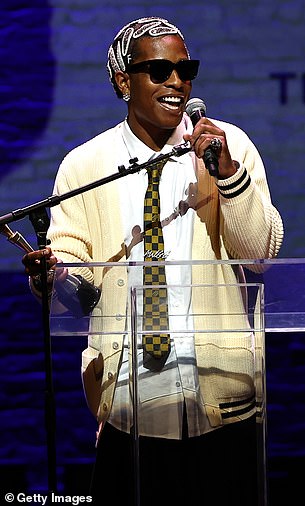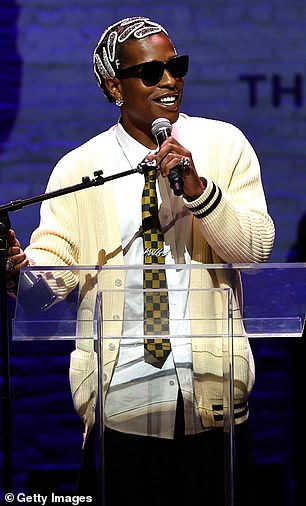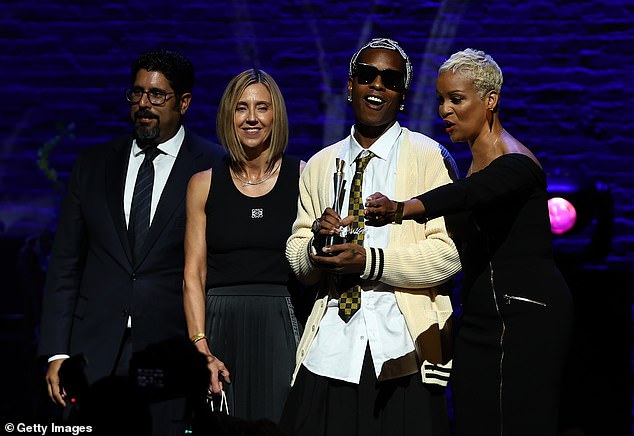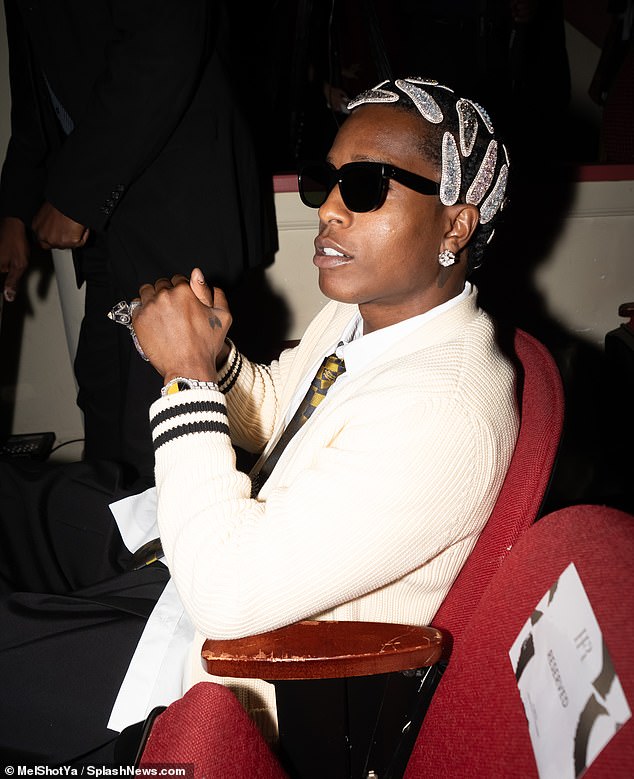 The rapper showed off his personal sense of style wearing a pair of black, pleated bottoms along with a white button up and a cream-colored cardigan with black-striped details. 
For a preppy flare, he added a black and yellow-checkered tie and also added an assortment of glittering hair clips on top of his head. 
He threw on a pair of black shades as well as small, sparkling earrings to further accessorize his ensemble. 
Rocky was later joined by other attendees, such as Anish Melwani, Gena Smith, and also Brandice Daniel after giving an acceptance speech. 
The star appeared to be in good spirits not long after girlfriend, Rihanna, 'secretly' welcomed their second baby boy.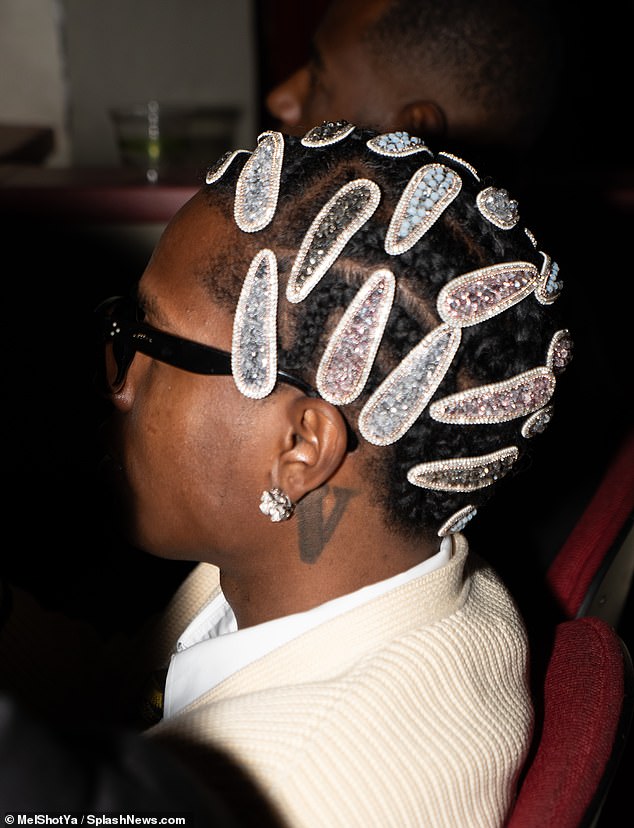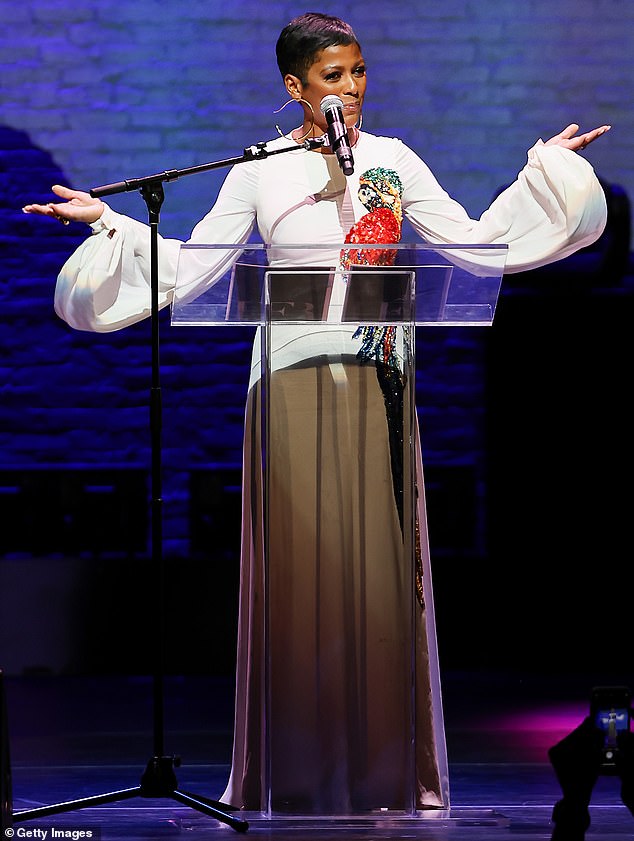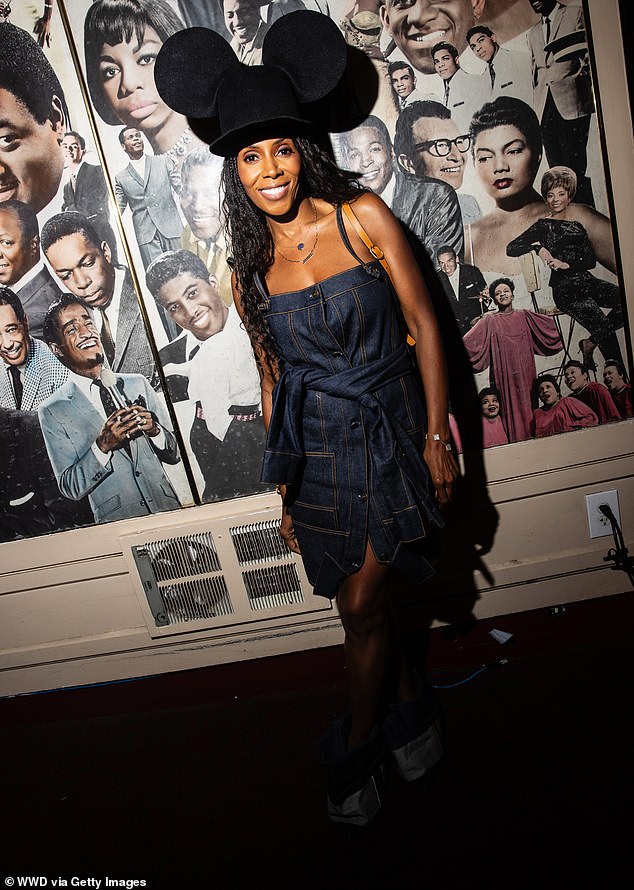 Tamron Hall was also seen on stage, and turned heads wearing a long-sleeved, white dress with a hem that fell down to brush the ground. 
For a pop of color, a large glittering parrot was embroidered on the left side of the gown as she spoke to the audience. 
Costume designer, June Ambrose, was also spotted wearing a dark denim dress that was secured with thin straps that wrapped around her shoulders. 
She flashed a big smile towards the camera as she also sported a black hat on top of her head that had large, Mickey Mouse-inspired ears.