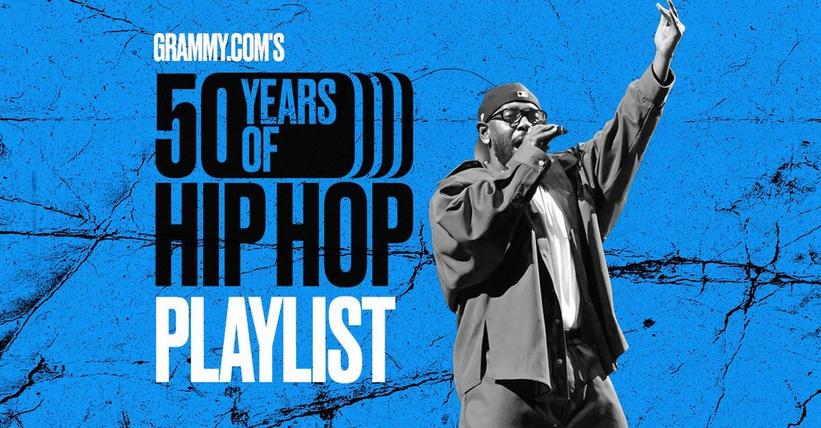 Living Legends is a series that spotlights icons in music who are still going strong today. This week, GRAMMY.com spoke with Robert Bell and George Brown, respectively the bassist and drummer of legendary funk/disco group Kool & The Gang. Their latest album,  People Just Want To Have Fun, is out now and the group are touring throughout the summer and fall.
Fifty-nine years into their career, Kool & The Gang's music endures and still gets the party going. You can't go to a wedding or other big celebration without hearing one of the GRAMMY winners' many undeniably groovy, joyful classics — "Jungle Boogie" (1973), "Celebration" (1980), "Get Down On It" (1981), "Ladies Night" (1979), to name a few.  And they're still making new music!
The group's iconic horns and drums are the DNA of so much other music — over 1900 tracks — including many classic hip-hop tracks, making them one of the most-sampled bands ever. Their chilled 1974 instrumental "Summer Madness" is featured on DJ Jazzy Jeff and the Fresh Prince's "Summertime," Ice Cube's "You Know How We Do It," and more recently, as the main instrumental in Jhené Aiko's "Summer 2020." Elements of "Jungle Boogie" can be heard on Luniz and Mike Marshall's "I Got 5 on It," TLC's "Ain't 2 Proud 2 Beg," Madonna's "Erotica" and Public Enemy's "Welcome to the Terrordome." Last year, 23-year-old Brazilian house sensation Mochakk paid tribute to one of their deep cuts, "Sombrero Sam," with a dance floor reimagining of the jazz track.
Kool & The Gang often get tagged as a disco band, but real heads know they got their start in jazz. Their 1970 self-titled debut album is fully instrumental and opens with a funky, swinging, jubilant mission statement that just makes you feel good. The group's fourth studio album, 1973's Wild And Peaceful saw them channel their funk and disco power and breakthrough into the charts and the wider public consciousness, with "Funky Stuff," "Jungle Boogie" and "Hollywood Swinging."
Their funky tunes have also soundtracked a wide range of memorable moments in film. 1976's "Open Sesame" was featured in the wildly popular film (and soundtrack) Saturday Night Fever, cementing their status as household names in disco. "Summer Madness" was featured in another huge blockbuster, 1976's Rocky, and in 1994, Quentin Tarantino featured "Jungle Boogie" in Pulp Fiction (and on the soundtrack), bringing their music to another generation.
In 1979, the band brought in Brazilian producer, composer and multi-instrumentalist Eumir Deodato and their first lead vocalist James "J.T." Taylor. This led to a string of hit singles and albums: Ladies' Night in 1979, Celebrate! in 1980 and Something Special in 1981. The band continued with a prolific release schedule through the '90s, followed by two studio albums each in the '90s and '00s. In 2021, they released Perfect Union, their first original music in over a decade and final project with Ronald Bell.
The band began in 1964 with brothers Robert "Kool" Bell and Ronald "Khalis" Bell, along with high school friends Dennis "D.T." Thomas, George Brown, Robert "Spike" Mickens, Ricky West and Charles Smith in their hometown of Jersey City, New Jersey. The surviving original members – bassist Robert "Kool" Bell and drummer George Brown – are keen to continue their mission of bringing joyful music to the world with live shows and new music as long as they can. 
They recently released a new LP — their 34th studio album! — People Just Want To Have Fun and are touring North America this summer, along with a Las Vegas residency in October. The album features some of the last studio work from the band's late legendary horn players Thomas and Ronald Bell. Brown also has a brand-new memoir, Too Hot: Kool & The Gang & Me, detailing the legendary self-taught drummer and songwriter's musical and life journey.
GRAMMY.com sat down with the living funk legends Robert Bell and Brown to discuss the stories behind some of their classics, the hit-making partnership with Deodato and Taylor, and their new album.
Kool & the Gang has performed continuously longer than any other R&B group and y'all have been together for 59 years. What's your secret? 
George Brown: A love for the art of music and for the arts as a whole, and a love for performing for people to give them two hours of happiness and relief from the everyday humdrum and all that's going on in this world. We love to perform and it gives us a release as well. It brings people together big time. And that changes the quality of society and culture because you're bringing people together, and all those cultures mix and we believe makes us all better for it. 
Robert "Kool" Bell: Well, sticking together. When we first started, our parents always told us, "Be sure that you guys stick together." That was many years ago. Before Kool & the Gang, we called ourselves the Jazziacs, which we started in 1964. Then we were the Soul Town Band, then Kool & the Flames, then Kool & the Gang in 1969 when we put out our very first record. We have been together for all those years; next year will be 60 years. 
Kool & the Gang is one of the most-sampled bands. What does it mean to you that your music has played such an important part in hip-hop, throughout its continued evolution over the past 50 years? 
Brown: It's a great honor for the younger artists to see and hear what we were doing and to apply it into their music. [It's like] people saying, "We love what they've done. Let's try it in our music and make another entity out of it." You can't get more honored than that. 
Bell: It's a blessing. We are the most sampled band in hip-hop, but we are also [one of] the most sampled bands in the world. 
What do you feel when you hear Kool & the Gang's horns and drums on another track, in a whole new context? 
Brown: Once again, I feel honored. It shows the awareness people have of Kool & The Gang, and that's a wonderful thing that adds to the longevity and to the mystique. And I think it also adds to the genius of the band, in what we created — I don't mean it in an egotistical way — where it can be co-opted into somebody else's music and it works for them too. 
Never in my wildest dreams did I imagine to be honored this way. When we started [making music] there was no such thing as sampling and even in the early '80s when things started coming up, we didn't think we were going to be such a darling of the hip-hop world. Now, we're [one of] the most sampled bands and I'm the most sampled drummer. An interviewer said I'm like the grandfather of this music and I said "Really?" My bandmates and I don't let it go to our heads. At the end of the day, like everybody else, we're guys who write songs to make people happy. 
Bell: It tells me that people are listening and respect what we do. There have been some very creative songs [sampling our music]—"Summer Madness" on Will Smith's "Summertime" Diddy and Mase [did "Feel So Good"] with "Hollywood Swinging," A Tribe Called Quest [on "Oh My God" and "Mr. Muhammad."] There's many, many more.  
"Jungle Boogie" is one of those iconic, oft-sampled tracks. How did that one come together?
Bell: My brother Ronald was the key writer for "Jungle Boogie." We were dealing with some issues with our record company at the time. They came to us and said, "Listen, you guys have some regional hits but we have a guy that we want to work with you." He had some big records, [including] "Soul Makossa" by Manu Dibango. We met with the guy one time and we weren't really feeling it. So we went to the studio — Baggy's in Downtown New York — one morning and we created "Funky Stuff," "Hollywood Swinging" and "Jungle Boogie" — Top 5 records. Well, Top 40 for "Funky Stuff," but No. 1 on the R&B chart for six or seven weeks and the other two [were] Top 5 on the pop charts. 
Brown: Long story short, we started working on some tracks as we got to rehearsal studio and Ronald had the horn line and I came in over that groove, which is kind of derivative of "Funky Stuff." We were going to call the song "Jungle Gym" but Dennis Thomas came in and said "Let's call it "People Boogie" or "Jungle Boogie." So we started putting horns that kind of sounded like elephants.  
Quentin Tarantino did us one of the biggest favors of all when he put it in Pulp Fiction. It was crazy. Who would have thought? 
It was the same with "Hollywood Swinging." Ricky said, "I have an idea for a song called 'Hollywood.'" Frankie Crocker was a big [radio] DJ in New York and he had a thing where he'd go "Hollywooood." It's a life story about him, going out to California to become successful, sort of like a reverse of "Midnight Train to Georgia." We don't say "These are hits!" we just say, "Okay, sounds good." And people get it and take it to another level. It's amazing. 
Do you think that the specific combination of the bandmates being friends and having known each other for a long time helps creatively?
Brown: Absolutely. Because if you take any band and the way they play guitar or bass or horns or piano, the pressure that they play with, the way they strum their guitar, the way they move the air, it's personal to them. When the chemistry works between the drummer and the bass player, because of the sensitivities and the way they play, it just works. And next thing you know, you have a whole band and the chemistry is there, no matter how long you've been apart. As soon as you sit down together, that same sound comes out. 
In the late '70s, the band started working with Brazilian producer Eumir Deodato. How did that partnership come together and how did he help shape the band's sound?
Brown: That's my dude. He's a wonderful musician. You know, when he was in Brazil at 17, so many people asked him to produce and write strings and arrangements. He's got a bunch of his own gold and platinum albums, [in addition to] other artists'. 
Deodato acknowledged my writing and took it to another level. 
I was always writing poems and lyrics and playing piano and I'd get a solo on the album. But it wouldn't be taken as seriously until he came along. Everything we worked on with him went platinum. It was like he had a magic wand. I presume it was from learning from him when we were working together, just bringing up our acumen as producers and musicians. 
Bell: Deodato was doing his album at the House of Music and that's how we met him, because we also chose that studio to record the Ladies Night project. Of course, we knew Deodato because he was a jazz guy, and my brother was a jazz lover as well. We thought that would be a perfect match. 
We figured that working with Deodato we'd do a jazzier album. [Laughs.] But it was less jazz and more pop. For the session when we did "Celebration" and Deodato brought in a 40-piece orchestra. When they started mixing the record, my brother went into the studio and said, "What happened to the strings?" Deodato said, "Well, that's not the record. This is the record. This is a hit. Here's a tape of the orchestra so you can listen to it whenever you want." 
["Celebration" became the] most played record in the world, a No. 1 record; they even played on the space station. Deodato knew it. He knew where we wanted to go and where he wanted to take us. That was a successful match for three albums. 
What do you think Deodato helped bring out of you, George?
Brown: He was the guy that said, "That sounds great. Those chord changes and that melody, that works." He'd come in when I was playing piano in the studio before work, I'd be playing flowery stuff, just making up stuff. But he would say, "Señor, you've done it again! That's quite cute." He knows. And that's the genius. I think [he has] that type of personality that can really see through a maze and say there's something there and point it out.
Did y'all have any idea "Ladies Night" would be as big as it was?
Bell: Well, we felt good about it. This was our very first record with a lead singer. I was hanging out in New York with my wife and we were going to Studio 54 and Regine's and some of the other hotspots in New York at the time. And we realized that every weekend there was a ladies' night. I went to the guys and said, "Hey, I have a great idea for a song with our new lead singer. Ladies night." My brother said, "Wow. There's one of those everywhere around the world." Frankie Crocker broke that record in New York. 
Brown: It was also a big surprise. I was coming from my manager's office, walking down Seventh Avenue, and I came up with a baseline and when I got back to my apartment, I started harmonizing the piano chords. 
When all of us started working on it, we put some horns in there that were expressing the same lyrics the girls were singing, and some disco sounds. It was the right tempo and everybody sounded great. Then it's platinum, platinum, platinum, overnight. It just kept going. Holy smokes, it was crazy. When I showed [Deodato] the track he said, "Ah, señor, this is what we're looking for!" Getting with the right people and taking their counsel always works.
The band started out jazzier, then went funk and disco, into R&B and '80s flavor and beyond. How have you been able to adapt to a changing music landscape while staying fresh and true to yourselves? 
Bell: Well, when you hear one of our records, you can tell that it's Kool & The Gang. On the vocal side, there's been some changes. We've had different lead singers since J.T. left, but we always put our little sound in there; in the horns, in the baseline, guitar parts. 
Brown: We write we want and what we feel, not because everybody's writing this now. And we're pretty eclectic. We were interviewed in England and the gentleman said, "You guys are very eclectic, you got some big cojones. Most artists find their niche and stay there." We never have. 
It's something very specific about the band because we've always been open. We were teenage jazz musicians turned pop stars. Jazz is very eclectic… it's not just a common cadence. That's what we love, so that's how we've always been. 
You have a new album, People Just Want To Have Fun. Tell me about the inspiration for it.
Brown: It is like everything we've done from the beginning to now, but all the new harmonics and cadence. The vocals and lyrics are different, but we're still talking about having fun. And we're still bringing some wonderful love songs and some songs of unrequited love and temptation and party songs.
The lyrics and the vocal quality are different. Sha Sha Jones, who's a great [song]writer who has been writing on our team for years, she's doing some of the leads, which is unusual for Kool & The Gang. [She has a] gorgeous voice. It's harmonically, lyrically and vocally new. We have different mixes coming out. The "Let's Party" pop mix is out and a rap with Afrobeat mix is coming.
Has it been challenging to continue the legacy of the band after the loss of Ronald and Dennis? 
Brown: Well, that's why we did the album. We lost our manager some months ago as well. We're moving right along and the band is doing well. And the legacy of the band — God willing, 100 years from now they'll still be playing our songs. I do believe that. 
It goes on — it's sad, but there's nothing you can do but press on regardless, because that's what life is all about. You can't say, "Oh, that's it." You have to pick yourself up each time and strengthen yourself and move forward. That is the spirit of humanity. 
Bell: Yes, it has always been a little difficult when you lose original members. That was with Ricky Wes, Spike Mickens, Charles Smith, now my brother and D.T. There's no one left but George and I. The blessing is that we're still here, people are loving the music, and we're still touring and having fun. [Chuckles] 
When you were a kid in Jersey City, did you ever imagine you'd still be making music now, and that your music would be so loved and celebrated? 
Brown: Believe it or not, yes. Ronald knew it. I knew that what we were doing was going to blossom. To what extent, I didn't know. As kids in Jersey City, working in the clubs when we were teenagers to two o'clock in the morning, that gave us a taste. And it just blossomed.
When we did amateur hour at the Apollo Theater, the musicians who were in the orchestra said, "You guys are going to make it. You guys got this new thing." Honi Coles was emceeing and he said, "You see these kids, ladies and gentlemen, they come out and they play jazz, they're not playing the songs of today. You're going to hear from them. Watch." 
Bell: It definitely has been a blessing, in a business that can sometimes be very difficult to survive in, with so much competition and making the right decisions, etcetera, etcetera. I have a saying, you live and learn, and then you learn to live. People sometimes ask me, "Would you do it the same way again?" Yeah, because that's how I learned what it's all about. That's why we're still around today. And that, indeed, is a blessing.
Living Legends: The Meters' George Porter Jr. Remains A Force Of Funk Six Decades Into The Game