Lizzo seems to like Cardi B & Megan Thee Stallion's new song as much as the next person, but her recent "unconcerned" social media posts are earning her no fan favors. From shaking her booty to letting it all hang out for some "big sexy" in bikinis, fans say Lizzo needs to be held accountable.
Lizzo Remains Upbeat Amid Allegations Of Abuse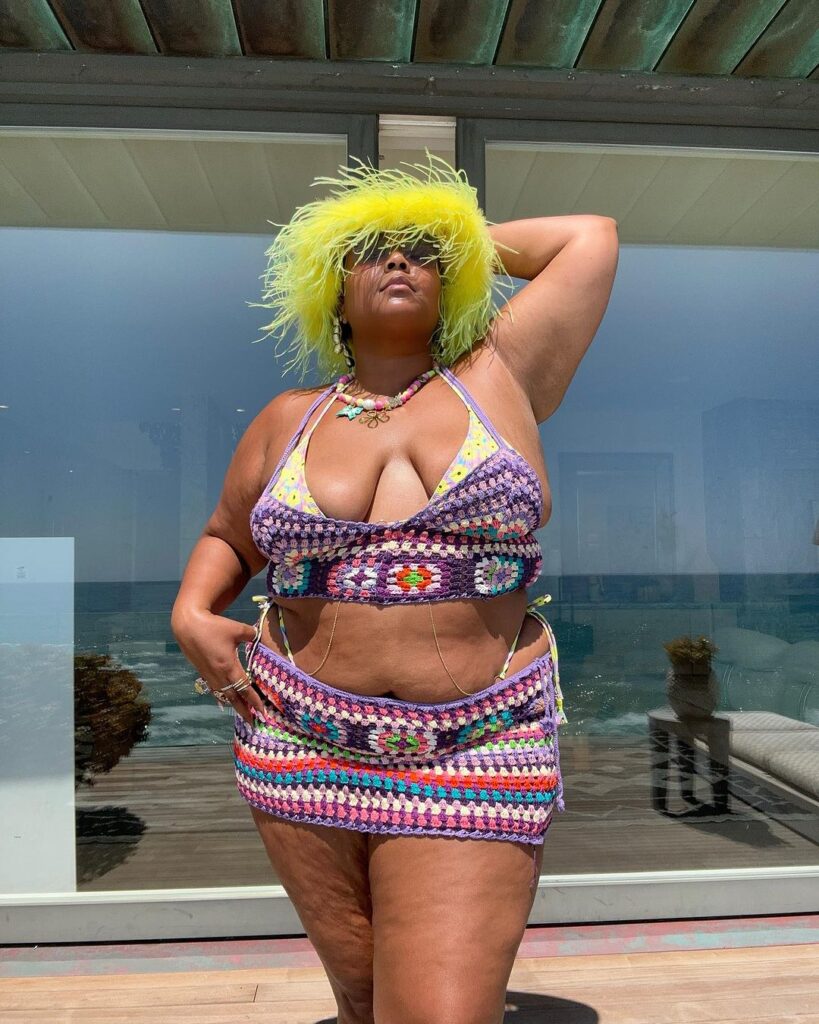 Lizzo Beating is the epitome of IDGAF even as this "fat-positivity" diva is being sued by three of her troupe dancers to be precisely the opposite. As per the lawsuit filed by Arianna Davis, Crystal Williams, and Noelle Rodriguez, the trio has accused Lizzo of fat shaming, disability discrimination, assault, and false imprisonment.
Lizzo, meanwhile, continues to maintain her innocence, denying the allegations, and has filed a counter-lawsuit against her accusers. After a brief message on Instagram denying any actions or culpability on her part, Lizzo has been flooding her social media with the sexiest dump of images and videos, having a great time.
Her recent video shows her twerking and booty shaking to the latest Cardi B song featuring Megan Thee Stallion, "Bongos" but most fans seem unimpressed.
Wrote one, "Really wish you would address what's going on with some seriousness. We all looked up to you and need you to show us that your words are true."
Another wrote, "Still waiting for that apology,"
Some of her fans continued to stick up for her, calling her accusers names and telling the commenters who asked for her apology that she didn't owe them one. Meanwhile, Lizzo continues to shake it all, feeling her back sounds like a bongo in itself.
WATCH:
Social Media Aghast At Lizzo Getting A Humanatarian Award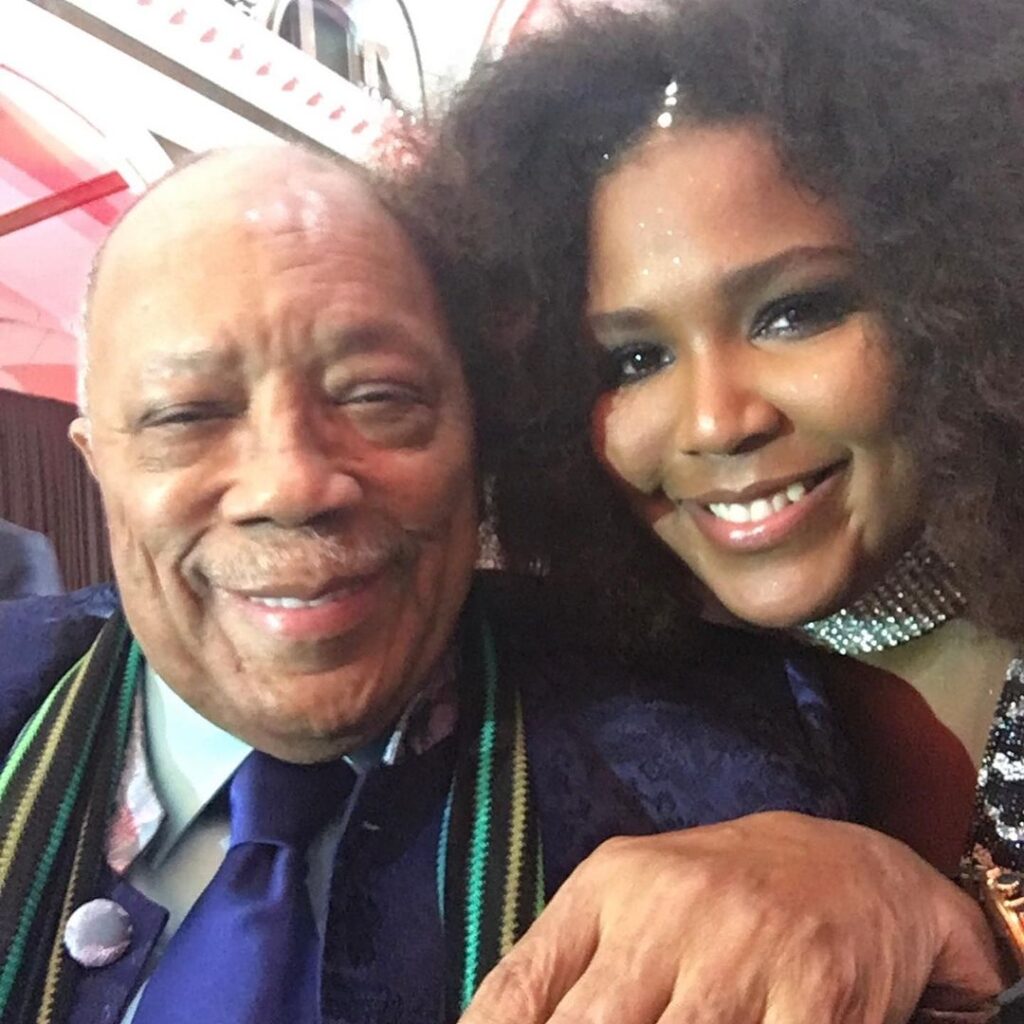 Neither Cardi B nor Megan have responded to Lizzo paying them a tribute, but what shocked fans was another recent social media announcement by Lizzo, where she revealed she would soon be receiving the "Quincy Jones Humanitarian Award" from @bma_coalition ! I can't wait to celebrate at the Gala."
There were plenty who felt this was the right thing because it's not as if Lizzo has been found guilty of anything, yet. Wrote one fan, "I am very proud of BMAC for standing by their girl, while others drop off. ❤️ The amount of change and good that has been done by Lizzo is significant and has a global impact."
Another also stood by Lizzo, castigating the haters, "the problem is y'all (the internet) then became the police, the investigation team, the judge, the jury, and the damn prison guards. You take what you hear and run fast with it without facts, witnesses, and an understanding. If someone said it the person who did it is how y'all roll! It's really innocent until proven guilty not the other way around!"
Not everyone agreed with this take though, as many felt that even if she was innocent, she could refuse on principle. Others were way more aggressive in their trolling, as one comment read, "Of all awards? Humanitarian? Come on! Is she blind to the reality of the situation she is facing? SMH!! Reality check sis!"
Given that Kelly Rowland, Kristen Bell, and Lily Aldridge keep liking her posts, it seems Lizzo can do no wrong unless the courts can prove it.
Living It Up & The Studio & Outside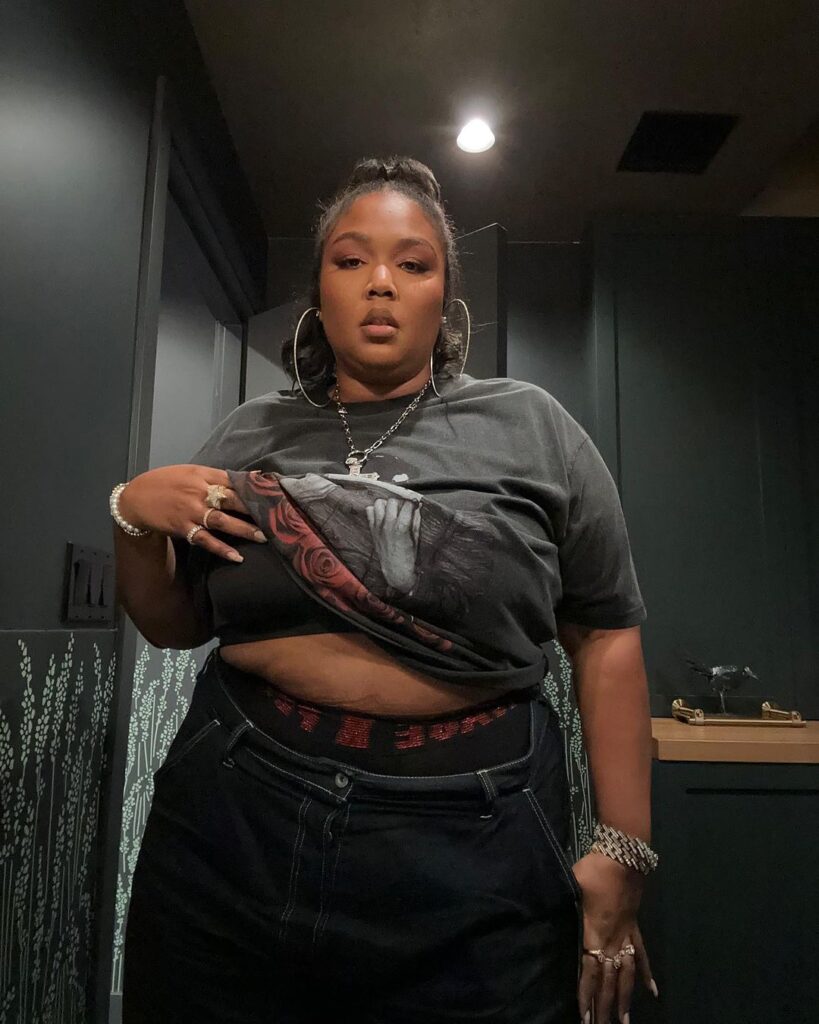 Allegations and accusations may come and go but Lizzo is still busy making music, even as one fan claimed, "You were my idol and I can't even listen to your songs anymore. Very very very disappointed."
Others felt the opposite, wondering if people could still listen to someone like Kanye, why not Lizzo?
People also noted that she wore a Rosa Parks shirt for one of her latest Instagram serves, and one Instagram user seemed to take offense to it, writing, "You're wearing Rosa Parks t-shirt as some kinda message that you're what…a freedom fighter? Ms Parks put her life on the line to free ppl from oppression and abuse and she deserves to be honored and not used in this cynical manner."
In another bikini post of her, Lizzo bent toward the camera showing off her considerable assets, so one social media user had to ask, "How are you still flexing? You treat other women like shit…"