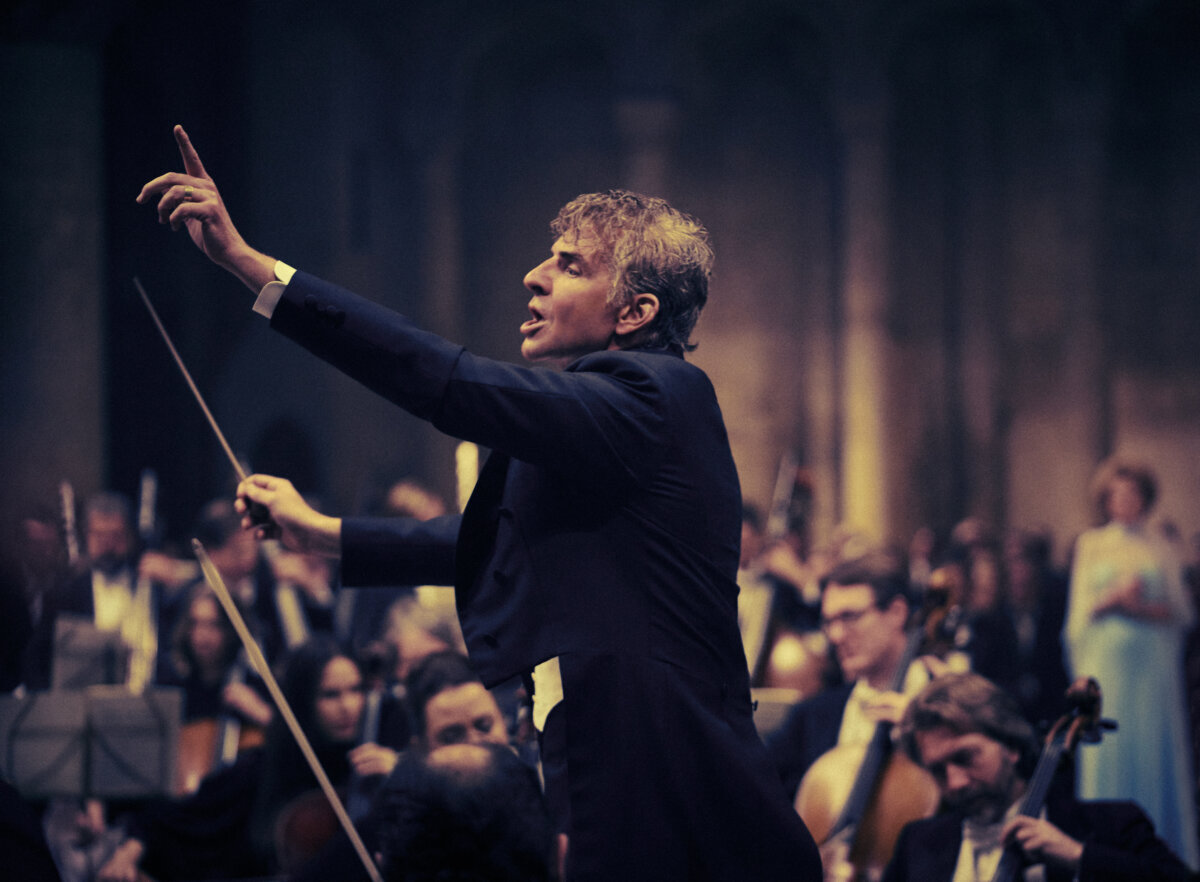 "Maestro," Bradley Cooper's biopic of bi composer Leonard Bernstein, swings at big gestures and occasionally hits a home run. Its best scene fully conveys the joy of performing music. As Bernstein (Cooper) conducts Mahler's second symphony, the camera slowly becomes an active participant, placed onstage among an orchestra, choir and opera singers. As the music peaks in volume and intensity, it moves closer, towards a close-up of Bernstein's reddened, sweaty face, before pulling back. The exhilaration Bernstein finds getting caught up his work rings true, especially since a documentary clip of Bernstein conducting reveals how closely Cooper copied the real artist. "Maestro" is only Cooper's second film as director, following the modern-day musical "A Star Is Born," and it's most appealing when it apes the rhythms of its subject's work. Yet it also feels strangely distant from Bernstein as an artist, neglecting most details about his music.
"Maestro" starts at the end, with a scene of the elderly Bernstein giving an interview to a documentary crew. From there, it moves back to the day in 1943 when he first conducted the New York Philharmonic. At that point, Bernstein lives with his lover David (out actor Matt Bomer), but he soon meets Chilean-born actor Felicia Montealgre (Carey Mulligan) at a party and marries her. Creating the ballet "Fancy Free," he pictures himself performing in it as a sailor. (It was adapted into the film "On the Town.") During his marriage, Bernstein continues sleeping with men, creating tension with his wife.
"Maestro" nods at an analysis of the permission granted to "great" men to treat women badly. Most bluntly, the very word "maestro" appears onscreen in the final shot, superimposed on the back of Montealgre's head. This strain of the film isn't sustained. It struggles to maintain a balance between Bernstein and Montealgre's stories. "Maestro" pays closest attention to her when she's arguing with him or suffering a decline and eventual death from breast cancer. To pick another recent film about a very different 20th-century musician, Sofia Coppola's "Priscilla" genuinely subverts the celebrity of Elvis Presley, refusing to take him seriously as an artist in order to concentrate on the damage he did to his wife Prisicilla. "Maestro" identifies much more closely with Bernstein.
Despite his populist impulses, Bernstein is remembered by the wider public only for "West Side Story." It's hardly acknowledged by the film. ("Maestro" also leaves out the benefit party he threw for the Black Panthers, which led Tom Wolfe to mock him by coining the phrase "radical chic.") Cooper knows better than to simply adapt Bernstein's Wikipedia entry, but "Maestro" is strewn with "if you know, you know" references to Thornton Wilder, Adolph Green, Betty Comden and Aaron Copland, among others. The circles Bernstein traveled in, many populated by other queer Jewish men, are hastily sketched in. A glimpse of the 1944 ballet "Fancy Free" is the only real opening onto Bernstein's world early days as an artist. The early scenes' style copies Hollywood dramas of the time, with chiaroscuro lighting.
In other respects, Cooper makes many clumsy decisions. (A needle drop of R.E.M.'s "It's the End of the World (As We Know It)," at the exact moment when Michael Stipe sings about Bernstein, is flat out embarrassing.) The dialogue is full of coded references to Bernstein's bisexuality. After the opening interview scene, "Maestro" switches from color to black and white. Halfway through, it goes back again, but there's no purpose behind this except denoting the passage of time. The '60s have arrived, Bernstein's hair is now grey and other men grow theirs longer. Early scenes frequently end on an unexpected cut, like the leap from a dance performance to a close-up of Bernstein's feet, covered in socks. The rhythm of editing aims for a jazzy excitement, but once Bernstein hits middle age, this dies down.
Controversy has followed "Maestro" since images of Cooper, who is Gentile, wearing a prosthetic nose to play Bernstein, circulated earlier this year. Cooper's makeup lies in a succession of Oscar-hungry performances impersonating real people under layers of latex. Still, the artifice doesn't call attention to itself, as Cooper's depiction of an old man is remarkably convincing. Cooper closely copies the nasal tones of Bernstein's voice. The film makes a few gestures regarding status as a representation of a genuine person, with Bernstein being interviewed on camera several times, but they turn out to be pretty shallow. "Maestro" makes more from the high spirits of Bernstein's youth than the tensions of his marriage. It has trouble sustaining itself when the tempo slows down.
"Maestro" | Directed by Bradley Cooper | Netflix | Opens Nov. 22nd at the Paris, Angelika Film Center and iPic Fulton Market, streams Dec. 24th