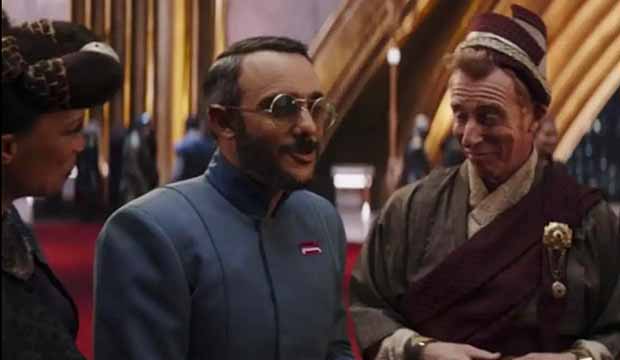 "The first time I saw something I had done on a Funko Pop, it was like: whoa! That to me is just, it's such an honor," confesses "The Mandalorian" hair department head Maria Sandoval. Cristina Waltz, makeup designer for the Disney+ series, similarly says she's "always inspired" by cosplayers and loves to see what they will "enhance in the makeup." Before character designs are reinterpreted out in the wild by fans and toy companies, they must first be dreamed up by these two women. The artistry of their exciting new designs in Season 3 has landed them Emmy nominations for Character and/or Period Hairstyling and Outstanding Character and/or Period Makeup, respectively. Watch the exclusive video interview above.
Sandoval is nominated for the episode "Chapter 19: The Convert," which takes place almost entirely on the urban capital planet of Coruscant. This fashion-forward cityscape was on the hairstylist's bucket list of locales when she first landed her job on "The Mandalorian," and she eagerly dove back into the prequel trilogy of "Star Wars" films to gain inspiration. "The art direction and the costumes and the hair and makeup that was done in the prequels is just stellar and I think completely underappreciated," she offers. "There's influences from aboriginal culture and art and 1920s art deco, and there's just so much to pull from, but it's also sort of no holds barred. You could kind of do almost anything."
SEE Dean Cundey interview: 'The Mandalorian' cinematographer
There are many scenes steeped in the utilitarian appearance of government employees on the planet, but Sandoval savored the moments at the opera house. Here, she designed for the social elite of the galaxy, while also paying homage to iconic "Star Wars" hair. Viewers might have spied Veanne Cox making a cameo as an aristocrat in the lobby of the opera house, sporting an elaborately sculpted hairpiece. While her braids don't cover her ears, they do circle into a bun shape made famous by Princess Leia (Carrie Fisher). "I almost always do a little homage to something," admits Dandoval, "in every season for sure. In every season there will be some 'Leia Buns' somewhere."
A second aristocrat in the opera house scene wears a metal cuff in the center of her hair, and Sandoval reveals it's a repurposed bracelet that had been purchased at Galaxy's Edge, the "Star Wars" themed land in Disneyland. There is always an easter egg for avid fans hidden somewhere in her designs.
SEE Shawna Trpcic interview: 'The Mandalorian' costume designer
Waltz is also nominated for taking viewers into a different high-society culture in "Chapter 22: Guns for Hire." Plazir-15 is a rarity in the "Star Wars" universe when it comes to design, thanks to its constant splashes of color. Waltz was sure to meet with the actors at their initial costume fittings so she could find inspiration in the textiles ("I love texture," she admits) and the performers themselves. "The actors, Jack Black, Lizzo and Christopher Lloyd, they all had a voice and an idea," she explains, "So it was a lot of fun to collaborate on those looks." Indeed, the color palette for her makeup designs highlights many of the fanciful blues and purples seen in the elaborate costumes. "I do like that colorful kind of sci-fi," offers Waltz, "It had a bit of an almost 60 sci-fi thing going on, and I like that a lot. So I personally felt it was a fun episode to just jump into."
Both artists admit to living out big dreams by working on the set of this beloved show. "Star Wars' has just really made a huge impression on me, from a young child to now to be able to be part of the world is, for me, a big thrill. I love it," admits Waltz. "I mean, it's a pinch me moment every single day," says Sandoval in agreement. She points out that it's hard to feel bored or jaded when actors are walking by on set dressed as stormtroopers or aliens. "It's fun, and it makes people smile, and it gives people hope. And I think that's what George's plan was from the beginning," she describes, "And to be a part of it is just something that I will cherish forever."
Sandoval is a four-time Emmy nominee for "Mad Men," "Star Trek: Picard" and her two bids for "The Mandalorian." Waltz is a two-time Emmy nominee thanks to "The Mandalorian" and a previous nomination for "The Pee-Wee Herman Show on Broadway."
Make your predictions at Gold Derby now. Download our free and easy app for Apple/iPhone devices or Android (Google Play) to compete against legions of other fans plus our experts and editors for best prediction accuracy scores. See our latest prediction champs. Can you top our esteemed leaderboards next? Always remember to keep your predictions updated because they impact our latest racetrack odds, which terrify Hollywood chiefs and stars. Don't miss the fun. Speak up and share your huffy opinions in our famous forums where 5,000 showbiz leaders lurk every day to track latest awards buzz. Everybody wants to know: What do you think? Who do you predict and why?