It's Thursday afternoon, and I'm sitting in an armchair 36 floors above downtown Tokyo with the designer Matthew Williams and Audemars Piguet CEO Francois-Henry Bennahmias. The August sun pours in from the floor to ceiling windows, convection-baking the three of us, and forcing both Francois and Matthew to put their sunglasses on. In the room next to us, a collection of six soon-to-be desperately coveted watches are sitting on a plinthe next to a pile of black gloves. No one enters this penthouse without signing an NDA. Even the millionaire high rollers who have been flown in to bid on a one-of-one limited-edition don't know who the secret "designer collaborator" is. For all they know, it could be Lily Pulitzer. 
Although unlikely in some ways, this partnership between the 37-year-old Williams and the nearly 150-year-old Swiss watchmaker is as close to a sure-fire commercial hit a product gets. Audemars Piguet's most well-known watch, the Royal Oak, has become a quintessential accessory amongst a new generation of rich dude, the kind who wears Rick Owens Ramones instead of John Lobbs. The watch's demand has outstripped supply so badly that, last year, AP's boutiques switched to appointment-only, presumably in an effort to deter new customers asking to be on its hopelessly long waitlist. Now imagine timesing that hubbub with a first-of-its-kind collaboration with a popular fashion designer?
Although I've grown exhausted by brand link ups in general, Williams and Bennahmias's brand child has the kind of deeply intertwined mesh of references that makes a collaboration make sense. Some years ago, the Givenchy designer had his favorite watch (a Royal Oak) redone in Black PVD with his brand ALIX's signature buckle by the French customizer MAD Paris. Interestingly, fellow LVMH honcho Karl Lagerfeld also once owned a black PVD Royal Oak, which resurfaced at auction recently. MAD Paris was also responsible for creating an emerald-set Patek Philippe Nautilus that Virgil Abloh famously gifted to Drake. Although after-market customization is normally considered sacrilegious by watch brands, Williams's take caught the attention of Bennahmias and led them to initiate a brand-sanctioned collection together. It's a move that could only be pulled off in the conservative world of watchmaking by a self-described iconoclast like Bennahmias, and proof the best design ideas often originate as remixes or bootlegs.
Aside from ogling the watches in person, the buddy-comedy dynamic between Williams and Bennahmias was the most gratifying element of the afternoon. The Swiss CEO's unbridled energy is the perfect foil to Williams's stoic presence. Later in the evening, on stage at the charity auction, Bennahmias took William's watch off his wrist in front of the crowd of 200 or so collectors and influencers and spontaneously placed it up for auction. "Kiss it goodbye, Matthew," Bennahmias said, holding the watch up to the designer's face. Williams politely declined. That watch, an Audemars Piguet chronograph from Williams's personal collection,  gaveled at $260,000 from one bidder.. Right after, the aforementioned one-of-one watch from the collection fetched $1,000,000 from someone online, in Thailand. 
———
MATTHEW M WILLIAMS: [Points to watch] So, I'm actually wearing the reason why we first met, which was my personal Royal Oak that I customized with a company called MAD Paris. I would make this watch for friends and family on special order, which had this buckle that is a symbol of our brand ALYX on the band of the Royal Oak. That started to have more awareness online, and people were excited about this customization and that made Francois become aware of us. He already had a preexisting relationship with MAD, so he told them, "When I'm in Paris next time, I'd love to meet this guy." 
FRANCOIS-HENRY BENNAHMIAS: As you can imagine, if we're together more than two years after meeting the first time and launching a watch, it means that we liked each other somehow. 
WILLIAMS: I'm not just saying this, but AP has been my favorite watch brand since I was very young. My dad's best friend, who my middle name's named after, was a vintage watch dealer. So I grew up always being around them at his house. And when I graduated high school, I was given a watch from my dad, a very inexpensive one. But then every time I would have a little bit of extra money, I'd go to my dad's best friend, give him the watch that he had given me and kind of upgrade slowly. So over the course of 10 years from graduating high school, I upgraded to a Royal Oak—the same one that I gave MAD to customize. 
BENNHAMIAS: It was funny because we were in the car yesterday, and Matthew says, "So what should I buy now because I want to buy more watches." So we looked through the entire collection and picked out four watches. That was an expensive ride for Matthew. 
WILLIAMS: He's a good salesman. 
THOM BETTRIDGE: In the watch world, customizing is a bit of a taboo. Purists say it ruins a watch both in terms of design and market value. Do you feel like your peers would frown upon doing a collection based on customization?
BENNHAMIAS: By peers, do you mean CEOs at watch companies?
BETTRIDGE: Yes.
BENNHAMIAS: Let's put it this way. There are a few supposed rules in this world about things you should do or don't do. But it's in our DNA to always look at what matters to us without looking too much at the outside. When it comes to customization, who are we to forbid clients to enjoy their watch the way they want to. You see women having their Birkins customized with paintings, all types of things. Matthew took his watch and had it customized to his own taste, and he's one of the most famous fashion designers in the world. For me, that's a home run. You should never see that and say, "What have you done?" No, it's actually the other way around. You say, "Why aren't we working together?"
BETTRIDGE: Something I've always been a big fan of about your approach at AP is the way that you bring pop culture into watchmaking, whether that's Jay-Z or Arnold Schwarzenegger. Do you see working with a designer like Matthew as a bridge to a new customer? 
BENNAHMIAS: Absolutely. And it's not going to just be one shot because we already got another partnership in the pipeline. We have a history of getting support from the outside. Gerald Genta [who originally designed the Royal Oak in 1972] was not an employee of Audemars Piguet. Our next partnership will launch in January, and we discovered more women's designers in this short period of time than pretty much my last 25 years at AP. And she's not a watch designer. 
BETTRIDGE: You mentioned Gerald Genta, and how the original design of the Royal Oak was this radical departure from the past in watchmaking. These watches have some pretty unheard of features in them – like having a chronograph with no numbers. How do you do wild things like this while still existing within the heritage umbrella? How do you know you're not going too far? 
BENNAHMIAS: I'm going to give you an example. In the collection of Audemars Piguet, there's a watch from the 80s called the Philosophique. The watch had only one hand, the hour hand. Because when it was designed, the idea was that, when you are rich, do you even need to bother with minutes? Who cares? The watch was very successful. So I don't think about radicalism. It's about play. You spend more time on your phone than your watch. So it has to be about something much more than just time. You need to play with it. 
BETTRIDGE: Something I like about this collection is that there's no hour indices. So it's a similar idea, which also gives the watch a dressy feel, even though it's a sport watch. 
WILLIAMS: It's something that can be day-to-night.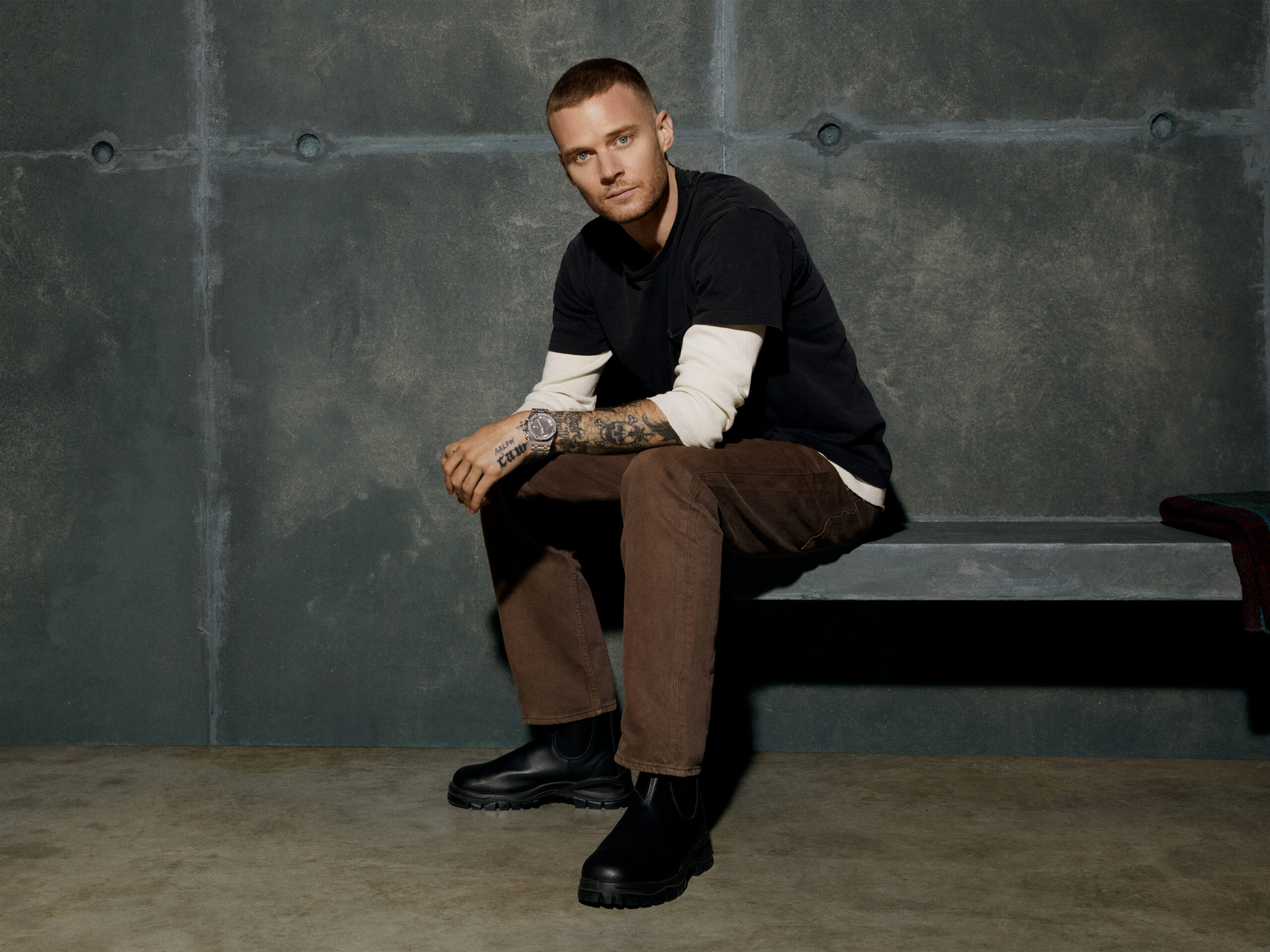 BETTRIDGE: Matthew, you have a really close connection to hip hop, and I read somewhere that AP is now the brand mentioned most often in rap songs. Is a project like this speaking directly to that culture?
BENNAHMIAS: When we launched with Jay-Z in 2005, we were the very first luxury brand to associate ourselves with hip hop. We were the very first in every category. I have to say when I saw Pharrell's fashion show for Louis Vuitton with Jay performing on the Pont Neuf, I texted him, "Jay, we started this whole thing." Because this would have been impossible 15 years ago. 
BETTRIDGE: This collection heavily features yellow gold, which is a metal that got replaced in the AP product line by rose gold for a long time— assume because rose gold is more subtle and less flashy. What's the appeal in bringing it back? 
WILLIAMS: I've wanted a yellow gold AP since I was a kid, so I've always loved the look of it. 
BENNAHMIAS: The reason why we stopped yellow gold was because it wasn't selling anymore. So instead of forcing it, we stopped. Then we resurfaced five to six years ago with a little touch here and there, and It went crazy. So now in our collections we have a little bit of yellow gold. It's not thousands of watches per year, but enough to still be around. 
BETTRIDGE: As a CEO is it tempting to look too much into the data and follow trends from the market, rather than dictating them?
BENNAHMIAS: I love listening to the market rather than reacting to it. Because sometimes you have to create a new market. When Steve Jobs launched the iPad, people were making fun of it, saying it's going to be a "pizza on your ear." But guess what? It created a market that didn't exist before.
WILLIAMS: I think the definition of being a great creative is the sensibility to notice small changes or ripples in the water. Those are the reasons why you do something. It's that sensibility that differentiates mediocrity from greatness.