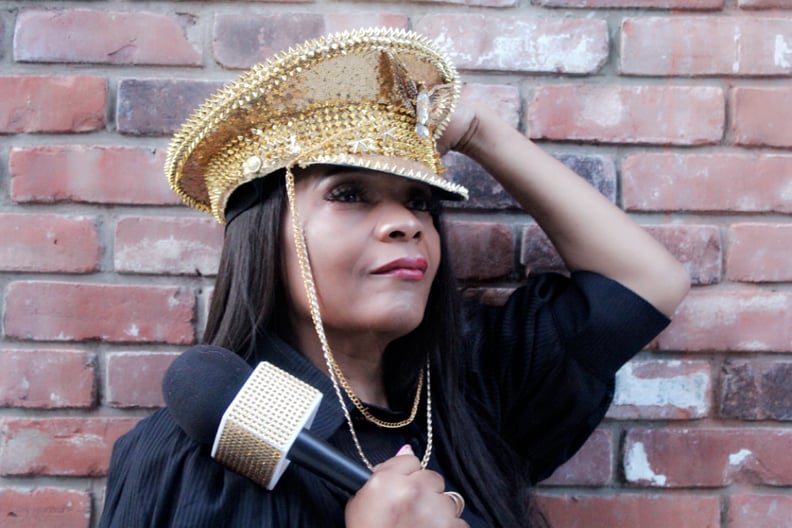 Courtesy of MC Sha-Rock
Courtesy of MC Sha-Rock
There are a lot of firsts associated with MC Sha-Rock, hip-hop's "mother of the mic." The Bronx, NY, native is the first female MC in hip-hop history and the first to sign a record deal; the first woman to battle rap; and she was among the first to spit hip-hop rhymes on national television (appearing on "Saturday Night Live" in 1981 when she was pregnant with her first child). The original member of Funky 4, which later became the Funky 4 + 1, didn't just contribute to the history of women in hip-hop — she's the blueprint.
Despite her pioneering efforts in the '70s, Sha-Rock, born Sharon Green, has hardly been given her just due as a hip-hop trailblazer. The "That's the Joint" rapper also says she was never properly compensated for her music in her '80s heyday, as she, along with other hip-hop pioneers, later sued her former label Sugar Hill Records for back royalties (and won).
But in 2011, Sha-Rock penned her memoir, "Luminary Icon… The Story of Hip Hop's First Female MC/Rapper" with Iesha Brown, which set the record straight. Since then, she's made it her mission to educate the world about her hip-hop journey. And slowly but surely, she's gotten her flowers: MC Sha-Rock Day is observed in the Bronx annually on June 3, and as of this year, New York Mayor Eric Adams declared that it be celebrated across all boroughs of NYC. Today, Sha-Rock can be heard on Rock the Bells radio with fellow hip-hop pioneer Grandmaster Caz on their show, "That's the Joint." She also performed at Rock the Bells Festival on Aug. 5 with other hip-hop queens like Queen Latifah, Salt-N-Pepa, MC Lyte, Monie Love, and Roxanne Shanté.
In honor of hip-hop's 50th anniversary, Sha-Rock reflects on her hip-hop origin story, how she paved the way for women in rap, and why she'll always remind fans how she was the first of her kind. Read it all, in her own words, ahead.
Back in 1976, I started my journey in hip-hop culture. Even though we didn't call it the culture, we were celebrating all of the elements; it just didn't have a name. 1973, DJ Kool Herc and his sister Cindy Campbell gave the first documented party at 1520 Sedgwick Avenue. There were b-boys and b-girls out there and everything. In 1976, I became a nomadic b-girl that would travel around to different areas within the Bronx or Manhattan just to hear those breakbeats that the DJs were playing. But at the end of 1977, they were holding auditions for this group that was called the Brothers Disco.
The manager, his name was Jazzy D, he was in charge of them. At that time, it was just K.K. Rockwell and Keith Keith, two MCs. What happened was, he was like, "Go ahead, say your rhyme." I said my rhyme. So he is like, "OK, you rhyme. What's your name?" I said, "My name is Sharon." He said, "Man, you rocked it." So he cut Sharon in half to Sha-Rock — he was the one who gave me my name. Once we became the original Funky 4, I became the first female MC as part of an all-male group and the first to introduce routines to the crowd: the new era of MCing.
Besides me being the first female MC of hip-hop culture, take it back to battle rapping, I initiated that. I was the first female MC to have a female hype crew, which was called the Sisters Disco, a subsidiary of the Brothers Disco. They supported everything that I did. They would go out to the crowd and get them to say my rhymes, and that's how Sha-Rock became synonymous with New York City; everybody knew my rhymes.
"Not only was I an inspiration to women that wanted to get on the mic, but also to men."
I was the first authentic female MC of hip-hop culture that didn't come into the game as a rap artist, but as somebody who helped create the culture, who was on the streets of New York, in the parks, in the hip-hop venues that created this MC culture to have record deals. Not only was I an inspiration to women that wanted to get on the mic, but also to men.
So you have people like Fat Joe, Noreaga, Puff Daddy, and Common who all say, "When I first heard Sha-Rock, she was the joint." It's because they're also looking at it from a rap aspect. But unless you were there, a lot of them didn't know the full aspects of the culture, how I was involved and helped move it forward.
In the beginning, about 15, 20 years ago, it used to piss me off. But then I was like, you know what, why are you going to get mad at something that nobody knows? They only know Sha-Rock from the Funky 4 + 1 and the songs that I made. I had a conversation with Fab 5 Freddy years ago, and I told him, "Look, why are you not speaking up for me? You're not speaking up for me when you know that you used to come up to the Bronx and watch us in the beginning. You know what I did for this culture, even before rap records. Before we had a record deal, I was in the Bronx and you were coming up looking at me on the stage in Uptown. So why would you not speak on it?" And he said something that was really heartening. He said, "Look, Sha-Rock, I can't tell your story. You can tell your story better than I can." So when he told me that, I just went ham — I wrote a book about my history.
What made me go ham on anybody that tried to contradict the story was because of all of these different museums that are coming up now. Because I wasn't in the United States at the time, I had some females that was out there with me say, "Look Sha-Rock, you need to check some people because they're switching the narrative of the story and they're trying to say that they're first," and this and that. But see, for me, I always thought that because the information was there that these stories would never be changed, because I was the first female MC in hip-hop culture on cassette tape. So because I had the tapes, the authentic flyers to show the dates, video footage, all of this stuff that was available to the consumer, I felt like I didn't have to worry because I could back up what I said.
"The reason why I got out of MCing at the time was to protect everything that was dear to me . . ."
I had to go back and check the situation and say, "No, you wasn't first. You were not there when I was. You came after me. If you were, the whole entire New York City would've known about you from the beginning and I would've came across you in a rap battle. You would've known about me. You would've been on more flyers than MC Sha-Rock. No one would just be saying Sha-Rock." So if you know the contributions and you don't say anything about it or include Sha-Rock in anything you do when it comes to women, then you tell me why you're not celebrating [me]. What are your reasons for not celebrating Sha-Rock as being that MC that has set the groundwork for all female MCs?
You have so many different MCs, from the Queen Latifahs, to the MC Lytes, to the Yo-Yos, to the Foxy Browns, Nicki Minaj, Cardi B. I can't leave out Roxanne Shanté. All of the women that were there have always shown love and respect, but make sure we mention her. Because after I had left the industry, Roxanne Shanté flourished. She's that MC that I truly feel has carried on this torch and held the MC culture down, so we have to give her respect as well. But all of them did so much for this culture as MCs that set the stage and built lanes for other female rappers to follow. We all have brought something to the game and have all branched out into allowing other females to have access to rap culture. My thing is, we all should be celebrating each other because we have created those avenues, but it did start with MC Sha-Rock creating that lane in MC culture.
I'm happy to be here for the 50th anniversary of hip-hop culture. I'm happy that a lot of artists have benefited from it and continue to do so, because we always knew what we had. We always knew that we were young entrepreneurs with little to no resources. We didn't have the knowledge to move it forward and protect everything that was so dear to us. The reason why I got out of MCing at the time was to protect everything that was dear to me and not be mad about what I love so much. I didn't want to hate what I love because other parties didn't feel like I felt. My recording company, at the time, didn't feel how I felt about the MC and hip-hop culture. So I removed myself from it and said that I would never allow no one to be able to pimp me the way that I was pimped at that young age, and tried to take away all of my love for this culture that I know.